The Marlins announced that they have designated right-hander Kevin Slowey and left-hander Randy Wolf for assignment as part of a series of roster moves. Additionally, Christian Yelich and Jarrod Saltalamacchia have been placed on the 15-day DL, and Donovan Solano has been optioned to Triple-A New Orleans. Miami will recall right-hander Anthony DeSclafani, outfielder Jake Marisnick and first baseman Justin Bour. Most notably, top prospect Andrew Heaney will also be promoted to the Majors for the first time.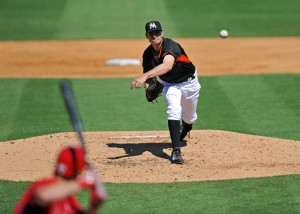 Heaney (pictured) was the ninth overall selection in the 2012 draft and entered the season ranked as the game's No. 30 prospect according to both Baseball America and Baseball Prospectus. MLB.com ranked the 23-year-old as the game's No. 29 prospect, and ESPN's Keith Law ranked him 34th entering the season.
Heaney has shredded minor league hitters this season, pitching to a 2.47 ERA with 9.3 K/9 and 1.8 BB/9 in 76 2/3 innings between Double-A Jacksonville and Triple-A New Orleans. Should he remain with the team through season's end, he would accrue 106 days of Major League service time, meaning that he should fall well shy of Super Two status.
The former Oklahoma State ace has a fastball that sits in the low 90s and touches 95 mph regularly, per Jonathan Mayo and Jim Callis of MLB.com. That plus heater is accompanied by a "wipeout" slider that Mayo and Callis grade as Heaney's best pitch, as well as a changeup that the duo describes as a "good third pitch." BA's scouting reports notes that his fastball can reach 97 mph when he needs the heat, but Heaney has learned that he pitches with better command when throwing in the 91 to 93 mph range. BA also noted that holding runners has been a weakness for Heaney dating back to college (19 of 20 attempted base-stealers were successful against him in 2013), but he's allowed just six steals in nine attempts in 2014.
The 37-year-old Wolf signed a Major League deal with the Marlins in May after opting out of his minor league deal with the Diamondbacks. He posted a 5.26 ERA with a strong 19-to-6 K/BB ratio in 25 2/3 innings with the Fish, and his 87.7 mph fastball velocity wasn't too far off his career mark of 88.2 mph. Wolf's stint with the Marlins was his first Major League work since late 2012, as he missed last season after undergoing Tommy John surgery. Sabermetric ERA estimators such as FIP (4.33), xFIP (3.87) and SIERA (3.99) all feel that he was the victim of some poor luck.
Slowey, 30, posted similar numbers to Wolf, compiling a 5.30 ERA with 5.8 K/9 and 2.2 BB/9 in 37 1/3 innings. He, too, was the victim of a very lofty batting average on balls in play (.382), which no doubt contributed to his lofty ERA. Slowey has always been a soft-tossing fly-ball pitcher, but he has excellent command and a respectable 4.62 ERA in 662 career innings with the Twins and Marlins.
Photo courtesy of USA Today Sports Images.