The Yankees announced that they have officially acquired Chase Headley from the Padres. The Yankees will send Yangervis Solarte and minor league right-hander Rafael De Paula to the Padres in return for Headley and $1MM.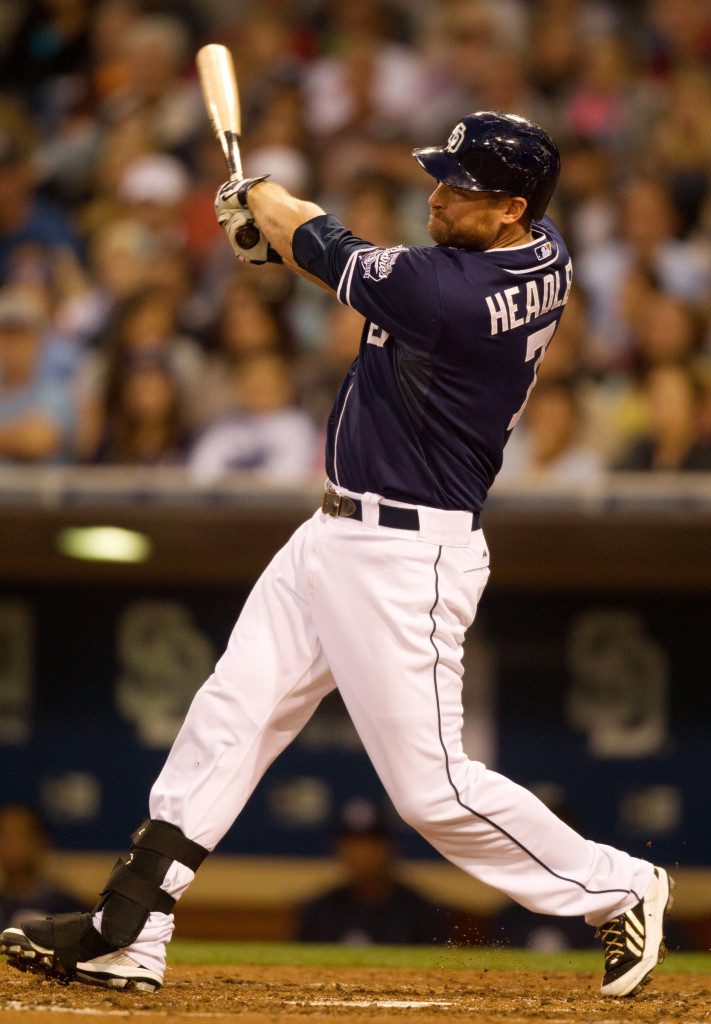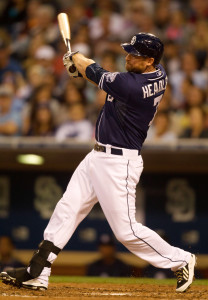 Headley, a lifetime member of the Padres, is hitting just .229/.296/.355 with seven homers this season, though he's playing outstanding defense at third base, per both UZR/150 (+19.7) and Defensive Runs Saved (+7). Headley is earning $10.535MM in 2014, of which $3.97MM remains. He is eligible for free agency following the season.
The Yankees are just four games out of the division lead in the AL East and two and a half games back of a Wild Card berth, meaning every additional win the team picks up could be crucial. Yankees third basemen are hitting .245/.323/.391 on the season with 14 home runs (which translates to a nearly league-average 98 wRC+). However, much of that is due to what looks to have been an unsustainable hot streak for Solarte early in the season. The 27-year-old Solarte had a scorching hot month of April (fueled by a .349 BABIP), but he's batted just .233/.307/.347 in 200 plate appearances since that time. If nothing else, Headley's glove may provide an extra win over the rest of the season, but the hope is undoubtedly that a move from the pitcher-friendly Petco Park to the hitter-friendly Yankee Stadium will rejuvenate his bat as well.
It's not long ago that Headley looked to be a breakout star. He batted a whopping .286/.376/.498 with 31 homers to go along with elite defense and solid baserunning in 2012, but since that time he's been slowed by a fractured thumb, a calf strain and a herniated disc in his back (for which he received an epidural injection earlier this month). He's hitting .323 with a homer, a triple and four doubles this month, so perhaps the injection helped to ease some of the pain he was experiencing. However, he's yet to walk in July and has struck out 16 times, so his approach at the plate certainly doesn't appear to be what it was in 2012 when he posted a career-best 12.3 percent walk rate.
From a big picture standpoint, the move signifies that the Yankees, in typical fashion, will maintain a dogged pursuit of the postseason. Despite losing CC Sabathia, Ivan Nova and potentially Masahiro Tanaka for the season (with Michael Pineda missing the majority of the year as well), the Yankees feel they have a shot to contend in an abnormally weak AL East. The team has already acquired Brandon McCarthy (in exchange for lefty Vidal Nuno), and it seems likely that GM Brian Cashman will continue to be aggressive as he looks to upgrade his roster.
For the Padres, it's tough to describe the outcome as anything but disappointing. Headley looked to be on the verge of stardom following the 2012 season, and they could likely have netted a king's ransom had they moved him then. Even this offseason, Headley's value coming off a .250/.347/.400 season with excellent defense would have been fairly strong. Now, they'll receive a player whom the Yankees signed to a minor league deal this offseason (Solarte) and a pitcher that ranked 15th in a weak Yankees farm system coming into the year (per Baseball America). At this point, however, it has to be considered a silver lining for the Friars that they weren't able to extend Headley — either with the reported franchise-record deal they were weighing last spring or the three-year, $33-39MM deal they offered over the winter.
Solarte is hitting .254/.337/.381 with the Yankees this season, though much of that production came in the aforementioned April hot streak. The Padres can control him for six years, as he made his big league debut this year, and he's appeared at second base, third base and shortstop this season. Ideally, he could settle into a utility role for San Diego for the next several seasons.
De Paula, 23, has a 4.15 ERA with 10.5 K/9 and 3.8 BB/9 in 89 innings (17 starts, three relief appearances) at Class-A Advanced Tampa this season. Baseball America noted in its scouting report that De Paula's mid- to upper-90s fastball was enough to dominate hitters in Low Class A, but he struggled with last year's debut in High-A Tampa due to an inability to throw his breaking pitches for strikes. He's made some strides in his command this year, averaging fewer walks. BA noted that if he could learn to command either his slider or changeup, that would be enough to pair with his plus fastball to project as a big league reliever, but if he could learn to command both, he could start in the bigs.
De Paula doesn't come without personal baggage, as BA's Ben Badler notes (on Twitter). Badler says De Paula "will be a big leaguer," but points out that he's used multiple falsified identities and dates of birth in his road to professional baseball.
Jack Curry of the YES Network first tweeted that the two sides were close to a deal. Jon Heyman of CBS Sports first reported the trade was done and added the terms shortly thereafter (Twitter links).
Photo courtesy of USA Today Sports Images.