The Cubs have bought low on another once-promising right-hander, as they've announced the acquisition Jacob Turner from the Marlins in exchange for minor league right-handers Tyler Bremer and Jose Arias. Chicago placed a claim on Turner earlier this week after Miami designated the once prized prospect for assignment and placed him on revocable waivers.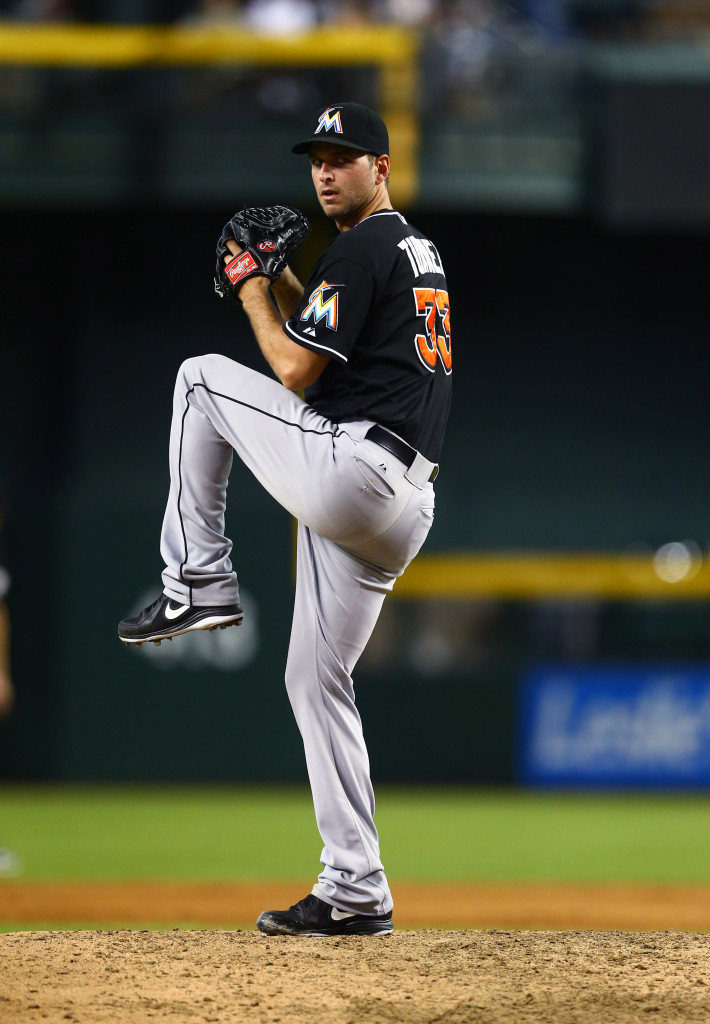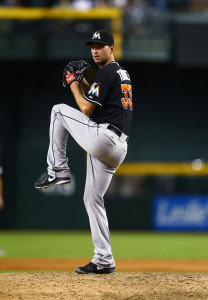 Turner, who only recently turned 23, is a former first-round pick of the Tigers, and it wasn't long ago that he was regarded as one of baseball's top prospects. Acquired by Miami as the centerpiece to 2012's Anibal Sanchez/Omar Infante trade with Detroit, Turner has struggled with the Marlins and was designated for assignment because he is out of minor league options. While the Marlins reportedly had lost patience with Turner after his struggles in both the rotation and the bullpen, the move is a curious one for a team that typically doesn't spend much; cost-controllable starters with this type of upside are hard to come by, and Turner's rotation spot will reportedly be filled by Brad Penny, making this decision a puzzling one, to say the least.
Though Turner's ERA jumped from 3.74 last year (in 118 innings) to 5.97 in this year's 78 1/3 innings, there's plenty to like about the rest of his numbers in 2014. Turner's K/9 rate, swinging strike rate and average fastball velocity have all increased (though he has not shown a significant jump in the latter measure when taking into account only his innings as a starter). Meanwhile, his BB/9 rate has dipped from 4.1 to 2.6. He's also seen his ground-ball rate spike from a solid 45.7 percent to a strong 51.3 percent this season. Sabermetric ERA estimators such as FIP (4.01), xFIP (3.93) and SIERA (3.98) all feel that Turner has been markedly better than his earned run average would suggest in 2014.
Turner, who signed a Major League deal out of the draft (before the CBA banned such contracts), has a $1MM option for next season and can be controlled via arbitration once he has accumulated three years of Major League service. He's controllable through at least the 2018 season for the Cubs and represents a chance for Chicago to buy low on another talented but struggling arm, as they did in 2013 with Jake Arrieta.
Turner, of course, may never bounce back to the level which Arrieta has in 2014, but the marginal cost to acquire him made this a fairly easy call for president Theo Epstein and GM Jed Hoyer once the Rockies surprisingly neglected to make a claim.
The 24-year-old has a 3.10 ERA with 10.8 K/9 and 3.8 BB/9 in in 52 1/3 innings of relief between Class-A Kane County and Class-A Advanced Daytona this season. Arias, a 23-year-old Dominican hurler, has a 1.77 ERA with 11.3 K/9 and 3.8 BB/9 in 40 2/3 innings at Kane County this season. Neither pitcher ranked among the Cubs' top 30 prospects (per Baseball America) heading into the season.
ESPN's Keith Law first broke the news of the trade (on Twitter). Paul Sullivan of the Chicago Tribune tweeted that two Class-A pitchers were headed to the Marlins, with Law tweeting that both were relievers. Bremer's brother, Noah, first tweeted his inclusion in the deal, while ESPN Chicago's Jesse Rogers tweeted that Arias was the second pitcher.
Photo courtesy of USA Today Sports Images.