One of the game's best defensive third basemen reaches free agency this winter in Chase Headley.  Headley's MVP-caliber 2012 season saw his offense reach lofty heights, but two years later that's looking like an anomaly.
Strengths/Pros
Headley's only Gold Glove award came in that magical 2012 season, but he's got a good chance at another one this year.  By measure of Ultimate Zone Rating, Headley was the best defensive third baseman in baseball in 2014.  If you prefer Defensive Runs Saved, Headley ranked third.  He was a top ten defender in 2012 and '13 as well, so it's not just a one-year fluke.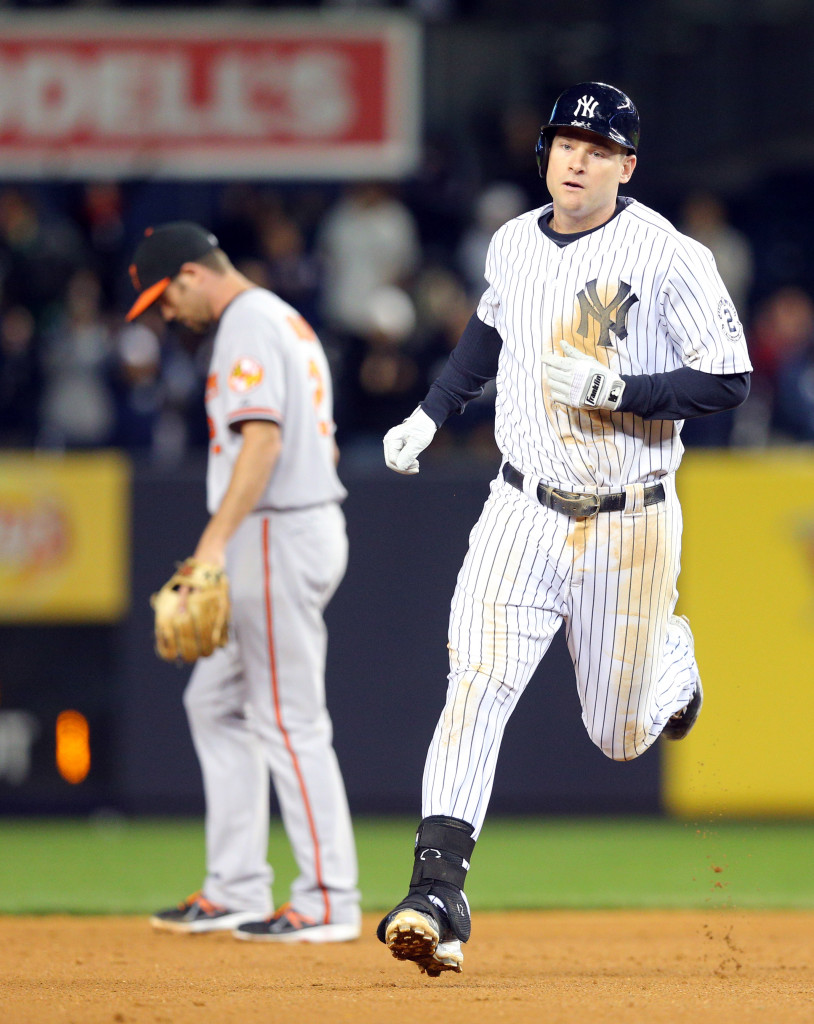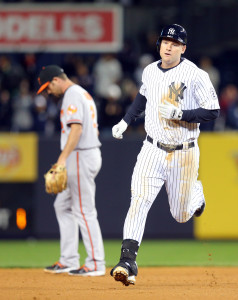 Headley's defense is a major contributor to his value, leading to roughly four wins above replacement in each of the last two seasons.  His WAR ranks tenth among all third basemen for 2013-14, easily ahead of this offseason's likely top-paid third baseman, Pablo Sandoval.  At worst, Headley is Sandoval's equal, but defense hasn't caught up with offense in terms of free agent spending.
Headley hit .286/.376/.498 with 31 home runs for the Padres in 2012, despite playing half his games in San Diego.  19 of those home runs came in the season's final two months.  He hit .269/.343/.392 prior to that season and .246/.338/.387 since, and it's not hard to see that one of these is not like the others.  However,  the switch-hitting Headley remains capable of a solid on-base percentage, posting a .371 OBP and walk rate near 13% in his 224 plate appearances for the Yankees this year.  He is, on the whole, still an above average hitter.
Having been traded midseason, Headley is not eligible for a qualifying offer.  Fellow free agents Sandoval and Hanley Ramirez will certainly require draft pick forfeiture, and perhaps Aramis Ramirez too, but Headley is free of that limitation.
Weaknesses/Cons
Prior to being traded to the Yankees, Headley hit an abysmal .229/.296/.355 for the Padres in 307 plate appearances.  His Padres' walk rate of 7.2% was well below his career norm.
Upon the trade, Tony Blengino of FanGraphs examined Headley's batted ball profile, and it wasn't promising.  Headley was in "steady offensive decline," wrote Blengino, who explained, "his decline in batted-ball production has been solely attributable to diminished fly ball authority."  Did Headley's 224 plate appearances after the trade represent a reliable return to form?  That will be a crucial question for offseason suitors.
Headley's recent injury history may be perceived as a negative, though it could also be considered an explanation for his offensive struggles in the first half of the season.  He received an epidural in June and avoided going on the DL for his back.  After the epidural, Headley hit .273/.359/.400 in 312 plate appearances.
Personal
Headley was born in Colorado and resides in Tennessee with his family.  The Headleys recently welcomed a new baby into the world, their second child.  According to the Padres' 2014 media guide, Headley played varsity baseball and basketball all four years in high school in Colorado, and was also valedictorian.  He began college at University of the Pacific in California and later transferred to the University of Tennessee, where his older brother was attending.
According to a profile by MLB.com's Corey Brock in January 2013, Headley owns a large farm in Western Kentucky and has a passion for bow hunting.  A religious man since his freshman year in high school, Headley told Mark E. Darnall and Bruce A. Darnall in 2012, "My goal is to have Jesus be the center of everything."
Market
Any team without an established, reliable third baseman could consider Headley this offseason.  Given the uncertainty that comes with Alex Rodriguez, a return to the Yankees is possible.  The Red Sox, Astros, Royals, Brewers, Giants, Blue Jays, and Nationals could also seek help at third base, though some of those clubs might only want a short-term solution.
Headley's competition on the free agent market will include Pablo Sandoval, Aramis Ramirez, and Hanley Ramirez.  Whether Aramis Ramirez hits the open market could be a big factor for Headley, as well as whether Hanley Ramirez signs as a third baseman.  The trade market could feature Luis Valbuena, Trevor Plouffe, and Pedro Alvarez.

Expected Contract
Headley has never had a multiyear deal in his career, and I think he'll value long-term security this offseason.  The question is whether he signs a three or four-year deal.  A few potential comparables to consider are Shane Victorino's three-year, $39MM deal from two years ago and Jhonny Peralta's four-year, $53MM deal from last offseason.  I think Headley will sign a four-year, $48MM deal.