Last winter, Nelson Cruz turned down a $14.1MM qualifying offer from the Rangers only to find that the market wasn't anywhere close to what he had hoped.  The Orioles wound up inking him to a one-year, $8MM deal which proved to be a brilliant signing.  This time around, he shouldn't have any trouble landing a multi-year deal.
Strengths/Pros  
In 2014, Cruz turned in a .271/.333/.525 slash line with 40 homers on the way to his third career All-Star selection.  Cruz's 40 dingers weren't just a career-high, it was the highest home run total of anyone in the majors in 2014.  Cruz's .525 slugging percentage was good for eighth in the majors, putting him above the likes of Jose Bautista, Miguel Cabrera, and David Ortiz.  In a season where the Orioles got just 26 games out of Matt Wieters and lost Manny Machado for half the year, Cruz stepped up in a major way and helped propel them to first place in the American League East.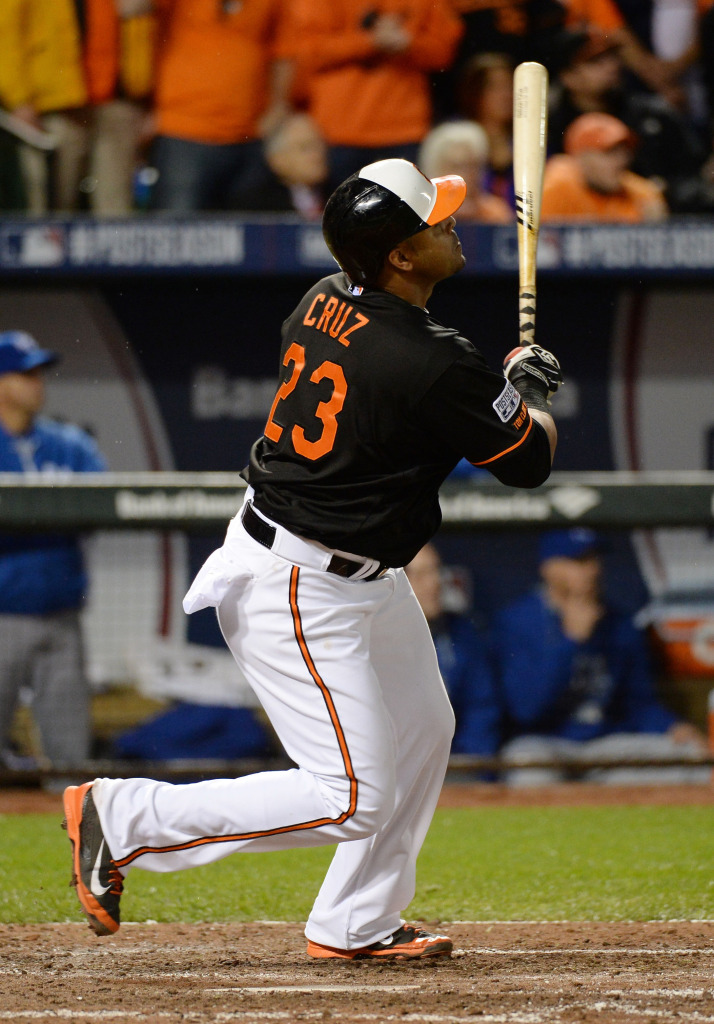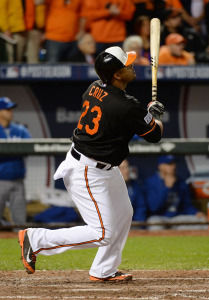 The advanced metrics were also very fond of Cruz's 2014 performance.  His 137 wRC+ put him in the upper echelon of sluggers.  Meanwhile, Cruz's .288 BABIP was actually a bit lower than his career average and his strikeout rate dipped, so there's reason to believe he could bump his batting average a bit going forward.  Cruz ranked seventh in MLB and first among this offseason's free agent with a .254 ISO in 2014.
His 2014 may have been a pleasant surprise, but it didn't come out of the blue.  Cruz has a solid track record of quality offensive performance, dating back to his breakout 2009 season with the Rangers.  In those six years, Cruz owns a .271/.332/.514 batting line with about 29 homers per season and an OPS+ of 123, showing that he was still well above average even when factoring in the hitter-friendly confines of Globe Life Park in Arlington.
Cruz has proven to be an elite hitter against left-handers with a career .314/.407/.569 while his .258/.310/.513 slash line against righties is nothing to sneeze at either.
Teams will also find his October body of work attractive, and with good reason.  With his two home runs in the ALDS, Cruz leapfrogged some legendary names to climb up the all-time postseason home run ladder.  With homers 15 and 16 against the Tigers, Cruz tied Carlos Beltran for ninth all-time.  As Mark Saxon of ESPN.com noted, that vaulted him ahead of Alex Rodriguez, Johnny Bench, Barry Bonds, Joe DiMaggio, Mark McGwire, and, yes, Babe Ruth.  Cruz got there in just 37 career postseason games, less than all of the other players listed.
Weaknesses/Cons  
Unsurprisingly, the Orioles made a qualifying offer to Cruz, meaning that there will be draft pick compensation attached to signing him.  In his last trip through free agency, the QO hurt his market (though his asking price was probably more to blame), leading to his discounted deal with Baltimore.  Of course, the circumstances were different.  For starters, Cruz was reportedly seeking as much as $75MM at the outset of free agency, unrealistic numbers that led to him settling in January.  His value was also hurt by the tarnish of the Biogenesis scandal and the resulting 50-game suspension he served in 2013.
For all of his positives at the plate, there isn't much that can be said for his agility or base running at this stage of his career.  In 2014, Cruz put up a career-worst BsR of -3.3, putting him somewhere between "below average" and "poor" on the basepaths.
While Cruz graded well in a small sample this year (he had a UZR/150 of 3.8 with 3 defensive runs saved), he's certainly not valued for his glove.  He spent more of his time in the DH role, which he might be better suited for going forward.  A team signing Cruz will be getting him for his mid-to-late 30s (he'll start next year at 34 and turn 35 on July 1) and his agility in the field doesn't figure to improve from here, to say the least.
Cruz's WAR of 3.9 from this past season was his highest in years, a showing that was only bested by his 2010 season with the Rangers.  In his last three seasons, his value has been teetering on that of a good player, but not necessarily a great one (although his suspension in 2013 did deflate that number).
On the whole, his age figures to dampen his value.  While teams are usually looking to pay for prime years at the top of the market, Cruz's remaining years could be a drop off from what we've seen over the last few.
Personal  
As Steve Adams noted in his profile of Cruz last winter, he's an accomplished two-sport athlete who played for the Dominican Republic Junior National Team in his younger days.  His father also played professional baseball in the DR, so that sort of thing runs in the family.  Cruz and his wife have two children.
Executive vice president Dan Duquette had great things to say about Cruz as a locker room presence earlier this month.  "You can tell just by watching him, he's the leader of the ballclub," said Duquette, according to Eduardo A. Encina of The Baltimore Sun.  Peter Schmuck of The Baltimore Sun wrote that Cruz created a comfort zone for the club's younger latino players, like second baseman Jonathan Schoop. Adam Jones spoke glowingly about Cruz's impact on the team.
Cruz changed agents in early October, joining Diego Bentz of Relativity Sports.
Market  
As mentioned Encina's piece, Duquette is realistic about his chances of keeping Cruz beyond this season.  "He came here to have a platform year to get himself re-established to get him a long-term deal and that's something we will have to consider," Duquette said.
The Mariners probably regret passing on Cruz last offseason and they could try and make up for that mistake this time.  They're in need of a quality DH and are expected to chase the likes of Cruz and Victor Martinez.  A reunion with the Rangers could be a possibility, but they previously balked at the idea of a three-year deal and it may not be any more palatable to them now.   Cruz has been linked to the Yankees, though there isn't a clear fit at this time with Beltran expected to return to right field.  Giving Cruz DH time could be tough as well with Beltran, Alex Rodriguez, Mark Teixeira likely needing at-bats there.  The Tigers, Royals, and Twins are also among the AL teams with potential interest.  National League teams can and will certainly show interest, but it remains to be seen how far they will go given the concerns about his defense.
Expected Contract
Last season, Curtis Granderson signed a four-year, $60MM deal with the Mets, despite coming off of a season in which he missed 100 games.  Cruz, meanwhile, played 159 games and belted 40 homers in his walk year.  While there are many differences between the two players, including age (Granderson was 32 last winter, Cruz is 34), Cruz's reps probably believe that they can match the years and top the total value of Granderson's contract.
Complicating matters, of course, will be the qualifying offer and the same PED suspension that depressed his market value last winter.  As Steve Adams wrote earlier this month about Melky Cabrera, no player with those two factors working against them has ever been able to cash in big in free agency.
Steve projected that Cabrera would land a five-year, $66.25MM and rightly noted that Cabrera is four years younger and has more defensive value.  Still, Cruz has power on his side and that is at a major premium around the game.  His age will preclude him from the same length on the contract but he can still get a very healthy payday for himself on a slightly shorter deal.  I predict that Cruz will ultimately best Granderson's deal from last winter with a four-year, $70MM deal.
Photo courtesy USA Today Sports Images.