Nori Aoki's one season with the Royals was the franchise's best in recent history, and he was one of eight players who formed a suffocating defense that was crucial to the team's run to the playoffs. Now, though, the CAA client is a free agent, and it's unclear what the market might hold for a 32-year-old corner outfielder with minimal power.
Pros/Strengths
Aoki's approach at the plate has resulted in excellent and consistent batting averages and OBPs. He's batted .288, .286 and .285 in his three seasons in the big leagues, with OBPs of .355, .356 and .349. The 2014 AL league average OBP was .316, so Aoki was way ahead of the pack in that regard, and that was no accident — Aoki walks about as often as he strikes out, with 141 career strikeouts and 144 career walks. He hits both righties and lefties well (he batted .363/.428/.435 against lefties this season, which is noteworthy even though it's unsustainable) and does not need to be platooned.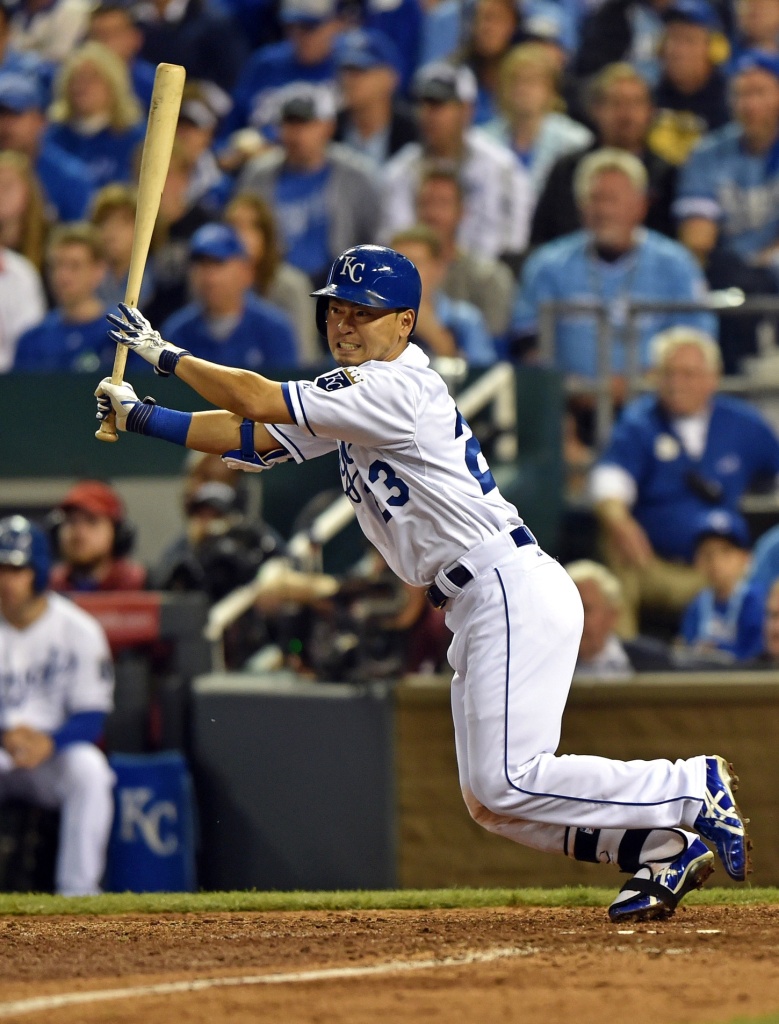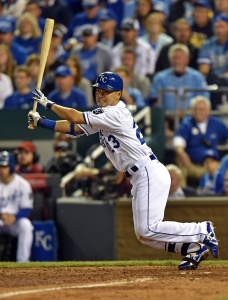 Like most Royals, Aoki is above average defensively for his position — he posted a 5.9 UZR in 2014 and is 8.2 runs above average in his three-year big league career. His speed hasn't translated to great value on the bases, but it's served him well defensively. Aoki has also been very durable, with a three-week stint on the disabled list with a groin strain in 2014 as the only significant absence since he arrived in the US.
Aoki has been at least a two-win player in two of his three seasons in the league, and if he can maintain his high on-base percentage, his secondary skills are good enough to hit that threshold. He also did not receive a qualifying offer, so the team that signs him won't have to give up a draft pick.
Weaknesses/Cons
In 2012, his first season in the US, Aoki hit ten home runs and 51 overall extra-base hits, good power numbers for a table-setter. In the last two years, however, that power has vanished — Aoki had eight homers and 31 extra-base hits in 2013, and just one homer and 29 extra-base hits in 2014.
Aoki's fly ball percentage has decreased from 27.7% in 2012 to 17.1% in 2014, and the average distance of those fly balls has decreased from about 280 feet in 2012 to 249 feet in 2014, ahead of only Donovan Solano, Elvis Andrus and Emilio Bonifacio on Baseball Heat Maps' Flyball Leaderboard. Meanwhile, Aoki this year hit ground balls at a 61.9% rate this season, the second highest percentage among qualified hitters throughout MLB, behind Ben Revere and just ahead of an ancient Derek Jeter. In other words, unless there's something about Aoki that hasn't been revealed to us, his loss of power doesn't appear to be a fluke.
A corner outfielder doesn't need great power to be productive, but Aoki would lose value quickly if any of his other skills were to slip. His lack of power also limits his upside. Aoki's Isolated Power last year was .075. Of the 13 qualified batters last season with Isolated Power numbers of below .090, only two — Revere and Dee Gordon — produced above average offensive value overall, according to Fangraphs.
Personal
Aoki, of course, starred for eight years with the Yakult Swallows in Japan before arriving in the United States. He was born in Hyuga, a small coastal city in Southern Japan, and his parents still reside there. Aoki and his wife, Sachi, have two young children.
Aoki's interpreter, Kosuke Inaji, has worked with him in both Milwaukee and Kansas City and is "very much an extension of him," Vahe Gregorian of the Kansas City Star writes. "He's like our fifth outfielder," Carlos Gomez said of Inaji when he and Aoki were with the Brewers.
Aoki wins plenty of praise as a teammate. "He had a great personality," says former manager Ron Roenicke. "He fit in really well with the guys. We had fun with him. But he worked as hard as you could work. You can't put more effort into the job than he did."
Market
There aren't many good position players available this offseason, but there are a fair number of outfielders, including Melky Cabrera, Yasmany Tomas, Colby Rasmus, Nick Markakis, Alex Rios and Torii Hunter. It's possible Cabrera, in particular, might have to sign before the rest of the market develops. The Royals appear likely to have interest in retaining Aoki, and he could also fit in with the Reds, Twins, Mets, Cardinals, Blue Jays, Orioles, Rangers, Giants or Tigers. Nick Cafardo of the Boston Globe noted this week that the White Sox could be a possibility as well.
Aoki still profiles as a starter, but it's unclear what his next team might be getting. His on-base ability is valuable, but the disappearance of his power is worrisome.
Expected Contract
A legitimate on-base threat is hard to find, and at his age (33 in January), Aoki could remain productive for at least two more years. He also has experience at all three outfield positions and could probably slide into a fourth outfielder role if his offense slips.
For all his drawbacks, Aoki was obviously a bargain throughout his previous contract, which paid him just $4.95MM total for the 2012 through 2014 seasons. This time around, he should be able to find a two-year contract at a significantly higher annual salary. He might end up being able to land a two-year, $16MM deal.
Photo courtesy of USA Today Sports Images.