Sergio Romo is one of several big name relievers on the open market this winter.  Despite his hiccups in 2014, he's expected to find an attractive offer from a club betting on a rebound in 2015.
Strengths/Pros  
In 2013, Romo looked like one of the top closers in the majors.   The right-hander pitched to a 2.54 ERA with 8.7 K/9 and 1.8 BB/9 in 65 appearances (52 to close out the game) and rightfully earned his first career All-Star selection.  In fact, while he found widespread recognition in 2013 as the Giants' full-time closer, his body of work as a whole deserves a tip of the cap.  Across seven seasons, Romo has proven himself to be a strong late-inning reliever, as evidenced by his career 2.51 ERA with 10.1 K/9 and 1.8 BB/9.  Simply put, he has a track record of being aggressive enough to make hitters whiff while keeping the walks way, way down.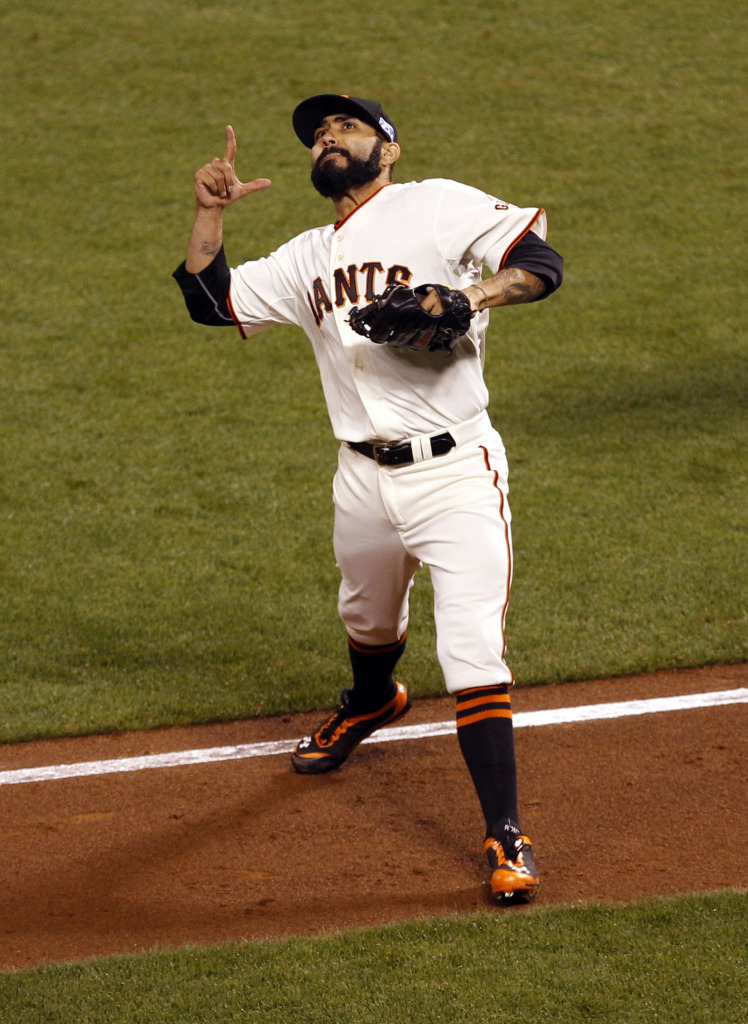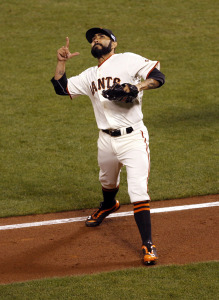 Aside from strong strikeout numbers and even stronger walk numbers, Romo's resume shows that he is more durable than a lot of his peers.  Since 2010, Romo has made no less than 64 appearances in a season.  It's not hard to imagine that continuing in 2015 and beyond since Romo doesn't throw a tendon-tearing 100 mph fastball.
This past season obviously wasn't Romo's best, but there's reason to believe that he can return to his old form.  Romo's HR/FB ratio of 13.0% in 2014 was the highest of his career and a regression towards his career average of 8.1% would go a long way towards tamping down his ERA.
Romo's numbers haven't been boosted by a home field advantage as his performance has pretty much been the same within the confines of AT&T Park as they have been on the road.  Romo hasn't shown much of a platoon split either.  He has also been very strong through three postseason runs and has the experience of pitching in three World Series on his resume.
It should also be noted that the 31-year-old (32 by Opening Day) won't be tied down by a qualifying offer this winter.  And, while the sabermetric community may roll its eyes at the mention of saves, Romo is just one year removed from a 38-save season.
Weaknesses/Cons  
Suffice to say, Romo didn't have the kind of walk year he was hoping for.  His strikeout and walk numbers were more or less there (9.2 K/9, 1.9 BB/9) but his 3.72 ERA left much to be desired and his 3.40 xFIP only granted him so much slack.  Romo's regular season efforts netted him a -0.3 WAR, the first negative posting of his career.  In general, Romo's xFIP has been about a half-run higher than his ERA would indicate, though a career mark of 3.02 is hardly a poor number.
Romo's velocity has dipped a bit over the years, and he can't afford to lose much more off of his 88 mph average from 2014.  Among free agent right-handed relievers, Romo's fastball had the slowest average.  In fact, his heater was the fifth-slowest among all qualified relief pitchers in 2014.
Of course, losing the closer's mantle this summer could hurt Romo's stock and perception.  He'll likely be considered as a closing option by some clubs, but some may prefer him in a setup capacity.
Personal  
Romo has two sons and greatly enjoys spending the bulk of his off time with them.  He also has multiple charitable efforts in the state of California and is something of the gym rat.  Romo makes his offseason home in Phoenix, Arizona.
In a lot of ways Sergio patterns his parenting style after his own dad, Frank.  "If I become half the dad my dad is, I'll be happy," Romo told ESPN The Magazine's Tim Keown.
As Keown detailed, Frank pushed Sergio to join the Navy out of high school but relented by giving him two years to pursue his baseball dream.  It's safe to say that was a good call.  Romo turned into one of the stronger set-up men in MLB and in 2012, he got his chance to close when Brian Wilson suffered an unfortunate elbow injury and Santiago Casilla developed blisters.
"I have to admit, I wasn't ready for what happened [in 2012]," Romo said. "I was afraid of a lot of the attention I got. I leaned on my teammates. I credit them for allowing me to be better than I think I really am. They brought the best out of me, and I didn't have time to think about myself and my doubts. Many times I would think, 'Man, how can they have so much faith and I'm sitting here doubting myself?'"
Market  
Given his struggles in 2014, it's hard to say whether the Giants would want to welcome back Romo, particularly if it would require a raise from his current $5.5MM salary.  In early May, the Giants were hoping to lock Romo up for the long term.  Now, that's far from a given.  In the spring, Romo appeared poised to stand as the top free agent closer this winter.  Since then, Romo has arguably been leapfrogged by David Robertson, Andrew Miller, Luke Gregerson, and other available late-inning options.
Even if he's not in the top-tier of eighth or ninth-inning guys, he'll still get plenty of interest.  The Yankees, if they lose Robertson, might want to fortify their bullpen with a less expensive option like Romo.  Ditto for the Orioles and Andrew Miller, who Tim Dierkes sees fetching a four-year, $32MM deal.  Recently, our own Steve Adams suggested the Indians as a possible fit for the veteran and teams like the White Sox, Astros, Dodgers, and Red Sox could also get in the mix.  There will be tons of clubs on the lookout for bullpen arms, so agent Barry Meister figures field calls from a number of GMs.
Expected Contract
Romo is one of many notable bullpen arms available this winter and with so many options out there, he may not want to drag his feet in finding a deal.  Waiting until after the New Year could mean settling for something far less lucrative than what he's hoping for today.  Still, if he's intent on exploring the open market, he may have to wait for the dominoes to fall.
Romo will have more suitors once the runners-up for Robertson, Miller, and the like start to search out other options.  Then again, maybe it won't come to that.  After topping the Royals, the afterglow of the Giants' third World Series title in five years could help to facilitate a reunion early on in the process.
Ultimately, I see Romo signing a three-year, $21MM deal this offseason.
Photo courtesy of USA Today Sports Images.