We have previously set out the 2015 payroll starting points for every club. Now, we'll turn to future obligations. Obviously, teams that intend to add long-term contracts will need to keep a close eye on these figures.
I took a look at this same information last year at roughly the same time (see here and here). As I explained then, discounting future obligations is unquestionably necessary for a true picture, but is also a practical impossibility (for this exercise) given its complexity and broad range of variables. The basic premise is simple, of course: the further away an obligation, the more the discount rate compounds, and the less that obligation is valued in terms of present dollars. (That assumes, of course, that we will continue to experience an inflationary environment; otherwise, the opposite would be true.)
The future obligations chart and table that follow (all figures in $MMs) were compiled using the Cot's Contracts database. That information reflects prorated signing bonuses, as is done for luxury tax calculations, so in that respect it may overstate (by a small amount) the actual budgeting situation for some teams. (Note also that the Tigers' reported signing of Victor Martinez is not included; if that deal is consummated, it would add $17MM per season to Detroit's tab over 2016-18.)
And in table form: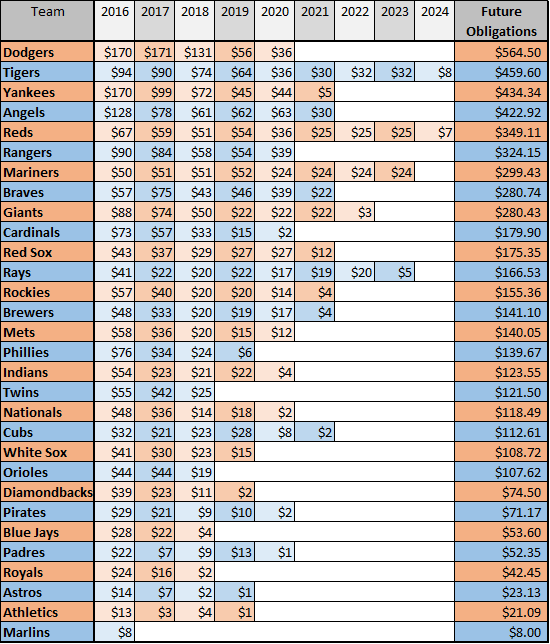 So, how have things changed since we last checked in about a year ago? Obviously there have been some significant commitments added and subtracted, and existing contracts are one year closer to completion.
The following table shows how each team's future balance sheet has changed on a year-by-year basis since last year (re-ordered highest to lowest):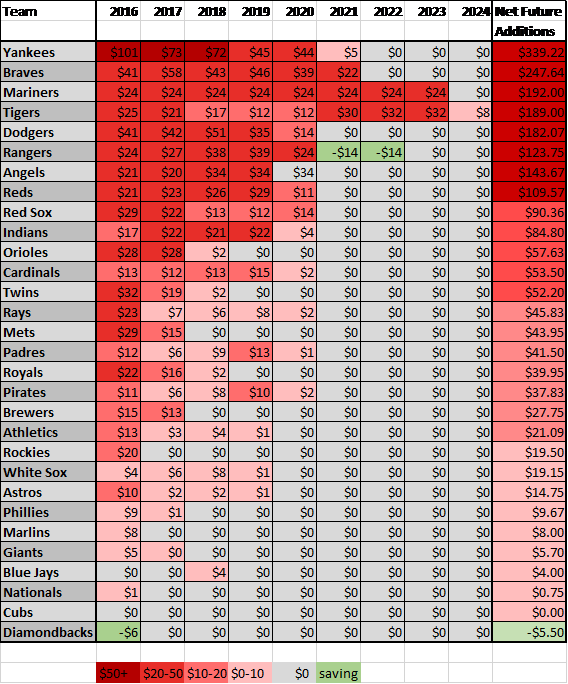 And finally, this table documents how each team's total forward-looking commitments have changed from our last snapshot in November of 2013 (looking at 2015 and beyond) to the one taken this morning (looking at 2016 and beyond). In other words, the number you see in the column at the right shows you how much more or less in total future obligations a particular team is carrying now than they were at this time last year.