The Yankees, Diamondbacks and Tigers have officially announced a three-team trade sending shortstop Didi Gregorius from the D-Backs to the Yankees, right-hander Shane Greene from the Yankees to the Tigers, and left-hander Robbie Ray and infield prospect Domingo Leyba to the Diamondbacks.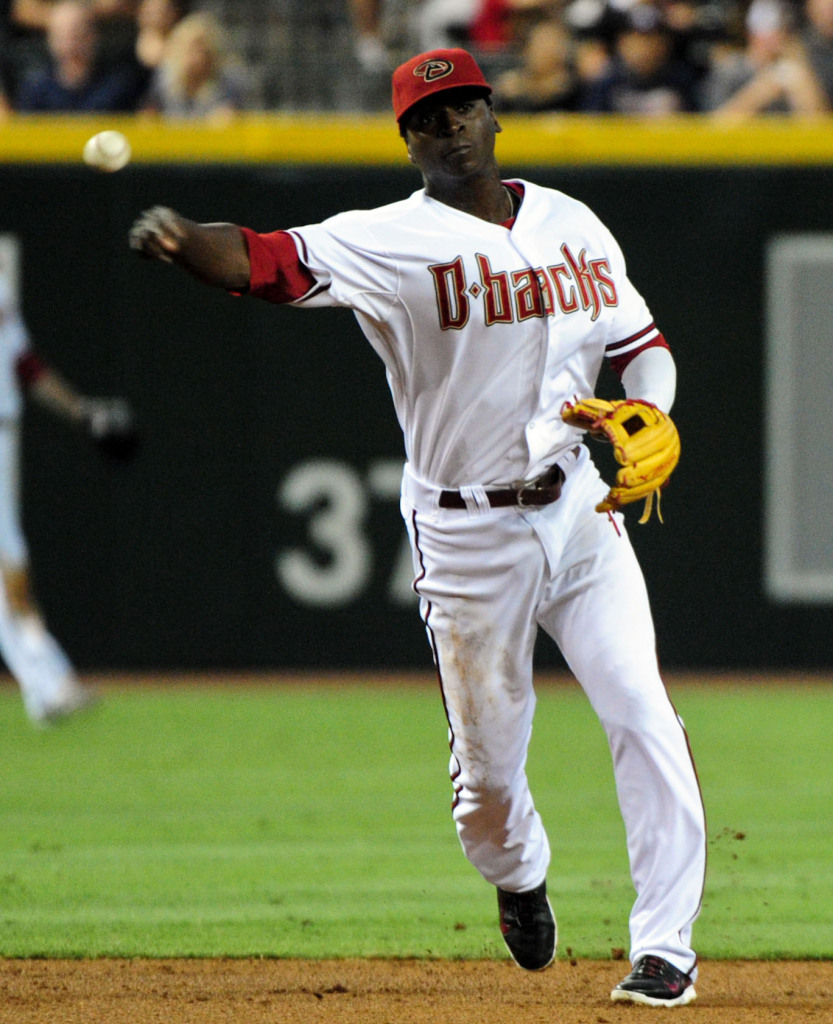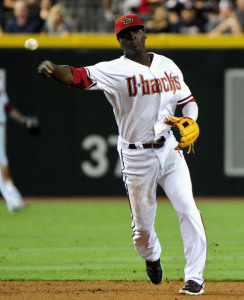 Gregorius, who turns 25 in February, has a good defensive reputation but comes with some question marks regarding his bat. In his age-24 season with the D-Backs, Gregorius batted .226/.290/.363 with six homers and three steals in 299 plate appearances. Overall, he's compiled a .243/.313/.366 batting line over parts of three seasons in the Majors, showing stretches of offensive potential at times. For instance, Gregorius batted .275/.341/.403 in the first half of the 2013 season with a reasonable .313 BABIP, suggesting that his production wasn't inflated heavily by luck. However, he followed that up with a .207/.314/.314 second half. He'll obviously have large shoes to fill in New York as the Yankees hope that he can be a long-term replacement to Derek Jeter. Gregorius is controlled through the 2019 season, giving the Yankees at least five full seasons of his services if he proves that he can handle the job.
Greene is a candidate to immediately fill the fifth slot in the Tigers' rotation behind David Price, Justin Verlander, Anibal Sanchez and Rick Porcello. The 26-year-old had an impressive debut with the Yankees in 2014, making 15 appearances (14 starts) and posting a 3.78 ERA (3.73 FIP, 3.40 xFIP, 3.41 SIERA) with 9.3 K/9, 3.3 BB/9 and a 50.2 percent ground-ball rate in 78 2/3 innings. Greene averaged a solid 93.1 mph on his fastball last year and gives the Tigers a piece they can potentially control in the long-term, with Price and Porcello set to hit free agency next winter. Greene is controllable through the 2020 season.
The Diamondbacks are dealing from a position of depth, as they had a number of shortstop options in 2015, with Gregorius, Chris Owings and Nick Ahmed all representing controllable possibilities, and the veteran Cliff Pennington serving as a one-year option before hitting the open market next winter. With this move, Owings will presumably be penciled in as the everyday shortstop and will team with Aaron Hill to form the Diamondbacks' double-play tandem.
Arizona is known to be seeking rotation options for the 2015 season this winter, and in landing Ray, they'd be acquiring an arm that has a bit of MLB experience and could soon step into the rotation. Ray, who turned 23 in October, made nine appearances in Detroit this season but allowed 26 runs in 28 2/3 innings. He also struggled, to an extent, in Triple-A last year, pitching to a 4.22 ERA with 6.7 K/9 and 3.9 BB/9. However, he's one year removed from being regarded highly enough by the Tigers to serve as the centerpiece in their trade of Doug Fister to the Nationals.
Leyba was recently ranked fifth among Detroit farmhands by Baseball America. The 19-year-old switch-hitter played both shortstop and second base between short-season Class-A in the New York Penn League and Class-A in the Midwest League, batting .323/.360/.423 with a pair of homers and a pair of steals in 278 plate appearances. In BA's scouting report, Ben Badler writes that while Leyba doesn't have any "dynamic" tools, he's a fundamentally sound infielder with good bat control and a line-drive stroke that can barrel up against good velocity. Badler noted that he's probably better suited at second base, but the Tigers did give him a look at short in the season's final two weeks. MLB.com ranked him eighth among Tigers prospects on its midseason Top 20 list, noting that he has double-digit homer potential once he matures and possesses good strike zone knowledge.
For the Yankees, this places an even larger need on acquiring starting pitching, either via free agency or trade, this offseason. Greene's departure leaves New York with Masahiro Tanaka (whose elbow health is up in the air), CC Sabathia (coming off knee surgery), Ivan Nova (coming off Tommy John surgery), Michael Pineda (who has been plagued by shoulder problems) and David Phelps as potential rotation pieces. The decision to move Greene in order to address shortstop isn't necessarily the result of a faulty thought process, however. The free agent and trade markets are both stacked with starting pitching options this winter, while there's little in the way of shortstop talent available (particularly if one feels that Asdrubal Cabrera and Jed Lowrie are better equipped to play second base). Gregorius will team with Martin Prado either up the middle or on the left side of the infield (depending on how New York's pursuit of Chase Headley ultimately concludes), with Mark Teixeira hoping to return to health at first base. If they elect to use Prado at third and give Rob Refsnyder a shot at second base, as the Post's George A. King III and others have speculated, then it stands to reason that the primary focus from this point forth will be pitching upgrades, both in the rotation and in the bullpen.
WFAN's Sweeny Murti first reported a framework that was being discussed. The Arizona Republic's Nick Piecoro then tweeted that Ray was likely one of the names headed to the D-Backs, and Ken Rosenthal of FOX Sports pushed the report across the finish line, noting that a deal with those parameters had indeed been agreed upon (Twitter links). Rosenthal's colleague, Jon Morosi reported that Leyba was the second prospect in the deal (on Twitter).
Photo courtesy of USA Today Sports Images.