With his youth, solid performance, strong health record and history of eating innings, righty Chris Tillman certainly seems like the kind of player who ordinarily would get extension consideration. It comes as no surprise, then, that the Orioles are interested in extending the Beverly Hills Sports Council client. It doesn't sound like discussions have gotten very far, however, and it's not clear where they'll end up once they do.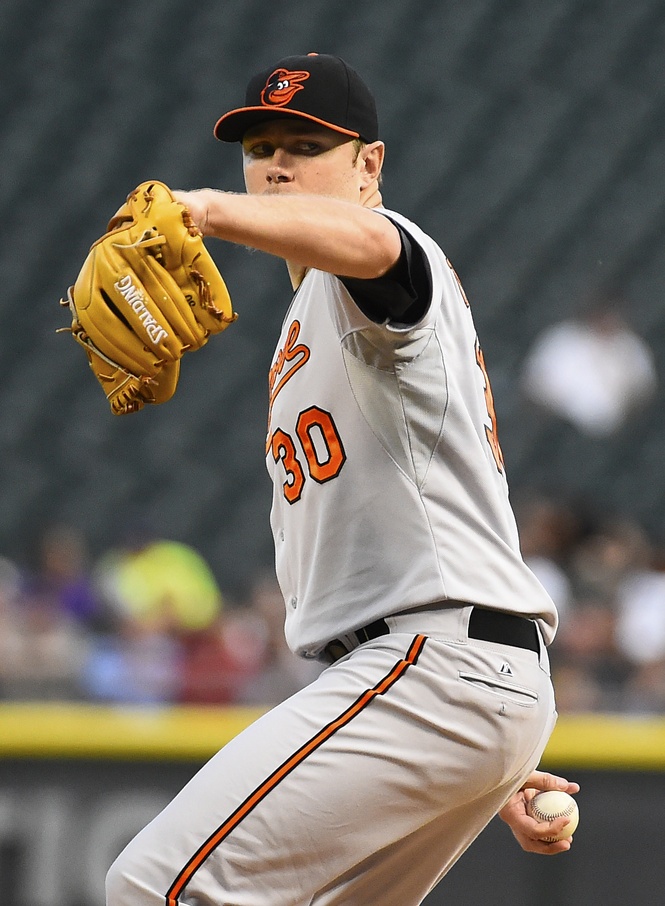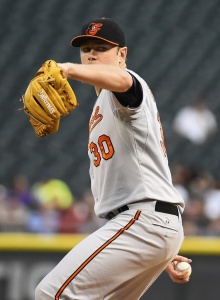 Tillman has pitched over 200 innings in each of the last two seasons, establishing himself as a workhorse at the relatively tender age of 26. After struggling through half-seasons in the big leagues in 2010 and 2011, he's gotten above-average results. What's not immediately obvious, however, is why he's gotten those results. Tillman's K/BB numbers (6.5 K/9 and 2.9 BB/9 in 2014; 6.8 K/9 and 3.0 BB/9 for his career) are fine but nothing special, and he also isn't a ground ball pitcher. He's posted very low BABIPs (.221, .269 and .267) in each of the last three seasons, and he's stranded runners at a very high rate in each of the last two. Unsurprisingly, Tillman's xFIP and SIERA figures have run well behind in his ERAs in each of those years, suggesting a back-of-the-rotation type who looks better than he is thanks to the Orioles' excellent defense. His velocity has also dropped in each of the past two seasons.
Tillman does benefit from the fact that it's nearly impossible to steal bases against him, however, which doesn't turn up in peripheral numbers. Also, it's possible he turned a corner at some point last season — he posted a 4.11 ERA in the first half, then a 2.33 in the second half, with 7.7 K/9 and 1.8 BB/9. That kind of decisive improvement might be mostly variance (Tillman also pitched significantly better in the second half in 2013, but didn't carry that improvement into the first half of 2014), but it's also possible he simply got better as the season went on, particularly given his age. Tillman changed his release point as 2014 progressed, perhaps suggesting that at least a portion of his improvement is sustainable. And even if Tillman reverts to his career norms next year, his ability to soak up innings has value. Exactly how good Tillman is can be debated, but if he keeps pitching 200 innings a season, extending him has limited downside (at least by the standards of multi-year pitcher contracts) even if he's merely average.
It's difficult to find precedents for a Tillman extension that don't come with significant caveats. Tillman has between three and four years of service time, and via MLBTR's Extension Tracker, most recent extensions for starting pitchers with that much service are either very short (two years each for Mat Latos and Clayton Kershaw, for example) or out of date (Johnny Cueto got a four-year deal plus an option prior to the 2011 season, while Ervin Santana got four plus an option two years before that). A long-term deal for Tillman would potentially recalibrate the market for pitchers with similar service time.
So to map out a Tillman extension, we'll begin with his likely salary heading into his first year of arbitration. Matt Swartz's model for MLBTR projects that Tillman will get $5.4MM in his first arbitration season, but as Swartz noted last week, that figure is probably unlikely. The current record for a one-year deal for a pitcher eligible for arbitration for the first time is $4.35MM, and Swartz thinks Tillman would approach or match that figure rather than crashing through it.
If Tillman were to make $4.35MM next year, that would still set him up to clear $20MM in his arbitration seasons, depending on his development. If Tillman's contract were to match the Cueto and Santana deals in structure (four years plus an option), that would put him between $32MM and $40MM. That figure seems low, given more recent extensions for pitchers with slightly less service time, like Chris Sale (who had between two and three years of service time when he got $32MM guaranteed for five years, plus two options) and Derek Holland (who had roughly the same service time as Sale and got $28.5MM guaranteed for a five-year deal with two options). Julio Teheran signed for six years and $32.4MM last offseason despite having just over a year of big league service.
Of course, Tillman and the Orioles could aim longer. For five years guaranteed, Tillman could perhaps ask for the five years and $55MM given to Matt Harrison, who had a year more service at the time of his extension than Tillman has now. Phil Hughes' recent deal gave up three years of free agency eligibility at $14MM per season, and a five-year deal for Tillman would give up two. Given what Tillman is set to make in arbitration, a $55MM total, or perhaps a bit less, for the next five years makes sense. Alternately, the two sides could strike a two- or three-year deal, although that would likely be done purely on Tillman's arbitration projections and probably wouldn't contain any options.
Given the money Tillman is already set to make in arbitration, it would be hard to blame him for aiming high in extension discussions. The question is whether the Orioles would want to pay $50MM or more for a pitcher with so many sabermetric question marks. If a large percentage of Tillman's success is due to the Orioles' defense, it doesn't make sense for the Orioles to pay a premium for him going forward. Unless Tillman is willing to take a substantial discount, the Orioles' best route might be to take him year-to-year.
Photo courtesy of USA Today Sports Images.