The Pirates have recently been amongst the game's most aggressive teams in pursuing early-career extensions. Since taking the GM seat in Pittsburgh back in the fall of 2007, Neal Huntington has locked up deals with ten players for a total of 37 years and $182.9MM. Only two of those contracts went to players with four or more years of service.
Among the team's most recent efforts were successful pacts with star outfielders Andrew McCutchen (six years, $51.5MM) and Starling Marte (six years, $31MM), with the former inking with 2.123 years of service and the latter signing with just 1.070 years to his credit. While those deals haven't all been successful — neither Jose Tabata nor Nate McLouth, for instance, delivered value on their deals, though neither did they hamstring the club — the aggregate benefit to the organization is undeniable.
Pittsburgh, riding high on two straight postseason appearances, spent a relatively large amount through free agency this last offseason and seems in good position to stay competitive for years to come. The team has continued to explore ways to add value to its player assets through extensions: in particular, it made a long-term offer to then-untested outfielder Gregory Polanco last year, though those negotiations seemingly stalled. In spite of their relatively meager spending capacity, the Pirates appear to have plenty of future flexibility, with less than $12MM on the books for 2018 and even less thereafter.
While another run at Polanco obviously remains possible, it is fair to wonder whether the team might turn its sights elsewhere this spring. Josh Harrison remains an intriguing possibility, as MLBTR's Steve Adams discussed last fall. Beyond that, there is one obvious potential candidate who brings immense upside — and, given the nature of his craft, risk: young ace Gerrit Cole.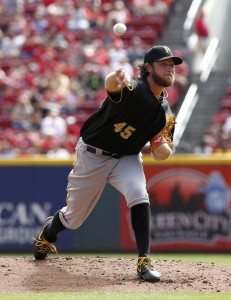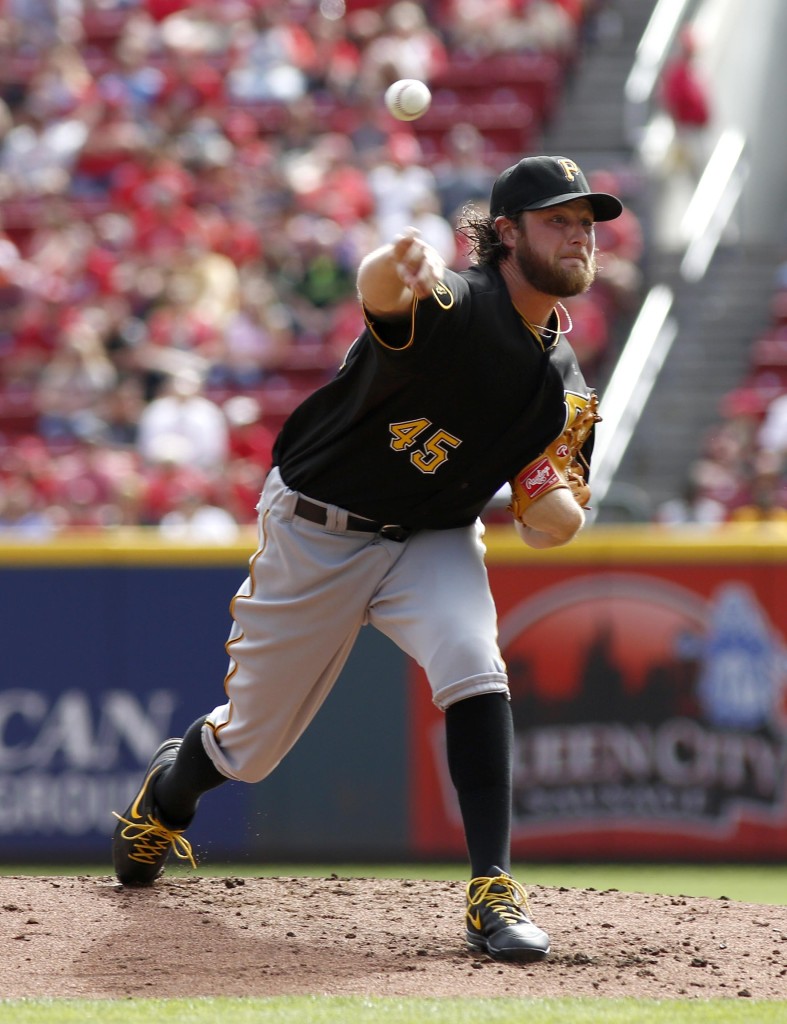 Cole, 24, has done exactly what the Bucs hoped when they made him the first overall pick in the 2011 draft, reaching the bigs in 2013 and establishing himself as a quality starter off the bat. To date, he has thrown 255 1/3 big league innings with a 3.45 ERA and 8.4 K/9 against 2.4 BB/9. Advanced metrics suggest he's been even better, as he owns a career 3.09 FIP, 3.20 xFIP, and 3.28 SIERA. Cole consistently works in the mid-90s with his fastball and has averaged a strong 49.1% groundball rate thus far. Needless to say, the outlook is positive.
If there is one red flag on Cole, it is health. First and foremost, he is a pitcher; as we are constantly reminded, any arm is at risk of injury at any time. But there is some additional cause for concern in his case, as Cole missed significant time last year owing to shoulder issues. He returned and posted good results late in the season, and does not have any significant history of problems prior to 2014. And he has reportedly worked to smooth out his mechanics and incorporated exercises to maintain his shoulder health.
With just 1.111 years of service to his name entering the 2015 season, Cole will not qualify as a Super Two and is set to hit arbitration eligibility in 2017. That means he will not reach free agency until 2020. Despite his rapid ascent to the bigs, Cole will reach the open market at age 29 — still relatively young, but not as early as some quick-to-the-bigs phenoms. Those factors, along with the risk of injury and performance, generally transfer significant leverage to a team, of course.
In this case, though, there are some significant offsetting considerations. For one, Cole was signed to an $8MM deal out of college, meaning he has already secured life-changing money. For another, he is represented by agent Scott Boras. Contrary to popular opinion, Boras has overseen pre-free agent deals for his clients, many of those contracts have not sacrificed free agent seasons. And, on balance, he certainly carries a deserved reputation for bringing his players onto the open market in search of huge paydays.
To be sure, it is far from a sure thing that Cole would be receptive to contract talks at this stage. If he is, however, both sides will have plenty of precedent to work from. Looking in at recent extensions for starters with between one and two years of service, one finds a host of comparables. First on the list has to be Madison Bumgarner, who got five years and $35MM from the Giants while giving up two option years back in 2012. More recently, Julio Teheran and the Braves linked up on a six-year, $32.4MM deal that conveyed one option year to Atlanta.
The Bumgarner comp, in particular, appears to be a good one; indeed, he was perhaps slightly more accomplished — and significantly younger — at a similar point in his service timeline, and had already put up a fully healthy season of over 200 frames. Teheran signed before his age-23 season, coming off of a 185 2/3 inning season of the sort that Cole has yet to accomplish. Cole's representatives would no doubt point to the $200MM+ contracts that have been given to free agent starters in recent years as evidence of salary growth, though Cole's shoulder concerns and additional age would serve as counterpoints. While it is, perhaps, possible to argue that Cole possesses greater upside than Teheran, or at least more than he did at the time his deal was struck, projection systems seem to hold the two righties in approximately the same regard heading into 2015.
What is most interesting about Cole's situation, perhaps, is what it could theoretically tell us about where pre-arb extensions are headed. Somewhat unlike other areas of the market, early-career pitching extensions have not exhibited much growth. In addition to the Bumgarner and Teheran examples, which came two years apart, extensions for pitchers with between two and three years of service have largely followed a script for some time: Gio Gonzalez (five years, $42MM, two options) holds the record in that class, but Chris Sale's 2013 deal (five years, $32.5MM, two options) was not substantially different from, say, the 2011 Trevor Cahill contract (five years, $30.5MM, two options).
As I explained in breaking down last year's notable Freddie Freeman extension, and as the Mike Trout and Giancarlo Stanton extensions further demonstrate, the position player extension market has seemingly broken out of any molds. On the pitching side, the most significant recent deals have gone to players on the verge of free agency (Clayton Kershaw and Homer Bailey, for instance). Locking up Cole could require a market-resetting deal; it remains to be seen, of course, whether either team or player are willing to make that happen.