Asked to create a list of candidates for the 2014 NL batting title five months ago, few would have seriously suggested Pirates utilityman Josh Harrison. However, it's September 11th, and the .318 mark that Harrison carried into the day paced the National League. A decline in performance for Pedro Alvarez and an eventual season-ending injury for the slugging third baseman have opened the door for Harrison to serve as the club's everyday option at the hot corner down the stretch — an opportunity on which he has capitalized. Though the 27-year-old Harrison had never even topped 276 plate appearances prior to this season, he's tallied 472 and should finish the season well north of 500.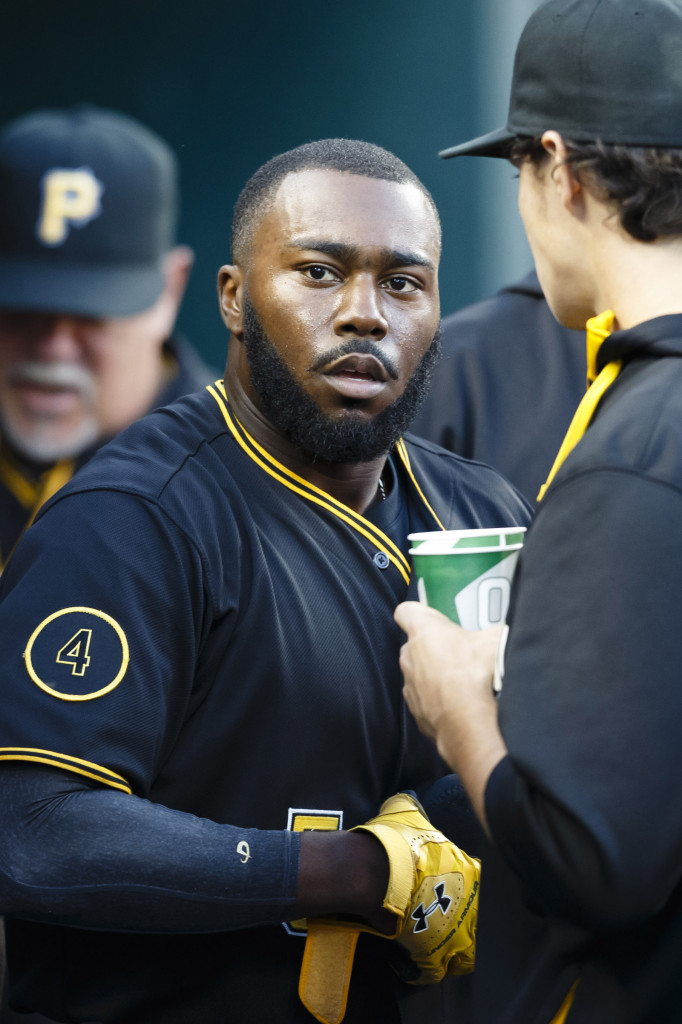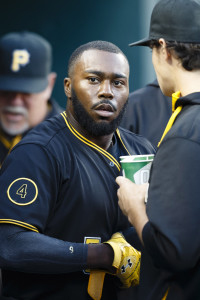 The Pirates acquired Harrison with little fanfare in the 2009 trade that sent Tom Gorzelanny and John Grabow to the Cubs and watched him produce steady batting average and on-base percentage marks as he ascended the minor league ranks. However, while his glovework graded out favorably heading into the season, he also carried a career slash line of just .250/.282/.367 into 2014.
Harrison hasn't drastically changed his approach at the plate — his swing and contact rates are similar to his previous marks — but he's slightly increased his walk rate, cut down on his pop-ups and laced line drives at a career-high rate. On top of that, Harrison has found some power despite never hitting more than six homers in a minor league season. He's swatted 13 long balls and posted a .196 isolated power mark even though he plays at PNC Park, which is known to significantly diminish right-handed pop. The end result has been an outstanding .318/.351/.514 batting line to go along with those 13 homers, 17 steals and strong defensive marks.
Harrison has cleared three years of Major League service time now and will be eligible for arbitration this offseason. Clearly, an NL batting title, 15 or so homers and 20 or so steals will help his agents at Millennium Sports Management make a strong case. However, first-time arb salaries are based on a player's entire career to that point, unlike second- and third-time arb salaries which are based more on a player's most recent season. With the agents likely touting an elite platform season and the team likely pointing to earlier seasons to drive the cost down, a multi-year contract might be worth examining. Pittsburgh would get cost certainty, while Harrison would receive financial security in the event that he does not replicate his brilliant 2014.
Of course, from the Pirates' point of view, they may look at Harrison as a player whose most consistent attributes are defense and baserunning — two aspects that, while valuable, are not highly rewarded in arbitration. While he does have a career-high in homers, the Pirates could also look to Harrison's average fly-ball distance of 279.98 feet — 136th in the Majors according to BaseballHeatMaps.com — and the fact that seven of his 13 homers fall into the "just enough" category on ESPN's Hit Tracker. Those two stats suggest that he may have difficulty sustaining this level of power, which would subsequently deflate his arb prices in future cases. A low-payroll team like the Pirates may express hesitancy at over-committing in the event that his power numbers won't stay this high.
As such, Harrison and the Pirates may have trouble reaching common ground should either side look to pursue a long-term deal that buys out free agent years. The Pirates will cite Harrison's short track record and reliance on defense and baserunning to provide value. Harrison's agents, meanwhile, will likely position him as a breakout player and could point to five- or six-year pacts signed by other infielders in the past year or so. However, even a similar late bloomer like Matt Carpenter had an excellent 2012 season and a fourth-place MVP finish in 2013 before signing his six-year, $52MM contract. Harrison has just one elite season.
While Harrison isn't the first player to jump from utility player to All-Star (though the feat certainly isn't common), few, if any players have found themselves in his situation and his service bracket and ultimately inked a long-term deal. A look at extensions for infielders with three to four years of service time shows few deals that serve as comparables. Pablo Sandoval signed a three-year, $17.5MM to buy out his arb years at the same stage of his career, but he had a much better offensive profile at that point. Elvis Andrus' original three-year, $14.4MM extension was signed when he had an even three years of Major League service. He lacked an offensive season in the vein of Harrison's excellent 2014, but he had a longer track record of providing value.
The Pirates are one of baseball's most cost-conscious teams, and as such there would seem to be some benefit to securing Harrison's arbitration paydays, and for a player with no track record prior to 2014, I'd think that holds some appeal to him as well. Perhaps the two sides could work out a three-year deal in the $15-16MM range to provide Harrison with a lifetime of financial security but still position him to hit free agency at a relatively young age in search of a significant payday. While Pittsburgh would undoubtedly have interest in adding a club option that could push the total value of the contract into the Michael Brantley range (four years, $25MM) if exercised, that doesn't seem to be a worthwhile trade-off for player and agent, even if the buyout was fairly significant.
Beyond Harrison's three arbitration years, the situation feels to this writer like one in which the team's lack of margin for error (due to payroll constraints) makes betting on Harrison's surprise breakout a bit too risky to pay him like the late-blooming star he could very well be. Of course, there's risk for the team to pass on a long-term deal as well; if Harrison is capable of sustaining something close to this level of production, his price tag on a long-term deal a year from now could exceed that of Carpenter.
Photo courtesy of USA Today Sports Images.