The Reds' offseason was highlighted by two solid trades of starting pitchers who were about to approach free agency, but the team still could face tough times ahead as its core continues to age.
Major League Signings
Burke Badenhop, RP: One year, $2.5MM ($1MM plus $1.5MM buyout on $2.5MM 2016 mutual option)
Total spend: $2.5MM
Notable Minor League Signings
Trades And Claims
Extensions
Notable Losses
Needs Addressed
The Reds' most pressing problem was the impending departure of much of their rotation next winter, and they addressed that issue by trading Mat Latos and Alfredo Simon, both of whom could join Johnny Cueto and Mike Leake on the free agent market after the season. With over $82MM already on the books for 2016 (much of that coming from long-running contracts for Joey Votto and Homer Bailey), the Reds were in a tough spot from which the Latos and Simon deals helped remove them. They also saved about $14MM for 2015, given the two pitchers' salaries in their last years of arbitration.
The Latos deal, in particular, will help, in that the Reds got a young starting pitcher in Anthony DeSclafani who has six full years of control left and should be able to help right away, perhaps developing into a middle-of-the-rotation type. Along with Bailey, Tony Cingrani and top prospect Robert Stephenson, DeSclafani will help the Reds adjust to life without Latos and Simon, and, perhaps eventually, without Cueto and Leake as well. The Reds also got Chad Wallach, a young catcher with a good eye at the plate who will likely start the season at High-A.
Jonathon Crawford, the pitcher the Reds received in the Simon trade, is further from the Majors, and is a bit of a project — his statistics in Class A last year were nothing to write home about, and most observers haven't thought much of his changeup. His development will depend upon how well he's able to use his other pitches to complement his plus fastball. The Reds also added Eugenio Suarez, a capable defensive shortstop who hit reasonably well in the minors and held his own in the big leagues as a 22-year-old last season. If Suarez can continue to improve, he'll likely eventually replace Zack Cozart, whose subpar hitting mostly canceled out his plus defense last year.
Overall, that's a good haul for Latos and Simon, particularly given that DeSclafani and Suarez might be able to help right away. Latos and Simon both had just one year of control left, and neither of them are aces — both of them had better ERAs than peripherals last year, and Simon, in particular, is a good bet to take a step backward next season. Latos also missed time in 2014 due to knee and elbow injuries. Whether the Reds will be able to keep Cueto and Leake beyond 2015 is an open question, but those two were probably the best pair of starters from among the four facing free agency, and the Reds got good value for the lesser pair.
The Reds also shipped outfielder Chris Heisey to the Dodgers for 25-year-old righty Matt Magill. Magill walked 6.3 batters per nine innings at Triple-A last season and doesn't throw particularly hard, so he's unlikely to contribute much. Heisey doesn't hit well, although he's a strong enough defender to be an asset, and his departure leaves the Reds' rather thin outfield vulnerable if anyone is injured.
To bolster their bullpen, the Reds added righty Burke Badenhop on a one-year deal. Badenhop is a soft-tosser whose strikeout rate has shrunk over the past three seasons and whose xFIP was a run and a half behind his ERA last year, but at $2.5MM, the Reds didn't overpay for a reliever who can limit walks and get bunches of ground balls.
The Reds also signed two core players, Todd Frazier and Devin Mesoraco, to extensions. The Frazier contract was fairly routine — it's a two-year pact that buys out only Frazier's first two years of arbitration eligibility, tracking fairly closely to what his salaries would have been through the arbitration process in those two seasons. After it ends, the Reds will be able to take Frazier through arbitration once more. Frazier's deal came in lieu of an extension to buy out free-agent seasons, but since Frazier is already 29, such a deal might not have been necessary anyway.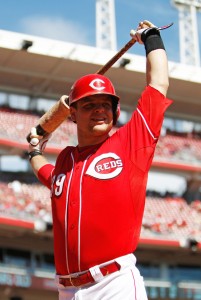 The Mesoraco deal is a more significant commitment. Like Frazier, Mesoraco was arbitration eligible for the first time. But Mesoraco's contract buys out all three of his arbitration seasons, plus one year of free agency. Mesoraco and the Reds had already exchanged arbitration figures, and the midpoint of those two figures of $3.025MM would have given the two sides a rough guide to how much Mesoraco might have made through the arbitration process in 2015, 2016 and 2017.
The deal comes with risk for the Reds — Mesoraco has only had one excellent season, and by extending him, the team is gambling that his 2014 breakout is real, or mostly real. Mesoraco is also an injury risk, having missed time with hamstring problems in 2014. The Reds also didn't get any club options. If Mesoraco keeps hitting, though, the deal will be a bargain — if we assume, somewhat conservatively, that Mesoraco would have made about $15MM in his arbitration seasons, the deal buys out Mesoraco's age-30 season at $13MM, a good price for what might be a strong late-prime season for a quality catcher. And if Mesoraco can approximate his .273/.359/.534 2014 outburst in 2015 and 2016, he would have been able to get far more than $15MM total in his three arbitration seasons.
Questions Remaining
As a team in transition, the Reds have no shortage of questions. Many of their highest paid players (Joey Votto, Jay Bruce and Brandon Phillips among them) either had injury or performance issues or both in 2014. It will be difficult for the Reds to compete in 2015 if those players don't stay healthy this time, since the team doesn't have much depth, particularly now that Heisey is gone.
Key bench player Skip Schumaker is coming off a poor .235/.287/.308 season upon which he doesn't figure to improve much. Backup catcher Brayan Pena was little better, at .253/.291/.353. The fact that Schumaker and Pena were already under contract for 2015 likely meant that the Reds weren't going to spend much of the offseason hunting for position players who weren't starters, but even a better crop of minor-league free agents would have helped. The team's position player depth in the high minors is nothing to write home about, and its top hitting prospects are far from the Majors. Fangraphs' depth chart currently lists nine Reds position players — their eight starters, plus Suarez — who project to be more than a tenth of a win above replacement in 2015. That's a shame, because given the Reds' veteran-heavy lineup, good backup plans could really have come in handy.
When Reds GM Walt Jocketty worked for the Cardinals, he frequently built benches full of light-hitting players like Aaron Miles, Roger Cedeno, Kerry Robinson and Miguel Cairo. But at least in St. Louis, Jocketty could lean hard on stars like Albert Pujols and Jim Edmonds year-in and year-out. Jocketty did the same with the 2014 Reds, depending on players like Votto and Phillips, and it didn't work. As of this writing, Votto, who missed 100 games last season with a knee injury, still hasn't appeared in Spring Training action, although he's expected to do so Saturday. If the Reds are to be successful in 2015, they need him.
The Latos and Simon deals will help the Reds beyond this season, and probably aren't even as detrimental for 2015 as they might initially appear, but they do leave the team's rotation thinner than it had been before. Tony Cingrani will occupy one of the last two spots, and he's excellent as a back-end option, although the Reds will hope he's past the shoulder troubles that ended his 2014 season. (He's currently pitching normally in Spring Training.) DeSclafani is the front-runner for the fifth spot. The Reds also aren't sure whether Bailey will be ready for the beginning of the season after having forearm surgery last September, which could mean Paul Maholm or Jason Marquis gets starts in his absence.
Deal of Note
The Reds spent much of their offseason dealing veterans and reshaping their roster beyond 2015, but they went the opposite direction when they traded pitcher Ben Lively to the Phillies for outfielder Marlon Byrd. With the departure of Ryan Ludwick (who did little in two years in Cincinnati to prove he's a starting outfielder going forward anyway), the Reds had a gaping hole in left field, and Byrd might be able to fill it capably, even at age 37. After a career year in 2013, his rate stats went backward in 2014, but he still hit 25 homers, a total he could match this season in a homer-happy ballpark like Cincinnati's. If he stays healthy, the Reds will likely be happy to be on the hook for his $8MM 2016 team option, which will vest if he manages 550 plate appearances this season.
The quality of the trade, though, depends on Lively. The Reds know him better than anyone, and perhaps thought that his blend of reasonable stuff and deception wouldn't be enough to succeed in the long term. Lively had an excellent first full pro season, though, and could be ready for the Majors by the end of this season or early next. He would have been a good arm for the Reds to have in their system as they prepare for life without many of their top starting pitchers. Perhaps the value of having a competitive 2015 team was worth the cost of losing Lively, but acquiring a relatively cheap free-agent outfielder, like Colby Rasmus, Nori Aoki or Michael Morse, might have made more sense.
Overview
Step back a bit, and the Reds still look like they could be very good. Cincinnati has a power-hitting catcher, a first baseman with a career .417 OBP, a star veteran second baseman, a third baseman who's coming off a career year, and a center fielder (Billy Hamilton) who gives opposing catchers nightmares. They have one of the National League's best starting pitchers in Cueto, and a terrifying closer (Aroldis Chapman) who joins Craig Kimbrel and Greg Holland among the best relievers of this decade so far. If everyone is healthy and performs at his career norms, that's an excellent core.
A closer inspection, though, isn't as kind. The Reds' core is old enough and expensive enough that the team can't necessarily fit many good complementary players into its budget. (That might not improve much in the coming years, either, with the $213MM remaining on Votto's contract potentially causing the Reds huge headaches.) With a few obvious exceptions like Hamilton and Cingrani, the Reds' farm system hasn't developed the young players necessary to replace core pieces as they age. The team can't necessarily count on Votto being healthy, and Phillips isn't nearly as good as he once was. And Cueto is only under team control for one more year.
Perhaps a more aggressive route for the Reds this offseason would have been to trade Cueto and rebuild — one would think Cueto would have been able to land the Reds at least a couple top prospects, given his 2014 performance and ultra-cheap 2015 option ($10MM). The Phillies are having trouble getting the package they want for Cole Hamels, however, and James Shields lasted late into the winter on the free agent market. The Athletics' return for Jeff Samardzija appears to have been relatively meager. Perhaps the Reds are gambling that they can get better value for Cueto at the deadline, or perhaps they'll end up extending him (although it's debatable whether a team in the Reds' position should commit to what would presumably be a nine-figure contract that goes well into Cueto's thirties).
In any case, the Reds appear to be in a holding pattern. This offseason's Latos and Simon trades were steps toward a brighter future, but they were small ones, and the Byrd deal went in the opposite direction. There's no rule stating that a team can only contend or only rebuild, and in fact many teams this offseason have pursued both goals at once. The Reds, though, don't really seem to be doing either one. It wouldn't be a miracle if they made the playoffs this year, but it would be a surprise, and as their core ages and departs, it's unclear what's on the horizon.
Photo courtesy of USA Today Sports Images.