The Mets picked around the edges this winter after entering the offseason committed to fielding a contender built from in-house pieces; indeed, Matt Harvey's return is probably better than any free agent addition that might have been had. While optimism reigns in Queens, the club is already dealing with the early losses of Zack Wheeler and Josh Edgin to elbow surgery.
Major League Signings
Notable Minor League Signings
Trades And Claims
Extensions
Notable Losses
OF Bobby Abreu, 1B/OF Andrew Brown, C Juan Centeno, RP Gonzalez Germen, SP Daisuke Matsuzaka, SP/RP Logan Verrett (Rule 5 selection of Orioles), OF Eric Young Jr.
Needs Addressed
Despite plenty of viable arms in the rotation mix, the Mets nevertheless added one of the best pitchers in the game to their rotation. Of course, Matt Harvey was already under team control, but nursing him back to health and getting him back on the bump does more for New York's chances than any actual transactions that the club could have made.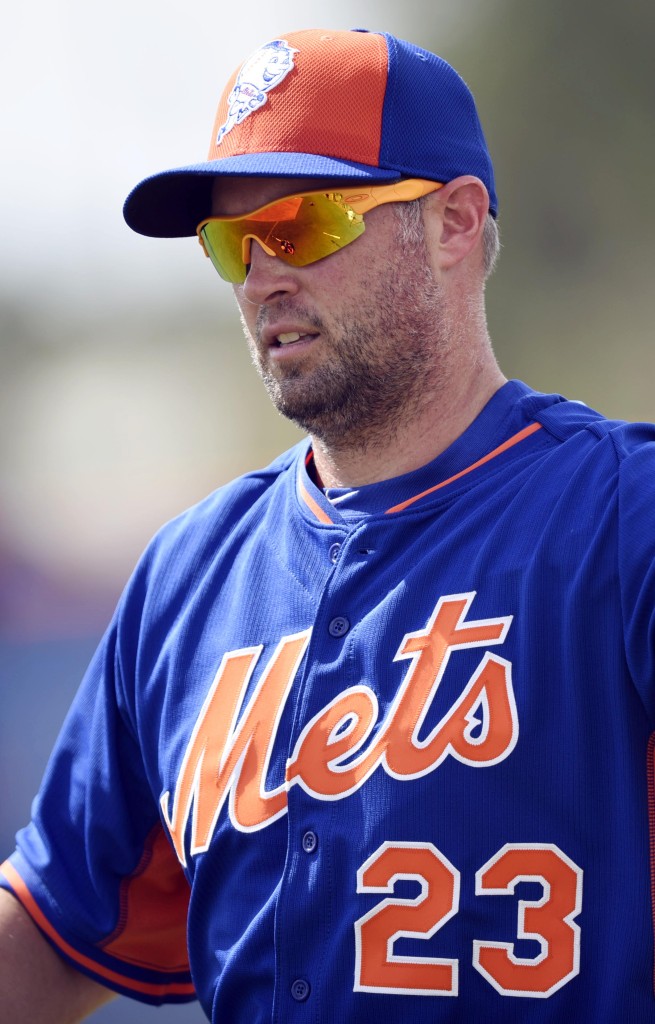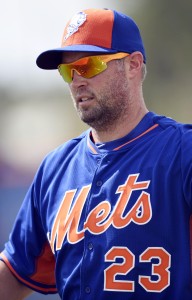 GM Sandy Alderson's most impactful decision was the signing of Cuddyer. That came as a major surprise, as the veteran outfielder had appeared destined to become the first player ever to accept a qualifying offer. He chose instead to decline that one-year deal and sign with the Mets, inking for a fairly reasonable guarantee but also costing the team a mid-first round pick in this year's amateur draft. New York had an obvious need in the corner outfield, and chose to bank on Cuddyer's ability to stay productive despite questions about his health (he had DL stints for shoulder and thigh issues last year) and age (he'll soon turn 36).
Of course, some might argue that an even more important choice was the team's lack of action at shortstop. Some reports, and persistent speculation, pegged the Mets as suitors for both Troy Tulowitzki and Ian Desmond, two of the game's very best overall shortstops. Whether or not either were serious possibilities, the end result is that 23-year-old Wilmer Flores will enter the year as the starter. (More on that below.)
Otherwise, the club largely picked around the edges of the roster. John Mayberry Jr. will serve as a bench bat and could see time in the corner outfield and at first base. But he and Cuddyer represent the entirety of the Mets' major league commitments.
New York was even fairly quiet in terms of adding veteran minor league free agents, preferring instead to rely primarily on in-house options to round out the bench and staff. Among the players that were signed, only bullpen candidates Buddy Carlyle and Scott Rice appear to have much of a chance of making the roster.
Questions Remaining
Shortstop remains a source of controversy and intrigue for the Mets. Flores had a fairly promising 2014 campaign, slashing .251/.286/.378 and playing surprisingly well-reviewed defense, but he is far from a proven commodity. The same holds all the more true of presumptive backup Ruben Tejada, still just 25, who has failed to lock down the job despite nearly 2,000 MLB plate appearances over the last five seasons. If that combination falters, a mid-season acquisition and/or major free agent pursuit could ensue.
Uncertainty of a different kind looms at second, where Daniel Murphy is entering his final season of team control. There seems to be little chance of an extension, and Murphy could become a trade candidate if the club fails to stay in contention. An extended look for one or more future replacement candidates could come earlier than expected if Murphy's hamstring pull forces him to miss time. Leading the way as a long-term option is Dilson Herrera, who cracked the bigs at age 20 last year and looks to be a gem mined by Alderson in the 2013 Marlon Byrd trade. But older, lower-upside minor leaguers like Matt Reynolds or Danny Muno appear to be first in line for a short-term run.
Elsewhere in the everyday lineup, it's all about trusting and hoping for performance. Cuddyer and Curtis Granderson are established big leaguers at the corner outfield positions, but both come with their share of questions. In the infield corners, Lucas Duda will look to build on his strong 2014 while David Wright will aim for a rebound to his top-level form. Up the middle, backstop Travis d'Arnaud and center fielder Juan Lagares will look to cement themselves as fixtures for years to come.
In terms of bench roles, the lack of options will play a significant role. As MLBTR's Tim Dierkes recently reported, reserve candidates Mayberry, Kirk Nieuwenhuis, and Cesar Puello all lack option years (as do Flores and Tejada). The first two of those names seem destined for bench spots, while the 23-year-old Puello, who has yet to see big league action, could end up looking for a new team.
The rotation is loaded with a variety of candidates, and is the clear strength of this roster. That holds true even with 24-year-old righty Zack Wheeler out for the season after Tommy John surgery, because the team never pulled the trigger on dealing Dillon Gee and has an armada of young arms lining up at Triple-A. All eyes will be on Harvey, of course, especially if there is cause to question the team's handling of his return from his own TJ procedure. Jacob deGrom will look to prove that his unexpected 2014 was no fluke, while a trio of veterans (Gee, Jon Niese, Bartolo Colon) fill things out. Should the need arise, well-regarded hurlers such as Rafael Montero, Noah Syndergaard, and Steven Matz will be on hand to step in.
The bullpen, too, seemed to be shaping up nicely with its most established piece, Bobby Parnell, set to return early in the season after missing virtually all of 2014. Adding him to a late-inning mix that includes Jenrry Mejia, Jeurys Familia, and Vic Black seemed likely to form the core of a solid unit. There's probably an argument to be made that another quality, veteran arm could have been added to this group, particularly since Parnell was (and still is) no sure thing.
It remains to be seen whether the club will regret not bolstering its right-handed reserves, but it already seems clear that the failure to add more southpaws will create challenges. Josh Edgin, the team's lone established lefty, was lost for the year to TJ surgery just days after the last veterans were snapped up off the open market. The club will presumably keep an eye out for players missing out on other rosters later this spring, but otherwise will be forced to lean on the 33-year-old Rice or untested options such as Dario Alvarez and Rule 5 pick Sean Gilmartin.
Deal Of Note
The Cuddyer signing came as a legitimate surprise, in large part because many believed that he would be forced into taking the qualifying offer to avoid too great a dent into his market. But by lining up a deal before his deadline came, his representatives were able to avoid the fate of several draft compensation bound players who came before.
From the perspective of the Mets, the decision to sacrifice a valuable pick to add the aging and injury-prone Cuddyer is at least worth questioning. One charge that has often been leveled at the team of late is that it its ownership group is unwilling (or unable) to maintain a salary befitting the club's large-market status. Sacrificing a pick rather than paying more for a comparably valuable player fits that narrative to some extent, at least at first glance.
But the reality is that Cuddyer represents a rather particular player that, arguably, makes particular sense for this club. One of the game's most respected clubhouse members, Cuddyer could play an important role in bringing the team along competitively without requiring a huge commitment. While his numbers in Colorado were obviously aided by playing in Coors Field, and he posted rather wide home/road splits last year, he mashed everywhere during his excellent 2013 campaign.
Cuddyer is a poor defender, in addition to the above-noted risks, but that segment of the market does not contain flawless players. The alternatives in the general price range — players such as Nick Markakis, Colby Rasmus, Michael Morse, and Torii Hunter — all come with their own question marks. And it is not difficult to think of reasons that the Mets preferred Cuddyer among this group. When it turned out that his price tag included the sacrifice of a pick, that was simply one of the factors to be weighed, and there is an argument to be made that the team showed resolve to win by giving up that future value to obtain him.
Of course, as MLBTR's Tim Dierkes notes, Cuddyer seems to be a great fit as the right-handed-hitting portion of a time share at first. Duda struggles against same-handed pitching while mashing righties, seemingly creating a nice match. While the team has given indication that it intends to allow Duda to try to work out his issues in that regard, potentially limiting Cuddyer's time at first, he remains a very appealing option in such a role if Duda cannot turn things around.
Overview
Of course, there is a plausible scenario where the Cuddyer deal turns out poorly. But its limited duration cabins the risk. The most stringent questions about this offseason will probably come if Flores and Tejada struggle. While it is easy to defend the decision not to dabble in a free agent market at short that featured names like Jed Lowrie and Asdrubal Cabrera, and it is fairly likely that it would have taken a huge prospect outlay to land Tulowitzki or Desmond, the fact remains that Alderson and co. have much at stake in how those young players (Flores, in particular) come through this year.
The same holds true to a lesser extent in the relief corps, where the team seemingly passed on plenty of opportunities to add veterans. But the end of the spring and the summer trade market should hold plenty of solutions if the need is there and the Mets are in contention.
On the whole, this offseason was less about pushing the organization's chips onto the table than it was about gathering its young core for a first real effort at winning. There will be plenty of disappointment if that does not occur — and plenty of blame directed at ownership and the front office. From one perspective, at least, the real test of the team's willingness and ability to spend will probably come next year, with a 2015-16 free agent market that is shaping up to be one of the strongest in years.
Of course, an alternative read of the Mets' winter is that the club decided not to invest in a winner. The total outlay did not exactly set the pace league-wide, and stands in some contrast within the division to the Nationals' signing of Max Scherzer, the Marlins' significant investments (mostly through trades and extensions), and even the Braves' roster reshaping. All will probably be forgotten if the Mets compete to the wire, but there could be some what-ifs here. New York will field a highly variable team with its share of both upside and downside, and it is eminently arguable that some thoughtful additional moves would have raised the floor and provided some depth for a full year of competition.
Perhaps, then, the true test will come this summer: if New York is in the hunt and has a few areas of need, will it part with prospects and/or commit payroll to bolster its roster down the stretch?