The Twins have gained cost certainty over a key piece of their lineup after announcing a four-year, $20MM extension for second baseman Brian Dozier.  The deal will pay Dozier $2MM this season, $3MM in 2016, $6MM in 2017 and $9MM in 2018.  There isn't any no-trade protection in the contract, as noted during the club's press conference (hat tip to Mike Berardino of the St. Paul Pioneer Press).  Dozier is represented by Damon Lapa of All Bases Covered Sports Mangaement.
The extension gives Dozier a raise for 2015 (he was already contracted for $590K as a pre-arbitration player) and covers his three years of arbitration eligibility.  There weren't any option years attached to the deal, so the 27-year-old Dozier is still on track to become a free agent following the 2018 season.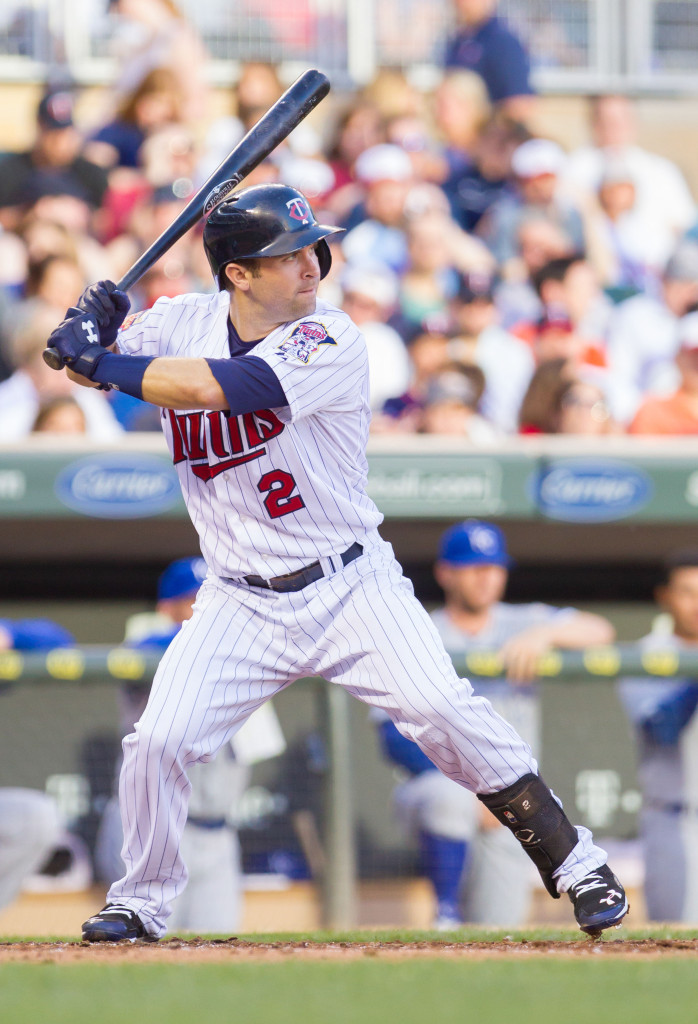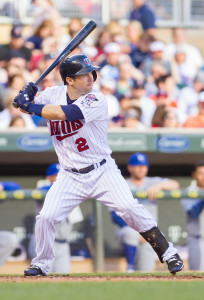 Looking at other recent extensions for second basemen with between 2-3 years of service time, Dozier's deal has fewer years and dollars than the contracts signed by Matt Carpenter and Jason Kipnis within the last 13 months.  Carpenter received six years and $52MM (plus an $18.5MM club option) from the Cardinals while Kipnis received six years/$52.5MM (plus a $16.5MM club option) from the Indians.  If you look at just the first four years of those two contracts, however, both Carpenter and Kipnis received $22MM guaranteed over that span, so Dozier's deal is a fair comparable.  (It's also worth noting that Carpenter and Kipnis were both coming off overall stronger seasons prior to their extensions.)
The two sides were known to be discussing an extension earlier this month, and the Twins in fact first explored locking Dozier up last offseason.  "Many scenarios were discussed," ESPN 1500's Darren Wolfson reports, and Wolfson was a little surprised the Twins didn't look to add at least one option year onto the deal.  On the one hand, if Dozier keeps producing, the Twins now face paying a lot more for his 2019 season and beyond if they want to keep him.  That said, the Twins would obviously be ecstatic if Dozier keeps hitting since it will make their four-year/$20MM commitment look like a bargain, yet the deal is also short enough that it gives Minnesota flexibility if Dozier comes back to earth.  From Dozier's perspective, he scores one big payday now and still has the freedom to test the open market at age 31.
An eighth-round pick as a shortstop in the 2009 draft, Dozier has produced two solid seconds as Minnesota's everyday second baseman.  He hit .242/.345/.416 with 23 homers, 21 steals and 112 runs in 2014, posting the fifth-highest fWAR (4.8) of any second baseman in baseball.  Most of that value came with the bat as Dozier is still a bit of a work in progress at second (a -4.4 UZR/150 and no Defensive Runs Saved last year), though it seems to be a tradeoff the Twins are happy to make for 20-20 production from the keystone.  The power is something of a new development for Dozier — he's already hit 47 home runs over his 1670 Major League plate appearances after hitting only 16 homers over 1613 minor league PA.
Photo courtesy of Brad Rempel/USA Today Sports Images