The Astros have promoted top prospect Carlos Correa, according to a team press release.  Correa will join the team tomorrow in Chicago for the start of a three-game series against the White Sox.  Righty Jake Buchanan is being optioned to Triple-A in a corresponding move, and another move is coming tomorrow to open up a 40-man roster spot.
"Carlos has performed extremely well at every level of our minor league system," Astros GM Jeff Luhnow said in the release. "We feel he has earned this promotion and look forward to him joining our ballclub. Since he is just 20 years old, we do not have unrealistic expectations of Carlos. However, his performance on the field and his maturity indicate that he is ready to contribute on the Major League level."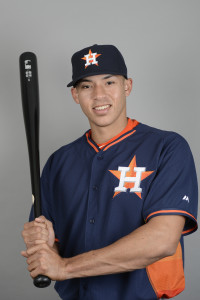 Correa was the first overall pick of the 2012 draft, a slightly controversial pick at the time given that Byron Buxton and Mark Appel were generally considered to be better picks.  Houston took Correa in part due to signability reasons, as he inked a below-slot contract and freed up more money for the Astros to spend on other prospects later in the draft.  In four pro seasons, however, Correa has made the Astros' strategy look doubly wise, as he has hit .313/.392/.491 with 28 homers and 54 steals (out of 70 chances) over 1256 minor league plate appearances.  Preseason prospect lists saw the 6'4″, 190-pounder ranked as the third-best prospect in the sport by MLB.com and ESPN's Keith Law, while Baseball America ranked him fourth.
The 2015 Baseball America Prospect Handbook describes Correa as "a plus hitter with plus raw power" who 30-homer potential in the big leagues, though he has yet to fully develop enough loft in his swing to fully unleash that pop.  One rival evaluator cited by BA compared Correa's opposite-field hitting ability to that of Albert Pujols, though with less power.  Defensively, Correa was praised for almost everything (only his ability to turn double plays was considered average), particularly his "double-plus" throwing arm.  Off the field, Correa's "makeup is off the charts, with a natural ability to lead and a goal-oriented mindset unseen in a player who just turned 20."
Correa hadn't even played above the high-A ball level before this season, yet a 1.185 OPS in 133 PA in Double-A quickly earned him another promotion to Triple-A, where he posted a .266/.336/.447 line over 107 PA.  While this Triple-A production isn't quite dominant, Correa still projects as an upgrade for the Astros at shortstop.  Jed Lowrie will be out until after the All-Star break following thumb surgery, and Jonathan Villar and Marwin Gonzalez have combined for -0.2 fWAR this season.
Many predicted Correa would reach the majors at some point in 2015, though the Astros' unexpected stint atop the AL West adds a different dimension to the promotion.  Correa will be expected to step in and contribute to a playoff hopeful, rather than the expected scenario of getting his feet wet in the bigs for a team most felt was still at least a season away from contending.  As Luhnow noted, the Astros aren't expecting Correa to immediately become a superstar.  In fact, there's not necessarily any guarantee that Correa will even spend the rest of the season in the majors, should he struggle and Lowrie returns as scheduled.  This is just my speculation, but if Correa is playing well when Lowrie gets back, Lowrie could replace Luis Valbuena at third base — Lowrie has appeared in 83 MLB games at third, though he hasn't played the position since 2011.
From a service time perspective, Correa is likely to fall short of eventually earning Super Two status even if he spends the rest of the year in the majors, based on recent Super Two cutoff points.  Houston hasn't been shy in calling up some of their top minor league prospects, as Lance McCullers, Preston Tucker and Michael Feliz have all made their MLB debuts in 2015.
Photo courtesy of Tommy Gilligan/USA Today Sports