AUGUST 1: The Dodgers are paying just $500K of the remainder of Arroyo's deal, Mark Saxon of ESPN Los Angeles tweets. Arroyo is owed about $8MM, including his 2016 buyout, and it appears the Braves are paying almost all of that amount.
JULY 30: The Dodgers, Marlins and Braves have swung one of the most complex three-team trades in recent history. The "basic" structure of the deal (though there's nothing basic about this move) is as follows: the Dodgers will receive right-hander Mat Latos and first baseman Michael Morse from the Marlins. They'll also add top prospect Jose Peraza and pitchers Alex Wood, Bronson Arroyo, Jim Johnson and Luis Avilan from the Braves. Atlanta, in turn, will receive infielder Hector Olivera, lefty Paco Rodriguez and minor leaguer Zachary Bird from the Dodgers. The Braves are also picking up Miami's Competitive Balance Round A pick in next year's draft (No. 35 overall). The Marlins will come out of this deal with three minor league pitchers — Kevin Guzman, Jeff Brigham and Victor Araujo — plus the financial relief of shedding the remaining $14.3MM that is owed to Latos and Morse. Each team has announced the trade's completion.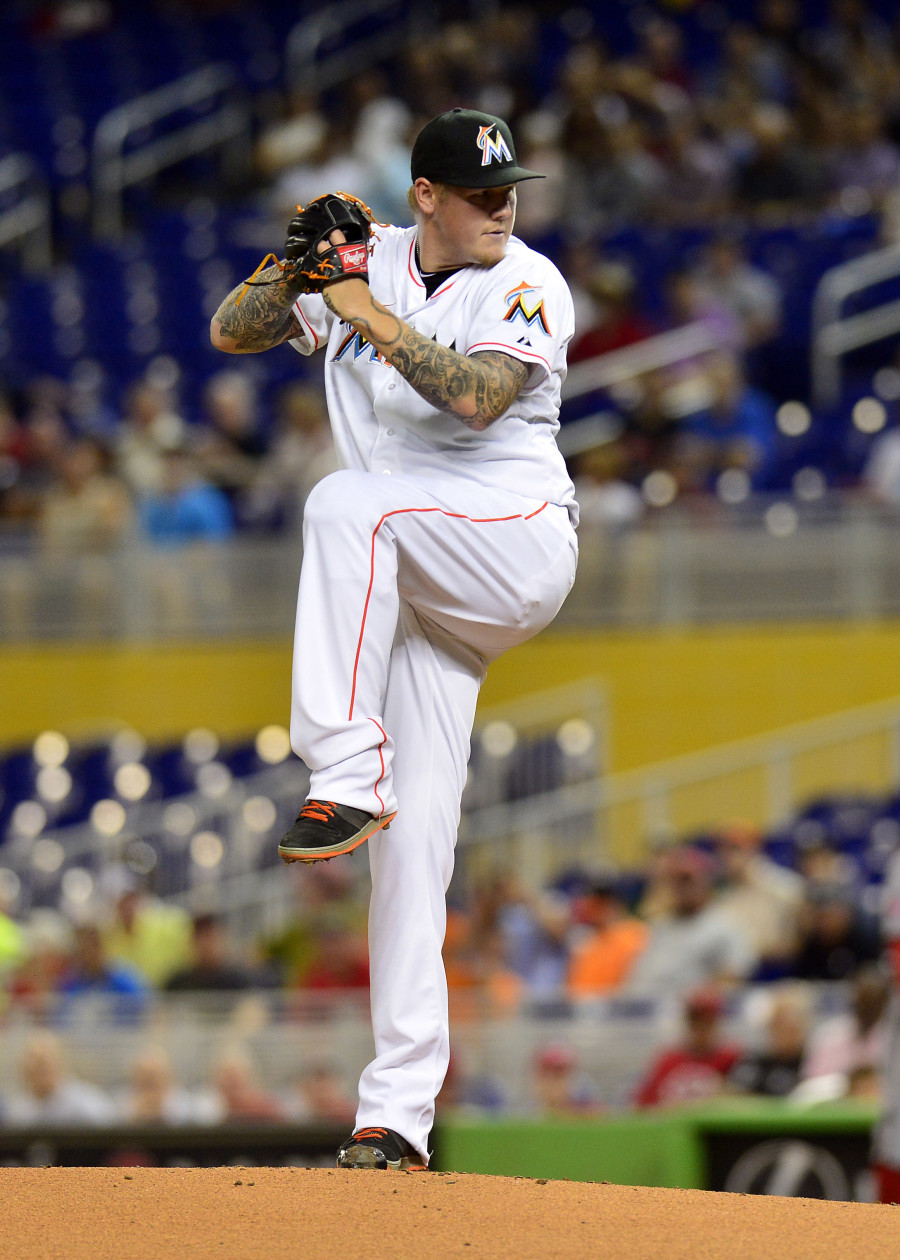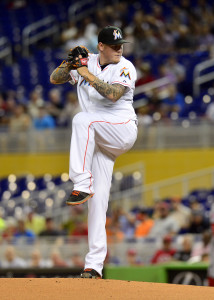 In making this trade, the Dodgers bolster their rotation not only for the remainder of the 2015 season but also potentially through the 2019 campaign. Latos, who is earning $9.4MM in 2015 and has $3.6MM of that sum remaining on his contract, is a free agent at season's end, but Wood can be controlled for four years beyond the current campaign.
While he's battled injuries and struggled early in the season, Latos has increased his velocity and upped his results since returning from a DL stint (as noted by MLBTR's Steve Adams when examining his trade candidacy). All told, the 27-year-old Latos owns a 4.48 ERA with 8.0 K/9 against 2.5 BB/9 over 88 1/3 innings on the year. But ERA estimators view him more as a mid-3.00 ERA contributor, and that has shown up in his last seven starts, over which he's allowed 15 earned runs in 45 2/3 frames with a 43:9 strikeout-to-walk ratio.
Wood is perhaps the more intriguing name here for the Dodgers, though. The 2012 second-round pick was never vaunted as a Top 100 prospect, but he's emerged as a reliable cog in the Braves' rotation over the past few seasons. Though many have expressed long-term health concerns with Wood and his numbers are down in 2015, his overall body of work is nonetheless impressive. Wood has a lifetime 3.10 ERA in 368 2/3 big league innings with very strong averages of 8.2 K/9 and 2.6 BB/9 to go along with a 46.5 percent ground-ball rate. Both Latos and Wood will join co-aces Clayton Kershaw and Zack Greinke in the Dodgers' rotation, solidifying the starting five down the stretch. Those additions, however, demonstrate a different approach than many pundits expected, as L.A. was heavily rumored to be involved with the top names on the trade market.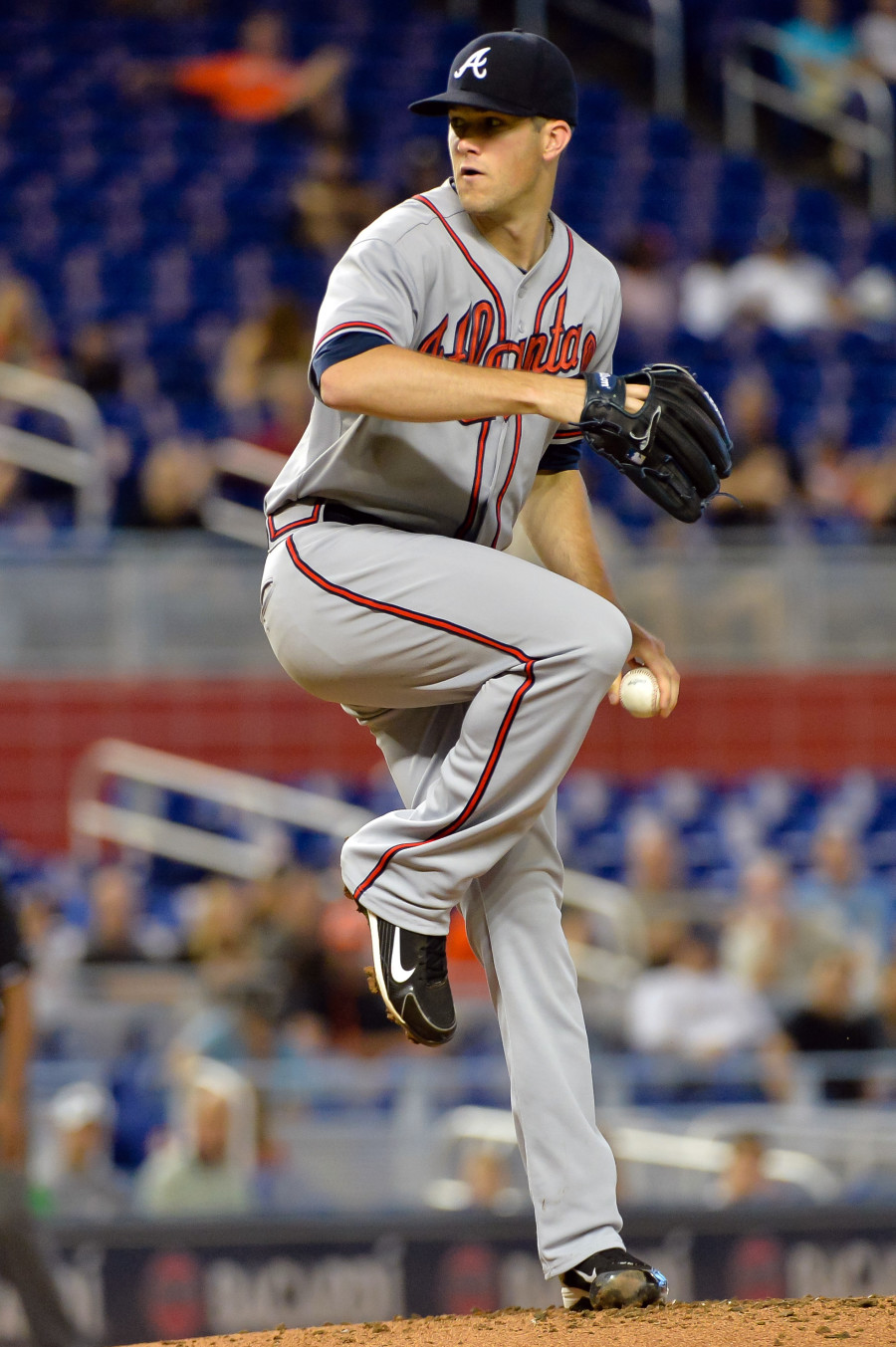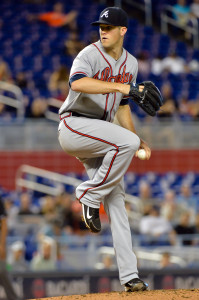 In landing Johnson, the Dodgers are picking up a reliever that was serving as Atlanta's closer and doing so quite well. Johnson led the AL in saves from 2012-13 before a down season in 2014. Atlanta snatched him up on a one-year, $1.6MM contract with enough incentives to carry the deal to $2.5MM if he maxes it out. He's been an outstanding buy-low piece for the Braves and will carry a 2.25 ERA, 6.2 K/9, 2.6 BB/9 and 60.8 percent ground-ball rate into the Dodger bullpen, where he'll help set up for Kenley Jansen.
The 26-year-old Avilan gives the Dodgers another left-handed relief option to pair with J.P. Howell and Ian Thomas, though it's debatable whether he's a long-term improvement over Rodriguez, who heads to Atlanta in the deal. Avilan has a 3.58 ERA on the season with a 31-to-10 K/BB ratio (though two of the walks were intentional) in 37 2/3 innings. He's upped his velocity this season and his strikeout rate as well, but Avilan's previous good fortune in terms of homer-to-flyball ratio has dried up this season, and he's near the league average (above it, in fact) in that regard for the first time in his career. Avilan hasn't missed a ton of bats throughout his career but does have strong overall totals against left-handed hitters.
Morse doesn't really fit on the Dodgers' roster and was likely included as a means of offsetting some salary, so it's possible his stay with the Dodgers will be brief, at best. Los Angeles designated Eric Stults for assignment immediately upon acquiring him from the Braves earlier this year and did so with Ryan Webb as well, so there's certainly precedent for them to flex their financial muscle as a procedural necessity and simply cut ties with the unwanted or superfluous players in a deal.
Arroyo serves as a second example of the Dodgers flexing their financial muscle. The veteran right-hander signed a two-year deal with the D-Backs prior to the 2014 season but underwent Tommy John surgery last summer and hasn't pitched this season. Arizona unloaded his contract in a prior trade with the Braves, and that money will now go to the Dodgers, bringing the total amount of cash they're eating in this deal to roughly $43.5MM. It's possible, at least, that Arroyo could pitch at the back of the L.A. rotation down the stretch.
Dealing Peraza away was probably a tough pill to swallow for the Braves, who have long lauded him as one of their top prospects. The 21-year-old entered the season as a consensus Top 50 prospect in the game, and though his offensive numbers are down somewhat, that's not necessarily a red flag for someone playing at the minors' top level at the age of 21. That's not to say, of course, that Peraza's numbers are poor; he's hitting .295/.319/.380 this season. Peraza ranks as the game's No. 26 prospect on the midseason Top 50 from Baseball America and No. 30 on MLB.com's midseason update to their own Top 100 prospect list. Peraza began his career as a shortstop and eventually moved to second base, but it's not certain where the Dodgers project him in the future. He has little power but draws rave reviews for his speed and glove, and he's swiped 149 bases over his past 310 minor league contests. I feel it should be noted that Peraza, too, could be a piece that the Dodgers will consider dealing, as they're reportedly reluctant to part with their own top prospects: Corey Seager and Julio Urias.
As for the Braves, they'll finally land a player they pursued extensively this offseason in the form of Olivera. Atlanta simply couldn't match the Dodgers' enormous $62.5MM offer to the 30-year-old infielder, but $28MM of that came in the form of a signing bonus that is to be paid in three installments. The Dodgers will pay the final two installments of Olivera's signing bonus, tweets David O'Brien of the Atlanta Journal-Constitution. That means the Braves are essentially taking on Olivera on a six-year, $32.5MM contract that began this season. He's earning $2MM in 2015, of which about $754K remains, so their total financial commitment to him will be about $31.25MM over the course of five and a half years. That's a much more palatable obligation for the Braves (who have notably shed significant payroll from their books by moving Melvin Upton Jr. and Craig Kimbrel since Olivera signed.)
Olivera, a right-handed hitting third baseman/second baseman, was said at the time he signed to be a safe bet to post strong average and OBP marks due to his pure hitting abilities and a keen eye at the plate. The question was how much power he'd show in the Majors, but some felt that he could be a 20-homer bat on a yearly basis. He's looked sharp to this point in the minors, hitting .348/.392/.493 across three levels and reaching Triple-A. The Braves undoubtedly consider him to be a major component of their long-term future in the infield, though the specific position he'll play is yet an unknown.
In Rodriguez, they'll pick up a left-handed reliever who could be out for the season but has pitched well when healthy. Rodriguez had surgery to remove loose bodies from his elbow in late June — a procedure that will sideline him for eight to 10 weeks. However, the former second-round pick has been excellent while on the mound. He was the first player from the 2012 draft to reach the Majors, debuting the same year he was drafted, and he sports a lifetime 2.53 ERA with 9.6 K/9 against 3.2 BB/9.
The 21-year-old Bird has largely unimpressive numbers in the minors — a 4.74 ERA in 351 minor league innings — but MLB.com rated him 15th among L.A. farmhands. Per their scouting report, he made big strides with his velocity late in 2014 and has gone from a low-90s heater to a mid-90s offering that "threatens triple digits" at times. He still needs to get a better feel for his offspeed pitches and has a long ways to go as a slider, they add.
With all that said, we're at last to the Marlins' portion of the trade, which looks meager. Of the three names in question, only Brigham ranks among L.A.'s top 30 prospects, per MLB.com, who rank him 28th. Brigham had Tommy John surgery in college in 2012 and missed all of 2013 before pitching himself into the fourth round, their scouting report notes. He's 90-94 mph with his fastball and has shown shaky control, though some of that can be attributed to the surgery. He's punched out 75 hitters in 75 innings this year but has also walked 38 and has a 5.52 ERA.
Guzman is a 20-year-old starter pitching at the Class A level who has notched a 3.90 ERA with 6.7 K/9 against 3.1 BB/9 in 83 innings this year. The 22-year-old Araujo is in his second stint with Class-A Advanced and hasn't found very favorable results. He's missed plenty of bats (55 strikeouts in 50 innings) with solid control (14 walks) but has been hittable and ultimately surrendered a 5.40 ERA this season.
The Marlins had a number of ways they could go in terms of dealing Latos, but it seems they either prioritized shedding the Morse contract or simply didn't find that teams were willing to offer much in return given his rental status, health concerns and early struggles. In the end, while this trade started off being termed the "Mat Latos trade," it will be more remembered as a deal that netted the Braves their second baseman or third baseman of the future in exchange for a promising young arm and one of their top prospects.
Gordon Wittenmeyer of the Chicago Sun-Times reported (on Twitter) that Latos and Morse were headed to the Dodgers. Clark Spencer of the Miami Herald (Twitter link) and MLB.com's Joe Frisaro (Twitter link) reported the financial components for Miami/L.A. and the inclusion of the Marlins' draft pick. Jim Bowden of ESPN and MLB Network Radio on SiriusXM tweeted that a third team was potentially being brought in. Frisaro reported the prospects going to Miami. Ken Rosenthal of FOX Sports reported the Braves' inclusion (via Twitter). Joel Sherman of the New York Post said the Braves would get a young starter (Twitter links), and Rosenthal tweeted that Wood was the pitcher in question. Bowden tweeted Johnson's inclusion. MLB.com's Mark Bowman first suggested Peraza's name (on Twitter) and Sherman confirmed his inclusion (via Twitter). Bowman also tweeted that Olivera was in the deal, and Bowden tweeted that Avilan was as well. Yahoo's Jeff Passan tweeted that Bird was headed to Atlanta. Bowman added that Rodriguez was going to the Braves. Passan added the final wrinkle: Arroyo's inclusion (Twitter links).
Photo courtesy of USA Today Sports Images.