The Reds might not have been certain they'd contend in 2015, but they probably didn't expect their season to go quite as badly as it did. While the Reds' struggles this year (and particularly down the stretch) were hard to watch, there's a kind of freedom in knowing for sure that you're bad. This offseason, we'll see what the Reds do with that freedom.
Guaranteed Contracts
Arbitration Eligible Players (Service time in parentheses; projections by MLB Trade Rumors)
Contract Options
Free Agents
The Reds' 98-loss 2015 season didn't come completely out of nowhere. In 2014, the Reds finished with just a 76-86 record. They had a well-compensated core, and most of their rotation was set for free agency following the 2015 season. In response, they made some moves to reduce payroll and look ahead, dealing Mat Latos to the Marlins and Alfredo Simon to the Tigers. But those moves were relatively small and tentative, and the Reds waited to make some bigger moves this summer with their trades of Johnny Cueto and Mike Leake. Now, with a sketchy big-league roster, little short-term payroll space, and incredibly tough divisional competition, there's no obvious way for the Reds to contend next year, and little to do but to keep rebuilding.
But the best reason for the Reds to continue their rebuild (a label GM Walt Jocketty doesn't like, but that already accurately describes what they're doing) is that they do have good assets to trade, beginning with Todd Frazier and Aroldis Chapman. Frazier is signed to a reasonable deal through 2016, after which he'll be arbitration eligible for one more season. He'll be 30 in February, so it's unlikely he'll be part of the next good Reds team. Given his exceptional power (35 home runs in 2015) and strong defense, he should attract a ton of interest, even though he faded badly down the stretch. The Reds should expect to get a nice return for him, including at least one top 100-type prospect. There aren't many recent offseason trades involving players of Frazier's talent with two years of service time remaining, but suffice it to say that Frazier's value ought to be significant. The Angels or perhaps a surprise team like the Indians or White Sox could make sense as trade partners.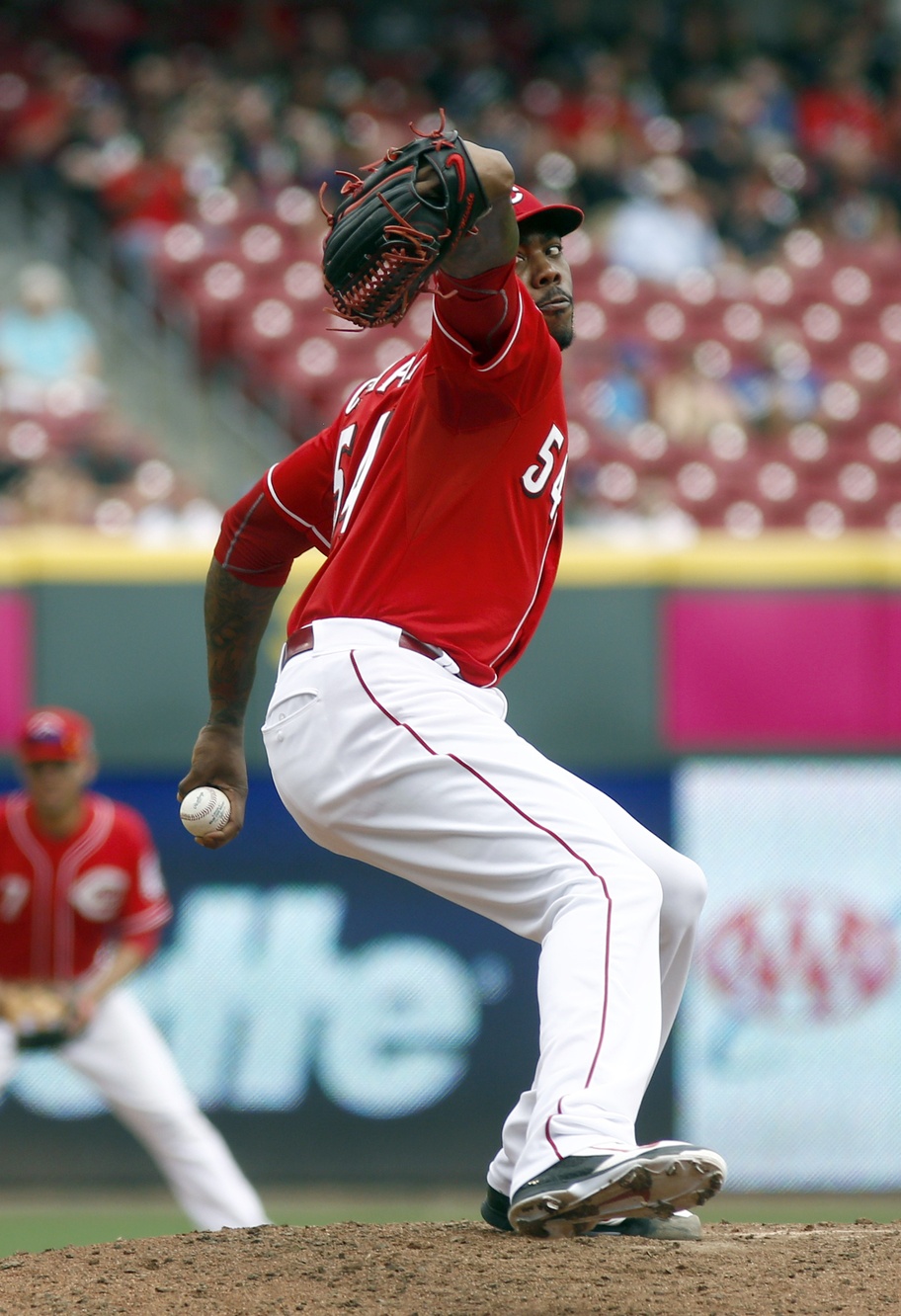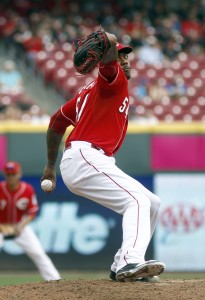 As for Chapman, closers with one year of service time remaining are traded quite frequently, but Chapman is so blindingly great that his value is should be closer to that of, say, a no. 2-type starter than a closer. The Mariners and other teams could be possible trade partners, and the Diamondbacks have shown interest in the past. The Reds should have little trouble finding a market, although their path to a trade could be complicated, if only slightly, by the availability of excellent relievers like Craig Kimbrel and Darren O'Day through either trade or free agency. If the Reds can't find an offer they like, perhaps they could really roll the dice and try to use Chapman as a starter, hoping to market him as an ace in July, but that might be overly ambitious, since he's already more valuable than most starters anyway.
The Reds also ought to consider trading Brandon Phillips if there are any takers (and if he'll accept a trade — he has ten-and-five rights). Phillips is coming off a solid 2.6-fWAR season, but at 34, he might not have many good years left. The Yankees, Angels, Orioles, Royals and White Sox could all be potential trade partners.
The Braves' trade of Kimbrel to the Padres illustrates one approach the Reds could take to dealing Frazier or Chapman. The Braves used Kimbrel, in part, to clear future salary, getting rid of Melvin Upton Jr.'s contract in the deal. The Reds could take a similar approach by packaging Frazier along with Homer Bailey, who has four expensive years remaining on his contract and won't be back until at least next summer after having Tommy John surgery last May. That would give the Reds greater payroll flexibility, which should come in handy next time they're ready to contend.
Then again, that would be selling low on Bailey, who is only 29 and seems likely to recover. And while the Reds have about $82MM already on the books for 2016, that number drops to about $67MM in 2017, with about a third of that going to Joey Votto. Two of the Reds' highest-paid players in 2015, Votto and Phillips, performed well. Another, Jay Bruce, can become a free agent after 2016 if the Reds let him. (Bruce might have been a more interesting trade candidate this winter if he'd hit better than .226/.294/.434 in 2015; perhaps the Reds could get the most value for him by waiting and hoping he gets off to a good start next season.) And two more, Bailey and Devin Mesoraco, ought to recover from their injuries and eventually provide value. Beyond Frazier, Chapman and Phillips, then, the Reds need not be in any rush to trade their veterans until they get the right offers.
Assuming the Reds do consider trading Frazier, Chapman, Phillips and perhaps others, they could pursue any number of player types in return. The only positions where the Reds appear relatively set for the medium-term future are catcher (Mesoraco), first base (Votto) and center field (Billy Hamilton, whose running and fielding give him plenty of value despite a second consecutive disappointing season at the plate). That's not to say there aren't other potentially helpful players, just that none of them are obviously set at any one position. Left fielder Adam Duvall, for example, hit reasonably well for the Reds after they acquired him in the Mike Leake trade, but he's 27; playing him every day need not be a priority. And Eugenio Suarez hits well enough to play somewhere, although he might not be a shortstop in the long term.
There's even less certainty in the rotation. The team did well to add Brandon Finnegan and John Lamb when it traded Cueto, but the Reds' all-rookie rotation did the team few favors down the stretch. Anthony DeSclafani and Raisel Iglesias look set to contribute in 2016, but beyond that, the Reds have a lot of sorting out to do with Finnegan, Lamb, Keyvius Sampson, David Holmberg, Josh Smith, Michael Lorenzen, Jon Moscot and, eventually, top prospect Robert Stephenson. Given the attrition rates of young pitchers, and the fact that some of their existing talent looks a bit fringy, the Reds could easily stand to add more pitching in upcoming trades.
Of course, while the Reds' most obvious course of action at this point is to trade veterans for young players, they still have to put a team on the field in 2016. They can use a starting pitcher to soak up 150 innings — a cheap deal for someone like Bud Norris, Kyle Kendrick or former Reds Aaron Harang or Simon might make sense. They could also sign a buy-low pitcher like Doug Fister and hope he regains enough value to land good talent at the deadline.
Bullpen help will also likely be a priority, given the possible departures of Chapman and Manny Parra. If Chapman heads elsewhere, the team could probably move J.J. Hoover or Jumbo Diaz into the closer's role, and it shouldn't spend heavily on a closer. Bringing back Burke Badenhop at an effective cost of $2.5MM ($4MM minus a $1.5MM buyout) might make sense for the Reds, and Badenhop could pick up his end of the option, since he would sacrifice the buyout if he rejected it. And either re-signing Parra or adding a Neal Cotts lefty type would also help, particularly if the Reds are committed to using Finnegan as a starter.
The Reds could also pursue position players, but it's difficult to say what type of player they might be interested in until we see which position players they trade, if any, and whether anyone from those trades can step in right away. They're set to lose two bench players in Brayan Pena and Skip Schumaker (whose option they shouldn't exercise), but they likely won't miss either one. Tucker Barnhart is a decent replacement for Pena, and Schumaker was a drain on the Reds both offensively and defensively, especially now that he's more of a poor defensive corner outfielder than a poor defensive second baseman.
The key question for the Reds, then, is exactly how far they want their rebuilding effort to go. Of all the veterans the Reds could trade, the most intriguing one might be Votto, who seems likely to stay. Votto has full no-trade protection, and his enormous contract would make trading him a logistical headache, but let's consider what dealing him might do for the organization. Votto just finished an exceptional .314/.459/.541 season that might have been the best of his career. However, he's already 32, and as great as he is now, the Reds' $199MM commitment to him through his age-39 season borders on the absurd, and his value might never be higher. Votto's contract is highly likely to go south at some point. He's clearly underpaid right now, and probably also will be next year, but he likely won't be by the time the Reds are ready to contend.
So what should the Reds do? The fantasy-baseball answer is that they should trade him, but it's obviously rare for teams to trade excellent players they still control for nine more years. Surely, the Reds might argue, there's a way to build for the future without trading a star who can still be with the team for almost a decade more. Players like Votto are hard to find, and even in a rebuilding year, he'll have value for the Reds, in that he's a popular homegrown player who would make an otherwise young team worth watching. An aggressive executive like Billy Beane or Jeff Luhnow would surely consider trading Votto, assuming he were to waive his no-trade clause. But it's unclear whether Jocketty, who hasn't rebuilt a team recently, might take a similar path.
In any case, the Reds will spend the 2016 season regrouping, and if they end up grabbing headlines this offseason, it will probably be because of who they're trading away, not who they're getting. In early October, the Reds announced that they would keep manager Bryan Price for next season, despite the team's struggles this year. And why not? Price was already under contract, and as long as the Reds believed him capable of nurturing their younger players, there was little point in replacing him. Maybe if they were a bit closer to turning a corner, they would have given a new manager a chance. As it stands, maybe they want to wait until their rebuild is a little further along before they make a change.
Photo courtesy of USA Today Sports Images.