Ian Desmond is the best shortstop available on the open market, but he comes with plenty of risk.
Strengths/Pros
Delivering power from an up-the-middle defensive position is probably Desmond's single standout trait. The 30-year-old has averaged 22 long balls annually since the start of his breakout 2012, and he's done that consistently (ranging from 19 to 25) rather than relying on a single outlying season.
Desmond's overall power production is equally strong, which has continued to be true despite a dip in 2015. Even in that down year, his .151 ISO landed right at league average and checked in at fourth among qualifying shortstops. Though Desmond began and ended the year with rough stretches, he managed to put up a .185 ISO over the second half owing to a blistering August that showed there's still some juice in his bat.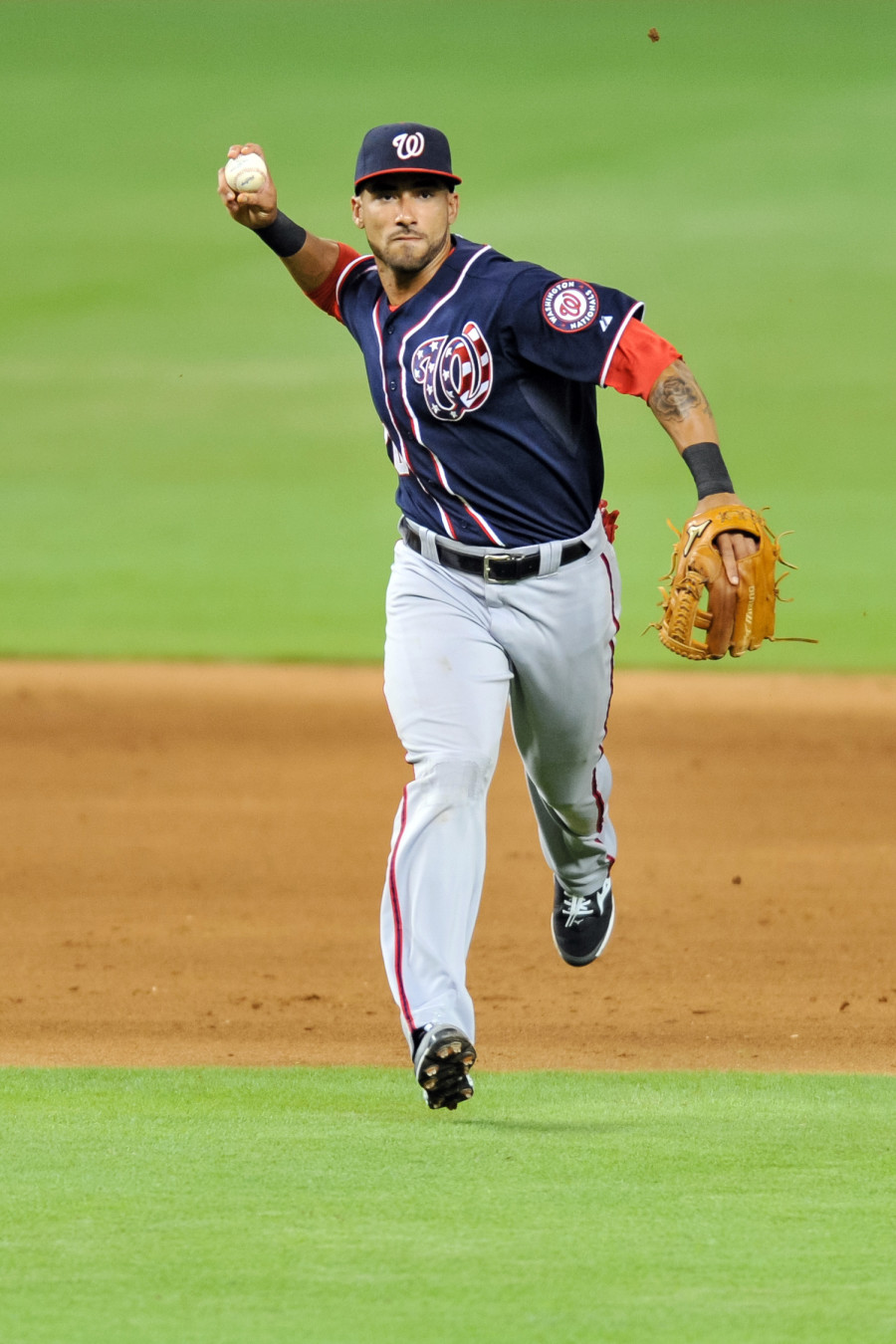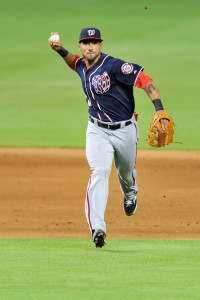 That fairly steady pop has made the 30-year-old a strong overall contributor on offense. In spite of a propensity for the strikeout, he's also quietly raised his walk rate to near the league average. Desmond picked up three straight Silver Slugger awards from 2012 through 2014, and owns a .264/.317/.443 since he began his breakout in 2012. While that line was down overall in 2015, his .307 BABIP did fall shy of his career .322 mark and he showed more life at the plate at times later in the season.
On the defensive side of the equation, Desmond has rated as an approximately average shortstop — by measure of both Defensive Runs Saved and UZR — in the aggregate over the past three years. While he's not nearly as smooth (or as valuable) with the glove as some of the league's true magicians, Desmond's powerful and aggressive approach to the position remains effective. He has excellent range and a cannon for an arm.
While he's not a top stolen base threat — he's probably a candidate for 15-to-20 swipes a year moving forward — Desmond is among the game's most skilled baserunners. By measure of Fangraphs' BsR statistic, he rated 11th in the game last year in total contributions on the basepaths and falls within the 25 most productive runners league-wide over the past three seasons combined.
It's worth noting also that, while Desmond has had his ups and downs, his physical skills remain elite. For instance, MLB recently released an interesting list of true "five-tool" players, based on several StatCast measurables, which puts Desmond alongside some truly outstanding names.
On top of these direct inputs, Desmond contributes in more subtle ways, too. He's widely credited for his accountability, hard work, and clubhouse presence. For but one example of the many pieces written on the veteran's leadership, check out this article regarding his influence over young Nationals star Bryce Harper.
Weaknesses/Cons
While there's a lot to commend Desmond, he undeniably comes with some serious questions. At the plate, the major issue is contact. Desmond's strikeout rate took a jump before 2014 and has hovered just shy of the 30% mark since.
Plenty of players have thrived with that kind of swing-and-miss in their game, but it's an increasing concern, especially given that it has coincided with a broader downturn. It's hard to ignore the fact that Desmond is coming off of an 83 wRC+ campaign, or that he's declined in overall batting production for three years in a row. Power, as noted above, is a notable strength but Desmond's ISO has also fallen off, and any further erosion would seriously hamper his value.
I mentioned BABIP above, and that stat can be an indicator of luck. But Desmond has a high career mark because of hard contact and speed, and there are some indications that his 2015 dip wasn't just the product of circumstance. Desmond lost about four percentage points in hard contact in 2015, even as his soft-contact rate jumped by an even greater amount. He's hitting more infield flies and grounders than ever.
Desmond also showed a newfound susceptibility to same-handed pitching. In the past, Desmond had neutral platoon splits (2013-14) or was so good against both that it didn't much matter (2012). But last year, his OPS against righties was over 100 points south of the damage he inflicted against lefties. To be fair, that's not necessarily a huge problem so much as a possible erosion of an area that had been a strength.
There's concern, too, on the defensive side. Despite his excellent tools at short, Desmond has always been error prone and probably always will be. That tendency was on full display early in 2015, drawing plenty of attention, and is something that a signing team will need to be prepared to experience. Desmond's error tally has grown every year since 2012.
Despite the down year, Desmond received and turned down a qualifying offer from the Nationals. That means that his new team will need to part with a draft pick to sign him.
Personal
Desmond and his wife, Chelsea, have three children and live in their native Sarasota, Florida. Desmond is known for being active in the community and has done charity work relating to neurofibromatosis and the Nationals' Urban Youth Academy initiative.
Though he never suited up in Montreal — the club moved to D.C. just one year after he was drafted — Desmond was the last player left from that earlier epoch. The mutual respect between Desmond and the only professional team he's known is readily apparent; GM Mike Rizzo called him "the rock of the organization," while Desmond said he's "extremely proud" to have been a National.
Market
Once the internal valuations are made, free agency is a complicated game with many moving parts and outside influences. Some best-in-class players can avoid that, to an extent, because the market is willing to wait on their decision. But while Desmond is the premier shortstop available, that doesn't seem to be the likely course for him.
Given all the complications surrounding his value, teams are likely to weigh a signing of Desmond along with other possibilities — especially since he'll require draft pick forfeiture. There are some other viable shortstops on the market, including Asdrubal Cabrera and bounce-back veterans such as Alexei Ramirez and Jimmy Rollins. And, of course, the trade market is always a factor.
With several outstanding young shortstops ascending to the majors in recent years, the demand side of the equation isn't terribly strong. The Padres may be the best fit on paper after clearing salary in the Craig Kimbrel trade, while the White Sox, Twins, and Mets also could be in the market at short. It's still unclear, though, whether any of those clubs will want to spend top dollar on Desmond, particularly given that several have plausible shortstops of the future moving through their farms.
Otherwise, it's not obvious where Desmond could land, though there are a few clubs that could make some theoretical sense in the right circumstances. The Braves, for instance, might be an under-the-radar possibility if they were to trade Erick Aybar and could get value in a deal. The Rockies would also be a surprise, but there's at least some opening (however unlikely) given the uncertainty surrounding Jose Reyes. A return to the Nationals can't be ruled out entirely, particularly if Desmond's market collapses and he's forced into a pillow contract.
Expected Contract
Comparable free agents are hard to come by. Jhonny Peralta got four years and $53MM coming off of a PED suspension. That seems somewhat on the light side for Desmond, but isn't an implausible figure if demand never comes to fruition. Reyes scored $106MM over six seasons, but Desmond seems unlikely to warrant a sixth year at this stage. Indeed, if anything, the lack of numerous obvious suitors could hold him to a four-year deal. All said, though, there's a wide range of plausible outcomes.
My best guess is that Desmond will find a fifth guaranteed year, but won't get both that and a premium annual salary. Despite being a big fan of Desmond's, personally, I find myself a bit bearish on his free agent outlook and will predict he lands a five-year, $70MM deal.