This is the latest entry in MLBTR's Offseason In Review series. The full index of Offseason In Review posts can be found here.
The Pirates' offseason didn't feature the kinds of decisive signings or trades that might convince fans the Bucs are ready to follow up on their terrific 98-win 2015 season, but that's par for the course for an organization whose recent successes have been built more on sly under-the-radar moves than on heavy spending.
Major League Signings
Notable Minor League Signings
Trades And Claims
Extensions
Notable Losses
Needs Addressed
Critiquing a Pirates offseason is intimidating, because you feel like the team is daring you to admit you don't really know what you're talking about. Many commentators greeted recent past Pirates offseasons with ambivalence or even derision for being built around seemingly off-brand additions of players like A.J. Burnett, Russell Martin, Francisco Liriano, Mark Melancon and Francisco Cervelli … who then turned out to be core members of excellent teams. Whoops.
So what to make of the Pirates' past winter, which featured the departures of key players like Burnett, Neil Walker and J.A. Happ and additions of a slew of low-cost replacements like Ryan Vogelsong, Juan Nicasio and John Jaso? Your guess is as good as mine. On the surface, it doesn't look like the Pirates did nearly enough. But then, that's how previous offseasons have looked too, and the last several have mostly turned out brilliantly.
The 2016 Bucs will have a new-look infield, with Pedro Alvarez and Walker departing to make room for Jaso and Josh Harrison (who will take over for Walker at second). Alvarez hit 27 home runs in 2015, but the Pirates non-tendered him anyway, a move that was entirely justified — Alvarez struck out frequently and hit for low batting averages, and his defense was inexplicably awful after moving across the diamond to first base. He was unlikely to produce enough value to earn the $8.1MM he was set to make in arbitration, so he had no trade value, and it's not surprising the Bucs opted to let him depart.
To replace him, they signed Jaso to a cheap two-year deal. Like Alvarez last year, Jaso will be new to first base, but most players' efforts to move to first from another position go better than Alvarez's did. Also, as FanGraphs' Jeff Sullivan has pointed out, catchers have generally fared well in transitioning to first base — think of Scott Hatteberg, Jason Phillips or Joe Mauer. Jaso doesn't have nearly the power Alvarez did, but he does have a career .361 on-base percentage that should play well at first, particularly at just $4MM per season. Jaso, a left-handed hitter, needs to be platooned, but the Pirates already had righty first baseman Michael Morse under contract and top prospect Josh Bell in the minors, and their acquisitions of David Freese and Jason Rogers this offseason give them plenty more righty first base depth should Morse falter.
The Bucs then sent Walker to the Mets for Jon Niese. At first glance, this move makes less sense than the Alvarez/Jaso swap did. Walker, unlike Alvarez, is a genuinely good player, a consistent hitter with a broad offensive skill set who will generally produce two to three wins per season. (As a Pittsburgh native, he was a fan favorite to boot.) Niese, meanwhile, is a competent but uninspiring lefty whose strikeout rate dropped to 5.8 batters per nine innings last season. Walker and Niese also have similar salaries, so the Pirates didn't even really save money in the deal.
Walker, though, was a below-average defender, and was only one year from free agency. Niese, meanwhile, gets ground balls — a skill the Pirates love — and has two options at the end of his contract, potentially allowing the Bucs to keep him for two more years than they could have kept Walker. The Pirates' acquisitions of starting pitchers have generally gone quite well in recent years, so if pitching coach Ray Searage and company are able to rejuvenate Niese, the Bucs will be able to keep him through 2018 — but also aren't required to guarantee those seasons if it doesn't work out.
The long-term plan in Walker's absence is to use Harrison (who played five positions in 2015) as their regular second baseman and Jung-Ho Kang at third. That plan set them up well defensively, but reduced their depth and wouldn't work in April, when Kang figured to be battling back from a knee injury he suffered late last season. And so, in a late-breaking move, the Bucs signed Freese to a cheap contract. He'll man third base until Kang returns, and will likely occupy a variety of roles after that, perhaps eventually displacing Morse as Jaso's platoon partner. Freese, who's been an average or better player in five of the last six seasons, was a bargain at $3MM.
The same can't necessarily be said of some of the Pirates' other cheap contracts. Sean Rodriguez can, at least theoretically, play seven different positions, but he hits so poorly that his versatility is of limited use. It would have been easy to imagine him signing a minor-league deal this offseason, rather than a $2.5MM Major League contract. Perhaps Rodriguez has value in the clubhouse that isn't easy for outsiders to see.
Ryan Vogelsong, too, was a questionable use of funds, even though he'll only make $2MM this season. Vogelsong is 38, has been replacement-level or below in two of the last three seasons, and was demoted to the bullpen last year. He's in competition for one of the Pirates' last two rotation jobs, and perhaps with some attention from Searage, he can improve upon his 4.67 ERA last season. Given his age and recent history, however, his upside appears limited.
The Bucs also signed Neftali Feliz for $3.9MM, which seems like a lot to pay a reliever who flamed out badly last season, has persistent control issues and hasn't had an unambiguously good season (with both good results and good peripherals) since 2010. Feliz is just 27, though, and has good velocity working for him (although he doesn't throw quite as hard as he did in his first few seasons with the Rangers). He's also done well in Spring Training thus far, so perhaps he can be a Pirates reclamation project.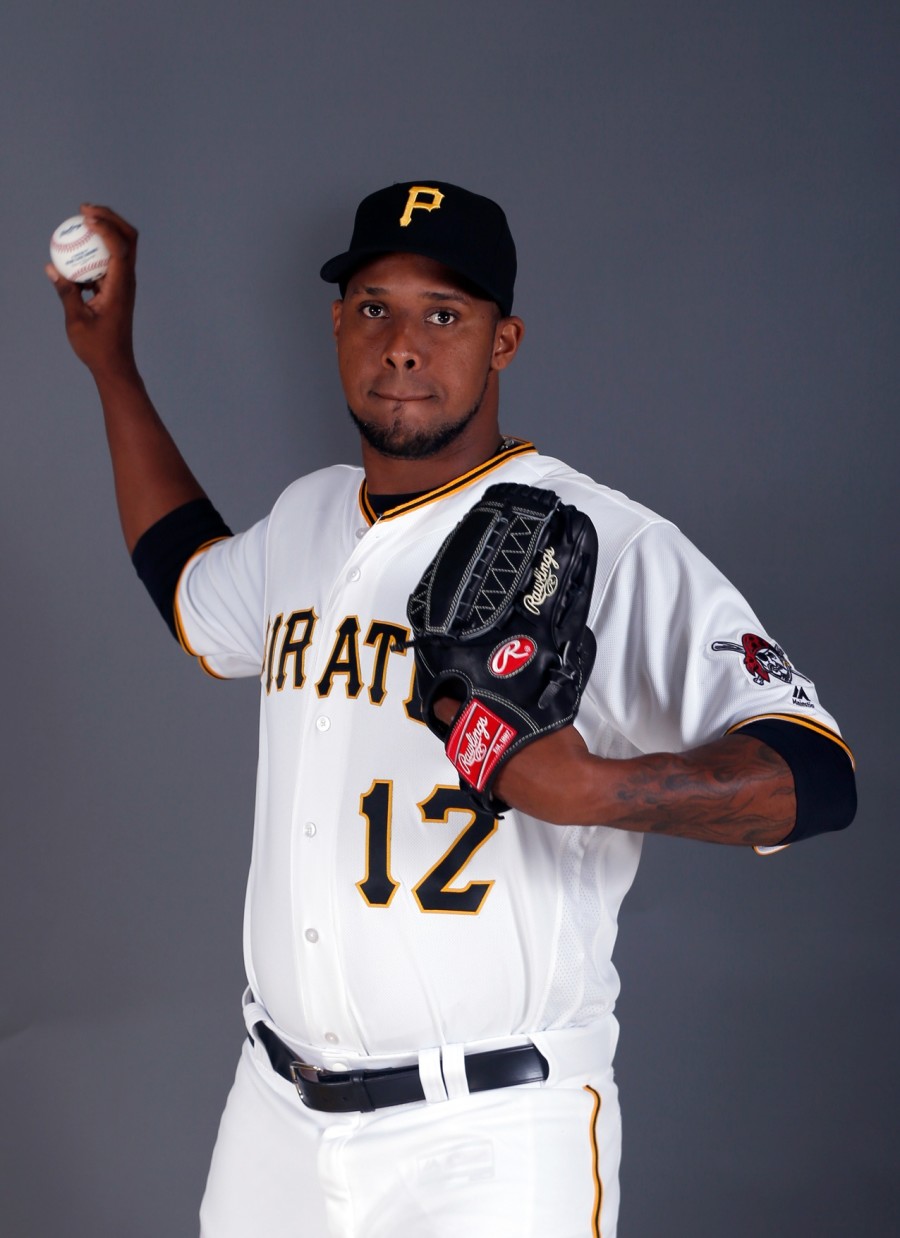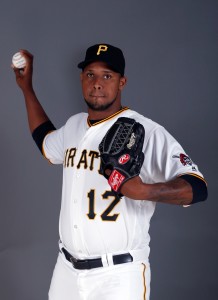 A more interesting cheap pitching deal was that of Juan Nicasio (pictured), who has a good fastball and slider (although not much of a changeup) and whiffed 10.0 batters per nine innings in the Dodgers' bullpen last year. Given his stuff, age (29), service time (4.084 years, allowing the Pirates to control him for 2017 if they like) and ability to start, $3MM for Nicasio seemed like a reasonable gamble, and there are already signs it could pay off, with Nicasio whiffing 24 batters in 15 shutout innings so far in Spring Training. He's still in competition for a job in the back of the rotation.
The Pirates also made a number of even less costly depth acquisitions. They got starting pitching prospect Trevor Williams in a lopsided, but minor, deal with the Marlins compensating the Bucs for the Marlins' hires of Pirates executives Jim Benedict and Marc DelPiano. (In particular, the loss of Benedict, who was widely credited with helping many of the Bucs' pitchers, could potentially be significant for the organization.) A reliever, Trey Haley, arrived from the Indians on a big-league deal but is likely to begin the season in the minors, where he'll hone his mid-90s fastball, with the Pirates hoping he can improve his control enough to eventually contribute. There's still some hope that Cory Luebke (who was signed to a minor league deal) can regain his former promise after a long battle with injuries. And fellow lefty Kyle Lobstein, acquired in a minor trade after the Tigers designated him for assignment, could serve as rotation depth or as a lefty out of the bullpen.
More analysis after the break …
The Bucs also acquired two corner infield types in Jason Rogers and Jake Goebbert who were buried by the later acquisitions of Jaso and Freese. (Both can also play outfield but aren't likely to do so much with the Pirates.) Rogers, who performed well in his first extended stint in the Majors last year, is the more interesting of the two, and the one for whom the Pirates paid the most heavily, giving up speedy bench outfield candidate Keon Broxton and lottery-ticket pitching prospect Trey Supak. Due to the presence of Freese and Morse on the Pirates' active roster and the fact that Rogers has an option left, though, he'll probably begin the season with Triple-A Indianapolis.
Along the way, the Bucs quietly extended backup catcher Chris Stewart, a 34-year-old singles hitter with good framing ability who's had two decent seasons in Pittsburgh, although his total extra-base output in that time amounts to 13 doubles and no triples or homers. Stewart will receive a total of $3MM for his final year of arb eligibility and one free agent campaign, while also giving away an option for another. It's a tiny guarantee for the Pirates, but a lot for Stewart, who has never made more than $1.225MM in a season.
The Stewart extension suggests (but perhaps does not conclusively prove) that the club is set to move on from Cervelli after the 2016 season, when he'll be a free agent — Cervelli says the Bucs haven't discussed an extension with him despite his brilliant 2015 season, and they have a potential replacement in the wings in Triple-A catcher Elias Diaz. Diaz is already a big-league caliber defender, and the Pirates have another excellent defensive catching prospect in the minors in Reese McGuire, but it remains to be seen how they'll replace Cervelli's offense if he departs. (Then again, the same could have been said this time last season, when Cervelli was replacing Martin.)
Questions Remaining
Much of the talk around Pittsburgh this offseason focused on another extension for Andrew McCutchen, who will be eligible for free agency after 2018. Both McCutchen and the Pirates have expressed interest in striking a deal, but it seems highly unlikely they'll consummate one. The Bucs already control McCutchen through his age-31 season at bargain prices, and a meaningful extension beyond 2018 would effectively buy out what are likely to be decline years. A declining Andrew McCutchen could still be a very good player, but a market-value contract would surely cost upwards of $20MM a year, and the always-thrifty Pirates don't seem likely to spend what could amount to 20% of their payroll on a player in his 30s. (A more realistic extension candidate, perhaps, is toolsy outfielder Gregory Polanco, who maintains he is open to a long-term deal.)
Meanwhile, the 2016 team has more immediate issues, beginning with its rotation. The Pirates could have a very good group starting in the summer, when Tyler Glasnow and perhaps Jameson Taillon could arrive (with the Bucs likely delaying both promotions due not only to development reasons but to the Super Two threshold). But first the Pirates will have to get through the first couple months with at least one and perhaps two of Jeff Locke and Vogelsong in the rotation.
The shortstop position is perhaps another issue. Jordy Mercer can handle the position defensively, but he's coming off a season in which he hit .244/.293/.320 with just three home runs. He hit 12 in 2014, so perhaps he'll rebound somewhat offensively in 2016, but if not, maybe it shouldn't be taken for granted that he's really a big-league starter. The next man up would likely be Kang, with Freese taking over at third. That alignment would likely cost the Pirates a few runs defensively, but the offensive improvement could make it worthwhile.
Deal Of Note
In mid-December, the Pirates sent Charlie Morton to the Phillies for minor-league pitcher David Whitehead. After the deal, the Pirates insisted they were fans of Whitehead, a former late-round draft pick who posted a 4.44 ERA, 6.2 K/9 and 3.4 BB/9 in 135 2/3 innings at Class A+ Clearwater in 2015. But the deal was plainly a salary dump. The Bucs had owed Morton $8MM in 2016, plus a $1M buyout on his 2016 option.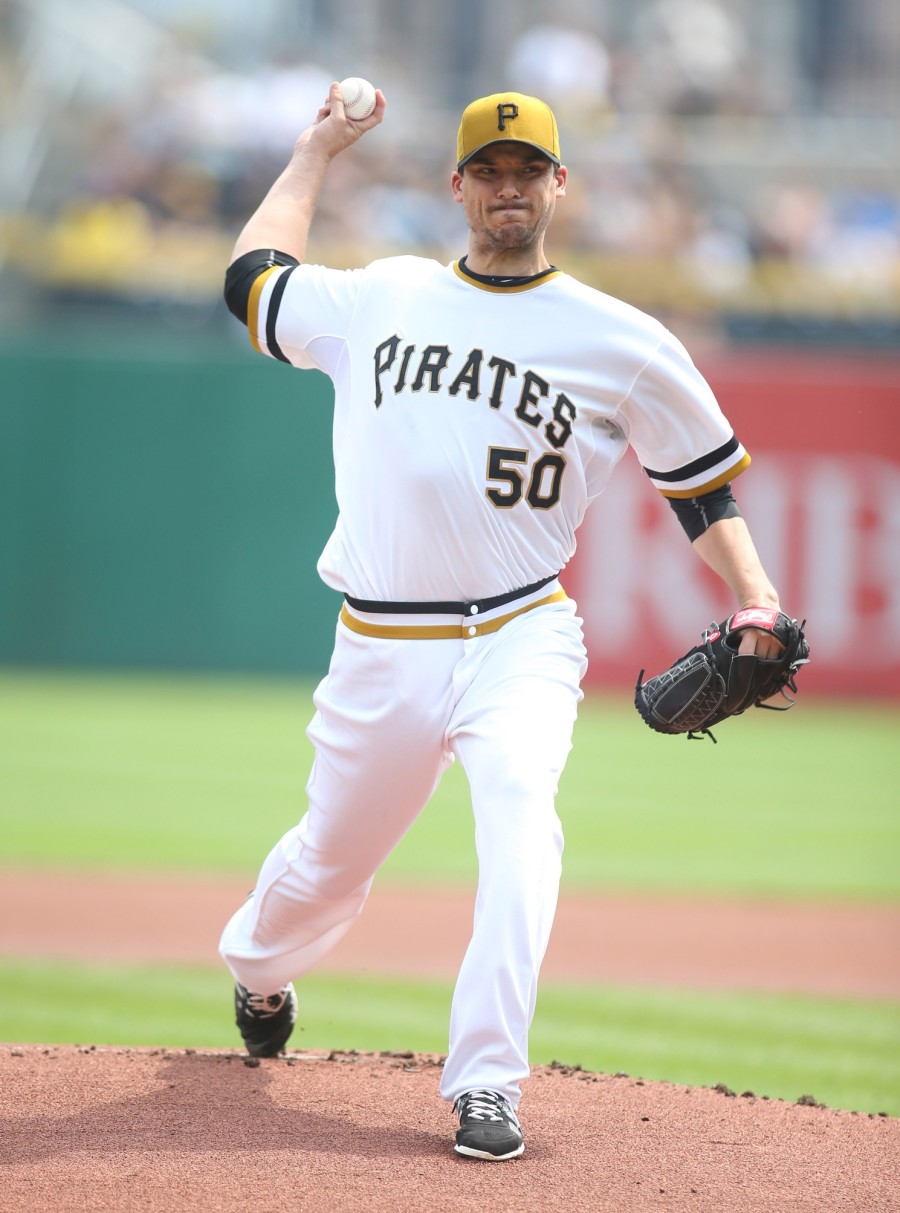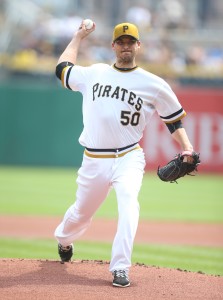 Morton's seven-year Pirates tenure was uneven, despite being an extreme ground-ball pitcher in an organization designed to help ground-ball pitchers succeed. But the deal left a vacuum in the Pirates' rotation. At the time, the move suggested that the Bucs intended to replace Morton with one of the many good free-agent and trade options then available, but they acquired Vogelsong six days later and didn't make any more significant rotation additions. (They'd already signed Nicasio.)
The Morton trade, then, might have been connected to the Pirates' decision to keep closer Mark Melancon, who will make $9.65MM in 2016 before becoming eligible for free agency. Ordinarily, a reliever like Melancon, the 2015 Trevor Hoffman NL Reliever of the Year award winner, might have netted the Bucs a considerable return in a trade, but perhaps that wasn't the case this year. Unlike other top relievers who changed teams this winter, like Craig Kimbrel, Aroldis Chapman, Ken Giles and Carson Smith, Melancon doesn't have a stratospheric strikeout rate, and while he got dominant results with a high ground-ball rate last year, his velocity and other peripherals sagged. "We went into the offseason thinking Mark would be a part of the bullpen until somebody compelled us to think differently," said Bucs GM Neal Huntington, via the Pittsburgh Post-Gazette's Stephen A. Nesbitt. "No one did." Had the Pirates traded Melancon (and elevated the capable Tony Watson to the closer role), perhaps they would have kept Morton, or pursued additional starting pitching help.
Overview
The Pirates' offseason wasn't an impressive one on paper, but that's not a huge surprise. Many fans remain annoyed at the organization's apparent unwillingness to spend heavily to contend, but given how successful they've been with cheap veteran additions lately, perhaps it's best to wait and see how players like Jaso, Nicasio and Feliz do before critiquing them too harshly.
In the short term, the Bucs will continue to face tough divisional competition from the Cardinals and especially the Cubs. But they have McCutchen for three more seasons, and with a solid core in place, strong lines of communication with which to integrate cutting-edge data into their decision-making, and players like Glasnow and Bell on the way, their short- and long-term futures still appear bright.
What's your take on the Pirates' winter? (Link to poll for mobile app users …)
Photos courtesy of USA Today Sports Images.