This is part of MLBTR's series of posts breaking down the offseasons of every team in baseball. You can find all the others at this link.
After one of the most hyper-aggressive offseasons in recent history, the Padres pumped the brakes at the 2015 trade deadline and did so again with a more reserved winter.
Major League Signings
Alexei Ramirez, SS: One year, $4MM (plus $4MM mutual option)
Fernando Rodney, RHP: One year, $2MM (plus $2MM club option)
Carlos Villanueva, RHP: One year, $1.5MM
Buddy Baumann, LHP: One year, $520K
Cesar Vargas, RHP: One year, salary unreported
Total Spend: $8.02MM
Notable Minor League Signings
Trades and Claims
Extensions
Notable Losses
Justin Upton, Ian Kennedy, Craig Kimbrel, Joaquin Benoit, Shawn Kelley, Jedd Gyorko, Yonder Alonso, Clint Barmes, Dale Thayer, Will Middlebrooks, Odrisamer Despaigne, Bud Norris, Marc Rzepczynski
Needs Addressed
Looking at the list of trades made by general manager A.J. Preller and his staff this winter, perhaps "reserved" wasn't an optimal word selection for the introductory sentence to this review. The Padres were hardly dormant this offseason, but the club's direction unequivocally changed: while the 2014-15 offseason was about acquiring Major League talent with an eye towards immediate improvement, the 2015-16 offseason instead focused on long-term value and short-term additions that didn't compromise that long-term outlook.
Chief among those forward-looking moves was the decision to trade one of the game's best closers, Craig Kimbrel, less than nine months after acquiring him. In terms of prospect capital, the Padres received more than they gave up in order to acquire Kimbrel in the first place, although part of the reason they were able to acquire Kimbrel at a lesser price in terms of young talent was their willingness to absorb Melvin Upton's contract. The addition of Manuel Margot, Javier Guerra, Carlos Asuaje and Logan Allen was a huge boost to a floundering Padres farm system, but the club still rates among the worst overall minor league systems in baseball, per Baseball America and ESPN's Keith Law. Be that as it may, the Kimbrel trade could reap Major League benefits in the very near term, as Margot is close enough to the big league level that he could be in center field for the Friars as soon as this summer. Asuaje, too, could emerge on the big league scene relatively quickly.
While many thought the trade of Kimbrel and the subsequent trade of Joaquin Benoit signaled that the Padres would embark on an offseason fire sale, the team didn't move enticing veterans like Tyson Ross, Andrew Cashner or Derek Norris. Rather, the Padres dealt from the fringes of their Major League and 40-man rosters and, in doing so, were able to pare down the payroll a bit while simultaneously bringing in additional near-term pieces. The new regime clearly wasn't as high on Jedd Gyorko as the former front office, and shedding his salary for a more substantial up-front cost (the final year of Jon Jay's contract) created some roster flexibility down the line. Christian Bethancourt and Jose Pirela give the Friars a pair of young players that can step directly onto the roster.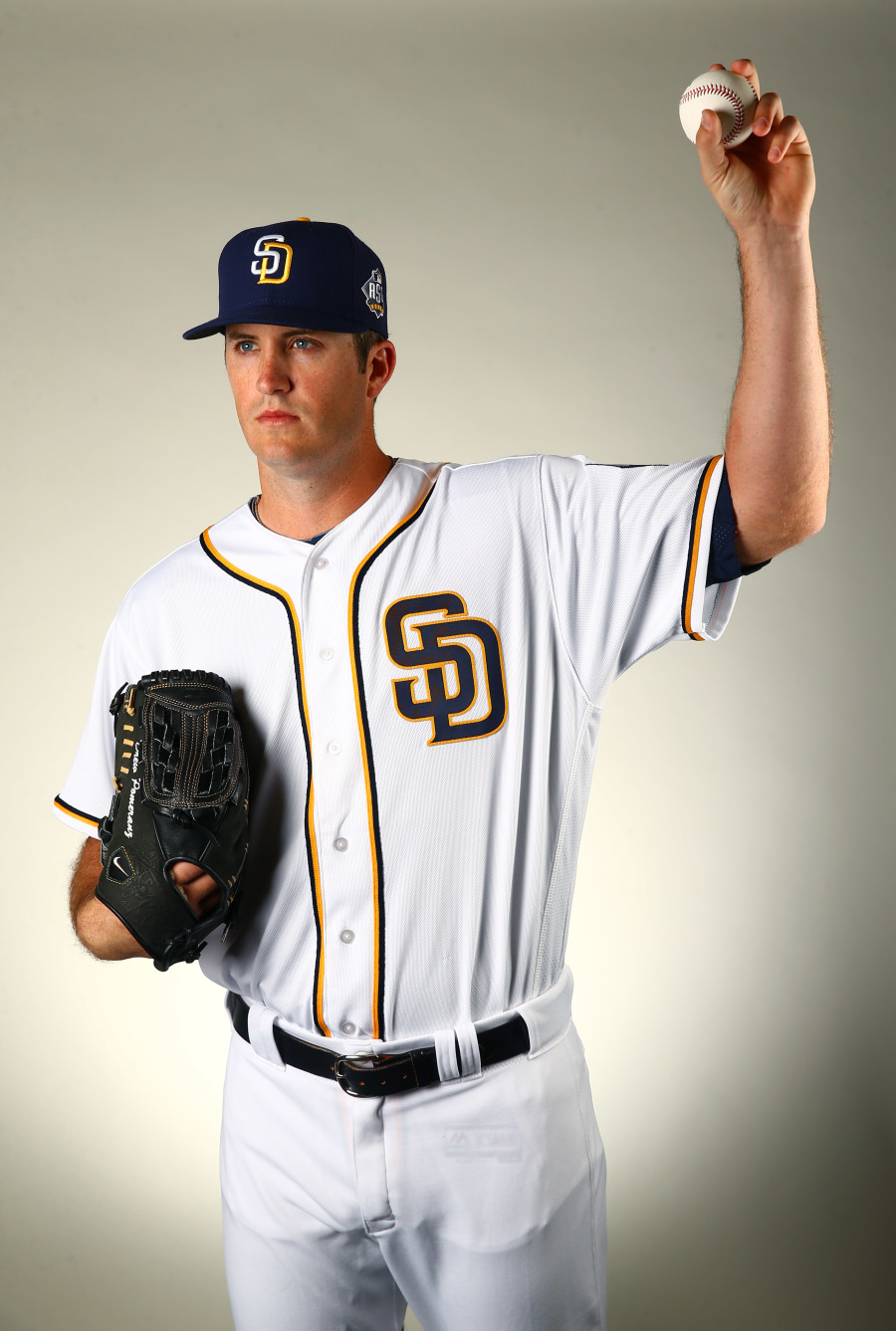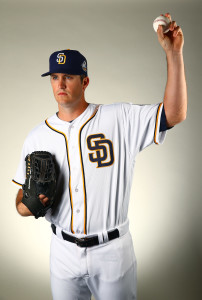 San Diego also moved a year of Marc Rzepczynski and two years of Yonder Alonso for three years of Drew Pomeranz and an intriguing Rule 5 pick in Jabari Blash (plus minor league lefty Jose Torres). From my vantage point, it was hard not to like the deal for the Padres, who gained more control over Pomeranz than they had over either Alonso or Rzepczynski. Pomeranz might not have lived up to his potential yet, but he posted solid numbers in both seasons he spent with the A's and is nearly two years younger than Alonso, whose ceiling is pretty limited at this point.
In Rodney, Villanueva, Baumann and Vargas, the Padres made a series of low-cost bullpen signings to help replace some of the depth they surrendered in other trades, and while none of the group will replicate the production of Kimbrel, there's reason enough to believe that Rodney or Villanueva could easily justify the modest salaries that each was guaranteed.
The Padres' only other free-agent expenditure was a similarly small commitment to Alexei Ramirez, and he'll serve as a short-term patch over a long-term problem. I'll talk a bit more about the deal later in the review.
Keep reading for more analysis after the break …
Questions Remaining
Frankly, the Padres have more questions on the roster than they have answers. For the time being, their starting outfield consists of three players that were acquired because their former teams wished to shed what now look to be regrettable contracts. None of Melvin Upton, Jon Jay or Matt Kemp have been particularly valuable in recent years, though Kemp did have a nice second half in San Diego last year, and Upton quietly had a modest rebound as well. Margot should insert himself into the outfield mix shortly, and the Padres will hope that Hunter Renfroe can do the same in left field. Should either player fail to progress in the minors this season, Blash and Travis Jankowski could be leaned upon, but it's still strange that the Padres seemed dismissive of moving Wil Myers back to an outfield corner and were never strongly tied to any form of outfield upgrade.
The infield picture is only moderately clearer. Myers has limited experience at first but will be asked to man the position full-time, it seems. Ramirez, as mentioned, is a stopgap. The Padres undoubtedly hope that Guerra (acquired in the Kimbrel deal) can rise quickly through their minor league ranks, but having opened the season at High-A, he's unlikely to be a factor until mid-2017. Yangervis Solarte would be a utility option on most clubs but figures to man third base for the majority of the season, and former first-round pick Cory Spangenberg will hope to build on a quietly sound 2015 season as the second baseman. Neither Solarte nor Spangenberg has much of a track record, though, and minor league alternatives like Pirela and Asuaje have been cast more as utility players than future starters by most scouting reports.
I already noted that the acquisition of Pomeranz has the potential to be a nice addition to the rotation, but he's no sure thing and the long-term outlook of the Padres' staff is still murky. James Shields' post-2016 status is unknown due to his opt out, and if he doesn't make his escape it'll probably be because he had a pedestrian season. Tyson Ross has been in trade rumors since July, and he'll be mentioned in them again for the next couple of months as well if the Padres don't perform well. The same is true of Andrew Cashner, who is a free agent following the season. The Padres don't have much in the way of MLB-ready starters in the minor leagues, but most of their rotation is only controlled for the short-term. Despite this fact, Pomeranz was the only somewhat controllable MLB-ready (or near-MLB-ready) arm for whom the Padres traded, and they neglected to sign a free agent from this winter's exceptionally deep crop of starting pitchers.
There's plenty of uncertainty up and down the roster, but the greatest question facing the Padres could simply be what path Preller and his staff elect to take this summer. Despite the fact that they were out of contention, the Padres didn't make a move of consequence at last year's deadline, only sending Abraham Almonte to the Indians in exchange for Rzepczynski. That seemed to signal that they could again act aggressively as a contender in the offseason, but the team more or less spun its wheels, adding some veteran pieces and clearing salary without firmly committing to a rebuild or adding major components to the Major League roster. If the Padres are out of contention again come July, it would make sense to market Cashner, Ross, Norris, Rodney, Villanueva, Ramirez or any other pieces that end up having value, but that was true at last year's quiet deadline as well.
Deal of Note
The Padres' signing of Ramirez didn't grab many headlines, but it was noteworthy in the sense that San Diego reportedly chose him over Ian Desmond, who at the time was still seeking a longer-term, more lucrative contract. In opting to go for a more affordable short-term deal with Ramirez, the Padres opened themselves up to the likelihood that they will again be in search of a shortstop next winter — Ramirez's mutual option, as is the case with all mutual options, is unlikely to be exercised by both parties — but also preserved the Padres' top unprotected draft pick.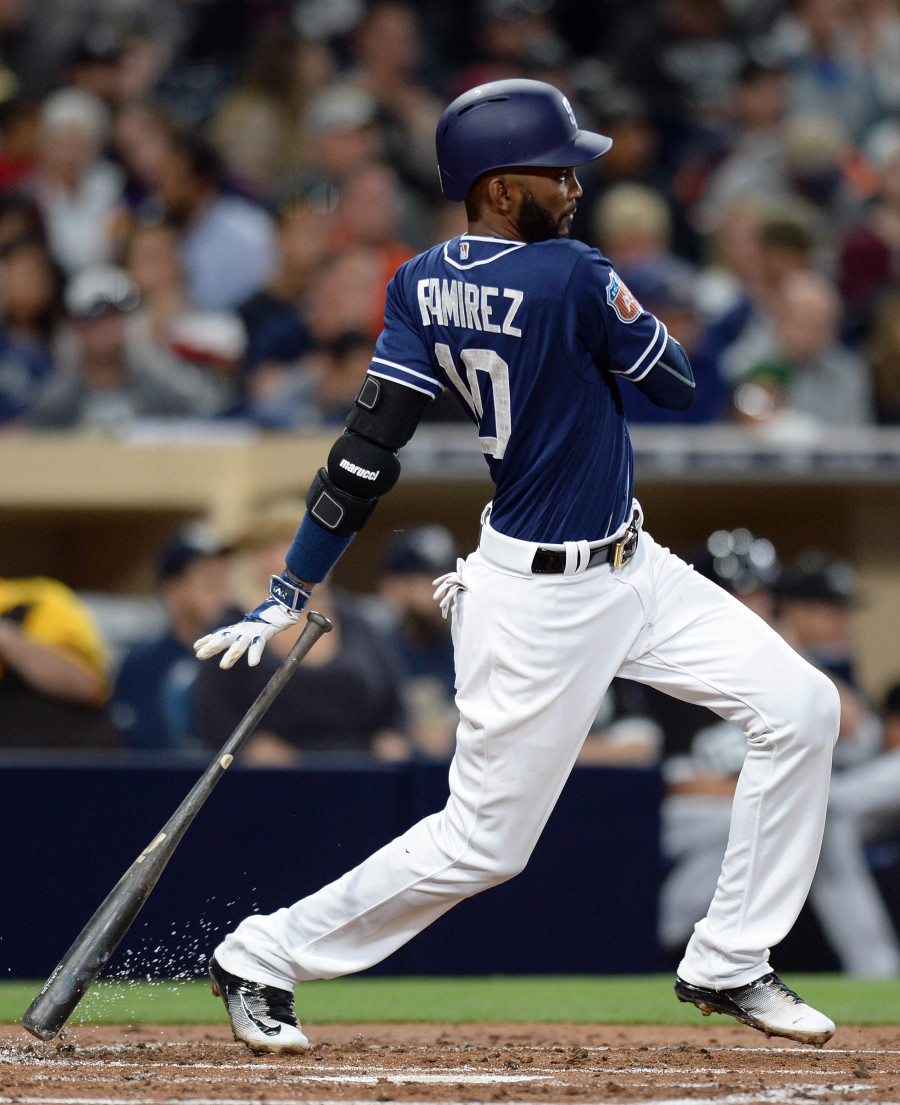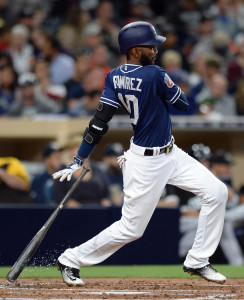 San Diego now has three of the top 25 picks in the 2016 draft (thanks to comp picks acquired when Justin Upton and Ian Kennedy signed elsewhere) and six selections in the first 85 picks. That presents a huge opportunity to boost a farm system that, despite acquiring a very strong package in the Kimbrel trade, rated as the game's sixth-worst minor league system per BA and ESPN. With the Padres also widely reported to be preparing for an extremely aggressive international signing frenzy in the 2016-17 class, which opens on July 2, the Friars are positioned to restock their pipeline of young talent considerably more quickly than most clubs.
Had the club elected to sign Desmond, the Padres would've had to forfeit the No. 24 selection (their top pick, eighth overall, is protected), which Baseball America's Hudson Belinsky projects to come with a slot value of about $2.19MM. Subtracting that notable sum from their draft pool would still have left the Padres with one of the largest pools in the upcoming draft but would also have limited the team's flexibility to aggressively pursue top-tier talent that slides due to asking price.
From a strictly on-field perspective, the Ramirez signing unquestionably has bargain potential as well. The 34-year-old is off to a slow start and batted just .249/.285/.357 last season, but his numbers from July 1 through season's end are far more encouraging; Ramirez hit .282/.329/.426 over the final three months of the 2015 campaign, and if he can approximate that level of production — or even check in slightly below — he'll vastly exceed the club's small financial commitment while capably handling a position of need and possibly turning into a trade chip with modest value.
Overview
The Padres' offseason was filled with activity, but save for a few notable moves, much of it related to the fringes of the 40-man roster. One year after taking up one of the most aggressive win-now mindsets in recent history, the Padres walked the line between rebuilding and aiming to contend. The result is a big league roster that doesn't appear strong enough to contend for the postseason and a farm system that doesn't offer much in the way of immediate help. The farm system, as noted above, should receive an enormous boost this summer, but that won't help the club's big league roster in the near term unless a pursuit of MLB-ready names like Jose Miguel Fernandez and Yulieski Gurriel are in the offing (both of which have been rumored as possibilities, and, in Fernandez's case, a likelihood).
It does look like there's a strong possibility of rebuilding the farm without fielding a lineup that is populated by journeymen with little to no MLB experience thanks to the Kimbrel trade and the upcoming draft/international classes. Perhaps that's a win when it comes to ticket sales and keeping the fan base invested in the team, but with the Dodgers, Giants and D-backs all looking better than the Friars on paper, it's surprising that the club seemingly took a half-measure by trading its expensive relievers, when moving the likes of Ross, Norris and certainly Cashner (a free agent at season's end) could've further accelerated the club's return to contention in the National League West.
Here's your chance to weigh in on the Padres' winter efforts (mobile app users can click here):
Photos courtesy of USA Today Sports Images.