The Cubs will promote top catching prospect Willson Contreras before tomorrow's game, reports Ken Rosenthal of FOX Sports (via Twitter). The team's plan is to carry three catchers for the time being, he adds, though the team was already doing so with Miguel Montero, David Ross and Tim Federowicz on board.
[Related: Since the news of Contreras' promotion, it has been reported that Federowicz will be designated for assignment. The new roster alignment is reflected at Roster Resource's updated Cubs depth chart.]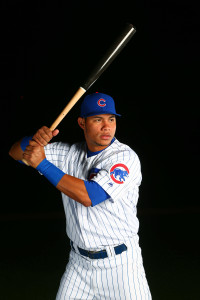 The 24-year-old Contreras entered the season rated as one of the game's top prospects in the eyes of ESPN's Keith Law (No. 27), Baseball America (No. 67), MLB.com (No. 50) and Baseball Prospectus (No. 57). He's shown full well why those outlets were so high on his skills this season with an incredible showing at Triple-A Iowa, where he's batted .350/.439/.591 with nine homers and 16 doubles in 239 plate appearances this season.
Law called Contreras a "legitimate two-way threat behind the plate" in his scouting report, praising his 70-grade arm (on the 20-80 scale) and noting that Contreras had an unexpected but meteoric rise through the team's farm rankings. Contreras, a converted third baseman, has taken to catching well and while he may be an offensive-minded backstop, per MLB.com's scouting report, he does figure to stick behind the plate. His experience playing infield could make him a multi-position reserve while Montero is still in the fold, BA noted in their report, adding that his bat may yield more gap power than home run power.
From a defensive standpoint, Contreras has halted 31 percent of attempted stolen bases against him this season. Baseball Prospectus graded his pitch-framing efforts as below average in both 2015 and 2016, although considering the fact that catching is still relatively new to Contreras, it's perhaps not surprising that there's still some room for refinement in the intricacies of working behind the dish. Certainly, sharing a dugout with Montero and Ross — two of the game's better framing catchers — could prove beneficial to Contreras in the long run.
Because of the timing of his promotion, the most Major League service time that Contreras could accrue in 2016 would be 108 days. Even if he's in the Majors to stay, that will leave him well shy of Super Two designation, so he should only qualify for arbitration the standard three times. As it stands, the earliest that Contreras could become eligible for free agency would be upon completion of the 2022 season.
The exact manner in which skipper Joe Maddon will work Contreras into the lineup remains to be seen. Montero has gotten base at a reasonable clip this season but his overall .210/.333/.343 batting line hasn't lived up to expectations. Ross, on the other hand, has exceeded expectations, batting a healthy .237/.339/.409 after turning in a combined .599 OPS from 2013-15 with the Red Sox and Cubs. However, at 39 years of age, the Cubs probably weren't planning on giving Ross a near-equal share of the playing time behind the plate, but Ross has actually logged more games than Montero this season and tallied just 11 fewer plate appearances and six fewer innings behind the dish. Adding Contreras to the mix will allow Chicago to lessen the load for the aging Ross and perhaps deliver an offensive upgrade over Montero on days in which Contreras dons the tools of ignorance.
Photo courtesy of USA Today Sports Images.