At one point this year, the magic seemed to have worn off for Justin Turner. Coming off of significant offseason knee surgery, Turner failed to crack a .700 OPS in either of the first two months of the season.
That has all changed, though, as the well-bearded redhead flipped the switch in mid-June and hasn't looked back. Despite the tepid start, Turner has run his batting line all the way up to .278/.345/.516, good for a composite 130 wRC+ that falls just shy of the big-time numbers he produced in each of the last two seasons.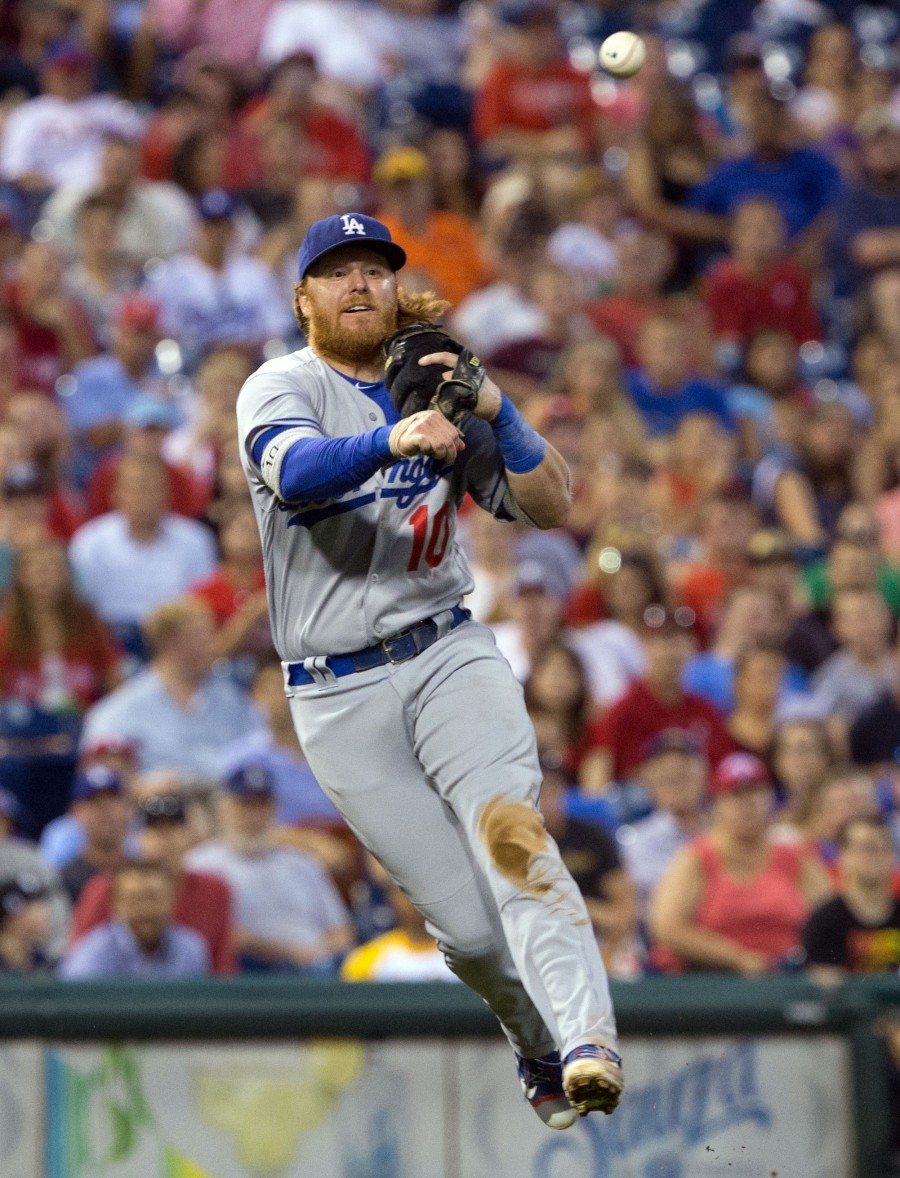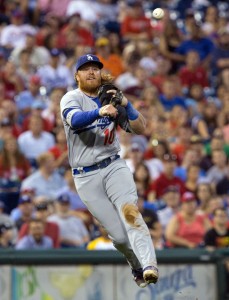 Turner's stunning emergence in Los Angeles has been well-documented. At this point, it seems hard to argue with the fact that the 31-year-old is simply one of the league's better hitters. In some ways, in fact, he is improving. While maintaining his low-strikeout approach, Turner has steadily enhanced his power. While his 2014 breakout was fueled in part by a .404 BABIP, he hit only seven home runs. Through 464 plate appearances in the current campaign, Turner has already left the yard 23 times and owns a .237 isolated slugging mark that sits just ahead of players like Miguel Cabrera, Chris Davis, and Robinson Cano on the league leaderboard.
The increase in home runs corresponds both to a jump up in Turner's flyball rate (now 43.3%) and HR/FB rate (15.5%), and is supported by a 39.5% hard-hit ball rate. Meanwhile, over the last two years, Turner has made soft contact on only about a dozen out of one hundred balls he puts in play. Those figures put him among the twenty best makers of contact in the game this season, and Turner's overall offensive productivity also sits comfortably within the top twenty dating back to the start of his tenure in Los Angeles.
That's impressive enough on its own, but Turner also rates as a high-quality defender. He has consistently drawn above-average marks from Defensive Runs Saved, and UZR has gone from rating him as slightly above average to valuing him as a top-quality gloveman at the hot corner in 2016. A second baseman earlier in his career, Turner could conceivably move around the diamond with another organization, though given his injury history and strong performance at third it seems most likely he'll stay there.
Really, at this point, questions about Turner's knee, his relatively advanced age, and a near-certain qualifying offer are really the only limitations on his market. Microfracture surgery is no small thing, and it seems at least that the procedure had some impact on his slow start this year. While his performance over the last two months seemingly quells any near-term concerns, teams weighing multi-year commitments will certainly take a close look at the odds of a recurring problem.
There will be some other quality options available to teams pursuing help at third base. Luis Valbuena, Martin Prado and David Freese are all enjoying fine seasons, and could certainly stake a claim to signing on for everyday roles. Still, it's hard to argue that any approach Turner, who has clearly been the superior player not only this year but over the last three campaigns.
In terms of contract expectations, the older Ben Zobrist achieved four years and $56MM last year despite carrying a somewhat less impressive immediate track record — both at the plate and in the field. Even Chase Headley achieved a fourth year, taking home a total $52MM commitment, though he was a year younger. While the Daniel Murphy contract, three years and $37.5MM, sets an even lower price (albeit for a second baseman), his big second half of 2015 hadn't yet been validated by the monster season he is currently having and the glove wasn't nearly the asset that Turner's is.
On the high side, the signings of Adrian Beltre (5/$80MM) and Pablo Sandoval (5/$95MM) may establish the upper limits of what Turner could seek. The latter was significantly younger when he signed, and probably represents an unrealistic price point. But the Beltre contract may be more relevant than it seems at first glance. He was entering his age-32 season at the time, just like Turner will be, and was coming off of the same type of season that Turner has now turned in for three years running. While Beltre's glove gave him a higher floor, his immediate offensive history was actually quite a bit less impressive than Turner's has been.
Precisely what kind of deal Turner will be able to command will still depend upon how his season ends, along with a whole host of other factors that are largely unknown at this point. And the Dodgers could yet decide to make a last-minute effort at an extension, though we've really heard nothing to suggest that's likely. Regardless of how things proceed from here, it's clear that Turner has more than made up for the value dip he experienced earlier this year. His stock is firmly on the rise as the open market nears.
Photo courtesy of USA Today Sports Images.