The Diamondbacks have announced that they've fired GM Dave Stewart and manager Chip Hale. There was no immediate word on whether the Snakes intended to retain chief baseball officer Tony La Russa. "We are still discussing what the appropriate role for Tony La Russa will be going forward," Kendrick said in a statement.
The decision on Stewart comes as little surprise, as it had previously been reported that owner Ken Kendrick was slated to meet with La Russa today to discuss the statuses of both Stewart and La Russa, both of which seemed to be in jeopardy. Hale's departure, meanwhile, will allow Stewart's successor to be involved in choosing a replacement.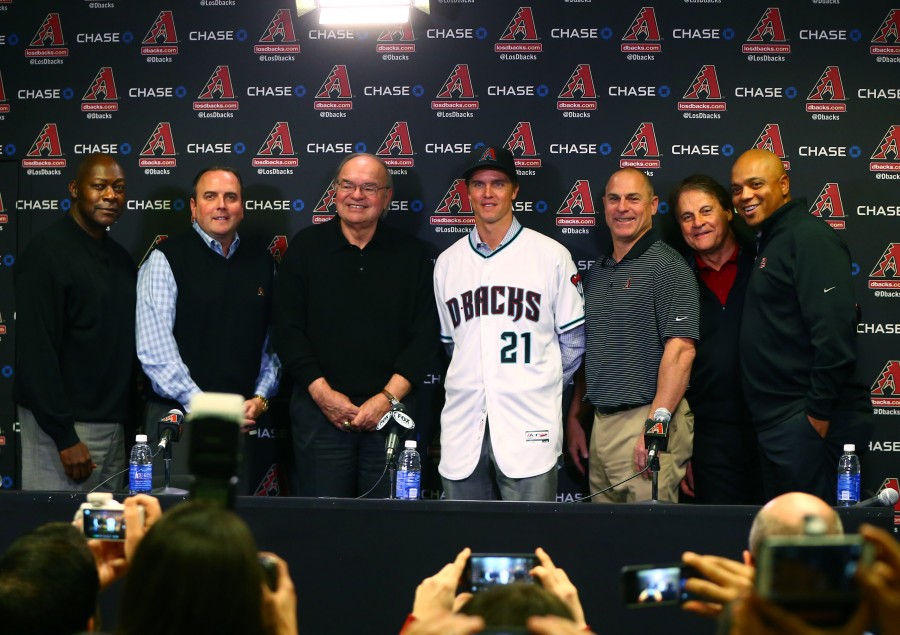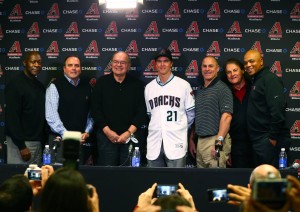 The Diamondbacks hired Stewart in September 2014, so his tenure with the team was very short for a GM. During that time, however, the team's front office made a number of questionable moves, chief among them the trade that sent 2015 first overall pick Dansby Swanson, along with outfielder Ender Inciarte and pitcher Aaron Blair, to Atlanta for starter Shelby Miller and minor leaguer Gabe Speier. Miller has struggled terribly thus far in Arizona, posting a 6.15 ERA, 6.2 K/9 and 3.7 BB/9 in 101 Major League innings in 2016. Swanson, meanwhile, made it all the way to the big leagues in just his second pro season and played well, batting .302/.361/.442 down the stretch for the Braves.
Perhaps just as important as the actual result of the deal was the view of player valuation it represented. Swanson alone would been a very steep price to pay for Miller, since Swanson was a premium prospect who had done nothing to sully his status as a former top overall pick. Stewart's approach was also widely questioned earlier in his tenure after a less consequential deal in which he traded Bronson Arroyo and another former first-round pick, Touki Toussaint, to Atlanta for Phil Gosselin in a deal designed to clear about $10MM in Arroyo's salary from the Diamondbacks' books.
The Diamondbacks hoped to position themselves as contenders for 2016, not only acquiring Miller but also signing Zack Greinke to a massive $206.5MM deal. Greinke was serviceable but underwhelming for Arizona, posting a 4.37 ERA, 7.6 K/9 and 2.3 BB/9 in his first season there. The Diamondbacks also suffered a number of other setbacks (beginning with a costly injury to star outfielder A.J. Pollock) and they won just 69 games, miles below expectation. (Stewart himself had gone so far as to say preseason projections that the team would win 78 or 79 games were "a joke.")
Earlier in his tenure, Stewart's Diamondbacks also signed Yasmany Tomas to a $68.5MM deal that, so far, has led to underwhelming results. The 25-year-old Tomas did bat .272/.313/.508 this season, but struggled so much defensively that his value was limited. For his career in the big leagues, Tomas has -1.2 fWAR.
Not all of Stewart's moves have been unsuccessful. He acquired shortstop Jean Segura in a swap that has worked out well so far, and his trade for Robbie Ray has also mostly been a success. On balance, though, his decisions have arguably left the organization in worse shape than when he took office. While others share significant responsibility for some of those moves — the Greinke signing, in particular — there are many questions with the organization's direction.
The process, even more than the decisions themselves, has come under fire since La Russa took command and hired Stewart. Arizona took a notably different approach from the get-go, but increasingly it seemed that the unique operating philosophy was not only potentially problematic in its own right, but also came with other concerns. ESPN.com's Keith Law detailed a long list of missteps, some of which reflected an apparent failure to grasp rules and contemporary valuation principles. That includes the mismanagement of draft and international funds, such as the bonus pool-busting signing of Yoan Lopez — which cost Arizona a chance to acquire other talent to add a prospect who outside observers aren't terribly fond of.
Now that change is afoot, a new dugout chief will also be sought — presumably, after the baseball ops department is sorted out. Hale, after all, was the hand-chosen skipper of La Russa and Stewart, though they may not have ended up being supporters. Reports suggested that Arizona's ownership group intervened to prevent La Russa and Stewart from sending the now-former skipper out of town earlier this summer.
That proved only to be a temporary hold, though, and Hale will wrap up his first stint in charge of a dugout after a rough 2016 campaign. His original contract only promised two years — both of which are now in the books with a 148-176 overall record — but also included an option year. The organization exercised that provision at the outset of spring camp this year, so Hale will be entitled the guaranteed money.
It isn't immediately clear what led to Hale's dismissal beyond the fact that it affords a clean slate. But whatever the particular internal considerations were in this case, it's not often that a manager survives the kind of season that the D-Backs just wrapped up — in which sky-high expectations (whether or not they were reasonable) went entirely unmet.
Photo courtesy of USA Today Sports Images.