MLBTR is publishing Offseason Outlooks for all 30 teams. Click here for the other entries in this series.
It feels wrong — not only in a moral and emotional sense, but also in pure baseball terms — to suggest that the Marlins can or should try to replace dearly departed ace Jose Fernandez. His sobering loss leaves gaping voids in the game writ large; in the Marlins organization, generally; and in the team's pitching staff — none of which can be filled.
Guaranteed Contracts
Arbitration-Eligible Players (service time in parentheses; projections via MLB Trade Rumors)
Options
Free Agents
[Marlins Depth Chart; Marlins Payroll Information]
Fernandez was the beating heart of the Miami franchise, its best and most passionate player. We may never truly be able to take full stock of the effects of his death — not just on the organization, but also on the Miami and broader baseball communities — but the heartrending reaction of the organization in its aftermath suggests that they will be profound.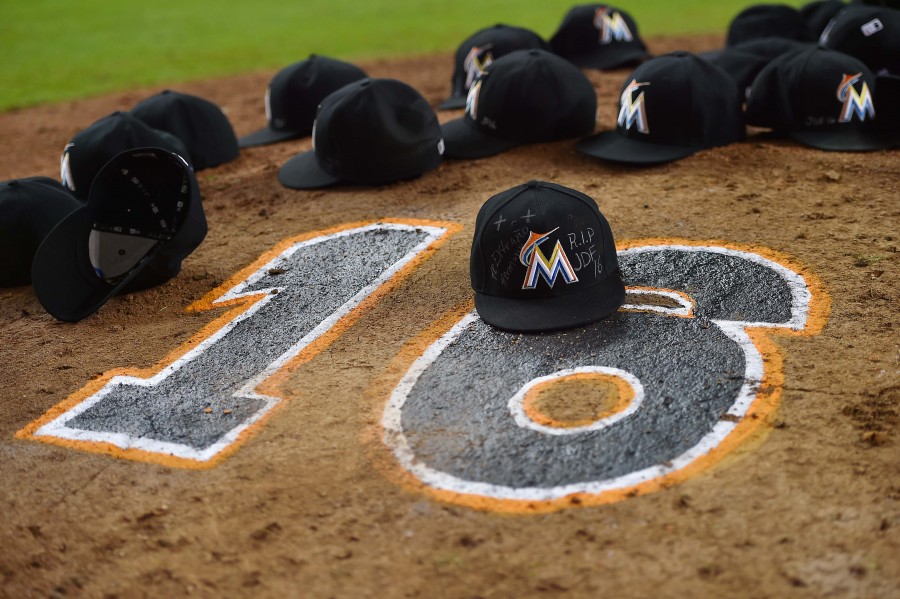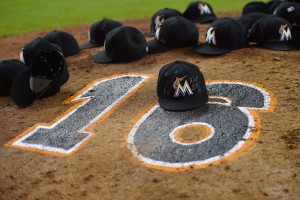 From a roster perspective, the loss of Fernandez is mercilessly easy to assess: the Marlins had one of the most valuable pitchers in baseball. Now, they don't. Teams wait for decades to unearth a single player of his talents in the draft. Without Fernandez racking up strikeouts at a prodigious rate, while earning a bargain salary during his arbitration years, the Marlins look like a decidedly less promising team.
The team already had plenty of limitations, and plenty of needs, when looking ahead to 2017. Coming into 2016, the Fish carried an Opening Day payroll of just over $74MM — second only in franchise history to the ill-fated, $100MM+ 2012 roster. Once guaranteed salaries and the approximate arb obligations are tallied, Miami already has about $70MM committed for the season to come. While some payroll increases are anticipated, it would require a rather significant step northward to accomodate the addition of multiple quality veterans.
Trades are always possible, of course, but Miami is short in prospect capital. The organization already parted with top first base prospect Josh Naylor, as well as bounceback-candidate MLB pitchers Jarred Cosart and Carter Capps, in the failed deal to acquire rental starter Andrew Cashner. The Marlins did recover youngster Luis Castillo after unwinding the portion of that trade involving injured starter Colin Rea, so he could again be cashed in. Fellow young starters like Jarlin Garcia, recent first-round draft pick Braxton Garrett, and the TJ-recovering Tyler Kolek, could all be flipped. But the Fish will need to be judicious in parting with young arms after shipping out pitchers like Anthony DeSclafani and Andrew Heaney in recent years. Corner infielder Brian Anderson has shown promise and is nearing major league readiness, so he's another asset that could hold appeal.
Miami did take steps forward in the win-loss department last year, and the team does feature a talented core even without its young ace. But there are many areas in need of improvement if the club hopes to return to the postseason for the first time since a 2003 World Series run. Catching the Nationals and Mets would be no small feat.
Giancarlo Stanton, Christian Yelich, and Marcell Ozuna make up one of the very best young, controlled outfield units in baseball. Most of the infield mix is settled, too. Second baseman Dee Gordon will look to bounce back from a suspension-marred 2016, and the club will hope that double-play partner Adeiny Hechavarria can at least return to hitting at a near-average rate while continuing to provide quality glovework at short. (There has been some chatter that the team would consider dealing Hechavarria for starting pitching, but he may not have enough value and the team doesn't really have an alternative barring a surprise move of Gordon back to short.) The Marlins kept veteran third baseman Martin Prado off the market by inking a reasonable, but hardly bargain-priced extension in September. At first, Justin Bour has continued to provide power and a strong overall batting line against right-handed pitching, though he's in need of a platoon partner. And behind the plate, J.T. Realmuto turned in a strong campaign and looks to be one of the better young catchers in the game.
The supporting cast could use some work, but the Marlins can fill out those ranks with the kinds of cheap, veteran additions the team has pursued in recent years. The venerable Ichiro Suzuki will return in the fourth outfielder's role. Chris Johnson didn't perform well as the right-handed-hitting complement to Bour, so Miami will look into a market that includes options such as Steve Pearce, Dae-ho Lee, and Ryan Raburn. The light-hitting Miguel Rojas remains on hand as an affordable utility option, though perhaps the club could look to bring in a veteran such as Erick Aybar or Alexei Ramirez to push Hechavarria and step in as needed elsewhere. A move to bring back defensive specialist Jeff Mathis as the reserve receiver wouldn't be surprising, and there are a wide variety of other veteran backup types available.
That brings us to a player who is perhaps the biggest wild card on the Marlins' roster: left-handed-hitting infielder/outfielder Derek Dietrich. Though he fell off after a big start to the year and is much better against right-handed pitching, Dietrich's overall offensive performance has been plenty promising. Dating back to the start of 2015, he has posted a .270/.362/.438 batting line with 17 home runs over 701 plate appearances. Better still, defensive metrics have come around on him, rating him as an approximately average defender at second, third, and (briefly) the corner outfield in 2016.
It's possible that the Marlins will find it hard to maximize Dietrich's value with their current roster. He can't play short or center. Second and third are largely occupied. And Dietrich won't be of much utility at first since he swings from the same side of the plate as Bour.
As the Marlins look to build out their depleted rotation, then, Dietrich could be a key asset. Certainly, he could be traded if there's another organization willing to give up a useful arm to add him — though with such limitations in his game, trade partners would likely also be looking for some of the above-mentioned pitching prospects to give up a quality starter. More intriguingly, perhaps, the Marlins could explore the possibility of moving one of their young outfielders — Ozuna seems most likely, though Yelich could also be considered — to add an impact arm. In that scenario, Dietrich could pair with a righty bat in left field.
Just what does Miami need in the rotation? Three spots are clearly accounted for, with the inconsistent-but-talented Adam Conley, steady-but-unspectacular Tom Koehler, and veteran Wei-Yin Chen (who's looking to make amends for a miserable first year with the team) all more or less locked in. Righty David Phelps certainly made his case late in the year, turning in five outstanding starts after breaking out in the pen earlier in the year. He will have a prominent job of some kind in 2017, and the club seems to have quite a lot to gain by stretching him out next spring. And there are some possibilities for a fifth arm, including Justin Nicolino (who managed just 3.8 K/9 last year), Jose Urena (a low-K pitcher who has had good results in the minors), Jake Esch, Kendry Flores (if he can return to health), and perhaps Jarlin Garcia.
You could squint at that group and see a complete staff, but the Marlins obviously aren't content. The real question at this point is just how big they'll look to go in adding another starter (if not two). Miami is reportedly willing to consider moving Ozuna, Gordon, Hechavarria, or Dietrich — but not Stanton, Yelich, or Realmuto — to facilitate the addition of an arm. Ozuna likely has the most appeal after a strong 2016 season, and the Marlins have indicated a willingness to move him in the past. Garrett, an exciting power lefty, is the real prize in the prospect pool and would surely draw significant interest.
Even if Miami doesn't gun for the biggest names (Chris Sale, Jose Quintana, Chris Archer) that could be available, rival teams with quality, controllable arms — think Jake Odorizzi — will have high asking prices. If the Marlins can't stomach the sticker shock, it's conceivable that they could take on part of a veteran's deal, perhaps even becoming the third team to own a part of James Shields's contract. They could also look to take a shot at adding a bounceback arm in the mold of Jaime Garcia of the Cardinals, or aim somewhat higher for his teammate Michael Wacha.  In recent years, the Fish have shown a predilection for taking some risks in trades for young-ish, higher-upside starters (e.g., Cosart, Cashner, Mat Latos), so a reasonably bold move could be in the offing.
Free agency isn't without its options in the rotation department. While the premium talent just isn't there, that's not typically where Miami goes shopping anyway. A play for the best-available arms — Rich Hill, Jeremy Hellickson, and Ivan Nova — can't be ruled out, but doesn't seem particularly likely. They could seek some functional innings from a pitcher in the mold of Doug Fister, Jorge De La Rosa, Charlie Morton, or (for a budget option) Tommy Milone, though it's fair to wonder whether that's really what the team needs. A calculated gamble on Cashner would make quite a bit of sense — were it not for the fact that he struggled badly in Miami (and really doesn't like its no-beard policy). Edinson Volquez is a workhorse who still has pretty good velocity, so he'd look to be a reasonable fit.
Assuming that Phelps remains in the rotation, the top two pen options will remain A.J. Ramos and Kyle Barraclough. Recent trade addition Hunter Cervenka looks to be the primary southpaw set-up man, but he'll likely be joined by another lefty. A new deal with Mike Dunn could make sense. Nick Wittgren probably has a job secured after a strong season. Brian Ellington has posted a sub-3.00 ERA in each of the last two years, and could take a job even if his peripherals don't quite support the results. There are a variety of other internal options, including some of the youngsters noted above who are being developed as starters, but there's plenty of room for improvement and good reason to think the Fish will look to add one or two useful veteran righties. Dustin McGowan had a successful season and could return, and the free agent market contains a wide variety of veteran performers with late-inning experience (including Sergio Romo, Joaquin Benoit, Santiago Casilla, and the hard-throwing Daniel Hudson).
All told, there's quite a bit of variability for the Marlins this winter, especially if they go hunting for a high-quality rotation piece. What does seem clear is that the organization won't stop trying to contend. The team dealt some intriguing assets for Cashner despite a mediocre postseason outlook. And even after the disheartening loss of Fernandez, Miami struck a new deal with the veteran Prado. While it's probably optimistic to expect a division title even with a fairly aggressive offseason, the Marlins could certainly profile as a solid Wild Card contender if they manage to bolster the pitching staff and make a few good calls on role players.