The move to hitter-friendly Camden Yards took Mark Trumbo's slugging to a whole new level in 2016, and now we'll see how his homer-centric game will play on the open market.
Strengths/Pros
In a word, power.  Trumbo's 47 home runs led the majors last season, as he became just the fourth Oriole in history (following Frank Robinson, Brady Anderson and Chris Davis) to go deep at least 47 times in a single season.  Trumbo's .533 slugging percentage last year easily topped his career .458 SLG from 2010-15, though it certainly wasn't his only big year at the plate, having averaged 32 homers per year with the Angels from 2011-13.
His huge leap in production earned him American League Comeback Player Of The Year honors, though Trumbo was maybe somewhat of a curious choice given that his 2015 numbers weren't bad.  He was also named to the All-Star team, the second time he had received a nod to the Midseason Classic during his career.
Trumbo's career splits headed into this year indicated that he hit lefties a bit better than righties, which is normal for a right-handed hitter.  Curiously, 2016 saw Trumbo deliver some massive reverse splits — he posted a .932 OPS in 501 PA against right-handed pitching but just a .608 OPS against southpaws.  This one-year gap was large enough that it effectively balanced his career splits, so on paper, Trumbo has been equally productive against all pitchers over his career.  Trumbo's BABIP luck against righties (.316) wasn't nearly as glaring as his lack of fortune against lefties (.167), so it could be argued there's a better chance Trumbo's numbers against left-handers improve in 2017 than there is of him coming substantially back to earth against righties.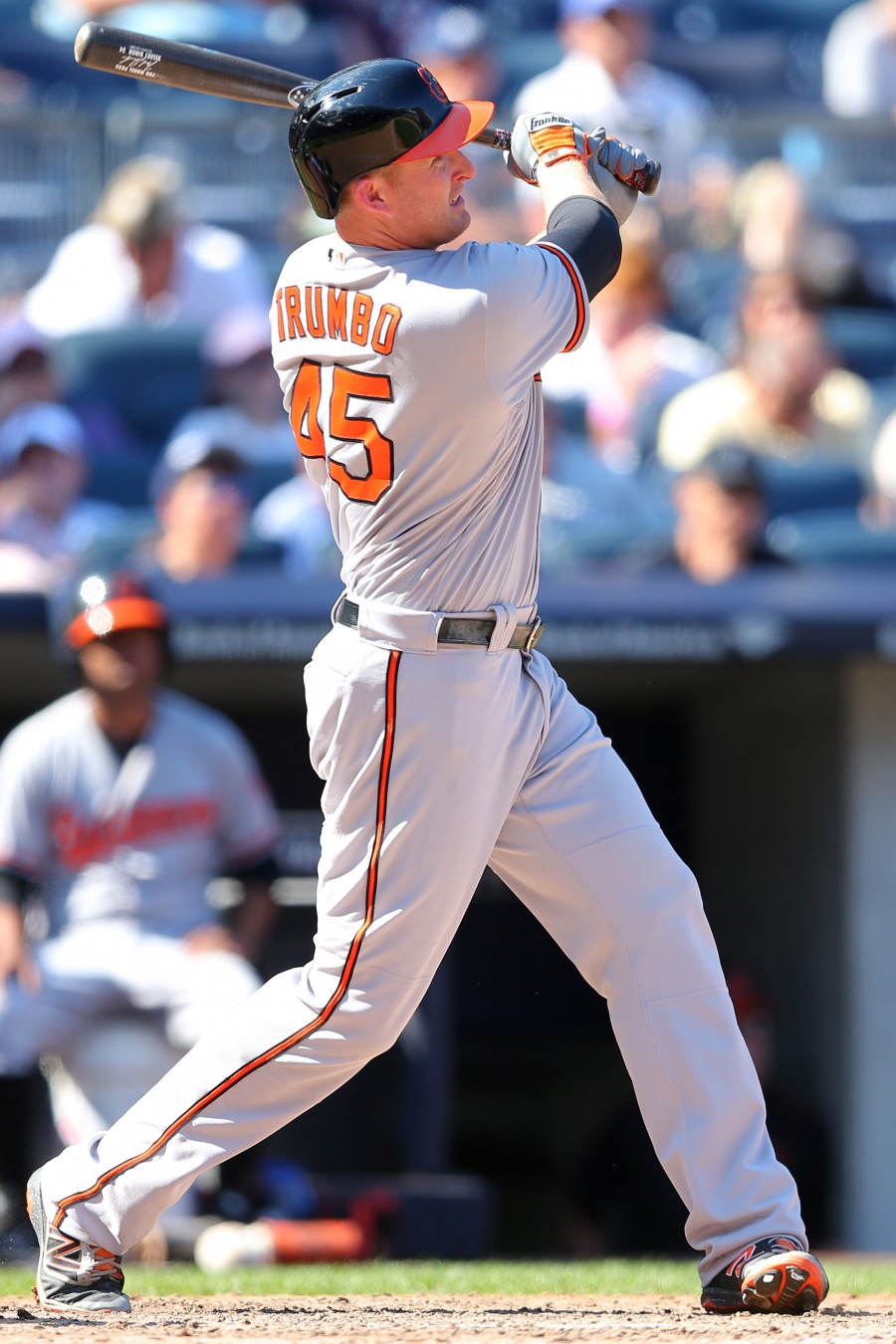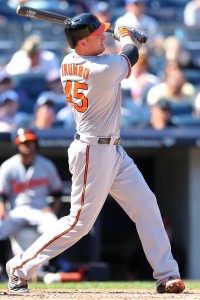 Trumbo is often considered a defensive liability, and indeed, his career UZR/150 and Defensive Runs Saved totals as a corner outfielder are pretty ugly.  In his only two seasons as a primary first baseman, however, Trumbo's glovework was more than solid — +9 DRS and 5.2 UZR/150 in 2011 and +2 DRS and 10.5 UZR/150 in 2013.  His defensive numbers at first have been below-average over the last three years, though he has only 566 innings at the position in that time, as Trumbo was largely blocked by Davis in Baltimore and Paul Goldschmidt in Arizona.
If used at first, Trumbo's metrics indicate that he could provide notable value at the position.  If a team has needs at both first and in either corner outfield, Trumbo could handle left or right as long as the team was willing to sacrifice fielding for power.  Of course, American League teams can bypass defensive questions altogether by pursuing Trumbo as a designated hitter.
Weaknesses/Cons
Trumbo is almost the definition of the all-or-nothing slugger, capable of bashing homers at an outstanding rate but not bringing much else to the table offensively.  His .256 batting average and .316 on-base percentage last year were only mild increases over his career averages in both categories.  Not only is Trumbo not getting on base, he's also making a lot of unproductive outs — he ranks tenth among all hitters in strikeouts (848) and 14th in pop-ups (124) since the start of the 2011 season.
Between the lack of baserunning, defense and all-around hitting, Trumbo's value is limited even despite his slugging prowess.  His 1.6 bWAR in 2016 was the lowest of any player who had ever delivered a 47-homer season.
Part of the issue was that Trumbo did most of his damage before the All-Star break and badly tailed off in the last half of the season.  While he kept up the power throughout the year, Trumbo hit .288/.341/.582 before the break and just .214/.284/.470 afterwards.
Health-wise, Trumbo has suffered stress fractures in both of his feet over the last five years.  His break in his right foot occurred near the end of the 2011 season and didn't cause him to miss much time, though he was limited to just 88 games in 2014 thanks to a fracture in his left foot.  Trumbo also had a plantar fasciitis issue that same year, which could've possibly factored into the injury.  He has been pretty durable over the last two years, however, and a move to regular first base or DH duties would make things much easier on his feet.
The Orioles have extended Trumbo a qualifying offer, and assuming he rejects it, his new team will have to surrender their highest-eligible draft pick in order to sign him.  (Or, if he goes back to Baltimore, they'll give up the chance to add a compensatory pick.)  Trumbo's ability to thump will definitely attract attention, though some clubs will balk at giving up a draft pick to sign a player with Trumbo's limitations, preferring to chase other power options available at a lower price and without QO compensation attached.
Personal
Trumbo, born in Anaheim in January 1986, was drafted out of high school by his hometown Angels in the 18th round in 2004.  He got himself on the prospect radar with a 32-homer campaign in high A-ball and Double-A in 2008 and then a 36-homer/.945 OPS season in Triple-A in 2010 earned him his first big league promotion that September.
When Kendrys Morales infamously broke his leg jumping on home plate during a walkoff homer celebration, his extended rehab gave Trumbo the Angels' first base job at the start of the 2011 season.  This ended up being a season-long assignment once complications from Morales' injury sidelined him for the entire year, and Trumbo rose to the occasion by hitting .254/.291/.477 with 29 home runs over 573 PA, a performance that earned him a runner-up finish to Jeremy Hellickson in AL Rookie Of The Year voting.
Albert Pujols' arrival in Los Angeles began Trumbo's position carousel, as the Halos tried him in left, right and even a brief dalliance at third base, though Trumbo ended up spending a lot of time back at first in 2013 due to Pujols' injury problems.  Ultimately, the Angels saw him as an expendable piece, trading him to the D'Backs in December 2013 as part of a very notable three-team deal with the White Sox that also sent Adam Eaton to Chicago and both Hector Santiago and Tyler Skaggs to Anaheim.
Injuries and some ill-conceived usage as a left fielder led to an unmemorable stint in Arizona, and Trumbo found himself on the move again in June 2015, this time sent to Seattle as part of a six-player trade.  This deal ended up looking good for the D'-backs (Welington Castillo has gone on to become their regular catcher) and it seems like the Mariners came up short in another Trumbo deal when they swapped the slugger and C.J. Riefenhauser to the O's last December for Steve Clevenger.
It was in Baltimore that Trumbo finally seemed to unlock the potential that so many other clubs had been hoping for him to find on their watch.  One might argue that Trumbo could be a candidate to accept the one-year, $17.2MM qualifying offer from the Orioles due to his poor second half, lack of a well-rounded game and the possibility of the QO hurting his market, but I disagree.  If anything, perhaps Trumbo will be more eager for the security of a long-term deal given how he's gone through three trades in as many years.
Market
There are several other first base/right field/DH types on the free agent market this year, though Trumbo has a few advantages over most of his peers.  Trumbo is entering his age-31 season, which makes him markedly younger than several of the other bats who share a similar heavy-hitting but defensively-lacking profile.  Trumbo's representatives from Wasserman can argue that their client is a true everyday player, unlike many other hitters who carry significant platoon splits.
While Trumbo takes pride in his effort in the outfield, he himself noted last winter that he is a better defensive option at first than he is in right.  He'll likely continue to market himself as an outfield candidate since multi-position versatility is an attractive commodity, though one wonders if Trumbo himself will prefer to seek out first base opportunities rather than potentially suffer through another value-deflating year chasing fly balls.
Edwin Encarnacion is the biggest name in the first base/DH market this winter, and it stands to reason that teams who either miss out on Encarnacion or couldn't afford him in the first place could turn to Trumbo as an alternative.  The Blue Jays, Rangers, Red Sox, White Sox or Astros are potential fits, as are maybe the Royals as a DH-only option if Trumbo's price tag significantly drops.  A National League team would have to believe that Trumbo can handle an everyday first base role, and if so, that opens the door to the Marlins as possible candidates.  The Rockies could also be a fit, though one wonders if they'd be willing to give up the 11th overall pick in the draft for any qualifying offer free agent, Trumbo included.
A return to the Orioles isn't out of the question, as both Trumbo and the team have expressed a mutual interest in continuing their relationship.  The O's need help in both corner spots and could offer Trumbo a full-time DH slot if Pedro Alvarez is not re-signed.  On the other hand, as I noted in my Orioles Offseason Outlook piece, Baltimore already possesses quite a few power hitters with swing-and-miss tendencies, plus payroll could be an issue.  Dan Duquette had has a knack for picking up sluggers at a low price only to watch them blossom at Camden Yards, so he might seek out another undervalued bat rather than pay a significant price to retain Trumbo.
Expected Contract
While Trumbo certainly has his flaws, he somewhat strikes me as a player who has simply yet to find his ideal role.  He spent much of his early career in pitcher-friendly ballparks in Anaheim and Seattle, and teams have consistently miscast him as an outfielder when it seems like he would be at least a passable first baseman.  A good fit is often as much about hiding shortcomings as it is about emphasizing strengths, and Trumbo could very well continue to deliver 40-plus homers if he lands on the right team with the right idea about how to use him.
As Yahoo's Jeff Passan noted in a recent column, however, slugging-only players like Trumbo could be impacted by the simple fact that Major League Baseball experienced a huge spike in home runs in 2016.  Power is seemingly no longer the rare commodity it was even one offseason ago, though obviously, 47-homer power is still very hard to find.  Even with the qualifying offer and the glut of other bats on the market, MLB Trade Rumors sees Trumbo landing a deal in the neighborhood of four years and $60MM this offseason.
Photo courtesy of Brad Penner/USA Today Sports Images