MLBTR is publishing Offseason Outlooks for all 30 teams. Click here for the other entries in this series.
The Cardinals remain in a strong position despite missing the playoffs in 2016, and they'll enter the offseason hoping to add an outfielder and to sort through their starting pitching depth.
Guaranteed Contracts
Arbitration-Eligible Players (service time in parentheses; link to MLBTR projections)
Club Options
Free Agents
Cardinals Depth Chart; Cardinals Payroll Information
In 2016, the Cardinals missed the playoffs for the first time since 2010, winning only (or "only") 86 games. The team said goodbye to Matt Holliday after the season, beginning what's likely to be an organizational transition from a core of Holliday, Adam Wainwright, Yadier Molina, Jhonny Peralta and Matt Carpenter to one that's much younger.
Of course, this seems to be a common refrain for the Cardinals, who have had winning seasons in 16 of the last 17 years, transitioning from their previous core of Albert Pujols, Chris Carpenter, Jim Edmonds and Scott Rolen without a hitch. Among the Cardinals' younger players, there were positive signs in 2016, as Aledmys Diaz, Stephen Piscotty, Carlos Martinez, Alex Reyes and Randal Grichuk all contributed solid value. The Cardinals will therefore keep trying to do what they always do, replacing good players with more good ones while making perhaps one big acquisition each winter. They'll face an uphill battle as the divisional rival of a brilliant Cubs team, but they have way too much talent not to strive for the postseason.
With Molina and Brayan Pena (who returned from the DL in September after missing much of the season to knee issues) under contract for next season, the catcher position is mostly set. It wouldn't hurt the Cardinals to find a solid third backstop in case of another DL stint for Molina or Pena, however, since both have significant injury histories and aren't getting any younger. (22-year-old Carson Kelly is currently the Cardinals' next man up, and he could benefit from a bit more seasoning at Triple-A.) A lucrative minor league deal (along the lines of the one the Red Sox gave Sandy Leon last offseason) to lure a solid third option might be a good move.
Likewise, the Cardinals won't need much infield help. Jedd Gyorko — who swatted 30 home runs after being acquired in what amounted to a salary dump by the Padres — was a revelation for the Cards last season, and with Carpenter, Diaz and Peralta flanking him and other capable situational options at various positions (including Matt Adams, Kolten Wong and Greg Garcia), the Cards have significant depth.
If the Cardinals are going to make a big move to add offense, they'll probably grab an outfielder. The loss of former top prospect Oscar Taveras in a tragic offseason accident two years back still looms large for the franchise. Piscotty can be counted on for everyday at-bats, and Grichuk has probably shown enough to warrant everyday play as well, even though his on-base percentages will likely continue to underwhelm. Tommy Pham has proven as least modestly useful as well. With both Holliday and Brandon Moss coming off the payroll, though, the Cardinals are probably short a big bat, and the outfield is the only obvious place to put one.
The Cardinals are reportedly most interested in acquiring a center fielder, and might prefer to do so on the trade market. Derrick Goold of the St. Louis Post-Dispatch identifies Charlie Blackmon, A.J. Pollock and Adam Eaton as possibilities (although, as our own Steve Adams notes, the White Sox probably won't be inclined to trade Eaton). Of the other two, Pollock is the only righty, and from my perspective, a right-handed hitter might be a slightly better fit. The Cards' lineup is fairly balanced, but they already have plenty of left-handed hitting in Carpenter, Adams, Wong and Garcia, and their team OPS was 35 points better against righties than lefties last season. Pollock is the better fit from a fielding perspective, too — advanced statistics suggest Grichuk is a better defensive center fielder than Blackmon, and it's unclear whether the alignment of Blackmon in center and Grichuk in a corner would provide enough of a defensive upgrade to justify the Cardinals' reported focus on center fielders rather than corner outfielders.
Of course, there have yet been no meaningful indications that the Diamondbacks are interested in trading Pollock, and they might prefer to wait to deal him until he recovers value after an injury-marred 2016 campaign. Other names could come into play as well, and perhaps the Cardinals could also turn to a relatively robust outfield free agent market, which features the likes of Ian Desmond and Carlos Gomez, both of whom are relatively young and play quality center field defense. 30-year-old Dexter Fowler, too, will be available as an even higher-value target.
The Cardinals could also circle back and re-sign Moss, although Goold notes that Moss seems to be down their list of priorities right now. They didn't extend him a qualifying offer, which makes sense — he hit 28 home runs last season, but with a low batting average (.225) and on-base percentage (.300). Re-signing Moss would certainly not be the worst idea, although it's easy to understand the organization's reasons for wanting to look elsewhere first, given the variety of potential alternatives.
The Cardinals appear set to welcome Wainwright, Carlos Martinez, Mike Leake and perhaps Michael Wacha (who the Cards say they still view as a starter despite a 2016 season marred by health concerns) back to their rotation next year, with talented newcomer Alex Reyes also likely set to receive significant playing time. They can also probably count on getting something from Lance Lynn, who missed the entire 2016 season after having Tommy John surgery but was pitching in Triple-A by the end of the year. There are other options as well, like Luke Weaver, Mike Mayers, Tyler Lyons, Marco Gonzales and Tim Cooney. (The last three of those pitchers are returning from injury, and Gonzales and probably Cooney are better bets to contribute later in the season rather than earlier.)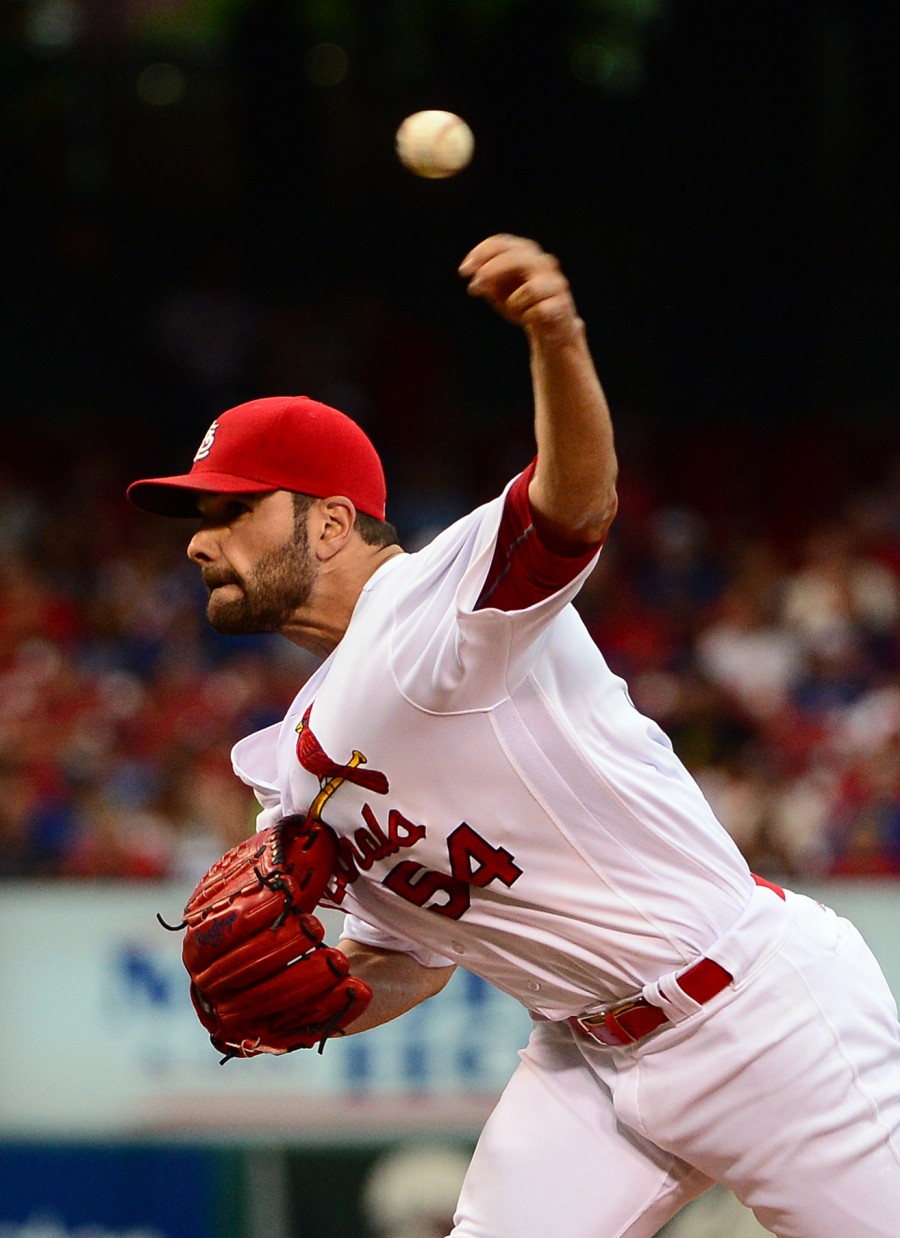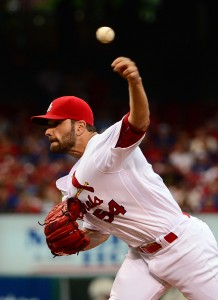 That depth left the Cardinals with a decision regarding 30-year-old Jaime Garcia, whose $12MM option they recently exercised. Given Garcia's relative youth, his experience as a starter, and his outstanding ground-ball rate (56.5% for his career), he's worth that kind of scratch, so the Cards' call wasn't a surprise. They could still try to deal him, though, and given the weak free agent market for starting pitching, Garcia would probably command at least a decent return.
Garcia alone wouldn't be enough to acquire the sort of outfield talent the Cardinals are likely to seek, however. Perhaps an alternate route would be for the Cardinals to keep Garcia and trade another starting pitcher for a good outfielder. There is no indication the Cards are considering such a possibility, but it's worth keeping in mind, since keeping a competent starter in Garcia and dangling a young, controllable arm like Wacha could be a way to get trade talks going. There's precedent for such a trade, too, in the form of the November 2014 deal that sent Shelby Miller and Tyrell Jenkins to Atlanta for Jason Heyward and Jordan Walden. Dealing Peralta could be another option, since the Cardinals have infield depth and Peralta only has one year left on his contract.
In the bullpen, Korean closer Seung-hwan Oh will be back after a brilliant first season in the US, and Kevin Siegrist, 2015 Rule 5 pick Matthew Bowman and ground-ball specialist Seth Maness (who had UCL surgery in August but could be ready in time for Spring Training if all goes well) are all likely to return after 2016 seasons that were generally effective. Jonathan Broxton, too, had a passable first season in St. Louis and should be back in 2017.
Trevor Rosenthal, though, walked a way-too-high 6.5 batters per nine, suffering through a shoulder injury and ultimately losing his closer job to Oh. Rosenthal is set to be paid a hefty $6.3MM this season, but the Cardinals would seem to have no choice but to tender him, since he's only 26, throws in the high 90s and still struck out 12.5 batters per nine innings even in what was otherwise a terrible season. Zach Duke, meanwhile, had Tommy John surgery in mid-October, and the Cardinals declined Walden's option after two injury-riddled years. It's likely the Cardinals can get some relief mileage out of some of their less established arms (including Sam Tuivailala and Miguel Socolovich) and starting depth. Someone like Lyons or Gonzales could ultimately replace the left-handed Duke. It wouldn't be surprising, though, if the Cardinals sought out a veteran bullpen arm (either left-handed or right-handed).
The Cardinals' offseason, then, could follow a variety of possible paths. The organization could potentially be punished for former scouting director Chris Correa's hacking of the Astros' database, and it's unclear whether that punishment could affect the team's drafting or something else. For now, though, the Cardinals will proceed as if they'll have no restrictions. While there's potential for the Cards to pull off a blockbuster, given the team's pitching depth and outfield needs, the franchise seems unlikely to veer off its current path, and they'll enter 2017 hoping to field yet another competitive club.
Photo courtesy of USA Today Sports Images.