Matt Wieters' last few seasons haven't been exceptional, but on a thin free agent market, he stands out as an average catcher with, perhaps, the potential to be something more. Here's a look at how the offseason could work for him.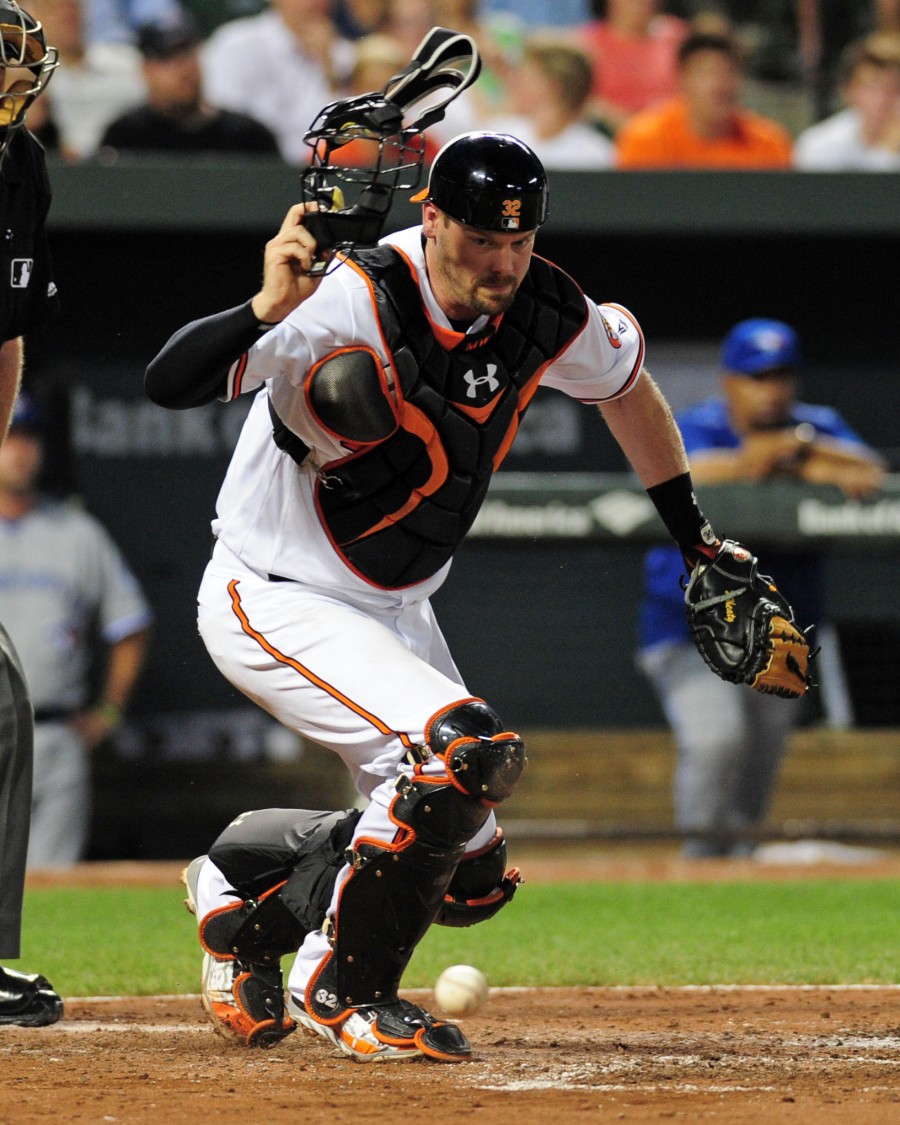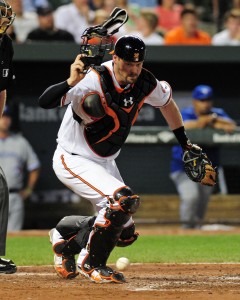 Pros/Strengths
Wieters' value stems mostly from the fact that he's a competent defensive catcher with offensive ability. Though his defense behind the dish no longer rates as outstanding (as it did early in his career, when he won two Gold Gloves), DRS currently pegs him as roughly average, which itself gives his value a high baseline. Per Baseball Prospectus (subscription-only link), Wieters still throws well and is solid in the pitch-blocking department.
Wieters also no longer has the bat he did earlier in his career, when he hit either 22 or 23 homers in three straight seasons from 2011 through 2013. His power, however, remains respectable for a catcher. Last season, he hit 17 home runs, ranking ninth in the Majors among backstops.
Plus, he's just thirty years of age and does have a solid, established offensive ceiling. Over the 2011-12 seasons, Wieters posted a composite .255/.329/.442 slash line across 1,144 plate appearances. While that may have been somewhat BABIP driven, he has posted career-best line-drive rates of late and has made hard contact at the same rates he did in his most productive seasons. Despite a down 2016, he was a league-average hitter as recently as the campaign prior, so it wouldn't be terribly surprising if he could return to that level or perhaps even provide a bit more at the plate.
Wieters also showed in 2016 that he could stay healthy, picking up 464 plate appearances after two injury-shortened seasons. Perhaps there's a speculative case to be made that, two years removed from an elbow injury that required Tommy John surgery, he might have more upside than a 30-year-old catcher typically does, in the same way a pitcher who's had Tommy John might be expected to pitch better the further he gets from the surgery.
Cons/Weaknesses
Wieters' framing numbers have been underwhelming, with StatCorner pegging his framing at 15.9 runs below average over the past two seasons. As ESPN's Buster Olney recently pointed out, framing is increasingly a key metric by which teams evaluate catchers, which is why Jason Castro was able to land a three-year, $24.5MM guarantee despite modest offensive numbers. Wieters' framing issues could put a serious dent in his market, unless teams see reason to believe he could return to posting the solid figures in that arena that he featured earlier in his career.
Beyond that, Wieters' career overall has been modestly disappointing, and it doesn't look likely to trend upwards now that he's 30. Wieters entered the league as a mega-prospect — a catcher with the potential to play high-quality defense while hitting for average, power and patience. He never quite achieved that potential, and he has struggled offensively since returning from Tommy John.
The cliche that catcher performance falls off a cliff in a player's early 30s appears to be overstated, but Wieters, due to his age, might have already entered the decline phase of his career. He has produced just 2.7 fWAR total over the past two years (the first of which was truncated by his return from Tommy John), and 2017 will be his age-31 season. Wieters has a big frame for a backstop and has already dealt with significant injuries (though that has primarily been to his elbow). Depending upon one's perspective, there may not be much reason to be optimistic he'll be much more than an average catcher going forward.
Background
Wieters was born and raised in South Carolina and played high school ball alongside another future Major Leaguer, Blue Jays first baseman Justin Smoak. Wieters then headed to Georgia Tech, where he earned All-America honors twice, batting .349/.477/.594 while serving as the Yellow Jackets' catcher (and also their closer). The Orioles took him with the fifth overall pick in 2007, awarding him a $6MM bonus. He quickly emerged as a highly touted prospect — expectations for him were so high that fans created a humorous website, Matt Wieters Facts, to celebrate his skill set. (Sample skill: "Matt Wieters sometimes impatiently homers from the on-deck circle.") Wieters and his wife Maria have two sons.
Market
Wieters' agent, Scott Boras, likes to allow the market to unfold unless he gets a contract he loves, so it wouldn't be a surprise if Wieters lingered as a free agent for awhile. Unlike last season, he won't have the burden of a qualifying offer, as the Orioles elected not to give him one this time around after he accepted a one-year, $15.8MM deal for 2016.
When Wieters finally does sign, the Braves seem like an obvious possibility, due to Wieters' local roots, the Braves' lack of an established catcher, and the opening of their new stadium. The Braves also recently hired former Orioles pitching coach Dave Wallace and bullpen coach Dom Chiti. The Braves, however, are said to be "lukewarm" on Wieters, according to FOX Sports' Ken Rosenthal, who writes that some in the Orioles organization while Wallace and Chiti were there questioned Wieters' work behind the plate.
A return to the Orioles (who have a big hole at catcher, with Caleb Joseph and his .174/.216/.197 2016 batting line topping their depth chart) would also make sense, although with a variety of large commitments and key pending arbitration cases, the team's budget could be a problem. It's also unclear how willing the O's would be to make a big commitment after declining to extend Wieters a qualifying offer. Near the end of the season, Wieters and the Orioles were reportedly very far apart in their estimations of what sort of extension he should receive. The Orioles also have a good catching prospect in Chance Sisco who could be ready in 2018, and they might be somewhat reluctant to block him by signing Wieters to a multi-year deal.
The Nationals, Angels and Rockies could also be fits. Two weeks ago, the Twins and Astros also might have been possibilities, but those teams have since filled their vacancies with Castro (to Minnesota) and Brian McCann (to Houston).
Still, there are plenty of potential suitors, and the lack of obvious starting catching available could help Wieters. The only other catchers left on the market from MLBTR's list of the offseason top 50 are Wilson Ramos and Nick Hundley, and Ramos is dealing with an ACL and meniscus injury that figures to carry over into the season. Wieters, despite his faults, has a compelling case that he's the best healthy catcher available on the free agent market.
Expected Contract
MLBTR predicts Wieters will seek a four-year deal, but will ultimately settle for a three-year, $39MM pact that covers his age-31 through age-33 seasons.
Photo courtesy of USA Today Sports Images.