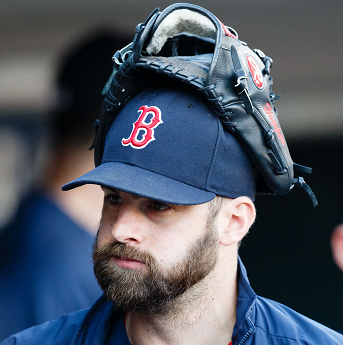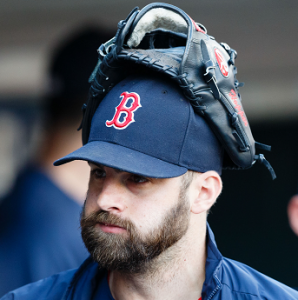 Burke Badenhop has thrown over 500 major league innings over eight seasons. He has been traded four times, signed as a free agent, and called more than a dozen Major League and minor league clubhouses home. We are thrilled to have Burke bring some of that unique perspective to MLB Trade Rumors.
This post is a part of MLBTR Player's Perspective Series.
The Red Sox were the talk of the Winter Meetings yesterday after swinging a deal for superstar Chris Sale. Quickly lost in the shuffle, however, was a shrewd deal that Dave Dombrowski and Co. made earlier that morning to acquire righty Tyler Thornburg from the Brewers.
I know Tyler pretty well. We were Brewers teammates in 2013, share the same agents, and have even been off-season catch partners. To top it all off, the last reliever to have been traded from Milwaukee to Boston was … me! I caught up with Tyler a day after the trade to talk about his old club, his new club and a variety of things in-between.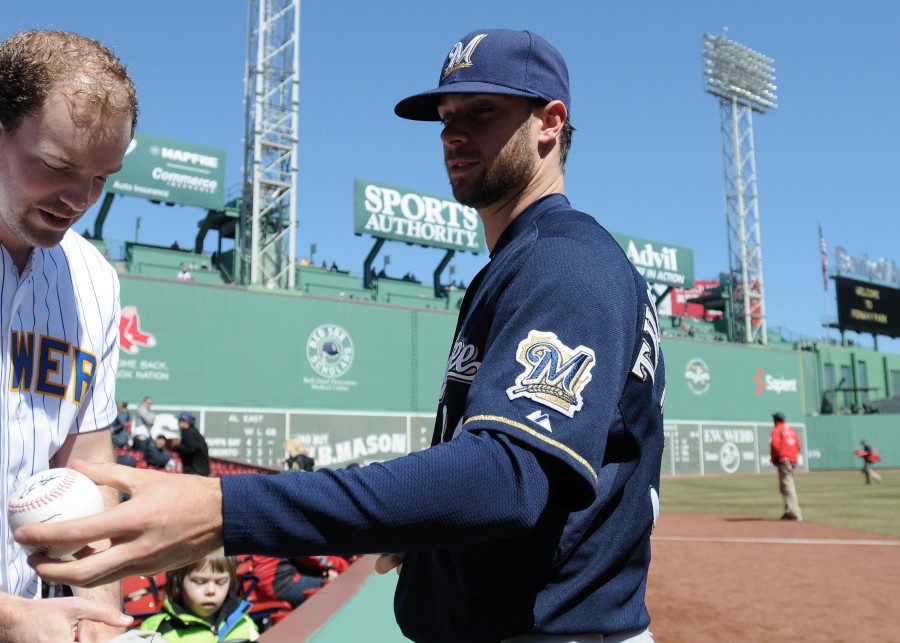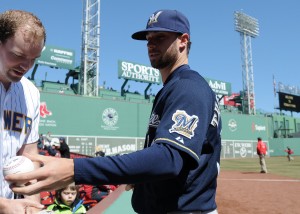 BB: Obviously big news with Boston yesterday … can you believe they traded for Chris Sale?!
TT: [Laughing] No, I think I had actually maybe just gotten off the phone with some of the Boston media and happened to look at Twitter and see that. And then later on in the day, Mitch Moreland. It was definitely a pretty interesting day for them.
Did you have any notion that a trade was a possibility, being on a Brewers club that's kind of rebuilding? Did you think this might happen, and how'd you find out?
I was definitely pretty surprised. I always felt like there was a chance that if the right offer came along, they would definitely pull the trigger. But I slept in, ended up rolling over, grabbing my phone, and had a ton of missed calls and texts, and kind of figured something had happened. So I just opened up my phone and saw a couple of messages saying "Red Sox," and kind of figured it out from there.
Who was the first official person you heard from?
Honestly, all the text messages. And then I had a text message from David Stearns telling me to call him when I got this, so I made that my first call. But the first incoming was Dave Dombrowski and John Farrell.
As someone who has been traded four times before, and the most recent reliever prior to you to be traded from Milwaukee to Boston … it's kind of an interesting call to get, right?
It really is. Especially going from such a small-market team to a pretty big one. So it's definitely a huge jump in that regard.
What year were you drafted, Thorny?
'10
So Milwaukee's all you've ever known … what did it feel like when you realized that Boston was the place you ended up going?
It's definitely going to be weird with Boston as far as [being] used to the Arizona Spring Training and things in Milwaukee. I knew how everything worked, knew exactly what to expect. …
I actually thought about if I were to get traded a couple times, and there weren't many teams that I was actually relatively excited about going to. Nobody really wants to get traded too much, especially when they're comfortable where they are. But I'd definitely say the Red Sox were pretty high up on that list as far as being excited to go to that team.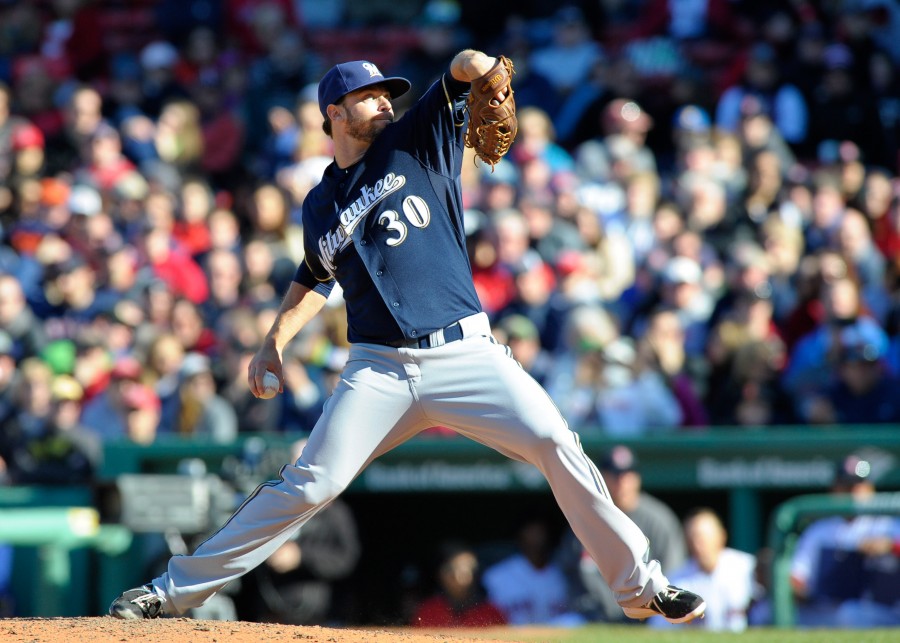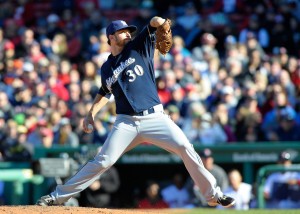 You've played in Fenway before.
Yeah, we played there 2014 Opening Day.
You excited?
Yeah. The Opening Day there that I had was probably one of the best baseball experiences I've had. It was one of the coolest things as far as the ring ceremony, followed by just the coolest Opening Day ever.
Yeah they had the Dropkick Murphys and the chopper. So you got a pretty good idea of what Red Sox Nation's about I guess. So what's more exciting now, your first trip through arbitration — getting off the minimum salary — or first trade?
I'd definitely say the trade part was a little bit more exciting. Obviously it's kinda fun and awesome going through the whole arbitration thing, making more money, all that kinda stuff. But I was thinking that would be the only stressful thing in my life this offseason.
I don't really know how to feel about the trade just yet. Obviously I'm excited about the opportunity and really excited to see the town of Boston a little more. I enjoyed it the couple of days that I was there in '14. But yesterday was such a whirlwind of calls and all that kind of stuff. I'm sure over the next couple days I'll start thinking about things and truly getting actually excited about the opportunity.
So now your first trip through arbitration is right after your first trade. so now one of the first things that needs to get done as you meet your new team is the money question. Have you thought about that?
A little bit. I'd say it's a little bit weird. Just hopefully there's no issues there. But I don't think that should be a huge deal at all.
So which city's further north geographically, Milwaukee or Boston?
[Pause] That's a very good question. [Pause]
Don't cheat, don't be looking through your phone right now! Off the top of your head, which one's further north, Milwaukee or Boston?
Dang it! Milwaukee?
Correct! Milwaukee's about one degree further north.
They're literally like even.
Yeah they're pretty close. But you do realize that Milwaukee plays in the friendly confines of a dome and you'll be outside at Fenway Park.
I know, I'm gonna really miss that dome.
So it'll be cold, but whatever man. So who do you think's taller, Scooter Gennett or Dustin Pedroia?
Scooter.
No, I'd say Pedey's taller.
Dang it, really?
Obviously, Craig Kimbrel is the Red Sox closer. You were closing in Milwaukee. That probably won't be your role moving forward with Boston. Thoughts on that?
I definitely enjoyed setting up last year. With me, I don't really care — the closing, the setting up. I'd definitely say, closing in Milwaukee and setting up in Boston, I feel like, is about the same as far as adrenaline levels and things like that. So I'm definitely excited to be doing that. Hopefully get some save opportunities here and there. Hopefully Craig ends up throwing a ton and racks up the saves.
So if you got somebody with a thick Wisconsin accent versus a thick Boston accent, who's tougher to understand?
I'd say Boston, 'cause I'm not used to it.
Yeah. I'm gonna spell a word for you, and you tell me how you would pronounce it. W-O-R-C-E-S-T-E-R.
"Worshester"?
That is "Wooster," Massachusetts my friend. That's a little bit of what you've got in store for you. You'll figure it out. Your thoughts on going from the NL Central, which is still a pretty tough division in recent years, to the high-profile AL East?
It's definitely gonna be a lot different. I know over the past few years, with the rise of the Cubs, our division got pretty tough. But the AL East, historically, has just been the toughest division — pretty much year in, year out.
Who's the Red Sox' biggest celebrity fan?
Oh gosh … I have no idea. I got nothing. I don't even know who their celebrity fans are.
Well, you'll see 'em around. The top three would probably be Ben Affleck, Matt Damon, and a Mark Wahlberg or maybe a Jimmy Fallon. There's lots of 'em.
I got you.
So as you kinda made the jump last year, what made the biggest difference for you? You were a fairly high-round draft pick, big prospect, and then finally seemed like it all clicked for you last year, and that kind of led to this trade. So what was the biggest difference for you?
There was honestly a number of things. Number one is them telling me that hey, you're gonna be a reliever, we're not gonna move you around — starting, relieving. So you could have the same routine, you know how to prepare mentally, physically, everything like that. That helped a ton.
And then just the confidence to feel like I know what to do and not just — every fastball has to be down in the zone, every curveball has to be this. Just having the confidence that if I believe in a cetain pitch and that pitch will work, that I can actually throw that pitch rather than take the safe route.
One of the things I had seen was your velo went up a little bit you've always been kind of a reverse split guy. Are you aware of that reverse split and would you like to see the Red Sox maybe take advantage of that more?
I am aware of the fact that I do have reverse splits typically. And one thing that I do like about that is the fact that I feel like I'm a guy who hopefully doesn't need a lefty to come get lefties out. Hopefully just be good against both sides.
I'd say you're great against lefties, though. Definitely a weapon that way. It's not like you're okay, I'd say you're really good.
Well, it's weird, because I've always done well against lefties. And then against righties there was a time late in the year last year where I had retired like thirty-something righties in a row. So that was kinda weird and I didn't hear about that until pretty much after it was over. But typically I always find that I give up a couple hits to righties rather than lefties.
That's only ten innings perfect against righties, that's not bad, right?
I mean, that'll work.
Photos courtesy of USA Today Sports Images.