Here are five of the biggest stories from the last week at MLBTR.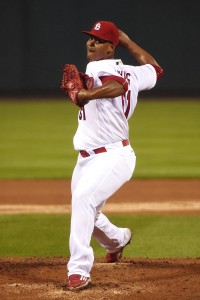 Alex Reyes to have Tommy John surgery. Baseball's top pitching prospect has elected to have surgery that will keep him out of the big leagues for the 2017 season. Reyes was terrific in his first big-league action in 2016 and figured to make an impact for the Cardinals this year, but now, both he and the club will have to wait — and, as MLBTR's Jeff Todd noted earlier this week, Reyes will burn a year of service time this season as well.
Royals sign Travis Wood. A week after adding Jason Hammel to help their rotation following the tragic death of Yordano Ventura, the Royals added veteran lefty Travis Wood as well, signing him to a two-year, $12MM contract. Wood will apparently receive a chance to start, although one factor in the Royals' decision to add Wood was an injury to lefty reliever Brian Flynn.
Adam Lind signs with Nationals. Former Blue Jays, Brewers and Mariners slugger Adam Lind headed to Washington this week for $1.5MM over one year, plus a mutual option. Lind gives the Nationals a bit of needed bench depth, and the lefty will complement right-handed Ryan Zimmerman at first base.
Braves acquire Brandon Phillips. After using his no-trade clause to scuttle a number of deals, veteran second baseman Brandon Phillips finally allowed the Reds to trade him this week, going to Atlanta (along with money to pay most of Phillips' 2017 salary) for two minor-league pitchers. The Braves acquired Phillips due in large part to a car wreck that could cost Sean Rodriguez his entire 2017 season, and Phillips was motivated to accept a deal due to the promise of more playing time in Atlanta. Meanwhile, the Reds have cleared second base in order to find plate appearances for young infielders Jose Peraza and Dilson Herrera.
Yankees president feuds with Dellin Betances. In a plot line that could go cold this week or simmer throughout the season, Yankees president Randy Levine and standout reliever Dellin Betances feuded over Betances' arbitration case, which Betances lost. Betances says the dispute, in which Levine told the press Betances' $5MM filing price "had no basis in reality," could discourage him from pursuing a new contract with the Yankees. It could perhaps even make Betances a trade candidate, either later this season or at some point in the future.
Photo courtesy of USA Today Sports Images.