The Indians have selected the contract of top outfield prospect Bradley Zimmer, per a club announcement. To create 40-man roster space, the team designated righty Carlos Frias.
Cleveland also announced a few other corresponding moves. Righty Shawn Armstrong was recalled, as well, creating a need for two active roster spots. Those were cleared by placing outfielder Abraham Almonte on the 10-day DL and optioning utilityman Yandy Diaz.
[Related: Updated Cleveland Indians depth chart]
Zimmer, now 24, has been seen as a key future piece for the Indians ever since he was taken with the 21st overall pick of the draft back in 2014. (He spoke with MLBTR's Steve Adams earlier that year.) He has been a consensus top-100 prospect entering each of the past two seasons, though he fell in some rankings due to a so-so 2016 campaign. In advance of the current campaign, MLB.com slotted Zimmer 22nd, Fangraphs had him at #45, Baseball America ranked him 62nd (now up to 54th in their updated list), and Baseball Prospectus had him at 80th. ESPN.com's Keith Law dropped Zimmer out of his own top-100.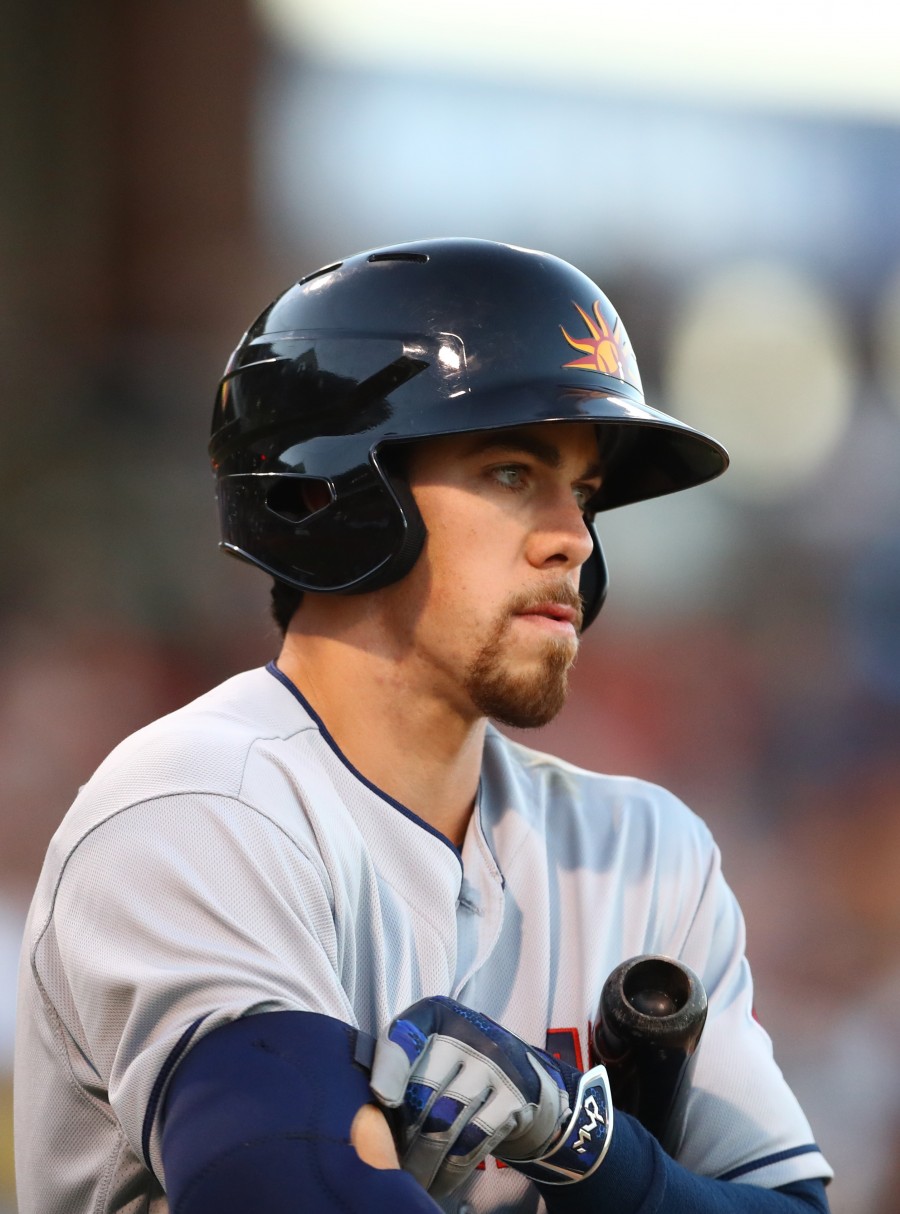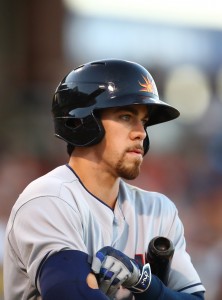 The reasons for concern were rather clear. While Zimmer has the tools — raw power, good speed, and a quality glove that plays up the middle — he hadn't yet put it all together. In 557 plate appearances in the upper minors last season, he slashed .250/.365/.425 with 15 home runs and 38 steals. But the bulk of the damage came at Double-A; over his 150 trips to the plate at the highest level of the minors, Zimmer went down on strikes 37.3% of the time. The left-handed hitter also turned in a rough overall .179/.343/.250 batting line against left-handed pitching.
As MLB.com's Jordan Bastian wrote this spring, Zimmer has worked hard to upgrade his swing mechanics. And that seems to be paying dividends. He hit well in the Arizona Fall League and has been clicking thus far at Triple-A, with a .294/.371/.532 slash. The swing-and-miss will likely always be a part of his game — Zimmer currently carries a 29.9% strikeout rate on the year — but he's showing an ability to make more and better contact thus far. He has also reversed his results against southpaws — albeit in quite a small sample. Coupled with a typically selective approach, and some untapped power potential, there's reason to hope that Zimmer could blossom into a high-end major league piece.
The move comes with potential contract implications. Zimmer will have the opportunity to accumulate as many as 138 days of MLB service this year, so long as he can hold onto an active roster spot the rest of the way. If he can stick in the majors from here on out, then, he'd have a solid chance of qualifying for an addition year of arbitration after the conclusion of the 2019 season. The cutoff for Super Two status has ranged between 2.122 and 2.146 years of service over the past eight years, landing at 2.131 last season. Regardless, the Indians will control him through at least 2023.
That all depends upon Cleveland's intentions — as well as Zimmer's performance. While this could constitute only a brief preview, the fact that the Indians moved him onto the 40-man roster suggests the team intends to rely on him for more than a temporary patch. So long as Zimmer is up for any extended period, it seems likely he'll see fairly regular action — meaning he could have a chance to play himself into a permanent role for the defending American League champs.
To add Zimmer meant clearing space on the roster, so the Indians elected to bump Frias, who was acquired over the winter. The 27-year-old had struggled through 17 frames at Triple-A this year, allowing 17 earned runs while recording just eight strikeouts to go with nine walks. Over three years of action with the Dodgers at the major league level, splitting his time between starting and relieving, he has worked to a 4.50 ERA in 114 frames.
Photo courtesy of USA Today Sports Images.