The 91-37 Dodgers are miles above the competition in the National League and have some of the game's top players, including Rookie of the Year-to-be Cody Bellinger and 2016 ROY Corey Seager, but the MVP seems unlikely to come from their roster this season. While Bellinger, Seager, Justin Turner, Chris Taylor and the injured Clayton Kershaw are among many Dodgers who have had brilliant 2017s, a slew of MVP-caliber performers from other teams may overshadow LA's best when voting comes at season's end. Those Dodgers (primarily Seager), two Nationals (right fielder Bryce Harper and ace Max Scherzer) and Cubs third baseman Kris Bryant are among the most notable exclusions in this particular ranking and their absences will understandably cause some disagreements.
In Harper's case, he may well have been on track to earn his second MVP this year before he went on the shelf two weeks ago with a "significant" bone bruise – one that will keep him out for a while longer, it seems. Bryant, the reigning MVP, is having another tremendous campaign, but the abundance of great individual seasons occurring in the NL this year works against him here. He's certainly one of many legitimate candidates, and it's currently difficult to find a single player who clearly stands above the rest or even put together a short list of those who deserve the award the most. But here goes…
5.) Joey Votto, 1B, Reds: The rebuilding Reds are toward the bottom of the standings, so Votto isn't going to win an award that many believe should only go to players on teams relevant to the playoff race. However, if MVP is synonymous with "best," the hitting scholar should draw voters' attention. The 2010 NL MVP continues to dazzle seven seasons later as a 33-year-old, with a .311/.446/.588 line and 33 homers (the second-most of a potential Hall of Fame career) in 570 plate appearances. No one in baseball has gotten on base at a better clip than Votto or matched his ridiculous K/BB ratio. It's very rare to find a hitter capable of amassing 39 more unintentional walks than strikeouts (109 to 70), let alone one who does it while increasing his power output (Votto's .278 ISO is 50 points better than his lifetime number), yet the face of the Reds has somehow pulled it off this season. Votto took five trips to the plate Sunday and drew a walk in each of them. Remarkable.
4.) Anthony Rendon, 3B, Nationals: On a Washington team that has dealt with injuries to some major contributors this year, including Harper and Scherzer, Rendon has gotten by unscathed. The 27-year-old has appeared in 120 of the Nationals' 128 games and posted a .299/.401/.543 batting line with 22 homers and 68 unintentional walks against 71 strikeouts in 491 PAs. Rendon has combined his offensive excellence with adeptness at the hot corner, having recorded the National League's ninth-most defensive runs saved (nine) and the league's second-ranked Ultimate Zone Rating (12.0), en route to the NL's highest fWAR (5.8). He's about as good as it gets, then, but still manages to fly under the radar as part of a club with more star power. Consequently, an MVP could be tough to come by for the relatively unheralded Rendon.
3.) Nolan Arenado, 3B, Rockies: Across 547 trips to the plate this season, Arenado has hit .309/.364/.589 with 29 homers. A .953 OPS over that type of sample size always warrants praise, though it carries less weight coming from someone who plays half his games at Coors Field. But Arenado isn't just some Colorado-inflated wonder, as his .877 OPS away from his home park this season shows. The 26-year-old is also one of the premier defensive players in baseball – he's first in the NL in DRS (19) – and perhaps the primary reason why the Rockies are headed toward their first playoff berth since 2009. While there's a case to be made that teammate Charlie Blackmon has outperformed Arenado this year and should be on this list either instead of his fellow Rockie or with him, the center fielder has done the vast majority of his damage at Coors Field (1.275 OPS at home, .799 on the road). Extra credit goes to Arenado as a result.
2.) Paul Goldschmidt, 1B, Diamondbacks: Goldschmidt is a Votto-esque producer who's actually on a playoff contender, which could give voters the best of both worlds. The 29-year-old has put together a marvelous stretch since his first full season in 2013 and earned five All-Star nods, yet he still seems underrated. An MVP award would give Goldschmidt some much-deserved time in the spotlight, and the numbers he has put up this year make him one of the leading possibilities. With 30 homers and 17 steals, Goldschmidt's headed for his second 30/20 season in the past three years, and he blends his power and speed with the ability to hit for average (.315) and get on base (.425). He's also a quality defender (11 DRS, 3.1 UZR), albeit not at a premium position. While Goldschmidt's above-average work in the field is less valuable than, say, Arenado's, it further demonstrates that his game is loaded with strengths. What do you give the player whose game is near flawless and who's the principal component of what looks like an October-bound team? The MVP, perhaps.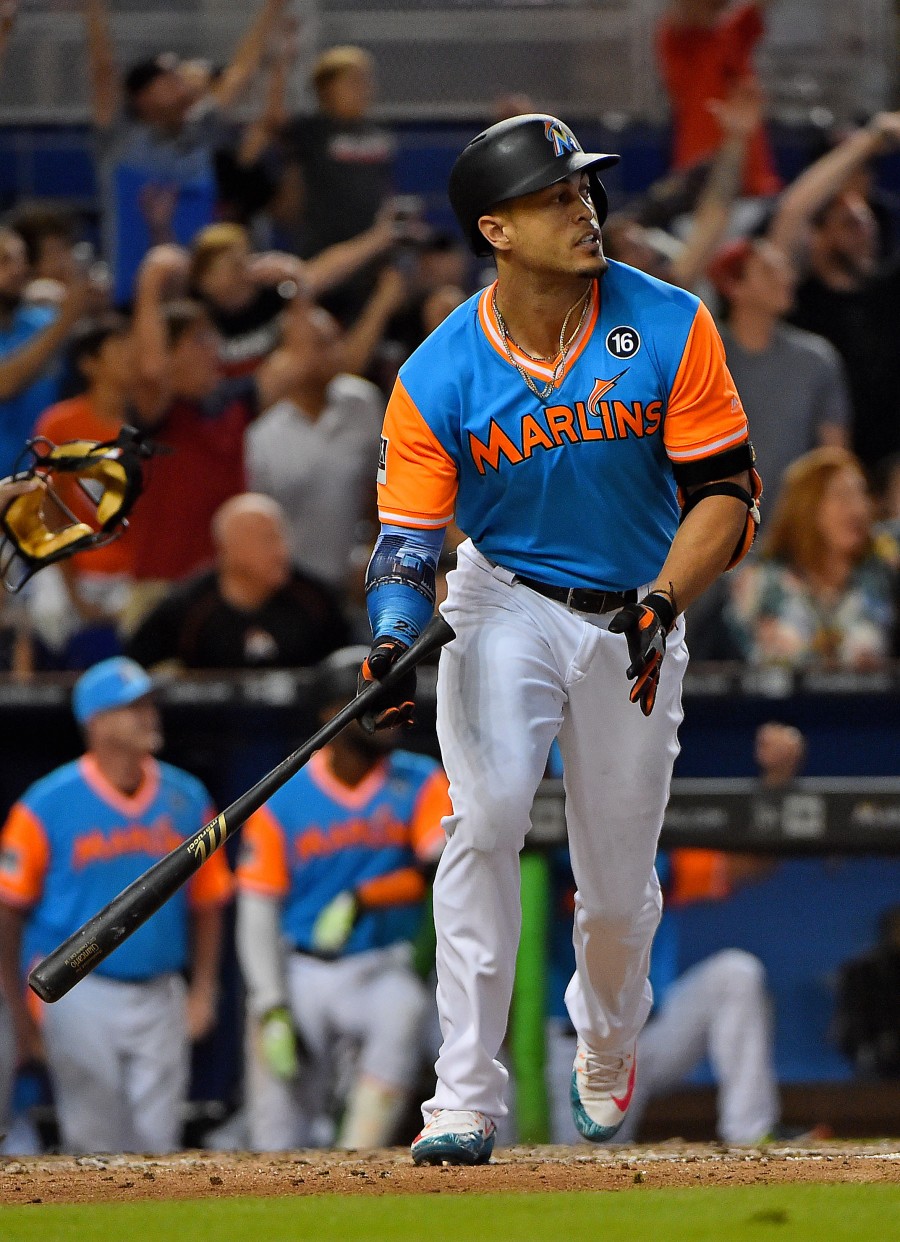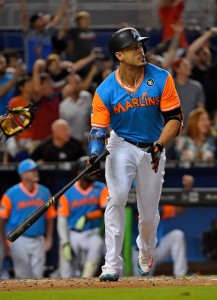 1.) Giancarlo Stanton, RF, Marlins: The main factor working against Stanton's MVP candidacy is that he plays for a team that probably won't qualify for the postseason. And yet the Marlins have come from nowhere in recent weeks to climb to three games above .500 and make the NL wild-card race a bit more interesting. They can thank Stanton for that. After taking a backseat to the Yankees' Aaron Judge over the season's first half, Stanton has reclaimed his spot as the game's foremost power hitter, owing in part to an in-season adjustment to his stance.
With 24 home runs across 181 second-half PAs, Stanton has averaged a long ball every seven-plus trips to the plate since the All-Star break, and his overall total (50) paces everyone else in NL by at least 16 (!). The 27-year-old has a very real chance of registering the majors' first 60-homer season since Barry Bonds smashed a record 73 with the Giants in 2001. And like Bonds, his former hitting coach with the Marlins, Stanton's not just an all-or-nothing type. Thanks partially to a career-best strikeout rate (23.5 percent, down 6.3 percent from last season), Stanton has posted a personal-high .296 batting average and gotten on base 38.9 percent of the time. He ranks first in the NL in OPS (1.059), wRC+ (167) and ISO (.374), unsurprisingly, and entered Sunday tied for second in fWAR (5.4). Injuries prevented Stanton from reaching his full potential in recent years, but he's now healthy and showing that he's an MVP-level player. Baseball's a lot better off for it.
Photo courtesy of USA Today Sports Images.