It's been previously reported on multiple occasions that the Blue Jays and right-hander Marco Estrada had mutual interest in a reunion, and that interest came to fruition on Wednesday. The 34-year-old Estrada, who was slated to hit free agency at season's end, will instead forgo that opportunity in order to return to the Jays on a one-year, $13MM extension, the team announced. Estrada is represented by TWC Sports.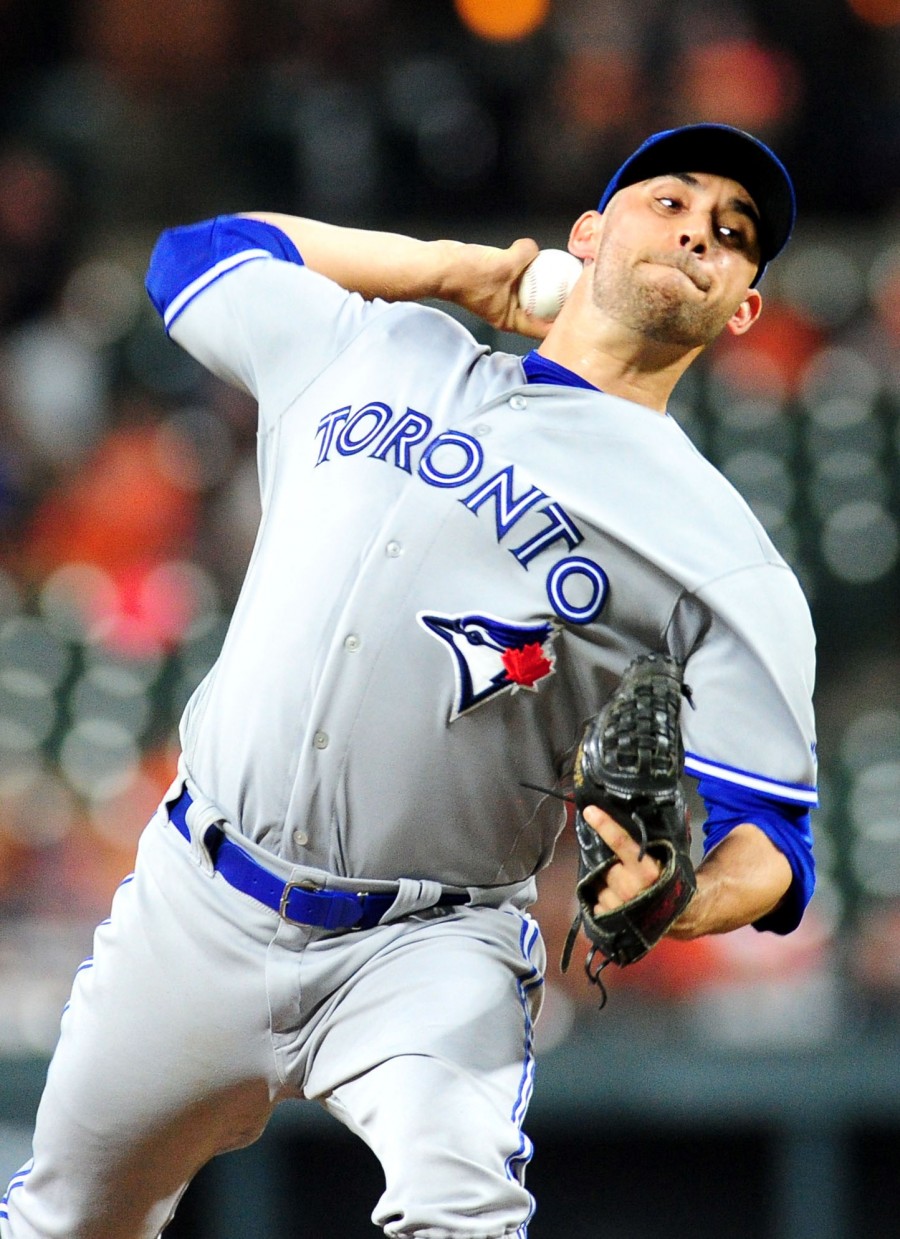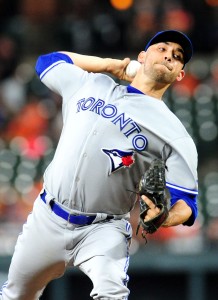 It's been an up-and-down season for Estrada, who stormed out of the gates with a 3.15 ERA, 10.2 K/9 and 2.2 BB/9 through his first 11 starts before falling into a prolonged slump. Estrada would go on to yield 43 earned runs over his next 40 2/3 innings (nine starts) before once again largely righting the ship. In his past 11 outings, Estrada has turned in 3.74 ERA with 7.0 K/9 against 2.8 BB/9.
On the whole, Estrada's ERA hasn't fully recovered from the brutal stretch of starts spanning June to mid-July. He's sitting on a 4.84 ERA with 8.7 K/9, 3.4 BB/9, 1.48 HR/9 and a 29.7 percent ground-ball rate. That grounder rate is the lowest of his career — a dangerous pairing with his lofty HR/9 rate. However, Estrada's 31 starts are already a career-high, and he seems likely to top his previous career-high of 181 innings in 2017 as well. That's no small feat for a player that was slowed tremendously in 2016 by a herniated disk in his back.
Estrada will slot back into the starting five behind Marcus Stroman, Aaron Sanchez and J.A. Happ next season, as the Jays hope for better health from their rotation (specifically, Sanchez and Happ). There's no clear in-house option for the fifth slot in the rotation, as righty Joe Biagini has struggled in his first chance as a big league starter. Prospect Ryan Borucki posted quality numbers across three minor league levels, and veteran Brett Anderson has looked sharp in four starts as he auditions for a 2018 job. If none of those options entice president Mark Shapiro and GM Ross Atkins, the Jays will have myriad options from which to choose on the offseason free-agent market and trade market.
It's been a disappointing overall year for the Jays, who opened the season with just one win in their first 10 games and never fully recovered. However, despite their poor performance, the Blue Jays never seemed intent to listen to trade offers for anyone controlled beyond the 2017 season. While Josh Donaldson and J.A. Happ drew plenty of trade speculation, the Blue Jays indicated that their intent is to field a contending team in 2018. Their lone trades involved Francisco Liriano (whose contract they ate, along with that of Nori Aoki, in order to effectively purchase young outfielder Teoscar Hernandez from the Astros) and setup man Joe Smith — both impending free agents.
Estrada, like Liriano and Smith, was set to be a free agent following the season and was a speculative August trade candidate. However, the Jays were only three games out of the AL Wild Card race when Estrada was claimed off revocable trade waivers, and they ultimately pulled the righty back after the claiming team (reportedly the Yankees) was more interested in blocking other contending clubs from getting their hands on Estrada.
Certainly, the team may alter its contention-oriented trajectory in 2018 if it stumbles out of the gates and finds itself similarly out of the postseason picture come July. At that point, there'd be plenty of sense in aggressively shopping Donaldson, Happ and Estrada as well, assuming each is healthy and performing reasonably well. For the time being, however, the Estrada extension serves as further proof that Toronto won't be looking to market Donaldson this offseason and will instead try to supplement its core with an eye toward returning to the postseason for the third time in four years.
Jon Morosi of MLB.com reported that the two sides were nearing the deal and then that an agreement had been reached, as well as the terms of the contract (all links via Twitter).
Photo courtesy of USA Today Sports Images.