11:30am: The Tigers have formally announced the hiring of Gardenhire, noting that he has indeed signed a three-year contract with the club.
OCT. 20, 7:40am: The Tigers have scheduled a press conference for 1pm ET today to announce the hiring.
OCT. 19: Ron Gardenhire has agreed to a three-year deal to become the Tigers' next manager, per Jon Morosi of MLB Network (Twitter link). The deal could be announced tomorrow; Detroit's decision to tab the veteran skipper was first reported earlier today by Ken Rosenthal and Katie Strang of The Athletic (subscription required and recommended).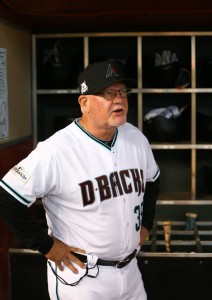 Detroit will install the widely respected 59-year-old in the dugout in place of Brad Ausmus, whom the club decided not to retain past the present season. Gardenhire previously managed the division-rival Twins and most recently served as the Diamondbacks' bench coach. He also fought through a diagnosis of prostate cancer earlier this year, returning to help guide the Diamondbacks to a successful season.
At last check, Tigers GM Al Avila had cast a wide net in lining up options. While there was no prior indication that a decision was looming, Detroit obviously decided to go ahead with Gardenhire, perhaps due in some part to ongoing competition with other organizations. Gardenhire was also under consideration for the Red Sox job, though that is expected to go to Alex Cora.
After moving on from Ausmus, who was a rookie skipper when he signed on, the Tigers have indicated a clear preference for a candidate with prior time as a MLB manager. Gardenhire certainly checks that box. He spent thirteen years running things for the Twins, beginning in 2012. That tenure spanned quite a few good years, including a run of six postseason appearances in nine years, though the team's performance fell off sharply in his final four campaigns.
Gardy ultimately delivered a 1,068-and-1,039 win/loss record during his time in Minnesota, which wrapped up after the 2014 campaign. He failed to guide the team into the World Series and only made it out of the divisional round once despite the run of regular season success.
In any event, postseason considerations likely won't be much of a factor early in Gardenhire's tenure with Detroit. The team is only just embarking upon a rebuilding effort that is likely to take several seasons to come to fruition, after all, placing it more in the situation that the Twins found themselves in back in 2011 — the first year of the four-season run of misery. Gardenhire, then, has his share of experience in bringing along younger players through a rebuilding stage. While he ultimately was cut loose in Minnesota, perhaps some of his efforts are beginning to bear fruit there.
It'll be interesting to see how this relationship works out. Avila had suggested a need for a new approach from a new skipper, but evidently was not referring to a strong sabermetric predilection. Gardenhire brings a reputation as an old-school manager, after all. As Joe Posnanski wrote at the end of his tenure in Minnesota: "Gardy comes from the Tom Kelly school — he was the valedictorian of the Tom Kelly school — where managers grump and demand and instill and bunt too much and occasionally fall in love with limited but gritty players." That said, Gardenhire is also said to carry a new "openness" to modern analytics after his year with the D-Backs, Morosi tweets. Avila and the Tigers are betting that approach will help foster the growth of a new core and ultimately guide the team back into contention.
Photo courtesy of USA Today Sports Images.