MLBTR is publishing Offseason Outlooks for all 30 teams.  Click here for the other entries in this series.
After a disappointing season ended in front office calamity, the Braves will attempt to take the next step in their rebuilding process under new baseball leadership.
Guaranteed Contracts
Arbitration-Eligible Players (projections via MLBTR contributor Matt Swartz)
Free Agents
[Atlanta Braves Depth Chart | Atlanta Braves Payroll Outlook]
John Hart and John Coppolella provided a wild ride for the Braves' faithful, engineering a variety of bold moves and stocking the organization with young talent. But rules violations led to the departures of both, along with league discipline that stripped the Braves of some of their most interesting younger prospects and constrained the organization's ability to add new international talent in the coming seasons.
Former Blue Jays GM and Dodgers executive Alex Anthopoulos was brought in as an experienced hand who can get the organization back on track. But that doesn't mean we should anticipate a quiet offseason. Though the new top baseball decisionmaker has suggested he's not looking for a general shake-up, he swung quite a few blockbusters in Toronto and will surely have his own ideas about the roster he's inheriting.
What remains unclear is just how aggressive the organization will be in seeking to put a winner on the field in 2018. The club enters the offseason with just over $90MM in likely commitments, including anticipated arbitration payouts. Depending upon how high payroll will rise, there could be some room for relatively significant additions. Alternatively, the club might seek to condense some of its upper-level young talent in an effort to land quality, controllable assets to the MLB roster. Entering the second year at SunTrust Park on the heels of the rules scandal, it's possible to imagine some effort to push into contention. On the other hand, the hit to the team's future interests may counsel in favor of some caution.
In his first acts in office, Anthopoulos took some low-cost opportunities to shore up the team's bullpen — a notable area of need. But the pitchers he grabbed from his former organization — Grant Dayton and Josh Ravin — are just the kind of risky maneuvers we might have seen from his predecessors. The former will miss most or all of 2018 while rehabbing from Tommy John surgery while the latter has never held down a steady MLB job. But both have big-time swing-and-miss upside.
Lining up a strong and reliable relief corps, though, may well require more. There's talent on hand, to be sure. Pitchers such as Arodys Vizcaino, Jose Ramirez, A.J. Minter, Mauricio Cabrera, Daniel Winkler, Luke Jackson, Rex Brothers, Jacob Lindgren, and Jesse Biddle have had some MLB success and/or shown impressive arsenals, not unlike Dayton and Ravin. But none of these pitchers has yet strung together multiple, successful MLB campaigns and several come with health concerns. Veterans Jim Johnson and Sam Freeman are in the picture, too, but there's room here for further tinkering.
It's not an altogether different picture in the rotation, which no longer includes three veteran arms — R.A. Dickey, Bartolo Colon, and Jaime Garcia — that opened with the club last year. Julio Teheran and Mike Foltynewicz are the two senior members of the staff at present; both will be looking to improve after producing middling results in 2017. They could be joined by a trio young lefties who are fresh off of their MLB debuts. Sean Newcomb still needs to hone his command to reach his ceiling, but turned in 100 solid frames. Luiz Gohara showed off his talent in five starts, posting 9.5 K/9 against 2.5 BB/9 after mostly dominating in his first taste of the upper minors in an eventful campaign. And Max Fried also got a brief run in the bigs, though his overall effort on the year suggests some further seasoning may be in order.
Otherwise, the Braves have some back-end right-handed arms available in Lucas Sims, Aaron Blair, and Matt Wisler, all of whom have struggled in their early MLB time. More exciting arms — Mike Soroka and Kolby Allard — aren't far off after turning in strong years at Double-A, but don't currently hold 40-man roster spots.
With that wide array of options, the Braves could actually focus on paring back some excess depth over the offseason and into the camp, though there's also some flexibility since all of those candidates can also still be optioned. Competing the open spots between this lengthy list of young pitchers is a reasonable approach. Some may also conceivably turn into bullpen candidates instead.
At the same time, the Braves will need to strongly consider pursuing upgrades if they truly hope to put a legitimate contender on the field for the coming season. There's some merit to considering a solid veteran type to hold down some innings at the back of the rotation, though the team passed up on a chance to retain Dickey for the purpose (though he may have been headed for retirement anyway) and it is also arguable that a more significant addition would be warranted. It's possible to imagine the Braves dabbling in the upper levels of the free agent market, perhaps going after a hurler such as Alex Cobb or finally landing the unicorn (top-end controllable starter) that the prior administration seemingly pursued for years. There's a long slate of possibilities at a lower price point, of course, and the Braves might also conceivably take some lower-priced risks, with righty Chris Tillman representing the most intriguing bounceback arm available to the high bidder.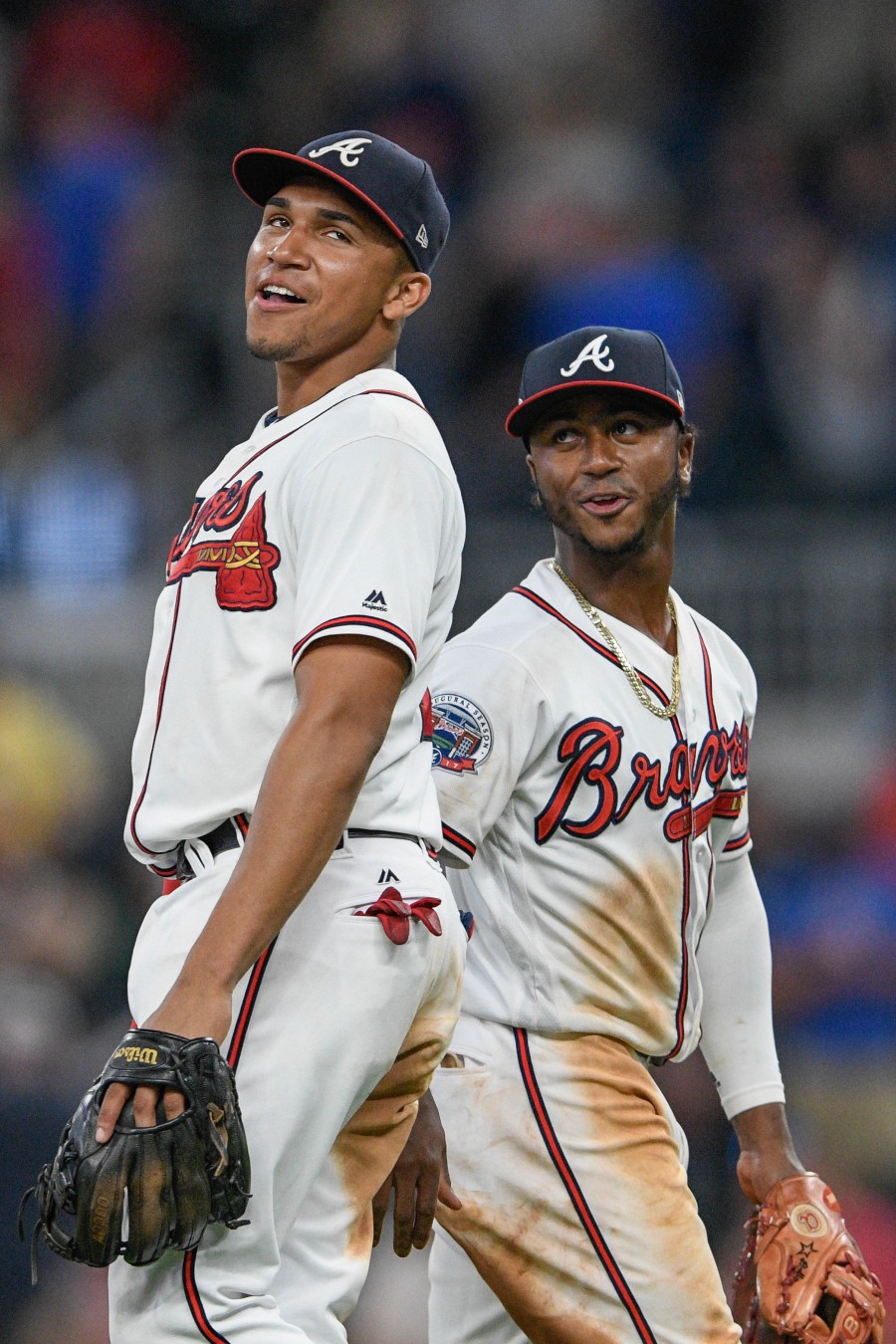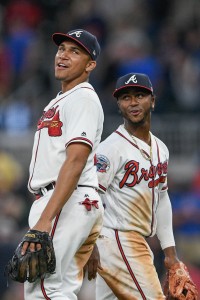 There's less to be done on the position-player side, though that shouldn't be read as a suggestion that there isn't any room for improvement. In addition to top star Freddie Freeman at first, the club is set up the middle with Ender Inciarte in center; Dansby Swanson, Ozzie Albies, and Johan Camargo in the middle infield; and Tyler Flowers and Kurt Suzuki behind the plate. That's far from the best group of core position player talent in baseball, particularly given that the young infielders still are not yet fully established and the catchers are only short-term assets, but it gives the organization a base to work from this winter.
The top priority, in all likelihood, will be improving at third base. Adonis Garcia has had stretches of competence, but he's a 32-year-old player with a .267/.300/.414 slash through 944 MLB plate appearances. Former top pick Rio Ruiz may ultimately deserve a longer look, but he hit just .193/.283/.307 in his 173 trips to the plate at the game's highest level last year and has not exactly dominated the opposition over two full seasons at Triple-A. Around this time last year, Coppolella gave some reason to believe Travis Demeritte might be the future at the hot corner, but he took a step back in 2017 and was not protected from the Rule 5 draft. (Dustin Peterson was also left open to being claimed in the draft.) The current prospect of note is Austin Riley, who knocked around Double-A pitching after a tepid run at the High-A level. But he's still just twenty years of age and is far from a sure thing.
While the Braves could conceivably allow Camargo to play at third while utilizing Jace Peterson as a utility infielder, that would be an awfully risky way of constructing the infield for an organization that intends to improve its on-field product. Camargo turned heads last year, but benefited from a .364 BABIP and walked at only a 4.7% clip. Swanson struggled badly after an impressive MLB debut in 2016. That also serves as a reminder not to forget that Albies is still just twenty years old and may yet have his own growing pains to experience. The better bet would be to bring in a veteran to shore things up at the hot corner for at least a season or two. MLBTR guessed that the Braves could land top free agent Mike Moustakas, who lacks an obvious landing spot, but that was and remains a speculative connection. The Braves could look at other established players on shorter-term deals, potentially including free agents ranging from Todd Frazier to Yunel Escobar or potential trade targets that could include Yangervis Solarte and Nick Castellanos. At this point, frankly, it's hard to guess what kind of direction the pursuit might take odds are, though, that there'll be a healthy dose of opportunism guiding the effort.
The corner outfield is another area of some intrigue (though others could open based upon other moves). Atlanta could rely again upon veterans Matt Kemp and Nick Markakis while supplementing them with a reserve or two, possibly including Lane Adams, who showed well in his first real MLB time in 2017. But the organization would probably rather upgrade over those two — neither of whom profiles as a viable everyday player at this stage of their careers — and begin preparing for a future with younger options. Shedding some salary would be preferable, too. Markakis would make for a useful platoon or reserve outfielder for a contender, though he could also remain an appealing piece in Atlanta, while Kemp could fit on an American League team in search of pop. But dealing either will mean keeping some salary, particularly for the latter.
There are some similarities between the corner outfield and the third-base situations, with one major difference. Unlike at the hot corner, there is a clear heir apparent on hand to step into an outfield spot. Top prospect Ronald Acuna is likely ready for a big league test after blowing through the minors in 2017, though the team will in all probability at least start him in the minors to capture an additional season of club control. While pursuing other pieces in the corner outfield could still make sense, particularly if a truly appealing opportunity presents itself, one spot will undoubtedly be reserved for Acuna — who could be an everyday presence for the majority of 2018 and years beyond.
That leaves one interesting, unaddressed piece of the Braves' offseason puzzle: Matt Adams. The first baseman was a sensation upon arriving in a midseason swap, but cooled down the stretch and also missed time with injury. The Braves dabbled with positional changes to accommodate his bat in the lineup — trying Freeman at third and Adams in left — but those seem likely to be left in the rearview mirror. Now, Adams looks to be an ill-fitting piece for a team whose best player is a young, left-handed-hitting first baseman. While it's conceivable that he'd draw interest in trade, the 29-year-old is best limited to facing right-handed pitching and occupying first base or DH. Defensively limited, good-but-not-great hitters aren't in short supply these days, so it's not likely that the Atlanta organization will reap a big return — and it's possible the team will simply non-tender Adams instead.
Ultimately, despite the loss of some notable prospect capital, Anthopoulos will have quite a few pieces and a bit of payroll flexibility to work with. The wild cards here are upper management's views on the contention timeline and the new front office's feelings about the club's young talent. There's a conceivable world where the Braves end up largely maintaining their current roster for the 2018 season, with a few tweaks on the margins. There's another where Atlanta engages in quite a bit more swapping and acquiring of assets, reflecting both Anthopoulos's preferences and perhaps also a determination that it's time to move toward competition. And there's a wide gray area in between, with plenty of stopping points along the way. What was always going to be a fascinating offseason to watch is all the more interesting after the curveball that kicked it off.
Photo courtesy of USA Today Sports Images.