MONDAY: The trade is now official, per club announcements.
SATURDAY: It would appear that the Giancarlo Stanton saga has come to a close. The Yankees are set to acquire the 2017 NL MVP from the Marlins in exchange for infielder Starlin Castro, along with minor-leaguers Jorge Guzman and Jose Devers. The Marlins will also send the Yankees $30MM in cash if Stanton does not opt out of his contract after the 2020 season. The deal is still pending a physical.
Jon Heyman of FanRag Sports was the first to report that a deal was set, while Joel Sherman of the New York Post mentioned earlier that a deal was "virtually in place", adding that Castro would be part of the deal. While some other cash numbers were mentioned by some reporters earlier in the day, Ken Rosenthal of The Athletic was the first to mention the $30MM figure that has since been confirmed by Morosi as well as Mark Feinsand of MLB.com. Credit goes to Sherman for the report that the prospects involved are in the low minors, as well as first breaking the news that those prospects were Guzman and Devers. Sherman was also the first to report that the Yankees will only get the cash if Stanton doesn't opt out after 2020.
While there was initially some uncertainty surrounding whether or not Stanton would waive his no-trade clause, that dissolved when Heyman reported that Stanton was on his way to New York City for his physical. Stanton will retain no-trade privileges after the one-time waiver, Heyman adds on Twitter, so he'll still control his destiny if the Yanks end up trying to move the contract in the future.
The acquisition of Stanton by the Yankees brings a dramatic swirl of trade rumors to a firm close. There had been speculation about Stanton's availability as early as July, though a trade never materialized despite Stanton reportedly clearing revocable trade waivers. Early in November, reports surfaced that the Marlins were interested in moving Stanton (and other big contracts) in order to trim payroll to about $90MM before the start of the 2018 season. While the Marlins were able to work out the framework for deals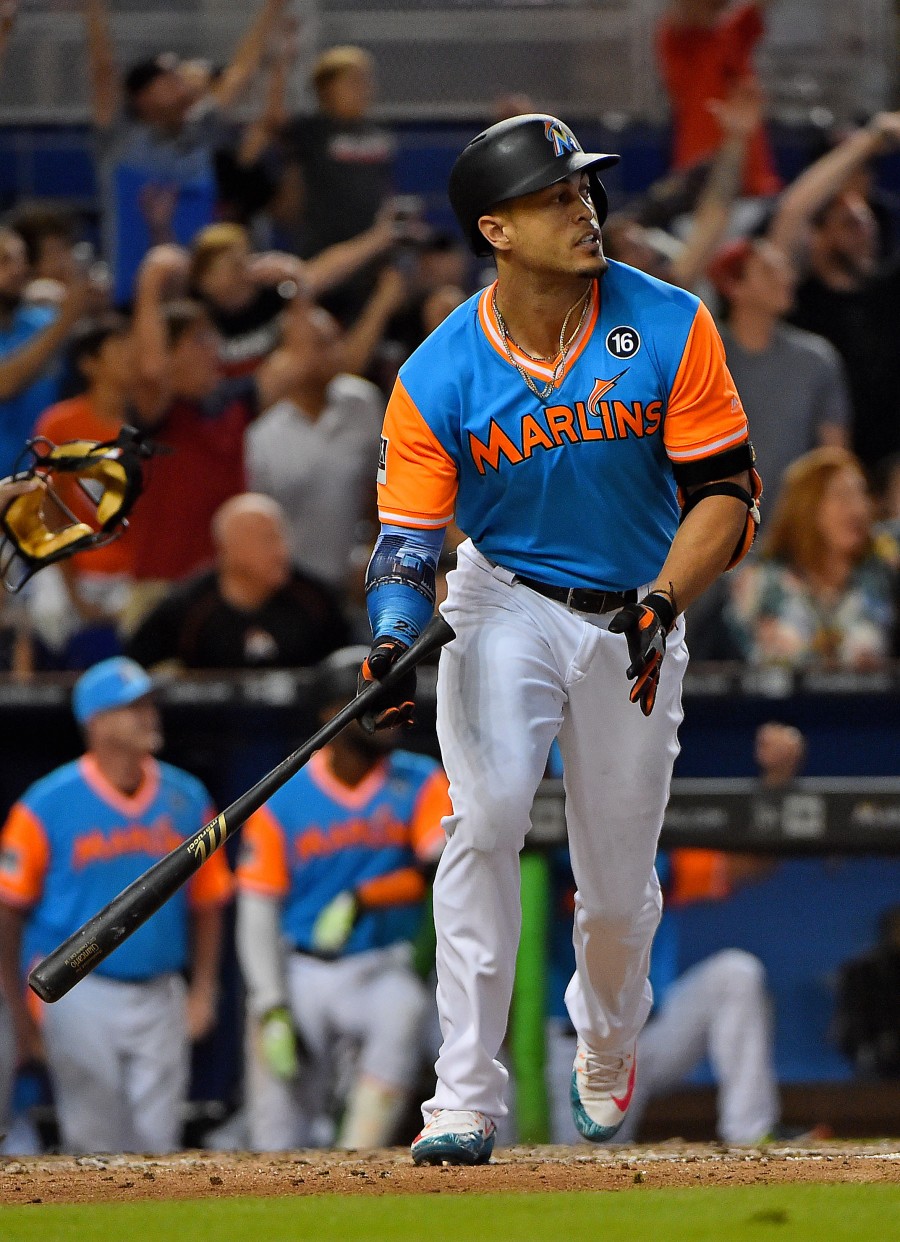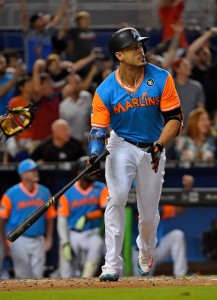 with the Cardinals and Giants, Stanton ultimately used his no-trade clause to block those deals. The Marlins were ultimately forced to settle for a lesser prospect return from the Yankees, although Derrick Goold of the St. Louis Post-Dispatch reports that the Yankees took on more of Stanton's salary than the Cardinals were willing to.
Stanton will add even more power to a Yankees lineup that finished the 2017 season with 241 homers; more than any other MLB club. Notably, Stanton will unite with the only other player to finish this past season with more than 50 homers: Rookie of the Year Aaron Judge. Those two right-handed power threats, along with a third in catcher Gary Sanchez, should become an absolute terror for opposing left-handed pitchers.
The Yankees have made it clear that they plan on trying to get below the luxury tax threshold in 2018, and while the acquisition of Stanton would seem to run contrary to that objective, making the two work in tandem could be easier than it would initially appear. Luxury tax implications are based on the average annual value of guaranteed contracts, and Stanton's figure towards the threshold is based off of his entire contract with the Marlins. Since that deal was for 13 years and $325MM, Stanton's luxury tax contribution will be $22MM annually, thanks to the conditional $30MM contribution from the Marlins. The average annual value of Castro's contract is $8.6MM, so the Stanton trade will only add about $13.4MM to the Yankees payroll in 2018 for luxury tax purposes.
The Stanton deal will no doubt have an enormous ripple effect throughout baseball, starting with the AL East. The Red Sox stand out as big losers in this deal; not only did they hope to acquire Stanton themselves after finishing last in the AL in home runs, but the 2017 homer champ will be another right-handed power threat to a lefty-heavy Boston rotation that includes Chris Sale, David Price and Eduardo Rodriguez. In addition, the Stanton deal further bolsters a Yankees team that looked formidable even without the reigning NL MVP, meaning that Toronto, Baltimore and Tampa Bay (who seem to be on the fringes of contention) might reconsider their intentions to seriously compete for a pennant. Should those teams change their direction, big names like Josh Donaldson and Manny Machado could potentially become available in trade discussions. Even if that doesn't happen, a more dominant Yankees lineup has a better chance to force their weaker rivals out of contention before the midseason trade deadline. That's not to say that one player can definitively make such a profound impact, but as a seven-WAR player, Stanton could certainly tip the scales. Elsewhere in baseball, the Nationals, Mets and Braves will benefit from the full rebuild the completed deal signals for the Marlins camp.
Stanton, of course, led all qualifying MLB players this past year with 59 homers and a .631 slugging percentage en route to his first MVP selection. The towering 6'6″ right-handed hitter terrorized NL pitching to the tune of a .281/.376/.631 overall batting line while playing roughly average defense in right field. The Marlins took him in the second round of the 2007 draft, and have since been rewarded with 34.1 wins above replacement level. Stanton ranked seventh in the majors in 2017 with a 91.9 MPH average exit velocity, including the hardest-hit ball all year (122.2 MPH). His .410 wOBA and 156 wRC+ both ranked fifth in MLB.
The 21-year-old Guzman is best known as one of the pieces sent from Houston to New York in exchange for catcher Brian McCann just last winter. The 2015 international signee out of the Dominican Republic posted excellent numbers in thirteen starts for the Yankees' Low-A affiliate, including a 2.30 ERA with 11.28 K/9 against just 2.43 BB/9. Chris Mitchell of Fangraphs describes Guzman as someone who throws "absolute gas." The 6'2″ righty reportedly sits around 96-100 MPH with his fastball and can reach back for up to 102. He combines that pitch with an 89 MPH slider; that combination helped him strike out a league-leading 33% of batters faced. KATOH projects him as high as a 4.5 WAR player in the majors.
Devers, 18, was also signed out of the Dominican Republic. The Yankees added the left-handed hitting shortstop to their system just this season for a bonus of $250K; he's only got 53 pro games under his belt. Devers is best known as the cousin of Red Sox third baseman Rafael Devers, who was a top prospect in Boston's system and made his major league debut in 2017. Ben Badler of Baseball America describes the younger Devers as "a wiry shortstop with above-average speed, good hands and quick footwork." He's largely put to bed initial concerns about his arm action and arm strength, and has been described by opposing managers as someone who takes away a lot of hits with his glove. While he doesn't provide much in the way of power, Devers shows good contact ability with the bat. Eric Longenhagen of Fangraphs notes that Devers also has a projectable frame, and confirms that his swing will need some tweaking if he wants to develop any real power.