The Giants' acquisitions of Andrew McCutchen and Evan Longoria have added a pair of offensive upgrades to their lineup, but the team is still facing a glaring hole in center field. Improving the outfield, both offensively and defensively, has been a long-stated goal of GM Bobby Evans and executive vice president Brian Sabean. However, the Giants are also said to be aiming to remain underneath the luxury tax threshold, which is calculated based on the average annual value of their players' contracts and is set at $197MM for the 2018 season.
As presently constructed, the Giants don't have much flexibility with regard to those self-imposed restrictions. (They've exceeded the luxury tax four years running now, so they certainly have the resources to do so if they change course. Various observers have given different indications of the team's willingness to do so.) The exact amount of wiggle room the Giants have is difficult to pin down, but most projections give them about $4.5MM to spend. Cot's Contracts, more specifically, gives the Giants $4.462MM before pushing up against that mark. Of course, it's also important to bear in mind that salary additions and subtractions during the course of the season factor into whether or not a team ultimately enters the luxury tax space.
The Giants could certainly still trade a veteran player in order to clear some payroll and open up their options a bit more. However, the Giants' highest-paid players are either core pieces (Buster Posey, Madison Bumgarner, Brandon Crawford, Brandon Belt) or expensive veterans coming off poor seasons that San Francisco would be hard-pressed to trade even if the team is inclined to do so (Hunter Pence, Mark Melancon, Johnny Cueto). The Giants could move a reliever such as Sam Dyson, who's set to earn $4.425MM in 2018, which would roughly double their current level of spending room. Cory Gearrin ($1.675MM) and Hunter Strickland ($1.55MM) are both movable assets that could create some additional wiggle room, albeit at the cost of major league production.
Suffice it to say, a pricey addition along the lines of Lorenzo Cain — free agency's top center fielder — seems decidedly unlikely unless the Giants decide to zip past the luxury tax line. Another open-market center field option, Carlos Gomez, also seems well beyond their current price range. A trade for Jacoby Ellsbury — an oft-suggested scenario from optimistic Yankees fans — certainly doesn't fit into their budget, even if the Yankees eat half of the remaining money on Ellsbury's deal. Christian Yelich? Giants fans would love to have him, but their thin farm isn't going to produce the top offer the Marlins receive for one of the game's more alluring trade chips.
The Giants have been connected to second-tier free agents since trading for Andrew McCutchen and announcing that he'll move to right field, and there are myriad avenues that they could pursue while ever so narrowly sidestepping that $197MM roadblock. A few speculative options to consider, bearing in mind that the goal is to add someone who could conceivably had within a tight budget and can at least play average defense in center…
Free Agents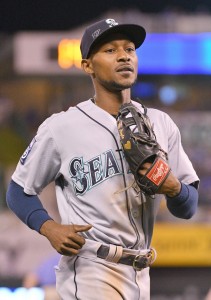 Jarrod Dyson: The 33-year-old veteran is tops on the Giants' list of targets, per ESPN's Jerry Crasnick, and it's not hard to see why. Giants outfielders, in addition to posting a dismal .253/.311/.374 as a collective unit last season, also turned in a ghastly -32 DRS and -5.3 UZR. Their defensive, on the whole, was dreadful. Enter Dyson. At some point, it's fair to worry that his speed and defense will decline, but his UZR/150 of 13.8 over the past three seasons (min. 1000 innings in the field) ranks 12th among all Major Leaguers at any position. He'd require a platoon partner given his career .215/.293/.259 slash against lefties (Austin Slater, perhaps).
It seems unlikely, though, that Dyson could be had for under $5MM annually. Signing him might require the Giants to move a reliever such as Dyson, as previously speculated.
Jon Jay: Crasnick listed Jay second among the Giants' center-field targets in free agency, so it's clear that San Francisco has some degree of interest. Jay would bring more offense to the position than Dyson, having posted roughly league-average (or better) offense in seven of his eight Major League seasons, by measure of OPS+ and wRC+. Jay is a left-handed hitter but has only a minimal platoon split in his career. He's hit righties at a .289/.354/.392 clip and lefties at a .288/.359/.353 pace.
Jay, however, doesn't have anywhere close to Dyson's defensive skill set. He has rated as an above-average center fielder at times in the past, but he spent more time in the corners than in center with the Cubs last season and had below-average defensive ratings in center in consecutive seasons. Granted, even below-average would be an improvement for the Giants, who saw the since-traded Denard Span struggle considerably there in 2017. Jay, like Dyson, figures to cost more than $5MM annually, so signing him might require a corresponding trade if the Giants want to remain under the tax threshold.
Cameron Maybin / Rajai Davis: Maybin and Davis are similar in that each hits from the short side of the platoon, provides superlative baserunning skills and can generally be relied on in center field (despite lackluster ratings there in recent years). As the younger of the two, Maybin would be the pricier option, though Crasnick listed him third on the Giants' list of center field targets in free agency.
The rest of the market is fairly light on players that could be reasonably expected to hold down a regular role in the outfield. Ben Revere could be a theoretical platoon pairing with Gorkys Hernandez in center, or if the Giants are looking more at reserve types, they could add a defensive-minded veteran like Peter Bourjos to the mix. But, if they're looking to at a cost-effective center fielder, Dyson is perhaps the best bet. More options would present themselves on the trade market, however. (Although, today's trade of Randal Grichuk to the Blue Jays eliminated one of the more logical options for San Francisco.)
Trade Options
Billy Hamilton, Reds ($4.6MM salary, controlled through 2019): Hamilton is the most frequently linked center field target to the Giants, and he'd fit their needs both in terms of budget and improving the defense. Zach Buchanan of the Cincinnati Enquirer, though, recently reported that talks between the two teams have gone "dormant," adding that Hamilton may very well open the year in Cincinnati.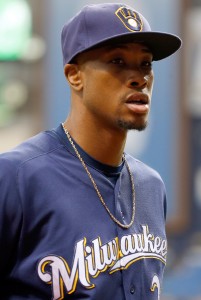 Keon Broxton (pre-arb, controlled through 2022) / Brett Phillips (pre-arb, controlled through 2023), Brewers: The Brewers have reportedly been shopping some outfielders around, and Broxton's league minimum salary and power/speed blend would figure to intrigue the Giants. Broxton has 29 homers and 45 steals in just 709 MLB plate appearances, but he's whiffed in a stunning 37.2 percent of his plate appearances. His defense rated excellently in 2016 but poorly in 2017. Phillips has less big league experience and similar strikeout issues, though he's not far removed from grading out as one of the game's best overall prospects. Milwaukee has also reportedly taken offers on Domingo Santana, but he's more of a corner option and would have a higher asking price on the heels of a 30-homer season.
Juan Lagares, Mets ($6.5MM in 2018, $9MM in 2019): Lagares' remaining salaries are part of a four-year, $23MM deal that the Giants could manage to fit into their payroll by shedding one other player with a relatively modest contract (perhaps sending a big leaguer back to the Mets in return). Lagares hasn't hit much in the past two seasons as he's been slowed by hand injuries, but he has a sterling defensive reputation; he notched a +15 DRS mark and +10.4 UZR in just 556 innings in center this past season. Lagares has been connected to the Giants already this winter, though New York doesn't have a great center field alternative (defensively speaking) on its roster. Brandon Nimmo's name has also come up in trade talks, though the Mets don't seem keen to move him unless they're getting an MLB piece back. (Fire away with your Joe Panik speculation, though such a move would open another hole in San Francisco.)
Tyler Naquin, Indians (pre-arb, controlled through 2022): With Michael Brantley, Bradley Zimmer and Lonnie Chisenhall set to line up in Cleveland's outfield, there's no obvious spot for Naquin, who was an odd man out for much of the 2017 campaign as well (40 MLB plate appearances). Naquin hit well (.298/.359/.475) in Triple-A, though, and had a big, albeit BABIP-inflated, rookie season with the Indians in 2016. Both Brantley and Chisenhall are injury-prone and are free agents next winter, however, so perhaps Cleveland isn't too keen on depleting its infield depth all that much.
Odubel Herrera ($3.35MM in 2018, owed $28.9MM through 2021, plus two club options) / Aaron Altherr (pre-arb, controlled through 2021) / Nick Williams (pre-arb, controlled through 2023), Phillies: With Rhys Hoskins moving to left field to accommodate Carlos Santana, there are only two spots for these three in Philadelphia. Herrera is the only true center fielder here, though all three have experience there in the minors. The Philadelphia organization may simply share time between those three players while allowing performance to dictate its future decisions. Even if they're willing to deal from this group, the Phils would likely be on the lookout for MLB-ready rotation help, which makes the Giants a tough match in a deal. (San Fran would also need to shed a bit of cash to fit Herrera's five-year, $30.5MM deal under the luxury tax bar.) Feel free to dream up three-team trade scenarios accordingly, if you're so inclined.
Michael Taylor, Nationals ($2.525MM, controlled through 2020): It's hard to see the Nats parting with Taylor unless they received some definitive MLB help back in exchange — likely behind the plate or in the form of someone that's a clear upgrade at the fifth spot in their rotation. The Giants don't really have either of those things to offer, but the fit otherwise works on paper, especially with top prospect Victor Robles looming after briefly reaching the majors late in 2017.
Photos courtesy of USA Today Sports Images.