This piece is part of MLBTR's 2017-18 Offseason In Review series.  Click here to read the other completed reviews from around the league.
A 102-win Indians ballclub let all seven of its free agents depart this winter, and gave out just one guaranteed contract. The Tribe will bank on a sustained breakout from Yonder Alonso and some reinforcements from the farm to supplement a core that's won the division two years in a row, in hopes that they can end MLB's longest championship drought.
Major League Signings
Trades and Claims
Option Decisions
Notable Minor League Signings
Notable Losses
Indians Depth Chart; Indians Payroll Information
Needs Addressed
One of the Indians' most important decisions came right at the end of the 2017 season, as they elected to pick up their $11MM option over outfielder Michael Brantley. That call long seemed an easy one in the affirmative, but ongoing shoulder and ankle problems have added quite a lot of uncertainty to the 30-year-old's outlook. It's something of a risk for the Cleveland organization, but it seems Brantley is progressing well and he could still represent a significant value if he can make it back to full health and come anywhere near his peak level of production.
Otherwise, the Cleveland brass entered the offseason with a simple to-do list: re-sign or replace their outgoing free agents in order to keep last year's team as intact as possible. After a 102-win season in which the club won an AL record 22 consecutive games, there wasn't any need for a significant overhaul. Most of the core was under control headed into 2018, so the organization's tapestry of talent would likely require only minor patches to be successful in the coming season.
It soon became evident that rival clubs valued the Tribe's outgoing free agents far more than the team itself. Santana and Shaw both exceeded MLBTR's expectations in terms of earning power, and departed for Philadelphia and Colorado, respectively. As each of their other five free agents found new homes, the Indians were forced to opt for the "replace" route.
The club signed Alonso to fill Santana's shoes, added Davis and Upton Jr. to battle for Jackson's role, and snatched up Belisle and Torres out of the late-winter reliever bargain bin. Mission accomplished, right? Well, sort of. While each of those moves serves the purpose of patching a hole left by a free-agent departure, each serves as the equivalent of purchasing a $200 laptop because you can't afford a Macbook. They'll do the same job, but they don't come with the same kind of reliability. That leaves some questions as to whether the club will be able to enjoy the same success; if one of their replacement options collapses, they'll suddenly have a problematic hole on the roster.
Alonso, for instance, is coming off a rare age-30 breakout season in which he became something of a poster boy for the fly ball revolution. Between the A's and Mariners, he posted a strong .266/.365/.501 batting line with a career-high 28 home runs. That homer total far exceeded anything he'd ever done in the majors or minors, so there's some understandable skepticism about whether or not he'll be able to repeat such numbers as he enters an age in which baseball players typically begin to decline.
Still, perhaps that's not giving enough credit to Alonso. He did, after all, make some clear changes to his swing that we can point to as evidence for his breakout. And he also altered his approach at the plate; those changes were mentioned far less by both the media and respected baseball statistic outlets, but contributed just as much to his breakout campaign. As Alonso himself put it in an interview with MLB.com's Jordan Bastian, "For me, it's about driving the baseball, using my legs, doing things that I do. My pitch sequence. My pitch location. What pitches I can handle. What pitches I can't. And then after that, just going and compete." Focusing on the pitches he could handle worked out well for his on-base ability, as his walk rate spiked to a 13.1% clip that far exceeded his previous career high of 10.4%. The resulting .365 on-base percentage falls exactly in line with Santana's career average, meaning that he'd actually prove a suitable replacement for the long-time Tribe slugger as long as he can continue a seemingly repeatable improvement in patience and pitch selection.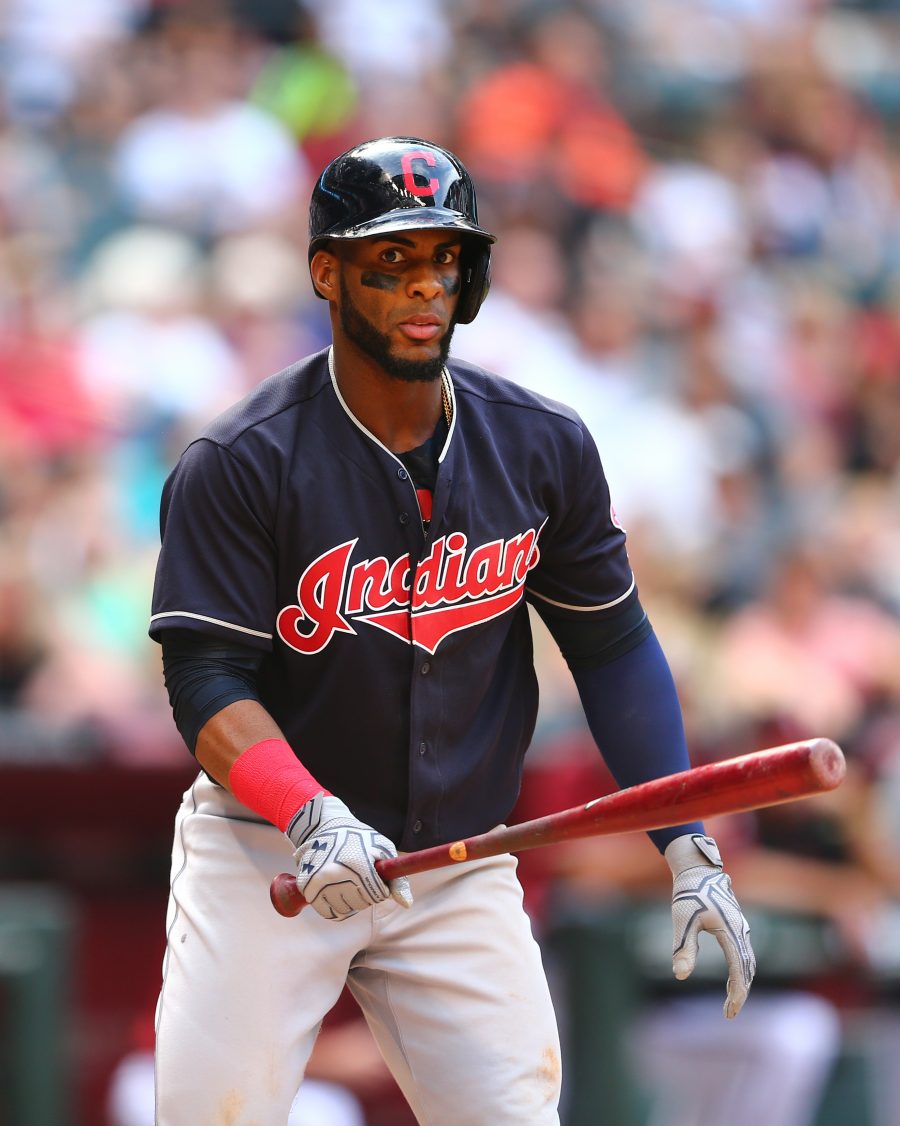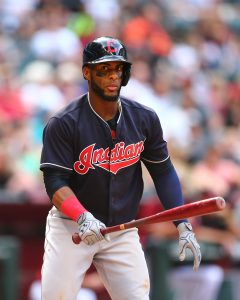 Additionally, it's worth noting that even if Alonso doesn't end up producing to his 2017 levels, the Indians have some reasonable backup solutions. It's feasible that Edwin Encarnacion could shift out of the DH spot (though he certainly wouldn't provide much value defensively), allowing someone like on-base machine Yandy Diaz to get at-bats as the team's designated hitter. The club also has Bobby Bradley waiting in the wings, who ranks among the top first base prospects in baseball. Point being, if Alonso regresses significantly, the Indians can probably reshape their roster to accommodate without taking a sizeable hit to their run-scoring ability.
As far as the outfield goes, it's difficult to imagine Davis, who was recently added to the 25-man roster, producing to the level that Jackson did last season. (Of course, Jackson himself was acquired on a minor-league deal.) The 37-year-old Davis brings with him the nostalgia of a memorable game-tying homer in Game 7 of the 2016 World Series. But after he hit just .235/.293/.348 last season between the A's and Red Sox, he probably won't provide any real offensive value with his bat. His biggest asset to the team will be his stolen base ability, which continues to inexplicably persevere even as the outfielder approaches the age of 40.
Speaking of 37-year-old players, Belisle was also recently informed that he's made the team. Though he's not necessarily an exciting addition, he 's a reliable presence for quality innings. Across the past three campaigns, the right-hander has posted a 2.96 ERA and has typically managed to out-pitch his peripheral statistics. Again, he's not Shaw or Smith, but he's certainly not a pushover. Considering the bullpen will still be led by Cody Allen and Andrew Miller, there's not much to worry about, anyway. With an embarrassment of riches in the starting pitcher department, the Tribe will likely consider flamethrower Danny Salazar for a bullpen role if he continues to struggle in the rotation.
Questions Remaining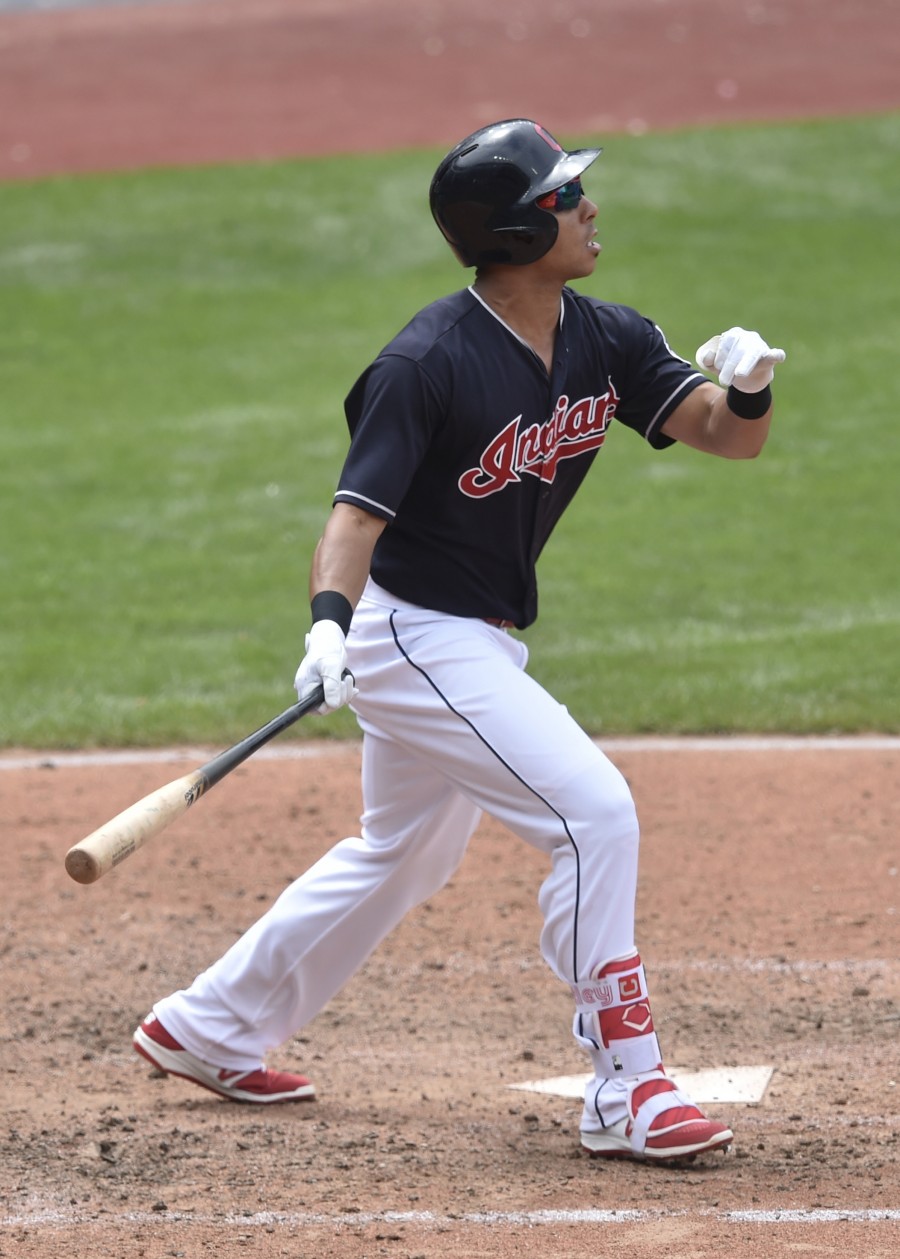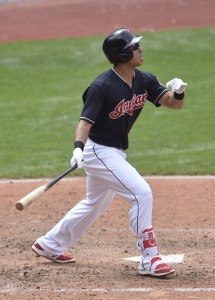 The club's outfield crew isn't likely to intimidate other contenders. While Lonnie Chisenhall and Brantley are terrific when they're able to take the field, neither can seem to do so on a consistent basis. Bradley Zimmer and Tyler Naquin have both shown great upside, but they've also had their weaknesses exposed; neither is a sure bet to find sustained success throughout the 2018 season. The even bigger overarching issue is that each of those four players bats from the left side of the plate. The Tribe's only righty-hitting outfielders are Davis (see above) and Brandon Guyer, who was recently named to the Opening Day roster but struggled mightily last year and comes with injury concerns. While the team has some right-handed bats and switch-hitters elsewhere in the lineup, one has to imagine that such a severely lefty-heavy outfield puts them at a disadvantage against opposing southpaws.
The organization's dearth of vertical depth in the bullpen department is no small matter, either. The club has seven solid relievers on the active roster, but the relief corps at Triple-A is a gaggle of waiver claims and offseason minor league signees. Though they've lucked out in the past with waiver claims like Tyler Olson, it's statistically unlikely that they'll continue to win the lottery with players that other teams let go. Of course, it's fair to note too that the rotation depth could filter down to the pen if and when more of the team's starters are at full health.
The health and production of second baseman Jason Kipnis is certainly up in the air after an injury-plagued age-30 season that ended up being one of the worst offensive showings of his career. His poor play resulted in a swirl of offseason trade rumors and uncertainty about his future in Cleveland, but he's found his swing in training camp as evidenced by his six homers and .375 batting average in Cactus League play. It's tough to know what to expect from Kipnis, but he's an interesting bounce back candidate to watch.
The Tribe's catching tandem of Yan Gomes and Roberto Perez isn't what you'd call an offensive juggernaut, but they both provide plenty of defensive value and are likely to combine for another above-average performance in relation to the rest of the league. Beyond them, super-prospect Francisco Mejia is waiting in the wings, itching to prove himself in the event of an injury to one the aforementioned duo. Mejia's more of a bat-first backstop, and his hit tool is one of the best in the minors. Indeed, the organization is even considering utilizing him in the outfield as a means of moving up his timeline to contribute in the majors (potentially offering another means of giving a boost to the uncertain outfield mix). While none of these three players is without his flaws, it's hard to imagine catcher being a significant area of weakness for the Indians.
It's more likely than not that we'll see some kind of offensive decline from Encarnacion as the slugger enters his age-35 season. What that will look like isn't easy to predict. Some sluggers like Paul Konerko only experienced a modest power drop-off at 35, while others such as Mark Teixeira seemed to have the rug pulled out from under them entirely at that age. As one of the few intimidating right-handed hitters in the Tribe's lineup, they'll be counting on him to offer at least something close to his usual power output.
Outside of that, the Indians appear well-poised to make another run at a championship. A rotation that produced the best fWAR of all time is back in its entirety, with reasonable depth options at Triple-A and a couple of impressive prospects in Triston McKenzie and Shane Bieber not far off. The left side of their infield sports two MVP candidates in Francisco Lindor and Jose Ramirez, and it wouldn't be a surprise to once again see those two combine to top 60 homers while providing stellar defense. All in all, questions about this team's composition are little else but nit-picking.
Overview
The front office didn't do much this offseason, and as such this iteration of the Indians doesn't look quite as strong as the one that finished the season with 102 wins last year. But if they did get weaker, it certainly isn't by much. The most important pieces remain on hand, and they have some intriguing depth in the form of high-upside prospects. That likely means a third consecutive AL Central championship and a return to the postseason.
How would you grade the Indians' offseason work? (Poll link for app users)
Photos courtesy of USA Today Sports Images