Eduardo Escobar wasn't supposed to get this much playing time in 2018. Heading into the season, he was set to be a utility player extraordinaire, backing up Twins shortstop Jorge Polanco, third baseman Miguel Sano and second baseman Brian Dozier — perhaps with an occasional day at DH or a brief foray into an outfield corner. But an 80-game suspension for Polanco following a failed PED test and an early injury for Sano thrust Escobar into the lineup with regularity. And more surprisingly, Escobar's sensational performance has thrust him into the cleanup spot for the Twins more often than not.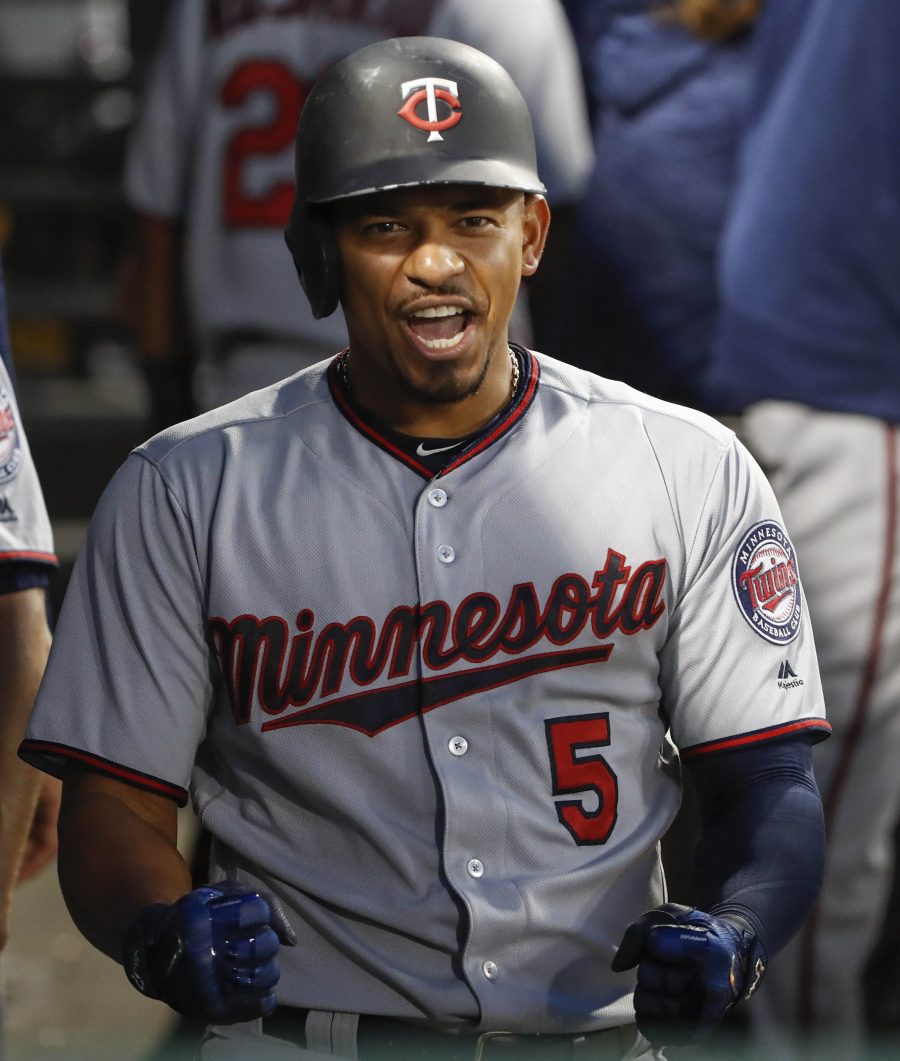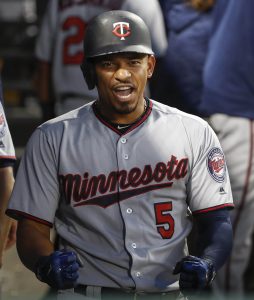 There are undoubtedly readers out there who literally don't know who Escobar is. He's long been a quality utility piece for the Twins, but he's taken his offensive game to new heights over the past two seasons. Now, four months away from free agency, he looks potentially poised for a payday that would've sounded unthinkable for him entering the 2017 season.
Escobar, 29, is off to a ridiculous .286/.340/.562 start to the 2018 season (143 OPS+, 139 wRC+). The switch-hitter already belted a dozen home runs and racked up an incredible 24 doubles through his first 238 trips to the plate. It's an excellent followup to last year's career-high 21 homers, and he's already just nine long balls and 11 doubles shy of his career-bests with about 60 percent of the season still to play.
While it's not always obvious to see the areas from which a player's offensive breakout stems, Escobar has made some very noticeable changes to his approach at the plate. He looks to be one of the many success stories from 2017's "fly-ball revolution," having increased his launch angle from 15 degrees in 2016 to 17.5 degrees in 2017 to 20.8 degrees in 2018. Back in 2016, Escobar was putting the ball on the ground nearly 40 percent of the time he made contact. But his fly-ball rate jumped from 37.4 percent in 2016 to 45.3 percent last season. This year, it's sitting at a career-high 47.9 percent. His average exit velocity of 87.6 mph isn't elite, but it's steadily risen by about 1 mph in each of the past two seasons.
That seems like a deliberate focus on putting the ball in the air and hitting for more power, and it's somewhat predictably come with some other, more negative changes. Escobar has traded some contact for his newfound power, striking out at a career-worst 22.7 percent so far in 2018. He's chasing a whopping 40.4 percent out-of-zone pitches, and his swinging-strike rate is a career-worst 12.7 percent as well. That said, his strikeout rate is far from egregious, and he's also sporting career-bests in hard-contact rate, line-drive rate and barreled-ball rate. His .327 average on balls in play is a bit north of his career .299 mark, but that can be somewhat explained by his increase in barreled balls and quality contact. In short, he looks like a legitimately improved hitter.
Defensively, Escobar is more of a mixed bag. He has extensive experience at both positions on the left side of the infield in addition to 348 innings at second base and 275 innings in the outfield (eight in center and 267 in left field). That's desirable versatility, but he's not exactly a standout defender anywhere. Third base has been his best position in the Majors, and by measure of both Ultimate Zone Rating and Defensive Runs Saved, he's a serviceable defender at the hot corner. DRS pegs him at -5 runs 1735 innings, while UZR/150 has him at -0.4. His ratings at shortstop, particularly in 2018, are far less appealing (-8 DRS in 168 innings, -2.1 UZR), but he'd graded out passably (even favorably, per UZR) at the position in prior seasons.
At the very least, a team would likely feel comfortable installing Escobar at shortstop once or twice per week, knowing he could be re-positioned elsewhere in a late defensive switch by a superior defender. And it stands to reason that most clubs would feel comfortable with his glove at third base.
The question for Escobar in free agency, of course, will be one of how exactly he'll be valued by other clubs. Escobar isn't going to sustain a .276 isolated power mark (that is, slugging percentage minus batting average). By his own admission, many of his doubles are of the "hustle" variety (such as this one), and his 15.2 percent homer-to-flyball ratio is well above his career norm. Still, at least much of the gains he's made in the power department seem legitimate. He's also sporting a modest increase in walk rate (career-high 7.6 percent) to go along with his improved contact and defensive versatility. Some teams figure to value him in as a high-end utility player, while others yet may feel he's capable of shouldering an everyday workload.
Looking for recent comparables, there aren't many examples of bat-first utility players that stack up nicely with Escobar's case. Ben Zobrist's four-year, $56MM contract was signed when Zobrist had a considerably lengthier track record and seems too ambitious a comparison for Escobar. On the other hand, former teammate Eduardo Nunez's modest deal to return to the Red Sox this year feels like it can be similarly dismissed, given Nunez's late knee injury and lack of power. Luis Valbuena's two-year, $15MM contract feels too low, given Escobar's ability to play some shortstop, his switch-hitting capability and his superior offensive output. Jed Lowrie's three-year, $23MM deal with the A's may even be light. That contract began when Lowrie was 32 years of age and came on the heels of a season in which he played in just 69 games. Escobar will turn 30 next January.
Perhaps, then, Escobar will forge his own path, to an extent. He's experiencing an offensive breakout similar to the one that Zack Cozart exhibited in his two years leading up to a three-year, $38MM deal from the Angels, though Cozart was considered a premium defensive shortstop who could provide significant defensive value at third base as well. Then again, he hadn't been as healthy as Escobar and was two years older. That could serve as something of a ceiling for Escobar, and perhaps a four-year deal at a lower annual rate (something in the vein of Omar Infante's admittedly dated four-year, $30.25MM deal with Kansas City) shouldn't be entirely ruled out, given Escobar's relative youth.
All of this, of course, is predicated on Escobar sustaining a pace that at least approximates his current output. That's far from a given, especially considering the fact that Polanco's eventual return will cut into his playing time to some degree. But heading into the 2018 season, the general thought was that if there was one switch-hitting utility player poised for a significant payday, it'd be Houston's Marwin Gonzalez. With Gonzalez struggling and Escobar thriving, that reality looks to have shifted. There are under-the-radar free agents who emerge from relative anonymity every season, and Escobar is making his case to become the latest such example with a strong start to the year.
Photo courtesy of USA Today Sports Images.