As we kick off the ninth installment of this series, here are links to the previous team payroll projections:
Philadelphia Phillies
Los Angeles Dodgers
Los Angeles Angels
Atlanta Braves
New York Yankees
Chicago White Sox
Boston Red Sox
Minnesota Twins
If you have questions about financial information made available to the public and the assumptions used in this series, please refer to the Phillies piece linked above.
Today, we examine a club whose rebuild exploded in 2018, propelling them to a surprising division championship and baseball's final four: the Milwaukee Brewers.
Team Leadership
As many longtime baseball fans know, the predecessor to current Commissioner Rob Manfred, Bud Selig, spent 28 years as owner of the Brewers franchise prior to ascending to the commissioner gig. Formed in 1969, the franchise spent one disastrous season in the Pacific Northwest as the Seattle Pilots before Selig purchased the team out of bankruptcy and moved them to Milwaukee. Selig's daughter, Wendy, became the team owner in 1998 when Selig became the full-time commissioner. In September 2004, Wendy sold the team to businessman Mark Attanasio, the club's current owner. After making just two playoff appearances in the 36 years from 1969-04, the team has made three postseason trips during Attanasio's ownership, including two trips to the National League Championship Series in 2011 and 2018.
The team's front office is headed by general manager David Stearns, who took the job in September 2015 at age 30. The franchise has enjoyed tremendous growth under Stearns, winning 68 games before he arrived in 2015, then 73, 86, and finally 96 in the three seasons that followed. Last winter's acquisitions of Lorenzo Cain, Jhoulys Chacin, and Most Valuable Player Christian Yelich paved the way for greatness in Milwaukee.
Historical Payrolls
Before hitting the numbers, please recall that we use data from Cot's Baseball Contracts, we'll use average annual value ("AAV") on historical deals but actual cash for 2019 and beyond, and deferrals will be reflected where appropriate. And, of course, the value of examining historical payrolls is twofold: they show us either what type of payroll a team's market can support or how significantly a given ownership group is willing to spend. In the most useful cases, they show us both. We'll focus on a 15-year span for the Brewers, covering 2005-18 for historical data as a means to understanding year 15: 2019. For the Brewers, this time frame perfectly covers Attansio's ownership tenure. We'll also use Opening Day payrolls as those better approximate expected spending by ownership.

Attanasio inherited some bottom-of-the-barrel payrolls, but quickly increased spending in a big way upon taking over the club. Spending has continued on a relatively clean trajectory without any significant increases.
2016-17 stick out for the opposite reason as spending cratered while Stearns rebuilt the franchise. When the club showed significant (and somewhat unexpected) progress in 2017, Attanasio OK'd a return to something close to pre-rebuild spending levels.
The above chart conveys team spending pretty well as the Brewers haven't endeavored on significant international acquisitions, either via international amateur bonuses or posting fees for negotiating rights with foreign professionals, and the club has never come close to luxury tax territory.
Future Liabilities
For a small market team, the Brewers have committed a good fit of payroll space moving forward.


Braun has long been the face of the franchise, though surely he ceded a good bit of that status to the stars that follow him on the team's payroll chart, Cain and Yelich. Braun will receive $1.8 million per year from 2022-31 in deferred salary, but that amount won't handcuff the team now or in the future.
The Yelich deal provides some of the greatest value of any contract in all of Major League Baseball. That should help keep the Brewers competitive given the immensity of their savings over Yelich's market value.
The remaining commitments are all quite safe as the team has only $1.5 million guaranteed beyond 2019 for Thames, Chacin, Anderson, Jeffress, and Albers combined. Thames, Anderson, and Jeffress are all controllable further via bargain-rate club options.
While the guarantees feature much of the Brewers core, the team's arbitration-eligible players include numerous contributors, a couple of them essential to the team's renaissance. Here are their arbitration projections (salary projections by MLBTR and Matt Swartz):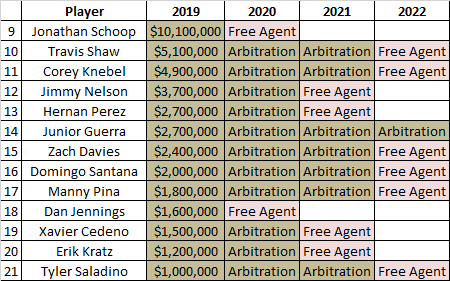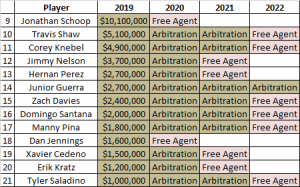 The Brewers feature numerous non-tender candidates. The biggest decision involves Schoop, a 27-year-old second baseman who starred for the Orioles in 2017 with average on-base skills and 32 long balls on the heels of a 25-homer season in 2016. Schoop's offense cratered in 2018 as his BABIP dropped to .261 after he posted a composite BABIP of .319 from 2015-17. Schoop presumably had a chance to play his way into a big payday with the Brew Crew, but a putrid .202/.246/.331 batting line after his acquisition likely sealed his fate as a non-tender, especially given the presence of near-Major League-ready stud prospect Keston Hiura and fully-Major League-ready prospect Mauricio Dubon, despite his knee injury. The decisions on Kratz, Perez, Jennings, and Saladino are comparatively much less impactful to the budget, even for a team with a smaller spending capability such as Milwaukee. Kratz in particular was one of the great stories of the 2018 postseason. As it turns out, despite the presence of solid prospect Jacob Nottingham ready for a meaningful role and Pina around (discussed below), the team agreed to a $1.2 million deal to avoid arbitration, less than the $1.7 million for which Kratz was projected but a salary figure at which he has a much better chance to stick around.
On the other hand, many of the other names in the arbitration table are of the impact variety. Shaw has proven to be the team's third-best regular, solidifying the third base spot. Knebel forms an elite bullpen triumvirate with Jeffress and fireballing lefty Josh Hader. Guerra provided 141 roughly average innings in 2018. Santana regressed markedly in 2018, but there's still significant power in his bat and, if nothing else, he provides a strong bench bat at a cheap rate. Pina is a strong defensive catcher with a bit of power on a bargain deal.
Nelson merits separate mention. He missed all of 2018 with a shoulder injury, but that came on the heels of him making an ace turn in 2017. If Nelson returns at something close to his pre-injury form, the Brewers will enjoy a marquee addition for just $3.7 million. The rich keep getting richer.
Davies merits his own paragraph for largely the same reason. He compiled 5.3 WAR across 2016-17 before being felled by a shoulder injury that cost him most of 2018 and sapped his effectiveness when he did pitch. Nevertheless, Davies is yet another cheap rotation option.
Milwaukee is brimming with cheap, controllable talent that should help them compete into the next decade.
What Does Team Leadership Have to Say?
Following the season, Stearns hinted that spending won't increase in 2019 to nearly the extent that it did prior to 2018. That doesn't qualify as much of a surprise given the bare-bones payroll employed in 2017 and the competitive number utilized in 2018. Stearns called a repeat offseason "unrealistic" at the beginning of November.
It doesn't seem as if management is expecting a huge influx of cash, at least not publicly.
Are the Brewers a Player for Bryce Harper or Manny Machado?
No.
Not in the Milwaukee market. Not with bottom-five payrolls every year. Not with so many big-market clubs competing to sign Harper and Machado.
Milwaukee isn't going to be in these conversations.
What Will the 2019 Payroll Be?
This is a really important consideration for the Brewers. With so many significant players entering arbitration, they need to find a bit more cash to keep this core together for the coming years or Stearns will need to be especially creative in moving the right arbitration-eligible starting-caliber players for cheaper reinforcements.
Even assuming that the Brewers take the most aggressive non-tender approach that is plausible, cutting ties with Schoop, Perez, Jennings, and Saladino, the team would enter the offseason with $95.1 million committed to the roster, $4.1 million more than last year's Opening Day payroll. Making any additions will require Stearns to expend some currency.
According to MLB.com, the team's top seven prospects and 10 of the top 11 are position players. If the club makes a big expenditure, expect to see them focus on pitching.
Given where Milwaukee is on the win curve and how seriously they curbed spending while rebuilding, it's reasonable to expect Attanasio to authorize a new franchise-high Opening Day payroll. But by how much? I'll guess that payroll increases enough for everyone to notice but not so much that it stuns the baseball world.
With the projected payroll space below and an entirely right-handed rotation, don't be surprised if Milwaukee makes a play for a free agent starter like J.A. Happ. If payroll is a bit tighter than expected, perhaps Wade Miley or a reunion with Gio Gonzalez make more sense.
Projected 2019 Payroll: $110 million
Projected 2019 Payroll Space: $14.9 million