As we kick off the seventh installment of this series, here are links to the previous team payroll projections:
Philadelphia Phillies
Los Angeles Dodgers
Los Angeles Angels
Atlanta Braves
New York Yankees
Chicago White Sox
If you have questions about financial information made available to the public and the assumptions used in this series, please refer to the Phillies piece linked above.
Today, we visit with the other Sox and reigning champions: the Boston Red Sox.
Team Leadership
The most recent significant ownership change for the Red Sox saw John Henry, Tom Werner, and the New York Times (yes, that New York Times) purchase the club from the JRY Trust, established following the 1992 death of team owner Jean Yawkey, the widow of Tom Yawkey. The Times sold its interest in two separate sales in 2011 and 2012, leaving Henry and Werner as the primary owners and Henry alone as the face of ownership.
The baseball operations department underwent a massive shakeup late in the 2015 season with longtime contender builder Dave Dombrowski joining the fold as President of Baseball Operations with former general manager Ben Cherington stepping aside in a corresponding move. Dombrowski had previously assembled pennant winners in Miami (1997) and Detroit (2006, 2012) before his arrival in Beantown. Over his three seasons, the Red Sox have averaged 98 wins per year, recording at least 93 victories each season.
Historical Payrolls
Before hitting the numbers, please recall that we use data from Cot's Baseball Contracts, we'll use average annual value ("AAV") on historical deals but actual cash for 2019 and beyond, and deferrals will be reflected where appropriate. And, of course, the value of examining historical payrolls is twofold: they show us either what type of payroll a team's market can support or how significantly a given ownership group is willing to spend. In the most useful cases, they show us both. We'll focus on a 15-year span for the Red Sox, covering 2005-18 for historical data as a means to understanding year 15: 2019. We'll also use Opening Day payrolls as those better approximate expected spending by ownership.
As a major franchise playing in a major city, it comes as no surprise that the Red Sox have spent and spent big year after year.

While Red Sox spending has always been significant, it took a notable jump following the only Yankees World Series win of the past 15 years as the 2010 Boston payroll increased a little over 38 percent from 2009. Since then, the Red Sox have remained near the top echelon of spenders.
That changed in 2018 as Boston blew away the competition financially, finishing the year as the only American League team to pay the luxury tax. The Red Sox made approximately $22 million in luxury tax payments from 2005-17, but they pushed the envelope in 2018, incurring a tax bill of at least $12.7 million and possibly more depending on the final calculation.
International spending has also been a hallmark of the franchise, as was blowing past slot recommendations for draft picks prior to the new rules that severely disincentivized the action. The Red Sox were responsible for arguably the most famous example of overspending international bonus pools under the previous system, throwing a $31.5 million bonus to Yoan Moncada, complete with a corresponding $31.5 million tax payment in February 2015.
The Red Sox also allocated a massive sum to the posting fee paid of $51,111,111.11 to the Seibu Lions in advance of the 2007 season for the rights to negotiate with starting pitcher Daisuke Matsuzaka.
Needless to say, Major League payroll has comprised only a significant portion of team spending, hardly the entirety of it.
Future Liabilities
Unlike some other teams in this series to date, the Red Sox have significant present and future guaranteed liabilities. Here are the guaranteed future dollars with club options highlighted in peach and the opt-out clause for J.D. Martinez that follows the 2019 season shown in light blue.


There is a lot to digest here.
The remaining four years and $127 million owed to David Price naturally jumps out. After a strong debut season, Price hasn't delivered the ace-level production that the team hoped for when they signed him, but Red Sox fans enjoyed watching Price hoist the World Series trophy this fall after 26 solid postseason innings. He's hardly an albatross, even if his contract doesn't offer value at this point.
After a superstar offensive season, Martinez's contract appears increasingly likely to be a two-year, $50 million deal instead of a five-year, $110 million pact as was guaranteed. If his 2019 is half as successful as his 2018, Martinez will opt out of the deal and pocket the $2.5 million buyout that comes along with the decision to do so. In the meantime, he'll serve as an essential middle-of-the-order bat for the defending champions.
The remaining multi-year commitments go to players unlikely to help the next championship team in Boston. Pedroia has been a mainstay, but knee injuries may very well render him unable to return to form especially at 35. 2017 indicated that Vazquez had emerged as a defensive force with a palatable, if below average, offensive game at 27. 2018 indicated that 2017 was a mirage. It remains to be seen what value, if any, Boston will milk out of the remainder of Vazquez's deal.
The remaining current players are all on one-year deals and they all figure to play a starting-level role for the team in 2018. Sale is a perennial Cy Young contender heading toward a record-breaking contract, Porcello won the award himself in 2016, and Moreland, Pearce, and Nunez all figure to get north of 400 plate appearances next year. The club features a ton of walk-year talent.
Of course, the future commitments to players aren't limited to current Red Sox players by a long stretch. The team owes a staggering $47.5 million to released free agent flop Sandoval and Triple-A 30-year-old Castillo. Perhaps the club will find a taker for Castillo if he comes along with approximately $22 million, though it's worth noting that he does not count against the Red Sox luxury tax payroll as long as he remains off of the team's 40-man roster.
Finally, former stars Ramirez and Pedroia will receive just over $34 million between them into the middle of the next decade, a sum that is not insignificant but also doesn't figure to move the needle much for the deep pockets in Boston. Those amounts have already been accounted for in regards to the luxury tax, so they won't hurt Boston when making that calculation.
While the guarantees feature plenty of star power, there is no shortage of elite talent to be found among the arbitration eligible Red Sox. Here are their arbitration projections (salary projections by MLBTR and Matt Swartz):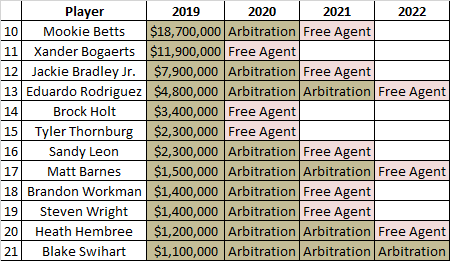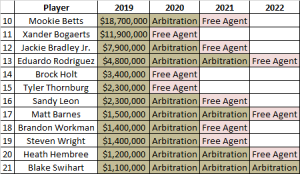 Betts, Bogaerts, and Bradley have long formed a young core for the club. Bradley's bat has been below average the last two seasons, but Betts and Bogaerts have both regularly combined strong offense and defense to be impact players. With two years of control remaining on Betts and Bradley and one on Bogaerts, the team will likely continue extension talks.  Obviously they have not found common ground to date, and it's not known whether the Red Sox will succeed in locking down any of the three.
Rodriguez has grown into an above-average starting pitcher, albeit one who routinely misses time with injury issues. He figures to hold a rotation job through the coming years.
The remaining arbitration eligible Red Sox primarily serve to complement the bevy of ultra-talented players listed above.
What Does Team Leadership Have to Say?
Perhaps unsurprisingly, not much to date. They've been busy winning the World Series and celebrating their newest championship. The most noteworthy disclosure came from Henry following the season when he noted that the team won't push their payroll to the top luxury tax penalties every season, calling out 2018 as an exception where adding the missing piece was worth the extra expenditure.
Are the Red Sox a Player for Bryce Harper or Manny Machado?
Well this is a tricky one. The Red Sox are obviously massive spenders who routinely find themselves with one of the top five payrolls in the game. Generally speaking, that is expected to be a prerequisite for entering the fray for Harper and/or Machado.
However, Boston has already committed major dollars to its championship core — a core that will only get more expensive in the next two years — and it would seemingly require major roster reconstruction to fit either young star into their group.  In the case of Machado, there would also have to be a resolution of the conflict dating back to his April 2017 takeout slide of Pedroia.
Then again, it's the Boston Red Sox. They shouldn't be fully counted out for any big-time talent.
In the end, I'll say that they're not players for Harper or Machado. It's too tough to see the math work from my vantage point.
What Will the 2019 Payroll Be?
More than for any other team that we have examined to date, the luxury tax is going to be a major factor for the Red Sox this winter. If the team makes no additional moves, they'll have a cash payroll of $214.2 million and a luxury tax payroll of $216.0 million, assuming that Castillo remains off of the 40-man roster and, thus, doesn't count against their tax payroll. With the luxury tax line sitting at $206 million, it's awfully difficult to see how Boston gets under the line without sacrificing a key contributor or two. That's no way to defend a title.
Instead, I suspect that the Red Sox will try to minimize their tax bill and ensure that they avoid hitting the $246 million threshold at which point their top draft pick is dropped 10 spots. It seems overwhelmingly likely that they will incur the 12 percent surtax for exceeding $226 million in luxury tax payroll, but, again, I expect that they will avoid the 42.5 percent surtax for exceeding $246 million in luxury tax payroll.
Provided that they plan to leave a little space for in-season acquisitions, let's peg them at a spending level that enables the club to replace Craig Kimbrel at the back of the bullpen without breaking the bank.
Projected 2019 Payroll: $230 million cash ($232 million luxury tax)
Projected 2019 Payroll Space: $15.8 million