As we kick off the eighth installment of this series, here are links to the previous team payroll projections:
Philadelphia Phillies
Los Angeles Dodgers
Los Angeles Angels
Atlanta Braves
New York Yankees
Chicago White Sox
Boston Red Sox
If you have questions about financial information made available to the public and the assumptions used in this series, please refer to the Phillies piece linked above.
Today, we examine a club in one of baseball's worst divisions that is nonetheless seemingly far from contention: the Minnesota Twins.
Team Leadership
Despite rumored relocation and contraction in the 1990s and early 2000s, Twins ownership has been impressively stable. Banker Carl Pohlad purchased the team in 1984, passing it to his children upon his death in 2009. Pohlad's son, Jim, succeeded his father as Chairman of the ballclub and the public face of the franchise. With the sparkling Target Field opening in 2010, it appears as though the team is married to the Pohlads and the Twin Cities for the foreseeable future.
The front office is headed by general manager Thad Levine, hired from the Texas Rangers following the 2016 season to resuscitate the Minnesota franchise after over a decade as assistant general manager in Texas. The front office also brought in Derek Falvey as chief baseball officer contemporaneously with Levine. With two years on the job and despite a surprise run to the American League Wild Card Game in 2017, Levine and Falvey have primarily focused on clearing the financial books to rebuild the roster in their image moving forward.
Historical Payrolls
Before hitting the numbers, please recall that we use data from Cot's Baseball Contracts, we'll use average annual value ("AAV") on historical deals but actual cash for 2019 and beyond, and deferrals will be reflected where appropriate. And, of course, the value of examining historical payrolls is twofold: they show us either what type of payroll a team's market can support or how significantly a given ownership group is willing to spend. In the most useful cases, they show us both. We'll focus on a 15-year span for the Twins, covering 2005-18 for historical data as a means to understanding year 15: 2019. We'll also use Opening Day payrolls as those better approximate expected spending by ownership.
The Twins spent a franchise record on payroll in 2018 and it wasn't particularly close to the previous high water mark in 2011.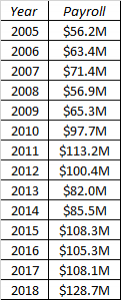 Spending under Carl Pohlad was consistently among the lowest in the league. When his children took over and the club moved into Target Field, spending immediately increased in a meaningful way prior to a mini-rebuild in 2013-14. The days of Minnesota spending alongside the likes of Oakland and Tampa Bay appear to be a thing of the past.
While the Twins have never come particularly close to the luxury tax threshold, the team has made some major endeavors into the international amateur marketplace…and not just in Latin America. The franchise's marquee amateur signing was that of Miguel Sano, whose $3.15 million bonus in 2009 set a record for a foreign amateur at the time. The franchise's wide vision also led them to give outfielder Max Kepler an $800,000 bonus out of Germany in the same 2009 class. That said, the Twins weren't one of the clubs that blew past the league-imposed soft spending limits for international amateurs or North American draftees.
Not included above: a $12.85 million posting fee to negotiate with Korean first baseman Byung-ho Park prior to the 2016 season. More on Park below.
Future Liabilities
This is quite possibly the funniest chart of any team in the series: the Twins have $0 guaranteed on their books beyond 2019.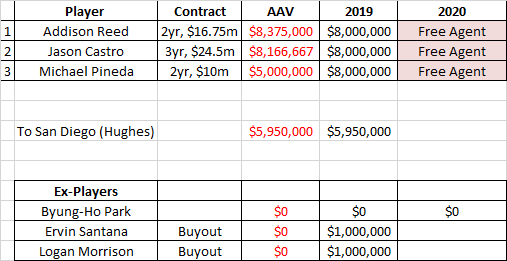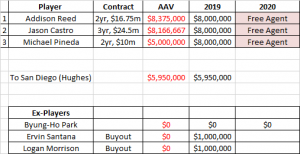 This chart would have included $3 million in 2019 and $500,000 in 2020 for Park, but the Korean first baseman elected to forgo his guaranteed salaries in exchange for an outright release that permitted him to return to the Nexen Heroes for the 2018 season.
With Park out of the picture and buyouts paid to Santana and Morrison, the Twins find themselves only with the contract-year commitments to Reed, Castro, and Pineda as well as the final payment due to San Diego for Hughes.
Reed came to Minnesota as a closing candidate in his late-20s, but imploded in his debut season with the team, showing velocity decreases of nearly 1.5 miles per hour on both his fastball and his slider, a big drop in strikeout rate, a huge uptick in homer rate, and an upper arm injury. The Twins can take solace in the facts that Reed has long succeeded in Major League bullpens and that his injury was apparently to his biceps instead of his elbow or shoulder.
Castro has enjoyed a nice career with a slightly below-average bat complementing elite framing, but a meniscus injury wiped out most of his 2018. With Mitch Garver and Willians Astudillo providing more interesting options as the club continues to rebuild, it's possible that Castro could find it tough to come by plate appearances in 2019.
Pineda was paid in 2018 to rehabilitate following Tommy John surgery in the hopes that he would prove to be a bargain in 2019. In late August, 13 months removed from his operation, Pineda suffered a torn meniscus, derailing a September Twins debut. He figures to be ready for Spring Training.
While the guarantees are rather ho-hum, there is plenty of organizational intrigue to be found in the arbitration-eligible ranks. Here are their arbitration projections (salary projections by MLBTR and Matt Swartz):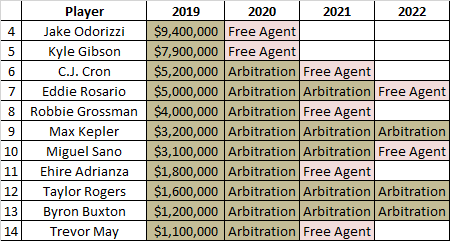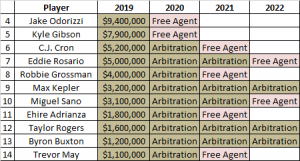 Odorizzi and Gibson both enjoyed strong 2018s on the heels of disappointing 2017 campaigns. Should either or both succeed again in early 2019, Minnesota will likely find themselves with a difficult decision to make: extend or trade. While the team should plausibly be able to fill one 2020 rotation spot between Triple-A southpaws Stephen Gonsalves and Lewis Thorpe, they will need significant depth behind Jose Berrios to contend in what could be a wide-open American League Central.
Cron was a shrewd pickup from the cost-shaving Rays and figures to replace icon Joe Mauer's production at first base for a small fraction of the financial cost. Rosario offers a similar power-first, minus-defense profile, albeit from left field. Kepler offers a solid mix of power and defense, but his on-base skills have limited his overall effectiveness to date. Improved on-base ability would propel Kepler to be a plus regular.
Speaking of plus regulars, as recently as this time last year, the Twins surely thought that they had two of them on their hands in the forms of Sano and Buxton. Despite missing 94 games between 2016-17, Sano blasted 53 Major League homers over those two years at 23 and 24. Buxton, just 22 and 23 in 2016-17, had seemingly established himself as a below-average offensive performer with loud tools who was nevertheless an impact player on the strength of elite speed and defense in center field. Then both players imploded in 2018, combining to post -0.4 WAR while Buxton spent more time at Triple-A than in the Majors (due in part, controversially, to service time concerns). Moving forward, the team will need big rebounds from both young stars.
Rogers sizzled in 2018, pitching well versus right-handed batters and positively stifling lefties to the tune of a 1.39 FIP. He figures to be an important bullpen piece in his age-28 season this year.
It seems as though it has been many years since May, a former top-100 prospect, shined in the Minnesota rotation. Alas, it was just 2015 that May pitched to a 3.25 FIP over 114 2/3 innings, emerging as a potential key piece for the Twins. Then, the injury bug derailed his career in a significant way, first via a stress fracture in his back and then with Tommy John surgery. Finally returning to Major League action on July 31, 2018, May threw 25 1/3 splendid innings while striking out nearly 13 batters per nine innings. A healthy May will be an asset at the back of the Twins' bullpen.
Finally, Grossman and Adrianza appear to be non-tender candidates.
What Does Team Leadership Have to Say?
In projecting the 2019 payroll as the 2018 season wrapped up, Pohlad acknowledged that the club possessed significant payroll flexibility but countered that "I don't know if you can ever go out in the offseason and sign a face-of-the-franchise player," following up with an acknowledgment that "everyone knows my aversion to long commitments. Most often, they do not turn out to be successful, in terms of getting your return on them." Levine seemed to admit that the Twins don't expect big-time free agents to target Minnesota as a possible landing spot, commenting that while the team planned to pursue important free agents, "whether or not they'd actually want to come here would be yet to be determined." Falvey seemingly drove the point home, arguing that "we know that free agency can be a risky place to spend a lot of time."
While the front office is seemingly willing to take on salary to improve, it doesn't look like paying top-of-the-market prices for premium talent is going to be a big part of team building in the Twin Cities this winter.
Are the Twins a Player for Bryce Harper or Manny Machado?
Given the comments from Pohlad, Levine, and Falvey, and considering the Twins' market, it's difficult to envision a scenario in which Minnesota is a finalist for either player.  Still, if management was being coy or considers one of them an exception, the Twins do currently have the payroll space to accommodate a huge salary.  A monster contract has the potential to hamstring the franchise in the future, however, making them an extreme long shot for Harper or Machado.
What Will the 2019 Payroll Be?
Unlike the Red Sox in the previous piece, the luxury tax will not be a factor for the Twins.
After seeing his club finish at 78-84 in 2018 and examining the roster in place, it's tough to imagine Pohlad sinking a significant payroll increase into this team. However, such an increase isn't required to make a couple of big additions given the dearth of committed payroll at this juncture in the offseason.
Assuming that Grossman and Adrianza are non-tendered — far from a sure thing — the Twins would enter the offseason with just $76.9 million committed to the roster, approximately 41.5 percent of which will expire at the end of the season in the form of payments for Reed, Castro, Pineda, Hughes, Santana, and Morrison ($31.95 million).
Put bluntly, while ownership and management sometimes wax poetic to the media regarding the state of their franchise, the Twins genuinely have a ton of payroll flexibility both now and into the future.
While I doubt that Levine will get north of $130 million with which to work, I could see Pohlad authorizing a payroll that is nearly on par with the one he authorized in 2018.
Projected 2019 Payroll: $125 million
Projected 2019 Payroll Space: $48.1 million