The Phillies have officially reached a long-term deal with star righty Aaron Nola. The contract, which forestalls an arbitration hearing and expands the team's control rights over its best pitcher, is said to be a four-year, $45MM deal that includes a club option.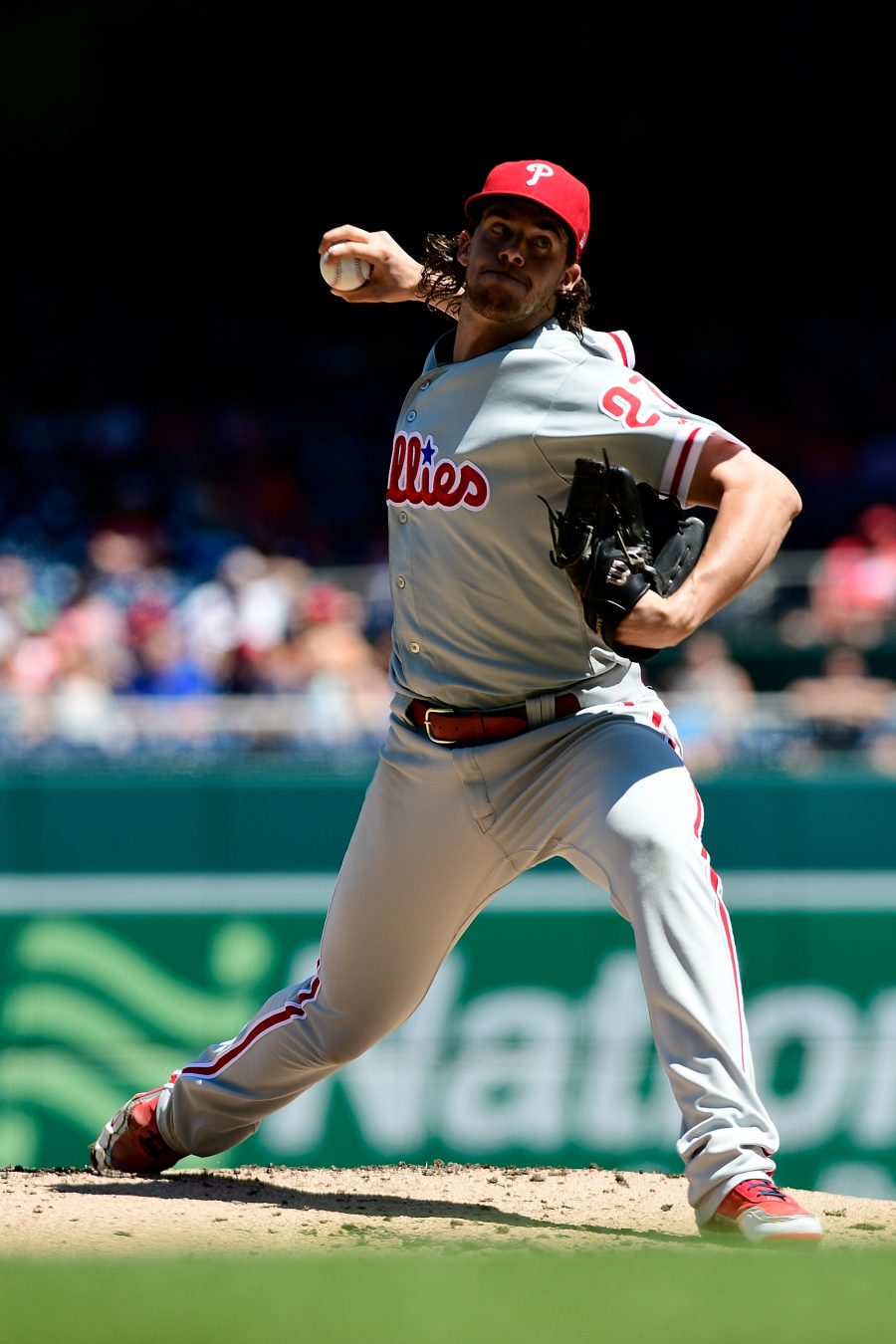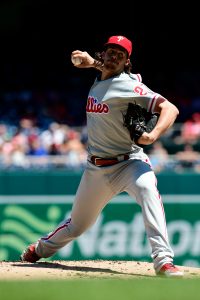 Nola, a client of Paragon Sports, will receive a $2MM signing bonus and $4MM salary for the coming season. He'll then earn successive salaries of $8MM, $11.75MM, and $15MM. The 2023 option is valued at $16MM and includes a $4.25MM buyout. Nola's 2022 salary and 2023 option value will reportedly each increase by $1MM for each Cy Young win he secures, by $500K for a second-place finish and by $250K for finishing third through fifth in Cy Young voting.
Ultimately, then, the Phillies can control five future seasons of Nola, including 2019, at a total outlay of just $56.75MM (or perhaps a bit more, depending on Cy Young finishes). Nola gives up two would-be free agent campaigns in the deal. He had been nearing a hearing to determine his first-year arbitration salary, with his side filing at $6.7MM and the club countering at $4.5MM.
Now 25, Nola originally came to the Phillies organization as the seventh overall pick of the 2014 draft. He has rewarded the club handsomely for that selection, having already thrown 569 innings of 3.35 ERA ball at the game's highest level while maintaining 9.4 K/9 and 2.5 BB/9 along with a 50.9% groundball rate.
Those shiny peripherals have been there from the outset for Nola, who has been a darling of ERA estimators ever since he took a big league mound. For his career to date, Nola is credited with a 3.24 FIP, 3.29 xFIP, and 3.48 SIERA.
In a sense, then, Nola's eye-popping 2018 season was more a continuation than a turning point. But his 212 1/3-inning effort was still clearly a coming-out party, as Nola showed he could sustain excellence over a big workload while pitching meaningful innings. His resulting 2.37 ERA would have made him a Cy Young winner in some campaigns, though he settled for a still-impressive third-place finish after Jacob deGrom and Max Scherzer both turned in monster seasons.
[RELATED: MLBTR Extension Tracker]
The obvious comp for this extension is the deal reached two years ago between the Cardinals and Carlos Martinez. That agreement included more money, but a lengthier term, for another high-quality, 25-year-old hurler who was nearing a first arbitration hearing. Martinez took home a $51MM guarantee over five years, while giving the Cards successive $17MM and $18MM options with a cumulative $1MM buyout, meaning his deal would top out at seven seasons and $85MM.
Nola's camp probably prefers his deal to Martinez's, which set a high-water mark for arb1 pitcher extensions but did give away two additional seasons of control. Still, it's a bit of a surprise to see that Nola did not break new ground in earnings, particularly since he secured a significant initial draft bonus in addition to already having one season of arb salary (nearly) in hand. Even if he ended up losing the hearing and suffering a major injury this spring, he'd profile as an easy 2020 tender candidate. The recent experience of Garrett Richards — who has thrown just 138 2/3 innings over the past three seasons and is rehabbing from Tommy John surgery, yet earned over $20MM in his final three arb years and then signed for $15.5MM in free agency — shows that teams will pay big money to hang onto the upside of top arms. Nola's downside was limited, even in the event of a catastrophic injury. In terms of upside scenarios, the tepid free agent market is perhaps a factor, but team squeamishness toward long-term deals did not prevent Patrick Corbin from landing six years and $140MM — due in no small part to the fact that he hit the open market at 29 years of age.
If the option is indeed picked up, Nola will stand to reach free agency in advance of his age-31 campaign. He'd certainly still have ample earning capacity at that point, though leaving two prospective free agent campaigns in the hands of the Phils unquestionably removes some of the highest-upside contract scenarios. Of course, chasing the biggest imaginable guarantee certainly isn't the top priority for every player, and it's not hard to see how this contract serves Nola's own interests as well — particularly since he did deal with a worrying forearm strain not long ago.
Whatever one thinks of the deal from the player's perspective, it seems to be an easy risk for the big-budget Phillies to take. The Martinez experience does show some of the downside risks at play, as his injuries would have tamped down his arb earnings and do cloud his future, though he's still a talented and youthful pitcher with ample promise. Locking up Nola comes with its own risks, but loads of upside as well.
It's notable in this case that the sides had such a wide spread in their arb filing numbers. That had set up an important hearing decision, with Nola seeking to step in not far below Dallas Keuchel's record $7.25MM salary and the Phils defending something closer to the longstanding ceiling for first-time eligible pitchers (the 2006 Dontrelle Willis salary of $4.35MM). MLBTR projected a $6.6MM salary for Nola, though the team obviously felt comfortable with its aggressively low stance and the panel would have been forced to pick one of the two filing numbers. That left plenty of risk for Nola; the $2.2MM gap, after all, would also have been reflected in his prospective arb2 and arb3 salaries.
On the team's side, though, the deal forecloses the greater earning situation. Had Nola landed the $6.7MM he asked for, and then turned in two more seasons in range of his career norms, he easily could have cleared $30MM in arbitration earnings and might well have done quite a bit more than that. deGrom's other-worldly campaign scored him a record-setting $9.6MM year-over-year raise; expecting anything on that order would be foolish, of course, but that number shows the magnitude of potential earnings.
Of greater importance than controlling Nola's arbitration earnings is the acquisition of control rights over two more seasons, his age-29 and age-30 campaigns. Had Nola hit the open market after his arb time ran out, he might well have commanded a huge and lengthy deal — with any acquiring team interested especially in capturing his remaining prime years. Doing a contract now allows the Phillies to hang onto those seasons for a relatively low price and without any need to promise Nola money well into his thirties.
Ken Rosenthal and Matt Gelb of The Athletic first reported the deal (Twitter link). Jeff Passan of ESPN.com tweeted the contract breakdown. The Athletic's Jayson Stark reported the contract's escalator clauses.
Photo courtesy of USA Today Sports Images.