This is the latest post of MLBTR's annual Offseason in Review series, in which we take stock of every team's winter dealings.
The Marlins spun off their best-remaining player and back-filled with some low-cost veterans as their rebuilding effort continues to inch forward.
Major League Signings
Trades And Claims
Notable Minor League Signings
Notable Losses
[Miami Marlins Depth Chart | Miami Marlins Payroll Outlook]
Needs Addressed
This time last year, we were looking back at a whirlwind first winter for the Derek Jeter-led Miami ownership group. It was decidedly less hectic this time around, as Jeter (the CEO), president of baseball operations Michael Hill, and their staff methodically worked through a rather limited checklist. If we're being honest, there were two items on the agenda that greatly outweighed the others in importance.
While much of the baseball-watching world was gearing up for the World Series, the Marlins were finalizing a major move on the international amateur market. The club inked Cuban brothers Victor Victor Mesa and Victor Mesa Jr. to contracts that came with a combined $6.25MM in bonuses — a relative pittance when compared to free agent spending, but a big chunk of change in relation to the hard-capped international spending pool allocation. Victor Victor, in particular, is seen as a big score for the Marlins. He's not far from the majors and is already graded in some circles as a top-100 leaguewide prospect.
Working out the numbers on the brothers Mesa meant spinning off assets to acquire additional spending capacity. Sending out young righty Ryan Lillie was certainly understandable, though it was a bit more surprising to see the Fish part with Kyle Barraclough to finish topping off the tank. Though he had a rough second half in 2018 and has always been uncomfortably walk-prone, Barraclough has a pretty lofty established ceiling and remains both cheap and youthful. The Marlins might have achieved much greater value had they waited to see if Barraclough could bounce back early in 2019, or even just explored the market further, but they obviously felt he was an expendable piece in their effort to take advantage of a rare opportunity to land a premium prospect.
Having added three Victors and two Mesas to the organizational depth chart, the Marlins turned to marketing their last holdover core player. Backstop J.T. Realmuto seemed likely to be traded last winter, when the Marlins auctioned off a trio of star outfielders (Giancarlo Stanton, Christian Yelich, and Marcell Ozuna). But he never drew an offer that suited the club. It was much the same story at the 2018 trade deadline. In the meantime, Realmuto rewarded the risk the organization took by continuing to run him out behind the plate, turning in a big .277/.340/.484 campaign with the bat and establishing himself as the game's best all-around catcher.
As it turned out, the Marlins oversaw quite an extended negotiating process for Realmuto. Suitors came and went, with a variety of big names reportedly talked about — or, at least, asked for by the Miami club — over several months. The initial packages sought by the Fish were said to be staggering, with the organization no doubt comfortable knowing it would be able to fall back on a very good offer even if it failed to land a true haul. There was no shortage of interest. By the end, nearly a third of the teams in baseball — the Dodgers, Padres, Reds, Rays, Braves, Astros, Yankees, Mets, and Nationals — had pursued Realmuto at one point or another.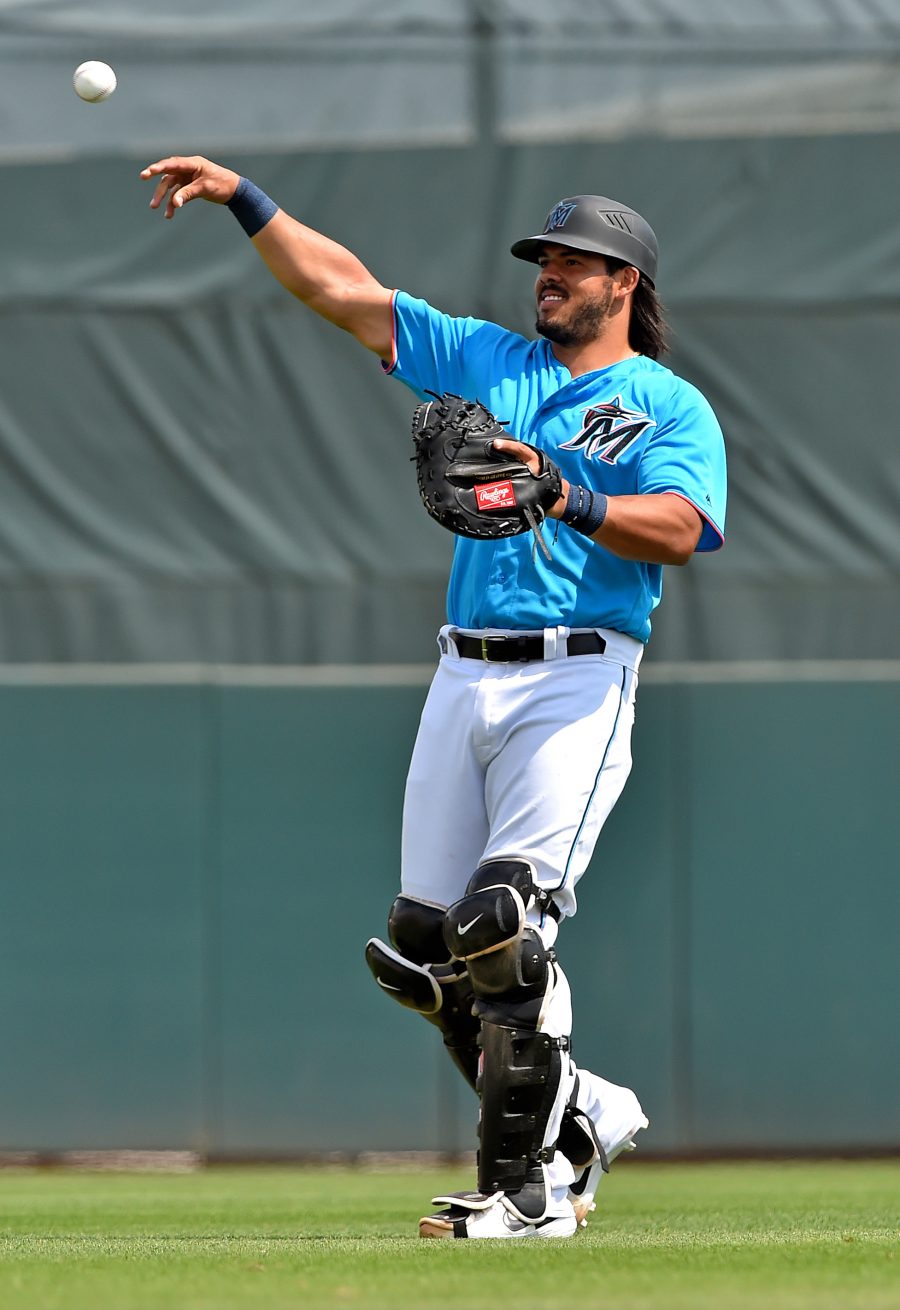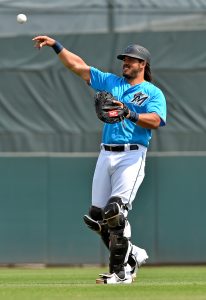 It ultimately took a compromise to get something done. Two affordable years of Realmuto's services was a significant prize, but not one that teams were willing to go wild to achieve. In early February, the Marlins landed an appealing but hardly overwhelming three-part package from the Phillies. The club secured a high-ceiling, high-risk pitching prospect in Sixto Sanchez, who by most accounts tops Victor Victor and the rest of the Miami farm as the team's top prospect, along with another solid young arm in Will Stewart. Also coming in the deal was young receiver Jorge Alfaro, who brings some upside, a decent floor, and plenty of seasons of cheap control.
Alfaro, notably, will step right into Realmuto's shoes. While his acquisition is ultimately about the future, it also solved an immediate need. The Marlins had some other holes to plug as well, with the resulting rummaging occupying most of the club's attention beyond its work on the aforementioned items. If things shake out as hoped, the club will benefit from having a few veterans around before spinning them off to contenders this summer; perhaps it'll also find a keeper or two among the younger players it brought in.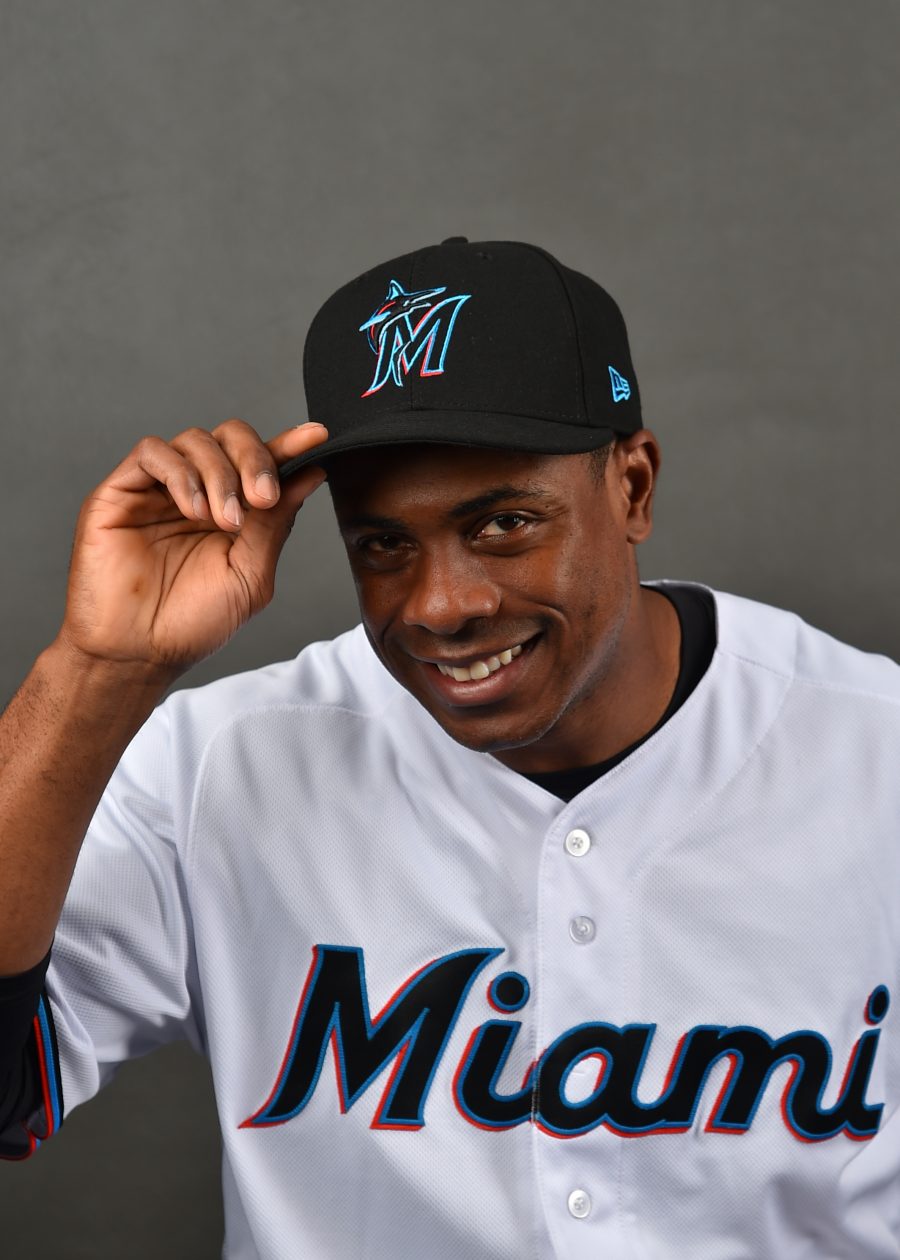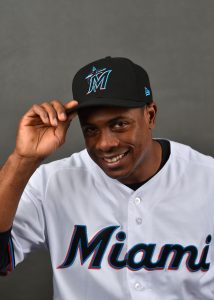 The Marlins ultimately doled out only $4.5MM in guaranteed money over the winter, though they'll likely commit some more when their Opening Day roster is announced. On the position-player side, veteran second baseman Neil Walker is expected to occupy first base in Miami. He'll reunite with former Mets teammate Curtis Granderson, who took a minors deal but will likely be added to the roster and promised $1.75MM to play a significant role in the corner outfield. The upside here is limited. Walker had his worst full season as a big leaguer last year; Granderson is days away from his 38th birthday and ought to be limited to platoon duties. But both players could easily perform up to and past the low salary levels they'll play for. Walker was a steadily above-average hitter for eight-straight campaigns before turning in a dud, while Granderson was capable of a .242/.351/.431 slash in 403 plate appearances last year.
A few other notable names were brought in on minors pacts. Pedro Alvarez has loads of MLB experience, though he's not an easy fit for a National League team. The Fish picked up a few middle-infield options — including once-highly regarded prospects Dixon Machado, Deven Marrero, and Rosell Herrera.
Likewise, the Marlins focused on ensuring sufficient bullpen depth. Veteran Sergio Romo will help anchor the pen. He still gets plenty of swings and misses and comes at an affordable rate of pay. Rule 5 pick Riley Ferrell will compete with a host of other low-risk acquisitions, including trade acquisition Nick Anderson, claimee Austin Brice, and minor-league signee Hector Noesi (who's returning from the KBO). The resulting relief mix is anything but intimidating, but it'll be a place the Marlins can try out some arms in hope of unearthing some hidden gems.
Questions Remaining
It'll come as no surprise that there are quite a few holes left on the resulting roster. The Marlins brought up the rear in the National League last year and seem all but assured of doing so once again, particularly with the remainder of the eastern division made up of organizations that have set about improving their rosters this winter. Under such circumstances, the questions aren't really about the resulting record — it won't be pretty — so much as the potential for mid-season deals and the development of young talent.
We haven't yet touched upon the rotation, and that's because the Marlins didn't do so all winter long. Dan Straily seemed a potential trade piece but hasn't drawn enough interest for the Fish to justify parting with his useful, reasonably affordable innings. That could change by the end of July. Now that he's into his arbitration years, Jose Urena is also a fairly plausible trade chip. The hard-throwing 27-year-old has outperformed his peripherals over the past two seasons, turning in a 3.90 cumulative ERA. The club would surely love to dump some of the money still owed to Wei-Yin Chen, but that'll require a major turnaround. Otherwise, the Marlins will simply be focused on bringing along some younger arms. Trevor Richards, Caleb Smith, and Pablo Lopez are at the top of the depth chart entering camp, with Sandy Alcantara and Jeff Brigham among those who could factor throughout the season.
As already noted, the relief unit figures to be more of a proving ground than a well-oiled machine. Closer Drew Steckenrider could be a trade candidate if he throws well; he's still two years away from arbitration but is already 28 years old. It's not tough to guess that Romo will be watched by rival scouts from the start of the season, with lefty Adam Conley also getting a look after his bounceback 2018. Those two hurlers are the only two members of the relief staff who have surpassed two years of MLB service. Unless Noesi sneaks into the pen, Romo will enter the season with more time on his service clock than all his bullpen mates combined.
There's quite a lot of room for churn on the position-player side of the roster as well. Up the middle, Alfaro will get a long run. Second bagger Starlin Castro has been a walking trade candidate since he landed in Miami but hasn't piqued much interest. It's possible he'll be moved this summer; otherwise, the team will surely buy him out at season's end rather than picking up a club option. At this point, he's keeping the seat warm for Isan Diaz. Shortstop was obviously an area targeted for some competition. Machado and Merrero will push JT Riddle and Miguel Castro in the hopes that one or more of these players finds an extra gear.
In center field, the team will presumably let Lewis Brinson try to sort things out. Brinson can still be optioned down to work out the kinks, though he has already shown he can produce at Triple-A. Prospects Monte Harrison and Magneuris Sierra already have 40-man spots and could get looks of their own if Brinson can't improve upon a ghastly 2018 showing.
Any of those players could also end up seeing time in the corner outfield as well. To open the season, though, right-handed hitters Peter O'Brien, Garrett Cooper, and Austin Dean are all in the mix to handle things in conjunction with the left-handed-hitting Granderson. Brian Anderson had lined up at times in the outfield last year but is slated to play third base in 2019. The job there is his so long as he can manage anything approaching his strong rookie campaign. Otherwise, Martin Prado will play out his contract in a utility capacity, if he can stay on the field after two lost seasons.
2019 Season Outlook
While the American League is full of rebuilding clubs, the Marlins are the only N.L. outfit that is completely committed to a future-oriented approach. That doesn't bode well for their win-loss record in 2019, but does mean they can likely look forward to excellent draft position in the summer of 2020. With the team's key trade pieces already moved, the season to come will be all about developing and identifying potential core pieces for the Marlins' first contender of the Jeter era.
How would you grade the Marlins' offseason moves?  (Link for app users.)
Photos courtesy of USA Today Sports Images.