This is the latest entry in MLBTR's 2017-18 Offseason In Review series.  Click here to read the other completed reviews from around the league.
It's a new era in Miami, but there are sure to be growing pains after a winter of upheaval.
Major League Signings
Trades And Claims
Options
Notable Minor League Signings
Notable Losses
Marlins 25-Man Roster & Minor League Depth Chart; Marlins Payroll Overview
Needs Addressed
The sale of the Marlins to a group led by control person Bruce Sherman was not formally consummated until the end of the 2017 season, so the ensuing winter represented the launching of an entire new era in Marlins baseball. Though the Fish retained baseball operations president Michael Hill and skipper Don Mattingly, the entire organization is now marching to the beat of rookie CEO Derek Jeter.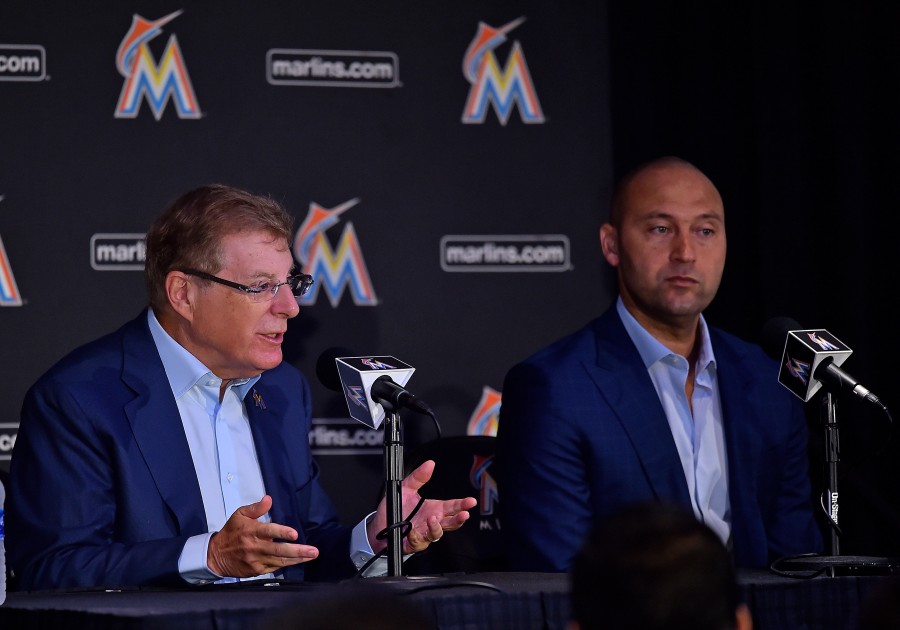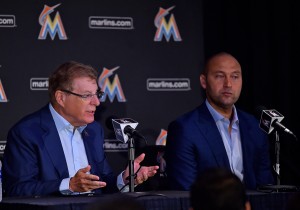 Even as Jeter launched a series of new initiatives on the business side, he and Hill oversaw a major sell-off of MLB assets. That decision drew plenty of indignation, to be sure, but certainly was understandable in many ways. Miami had finished the prior season with just 77 wins and was clearly a few good arms away from being a plausible challenger in a top-loaded National League. The new ownership group's business plan, meanwhile, required a significant drop in payroll. Skeptics would point out that the spending cut  was necessitated by the hefty purchase price, which chiefly benefited much-reviled former owner Jeffrey Loria.
No matter one's perspective, the bottom line was plain as could be: the Marlins had to strike multiple trades involving key veterans. With no prospect of saving money on a slate of underperforming contracts to players such as Wei-Yin Chen, Martin Prado, Edinson Volquez, Brad Ziegler, and Junichi Tazawa, attention turned to a superstar slate of outfielders that made up the core of the team.
The focus, from the get-go, was on superhuman slugger — and reigning NL MVP — Giancarlo Stanton. But the first outfielder the Marlins traded didn't even play that position in Miami. Second bagger Dee Gordon was shipped to the Mariners to become their new center fielder. As had been expected, Gordon's fairly significant contract did not allow the Marlins to reap a significant haul in talent.
While not a pure salary dump, the Gordon trade made it clear beyond any question that the team was open for business and ready to move dollars. A steady progression of trade talks ensued.
The Stanton sweepstakes occupied headlines for the first portion of the offseason — so much so that (at the time, at least) many believed his ongoing availability was slowing the rest of the winter business. A no-trade clause left significant power in Stanton's court and surely didn't make things easy for Hill. He had lined up deals with the Giants and Cardinals, but meetings between Stanton and those organizations did not facilitate swaps. The Yankees stepped into that void, sending Starlin Castro to fill in for Gordon and help offset a portion of Stanton's monster contract. While the two prospects in the deal aren't household names, they're considered intriguing talents and are certainly known well to Marlins exec Gary Denbo, who came over from the Yankees only months earlier as Jeter's hand-picked addition to the baseball ops department.
It came as little surprise when, a few days later, the Fish wound up completing a deal with the Cards. Having already talked over quite a few prospects, the teams quickly came together on Marcell Ozuna, who isn't Stanton's equal as a player but had a breakout 2017 season and appealing contract situation. With two years of arbitration left, it was clear he'd have to be cashed in now.
It's no accident that those three players went first. The Marlins' methodical march down the line was designed to bring some order to the process of auctioning players. It started with those who most clearly needed to be moved to get the salary back in line.
The remainder of the team's trade chips, though, were not in such black-and-white circumstances. As the calendar flipped to 2018, there were still quite a few trade candidates — some of whom expressed their consternation with the team's direction publicly. Eventually, in one last major move, the Marlins completed the dismantling of their once-great outfield by sending Christian Yelich to the Brewers — a deal we'll cover in full below.
The above-described trades, which delivered Castro and a variety of young outfielders at or near major-league readiness, filled some of the gaps they created. Otherwise, Miami has utilized the means familiar to all rebuilding teams to fill out its roster.
The Marlins have thus far completed just one MLB signing, a modest one-year pact with veteran outfielder Cameron Maybin. Given the payroll plan, it's not surprising that the organization has not been interested in spending on one-year veterans who could prop things up and turn into trade chips. Other than Maybin, the Fish have been content competing jobs among untested rookies and the players who were added through low-risk means over the offseason. As things stand, the Opening Day roster could conceivably include three or four position players who were picked up in minor trades or on minor-league deals, especially with infielders Martin Prado and J.T. Riddle both nursing injuries.
Questions Remaining
Frankly, the Marlins' future likely won't be impacted much by the final roster decisions they make coming out of camp. Even if they perform, players like Scott Van Slyke and Jacob Turner are unlikely to be around for very long. At the same time, they won't be allowed to stand in the way of the development of young talent (or, perhaps, the opportunity to pick up any interesting players who shake loose from other organizations late in camp). We'll focus here, then, on the longer-term matters that will be impacted by the season to come.
Drastic though the changes have been, the cuts could've gone deeper. And they may yet. It's still a bit surprising that catcher J.T. Realmuto has not been traded with just three years of control remaining (particularly after he requested he be dealt). If he continues to perform, he could be a hotly pursued talent at the trade deadline or next winter. Likewise, righty Dan Straily is a solid and affordable rotation piece who could make quite a lot of sense for other organizations. And though his contract is an obstacle, Castro is a productive and still-youthful player. The latter two players are also both controlled for three campaigns.
True, dealing either of those players would mean opening a rather significant hole on the roster. At the right price, though, the Marlins have to be willing to make a move. Odds are, after all, that the rebuilding process will still be ongoing as these three quality performers are nearing the open market.
Those aren't the only trade candidates whose performances will be watched in 2018. First baseman Justin Bour could hold appeal, though there's also not much reason to think demand will be robust given the collapse of the market for similar sluggers. Brad Ziegler will function as the closer in Miami and will be a clear trade candidate if he can engineer a bounceback campaign. Reliever Junichi Tazawa is also seeking to make good in the second year of his free-agent deal. Veteran infielder Martin Prado and lefty Wei-Yin Chen are owed far more than their market value at present, though perhaps the Fish could save some future salary obligations if things break right.
Of course, money isn't the only factor in the rebuild. The young talent brought back in the team's various winter swaps will also be looked upon to develop a new core that can generate fan excitement and ultimately spur a return to contention. In some cases, perhaps, the organization will be able to see the future right from the get-go. Righty Sandy Alcantara and outfielder Magneuris Sierra, both acquired in the Ozuna deal, could well contribute in 2018. But most eyes will be on the players recouped in the club's most interesting winter trade …
Deal of Note
Sure, the Stanton deal created the most intrigue. But it was nearly inevitable that his huge contract would be moved when the organization determined it couldn't support a payroll increase to build around the existing core. Failed signings that had been intended to build around the team's three exciting young outfielders largely sealed the fate of Stanton and Ozuna.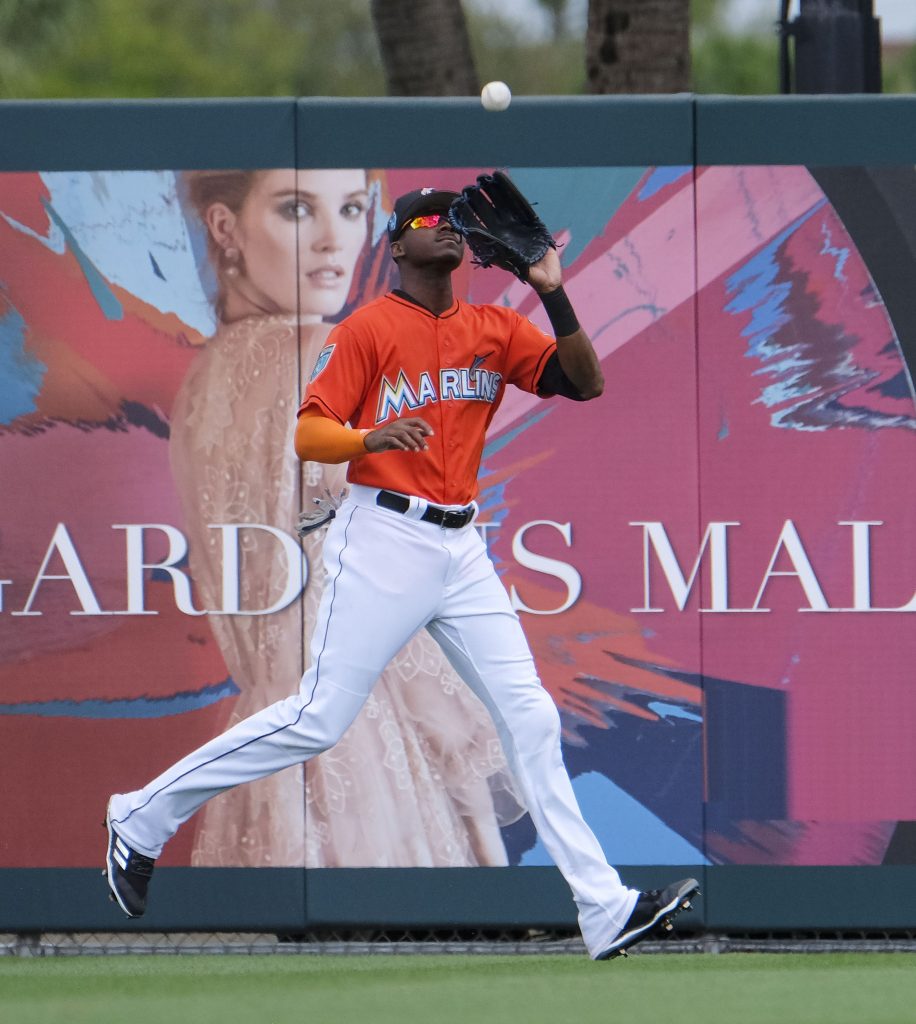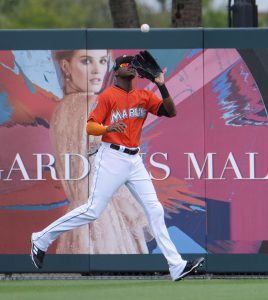 But Yelich's situation was somewhat different. Unlike Ozuna, he accepted an early-career extension. And it worked out swimmingly. The 26-year-old Yelich has been steadily productive and has even shown some promise of improving further. And the price, of course, is quite appealing — so much so that he did not necessarily have to be traded. Yelich is owed just $7MM for the coming season, with future salaries that never top $15MM through 2022 (the last year via option).
Those same factors also made Yelich plenty marketable, though, and the Marlins were obviously able to generate enough interest to pull the trigger on a move. Giving up five affordable seasons of a quality young regular is a tough thing to do. This trade, more than the others, has the potential to sting if the players acquired don't live up to expectations.
The Marlins no doubt hope that Lewis Brinson will be an exciting, high-value performer right out of the gates. He's likely to step right into Yelich's shoes in center. After all, Brinson has nothing more to prove at Triple-A and has enjoyed a productive spring thus far. While he's expected to be a productive defender, though, there are divergent views on his likely outcome as a hitter, so there's still some risk here.
If the Fish really hit it big, they'll end up with two new outfielders out of this deal, as they were also able to pry Monte Harrison from the Brewers. The 22-year-old ripped up High-A pitching last year and may not be too far from the big leagues if he can show similarly in the upper minors. Like Brinson, Harrison has tools aplenty, though he has more developmental hurdles still left to clear.
Both of the other players acquired in this deal, infielder Isan Diaz and righty Jordan Yamamoto, are graded among the Marlins' top 25 or so prospects. They're joined by a host of other players who came to the organization in this winter's trading frenzy.
Overview
By and large, the coming season will be focused on development and weighing transactional opportunities — including both trades of existing veterans and perhaps also keeping an eye out for talented players who can be had for a low acquisition cost from other teams. The Marlins will be evaluating players such as Brian Anderson, J.T. Riddle, and Justin Nicolino, in addition to some of those listed above, while hoping that righty Jose Urena can show that his solid 2017 results weren't a fluke.
While the new ownership group has already taken the brunt of fan frustration over the selloff, though, that doesn't mean it's time to coast. The baseball ops department still has some very tough potential decisions ahead of it on talented and popular players.
How would you grade the Marlins' efforts this winter? (Link for app users.)
Photos courtesy of USA Today Sports Images.