TODAY, 1:43pm: Bob Nightengale of USA Today adds (via Twitter) that Sale's vesting option for 2025 will be exercised if Sale earns a top-10 finish in AL Cy Young voting in 2024 and does not finish the year on the IL.
SATURDAY, 8:12am: The Red Sox have officially announced Sale's new contract.
FRIDAY, 9:01pm: Sale has passed his physical, Rosenthal tweets, so all that remains is for the contract to be announced. Sale will earn $30MM in each of the first three seasons of the deal, after which time he has the right to opt out of the remaining two seasons. Those campaigns are valued at $27.5MM, meaning Sale will be deciding on two years and $55MM versus a trip onto the open market.
There's further upside in the deal as well, ESPN.com's Jeff Passan reports (Twitter links). It includes a vesting option at a floating value (minimum $20MM) based upon games started. There are also Cy Young-based escalators in years 2021-24 and in the option year. Sale receives full no-trade protection beginning in the middle of the 2020 season.
There are competing reports on the accounting of the deal. Rosenthal and others say the deal will wrap in Sale's preexisting 2019 salary, creating a readjustment of his luxury tax hit for the present season (and pushing the team into the highest level of penalties). That's not the case, though, per Speier (Twitter link). He reports that the Boston organization will elect to keep the '19 season separate, which will avoid immediate tax entanglements but increase the luxury tax hit over the new years of the deal, potentially leading to future luxury obligations.
2:30pm: The Red Sox and ace Chris Sale are closing in on a contract extension, as first reported by Alex Speier of the Boston Globe. Sale, a client of Jet Sports Management, will receive $145MM over five seasons (2020-24) if he passes a physical, Ken Rosenthal of The Athletic reports (Twitter links).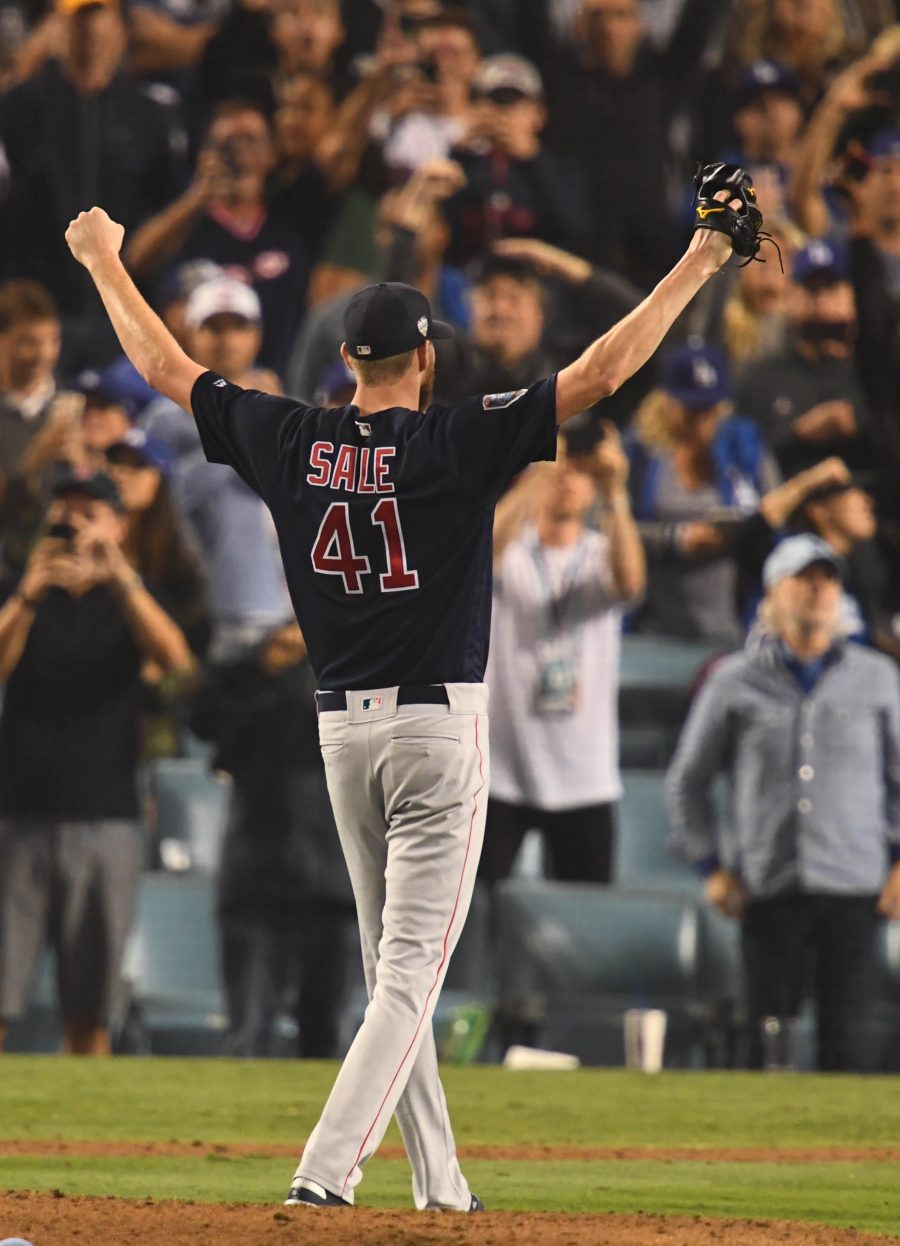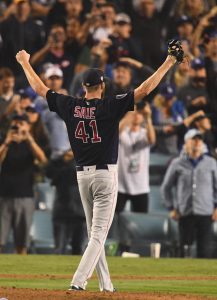 Earlier this spring, both Sale and the Red Sox expressed mutual interest in working out a long-term arrangement that'd keep the left-hander, who is slated to become a free agent at season's end, in Boston for the long term. MLBTR's Jeff Todd recently broke down several possible scenarios when exploring what a Sale extension would cost the Sox.
Sale, 30 next week, has been among the game's elite starters since moving to the rotation with the White Sox back in 2012. He's made seven consecutive All-Star teams and registered six consecutive Top-5 finishes in American League Cy Young voting, though he's somewhat incredibly never taken home a Cy Young trophy himself.
Since being traded to Boston in the 2016 blockbuster that sent Yoan Moncada, Michael Kopech, Luis Alexander Basabe and Victor Diaz to Chicago, Sale has pitched to a brilliant 2.56 ERA while averaging 13.2 strikeouts and just 1.9 walks per nine innings pitched. That level of K/BB excellence is nothing new for Sale, who holds the all-time Major League records for both K/9 (10.88) and K/BB ratio (5.31) among pitchers with at least 1000 innings pitched.
Any extension for Sale would begin in his age-31 season — he'll pitch the 2019 season at age 30 — and figures to come with as much as a 100 percent increase over this year's $15MM salary. The length of the contract was surely a sticking point in negotiations between Sale and the Sox, given last season's shoulder troubles that limited him to 158 regular-season innings. Beyond that, his age likely gives Boston some degree of pause, as teams have become increasingly reluctant to guarantee players — particularly pitchers — significant salaries into their late 30s.
The luxury tax also undoubtedly plays a factor in negotiations, as the Red Sox' payroll currently carries about $240.8MM in annual values that count against the tax ledger (as MLBTR recently examined when highlighting the unlikelihood of a Craig Kimbrel reunion). Should the Sox cross the $246MM threshold, they'd move into the top bracket of luxury penalization, which would include a 75 percent tax on any dollars spent beyond that point and would also cause their top pick in the 2020 draft to be pushed back by 10 spots, though for the Sox, keeping Sale from testing the open market looks to have been deemed worth of incurring that level of penalization.
It's still possible that the Sox manage to lessen the luxury hit, though; Boston is reportedly shopping catcher Sandy Leon and his $2.475MM salary, and trimming that off the books would lighten the sting in terms of luxury payments on a new contract for Sale. A theoretical $30MM annual value for Sale would effectively take his luxury hit from $15MM (his current one-year salary, as options are treated in the CBA) to $27.5MM (the five-year, $150MM term plus this year's $15MM salary divided over a six-year span). That $12.5MM increase currently stands to put the Red Sox about $6.5MM over the top luxury line, so shedding Leon's contract could ultimately leave Boston's luxury commitments at about $250-251MM. That's still a huge penalty, but they'd only be paying the 75 percent tax on about $4-5MM of expenditures in that scenario.
Sale is far from the lone key Red Sox player who is (or was) slated to hit the open market following the 2019 season, but given the luxury implications another extension would present, he may be the only one to sign a long-term deal. Shortstop Xander Bogaerts and right-hander Rick Porcello are also free agents following the 2019 campaign, while designated hitter J.D. Martinez has the ability to opt out of the remaining three years and $62.5MM on his contract. Looking further down the line, reigning AL MVP Mookie Betts will become a free agent following the 2020 season, though Betts flatly stated this week that he doesn't expect to sign an extension before free agency.
In the now likely event that a Sale extension is finalized, it would mark the 17th contract extension signed by a player this spring alone, including the sixth by a would-be free agent and the fifth worth greater than $100MM in total guarantees (as shown in MLBTR's Extension Tracker). Players throughout the league have become frustrated with the slow pace of free agency and the lack of spending outside of the very top tiers of the free-agent market. Rather than test what has become a largely stagnant market, many players are simply opting into long-term arrangements with their current club, thus forgoing the stress and oft-disappointing outcomes free agency has presented over the past two years.