The Angels are off to a 29-31 start two-plus months into the season, but the Halos' unimposing 60-game record isn't the fault of their offense. The team's Mike Trout-led attack ranks sixth in the majors in wRC+ (108) and 12th in runs (301), in part because it seldom strikes out. No team is running a lower K percentage (16.3) or a higher contact rate (82.9) than the Angels, though their ringleader isn't Trout in either regard. Sure, Trout's well above average in both categories (what else is new?), but it's teammate David Fletcher who reigns as the Angels' low-strikeout, high-contact king.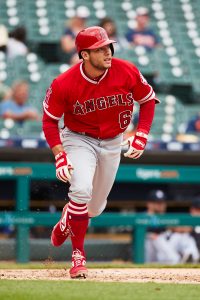 The 25-year-old Fletcher earned his first league promotion just under a year ago (on June 12, 2018), though he certainly wasn't seen as a can't-miss prospect at the time. But the infielder/outfielder hasn't missed, literally or figuratively, in his first 12 months in the majors. In fact, Fletcher has already racked up 4.0 fWAR in 530 major league plate appearances. Since Fletcher's first game last June 13, only three second basemen (Javier Baez, Whit Merrifield and Ketel Marte) have outdone him in the fWAR department. While a large portion of Fletcher's 2018 value came from his defense, which has remained a strength this season, he's now making the majority of his hay with his right-handed swing.
Fletcher has walked to the plate 223 times this season and recorded a .322/.377/.459 line, good for an impressive 128 wRC+. He's not doing it with plus power, having swatted four home runs and logged a below-average .137 ISO. Fletcher's also not reaching base nearly 38 percent of the time because of a special ability to draw walks; thus far, he has collected a free pass at a roughly average rate (8.1 percent).
Instead, Fletcher's getting by on the fact that pitchers just can't fool him. Fletcher's ability to make contact is extraordinary. He sits first in all of Major League Baseball in strikeout rate (5.8 percent), swinging-strike rate (1.9 percent), contact rate (94.6 percent), zone contact rate (98.5) and out-of-zone contact rate (88.1). And Fletcher is rather selective, ranking second to Trout in swing rate (34.9 percent). In essence, when Fletcher actually does swing, he hits everything thrown at him. What's more, he adds to hurlers' stress by seldom going after pitches that aren't over the plate. While Fletcher's chase percentage (24.2) isn't elite, it still puts him in a 25th-place tie in the sport.
The skills Fletcher's demonstrating in the majors aren't anything new. Fletcher previously showed off tremendous contact ability in the minors, including when he hit .350/.394/.559 with a 7.6 percent strikeout rate in 275 Triple-A plate appearances last year. The question is whether he can continue to offer production along his current lines as he moves forward. Signs are encouraging in that regard.
Fletcher's .330 batting average on balls in play isn't ridiculous, especially for someone with better-than-average speed and one of the league's lowest fly ball rates. For the most part, delving into Statcast metrics leads to more positives for Fletcher. Although his exit velocity and hard-hit rate each rank in the league's bottom 7 percentile (or worse), his expected batting average and expected weighted on-base average are near the top. Fletcher's xBA (.334) is third in baseball, trailing only superstars Cody Bellinger and Anthony Rendon. Meanwhile, Fletcher's .363 xwOBA is actually a hair better than his real wOBA (.361).
Four years after the Angels used a sixth-round pick on Fletcher in 2015, it appears the club has something in the 5-foot-9 Southern California native. In a league where balls in play are dropping and home runs and strikeouts are soaring, Fletcher's on the other extreme. He's a unique and effective player who just might be in the early stages of becoming a long-term staple in Anaheim.
Photo courtesy of USA Today Sports Images.