Just because you get a nice price doesn't mean you oughta buy something. And it doesn't mean that the thing you purchase will deliver utility commensurate with its cost.
That's true for MLB teams considering free agents as much as online shoppers contemplating another splurge … except that ballclubs face a notable limitation in the form of roster rules. Teams can't necessarily have that super-functional fanny pack and a designer handbag, at least without giving up some other much-needed accessory.
In baseball, especially, the gold standard isn't cost-efficiency standing alone. It's getting (at least) good value for a premium asset that fulfills a need.
Every so often, teams more or less luck into supreme value. The Tigers deserve credit for re-discovering J.D. Martinez, to be sure, but that's also just an extremely good outcome on the sort of dice rolls that happen every winter on marginal roster pieces.
Even more rare is the sort of opportunity that arose last winter for the Brewers: a chance to pick up an already-acknowledged premium player at a position of need for an extremely appealing price in free agency. Entering the winter, we predicted Yasmani Grandal would command $64MM over four years — a set of numbers that would've been higher had it not been for his stunning issues in the postseason. Instead, the Brewers picked up Grandal's age-30 season for a measly $18.25MM. (Some of that is deferred as the buyout on a mutual option, but there's no realistic shot of that being exercised.)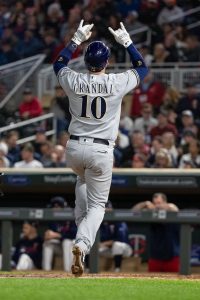 That deal seemed like an exceptional value proposition for the Milwaukee club at the moment it was struck. Before the signing, the club was slated to go with Manny Pina and Erik Kratz. Sure, they only got one year, but that was an opportunity to add a nice chunk of his prime without taking on any long-term risk. There really isn't even a premium on the cost versus the scenario we proposed; on any lengthy free-agent deal, a team reasonably anticipates much of the on-field to come on the front end.
It's somewhat anticlimactic to say that … well, the deal is working out exactly as it was drawn up. He's doing just what he has done before, and then some. Grandal is drawing a lot of walks while striking out at a palatable level and hitting for good power. With his hard-hit rate up early, Grandal is also maintaining a higher BABIP (.310) and batting average (.277) than usual.
The result on offense is a 133 wRC+. Grandal is on pace to set a personal-high in the long ball department, in no small part because he's being run out in the lineup on a near-everyday basis. Since they aren't obligated to him for the future, the Brewers don't need to worry too much about long-term wear and tear. Of course, Grandal is also a strong defender. He continues to grade as a premium pitch framer. And he's even running a little, having matched his single-season career-high with three stolen bases. Fangraphs' BsR measure has long loathed Grandal's work on the bases, but now views him as a neutral overall runner.
Grandal is well on his way to matching or exceeding the roughly 5 WAR annual level of play he sustained with the Dodgers. Getting that sort of player for a one-year deal at the qualifying offer price is kind of hard to believe. What even happened?
It certainly took somewhat unique circumstances for this deal to come together. Grandal turned down a substantial, multi-year offer that wasn't to his liking. He also decided not to wait out a bigger contract at all costs, though waiting until early/mid-January to sign wasn't exactly rushing into a deal. Even on a one-year scenario, this deal seemed like it came in cheap; the Braves spent $23MM in hopes of a bounceback year from an older player with a more significant injury history (but also more upside) in Josh Donaldson.
It's fair to note that things are working out thus far for Grandal as well. He obviously preferred this approach. He ought to have every chance of securing a larger and longer contract if he so desires this winter.
Still, this contract was a fantasy scenario for the Brewers when the offseason started. And so far, the reality has exceeded the dream.
Photo courtesy of USA Today Sports Images.