The Marlins have been roundly criticized for trades in recent years, deals that have come thanks in part to a desire to cut payroll. Outfielders Christian Yelich, Giancarlo Stanton and Marcell Ozuna, second baseman Dee Gordon and catcher J.T. Realmuto are all prominent players the rebuilding Marlins, stuck in a soon-to-be 16-year playoff drought, have traded away since the end of the 2017 season.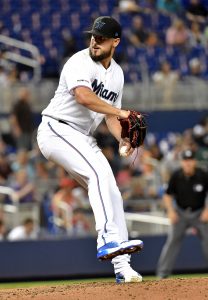 While the Marlins' decisions since co-owner Derek Jeter took the reins in 2017 haven't come without protests, at least one of the trades they've made under him is paying significant dividends at the MLB level.
In November '17, a few months after the former Yankees shortstop took the Marlins' reins, his new team seemingly took advantage of his previous franchise. Miami acquired left-hander Caleb Smith and first baseman/outfielder Garrett Cooper from New York for right-handed pitching prospect Mike King and $250K in international bonus pool money. The Yankees did so in part in an effort to pad their offer to then-free agent Shohei Ohtani, but he ultimately signed with the Angels.
Now, with the World Series-contending Yankees on the hunt for another credible starter, the current version of Smith would fit into their rotation. But Smith, now 27, didn't get much of a chance with the Bombers. A 14th-round pick of the Yankees in 2013, Smith reached the majors for the first time in 2017 – the season before the trade – and struggled over 18 2/3 innings. Since then, though, Smith has performed like a legitimate major league rotation piece for the Marlins. Dating back to 2018, he has pitched to a 3.83 ERA/4.09 FIP with 10.67 K/9 against 3.33 BB/9, albeit with an awful 28.7 percent groundball rate, in 143 1/3 innings. Among starters who have thrown at least 140 frames since last year, Smith ranks 15th in strikeout rate.
Although Smith has been on the injured list since June 7 with a hip problem, teams still figure to approach the Marlins with interest in him going into the July 31 trade deadline. However, the Marlins don't seem willing to trade Smith, who won't be eligible for arbitration until after 2020 or free agency until the conclusion of the 2023 campaign.
The Marlins may have stumbled on a long-term piece in Smith. The same holds true for Cooper, who comes with the same amount of control as Smith. Cooper, a sixth-rounder of the Brewers in 2013, went to the Yankees in July 2017 in a deal for now-Cardinals reliever Tyler Webb. Cooper didn't look like much more than the potential right-handed side of a first base platoon at the time, and injuries limited him to fewer than 100 plate appearances between the majors and minors last season. This year, though, Cooper's taking advantage of his chance on a woeful Miami team.
Although the Marlins rank second to last in the majors in runs, their problems haven't been Cooper's fault. The 28-year-old has easily been their best hitter, in fact. He's off to a .317/.383/.488 start (134 wRC+) with seven home runs across 183 plate appearances in his first extensive major league experience. Whether Cooper can keep it up is the question.
The bad: Cooper's .388 batting average on balls in play is nowhere near sustainable, nor will 35 percent of his fly balls keep leaving the yard. Likewise, it's concerning that Cooper's hitting ground balls upward of 55 percent of the time, especially considering he's hardly a speed demon. His 16.3 percent fly ball rate ranks last among hitters who have totaled 180-plus PA this year. That isn't necessarily a death knell to his production, granted, as the great Ohtani ranks just two spots better. Cooper's also having immense difficulty against left-handed pitchers, oddly enough. While he has smacked righties to the tune of a .400 wOBA, southpaws have held him to a .298 mark.
In more encouraging news, Cooper's strikeout, walk and contact rates are all hovering around average. Better still, Statcast indicates Cooper's expected slugging percentage (73rd percentile), hard-hit percentage (75th percentile), expected weighted on-base average (83rd percentile) and expected batting average (95th percentile) are all good to exemplary. His .371 xwOBA is essentially right in line with a .376 wOBA that ties him with Max Kepler and Yoan Moncada. All of that suggests Cooper will keep making an impact so long as he continues making contact.
At 32-50, this hasn't been a victory-laden season for the Marlins, but you take the wins where you can. And it looks as if the team prevailed on its end of this trade with the Yankees, a club so loaded that they can get away with letting go of useful contributors without getting a lot back. The Marlins aren't as fortunate, but it seems they landed a pair of quality pieces in Smith and Cooper.
Photo courtesy of USA Today Sports Images.