This has been anything but a productive season for the Blue Jays' outfield, which ranks at the absolute bottom of the majors in fWAR (minus-1.0) and second last in wRC+ (75). Center fielder Randal Grichuk has fallen well short of expectations after signing a five-year, $52MM extension in early April, while neither corner outfielders Teoscar Hernandez nor Billy McKinney have come close to replicating above-average offensive showings from 2018. But Toronto's outfield does have a saving grace in Lourdes Gurriel Jr., who – two-plus years after joining the franchise – is now delivering on the considerable hype he garnered as a prospect.
Gurriel signed with the Blue Jays out of Cuba in November 2016, ending a months-long derby in free agency which saw several teams court him. He ultimately accepted a seven-year, $22MM offer from the Blue Jays, who hardly broke the bank for his services. Had Gurriel failed in Toronto, it wouldn't have done much damage to the team's books. Had he succeeded, on the other hand, Toronto would have had a steal on its hands. It now looks like a case of the latter.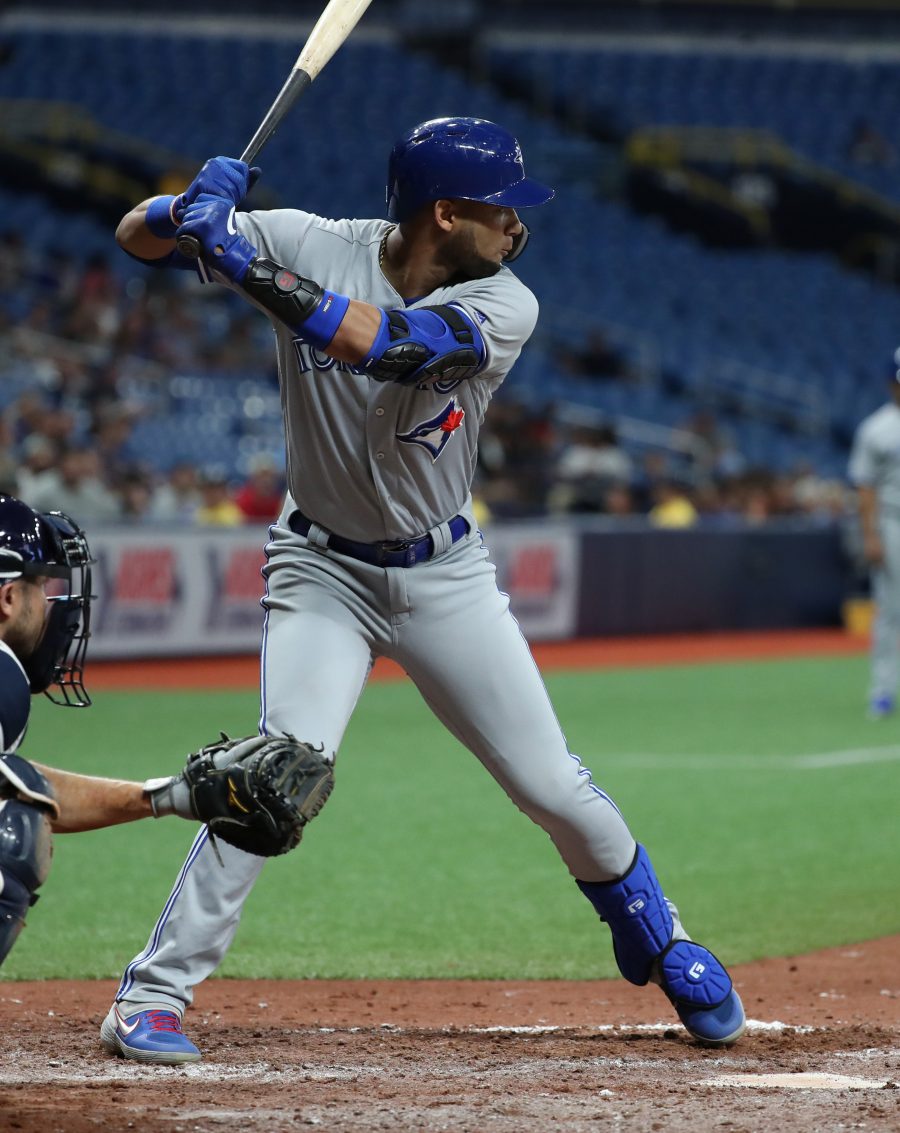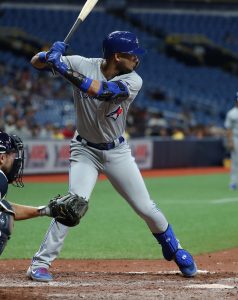 Gurriel debuted with the Blue Jays last year and showed off legitimate offensive promise, slashing .281/.309/.446 (103 wRC+) with 11 home runs in 263 plate appearances. He did amass 59 strikeouts against just nine walks, though, while drawing atrocious defensive grades in the middle infield. Gurriel totaled minus-12 Defensive Runs Saved and a minus-7.0 Ultimate Zone Rating in almost 550 innings divided between shortstop and second base.
Despite his infield woes a year ago, Gurriel opened 2019 as Toronto's top option at second base. It didn't last long, though. The team optioned Gurriel to Triple-A Buffalo in mid-April, in part because he wasn't doing much at the plate, but has reaped the rewards since then.
The Blue Jays had Gurriel work in the grass during his minor league demotion and now appear to have an outfield cornerstone in their midst. When the Blue Jays sent the 25-year-old down, he owned a meager .175/.250/.275 line in 29 at-bats. Two and a half months later, he has teed off on major league pitching to the tune of a .318/.366/.642 line with 14 home runs in 191 plate appearances. Among major league hitters who have accrued at least 190 trips to the plate, Gurriel's 163 wRC+ ranks seventh. On the other side, both DRS and UZR have graded him as a scratch defender in left field since he returned from Buffalo.
To this point, the athletic Gurriel seems cut out for his new position, but how sustainable is his offensive outburst? Well, his 25.1 percent strikeout rate and 6.3 percent walk rate aren't particularly promising, and he sports a .365 batting average on balls in play that won't hold. He's also making far less contact and swinging and missing more than he did a year ago. That said, encouraging signs abound. Gurriel may not be making as much contact as he did in 2018, but his hard-hit rate has risen almost 14 percent since then, according to FanGraphs. A drastic increase in fly ball rate, a four-degree rise in launch angle and a noticeable drop in grounders further help explain his power uptick.
Gurriel's current weighted on-base average, .413, ranks in the top 4 percent of the majors, per Statcast. That's probably not sustainable, though other indicators show Toronto has a real building block on its hands. The right-handed Gurriel ranks closer to the top of the league than the bottom in expected batting average (61st percentile), average exit velocity (65th percentile), expected wOBA (75th percentile), hard-hit percentage (87th percentage) and expected slugging percentage (93rd percentile). Gurriel's .361 xwOBA sandwiches him between the likes of Charlie Blackmon and Francisco Lindor, among a slew of other familiar names. It helps that Gurriel hasn't been vulnerable against lefty or right pitchers, whom he has crushed to varying degrees, or particular offerings. Gurriel has posted an xwOBA ranging between .356 and .477 against fastballs, breaking balls and offspeed pitches, says Statcast.
Back when Toronto signed Gurriel, the hope for the team was that he'd evolve into an indispensable piece of its infield. It now looks as though he's turning into an integral part of the Blue Jays' outfield, which no doubt stands as a major victory – especially with young second baseman Cavan Biggio and shortstop prospect Bo Bichette in the mix. With Gurriel, Biggio, Bichette and budding third base star Vladimir Guerrero Jr. in line to comprise almost half of Toronto's attack for the long haul, an enviable offensive core looks to be taking shape up north.
Photo courtesy of USA Today Sports Images.